Our oldest son, Elijah, is 5 years old, and like most young children, he enjoys pretend play and dressing up as super heroes, robots, pirates, ninjas, and any other silly characters he comes up with. He has a pretty great imagination, and one item can spark a huge story in his world.
I would venture to guess that rarely a day goes by when he isn't wearing something goofy or quirky, even if it's just a pair of sunglasses or a bracelet he's made out of pipe cleaners (he's also very crafty). This includes Sundays and, often, Sunday mornings. He knows he can't wear his really crazy stuff in to church, but there have been several Sundays when I'll glance back at him while we're riding, only to find he's added something to his ensemble, if only for the car ride.
One Sunday this spring when I looked back at him, I saw this: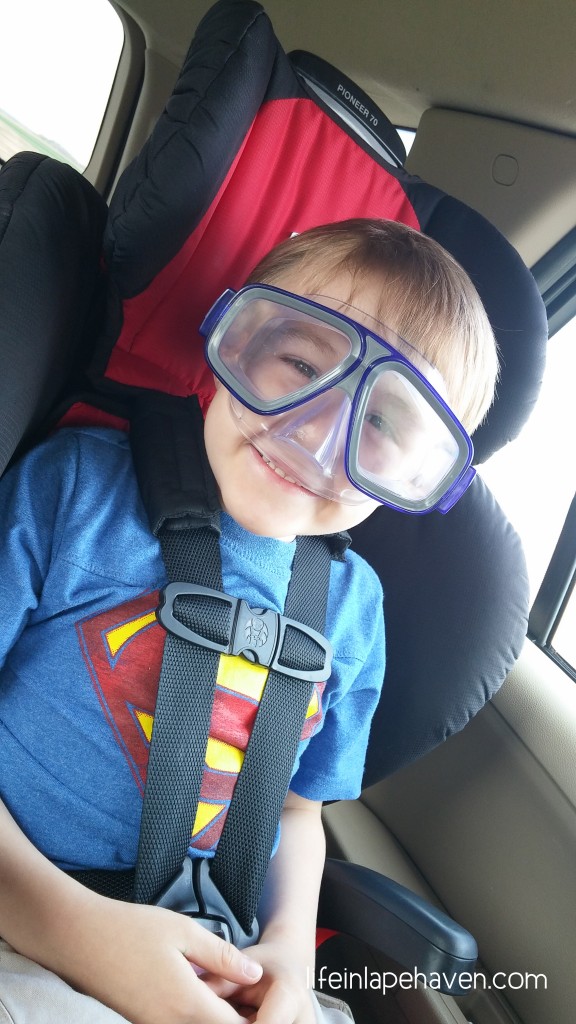 I have no idea where he found the snorkel mask. I think it was in a stash of summer water toys in our laundry room, but he had to have brought it out to the car with him and then put it on later as we were driving along (Kids can be so quick and sneaky!). He wasn't really doing much, except for watching the countryside scenery pass by. He smiled at me as though it were the most normal thing in the world for him to be wearing a snorkel mask…in the car… on the way to church. I guess for him, it is. Haha.
I love my big boy, and I love that he is still so happy just being a child. So, I grinned at him and snapped a picture of this latest silliness.
Our route to church is mainly back roads in central Ohio, so we're generally surrounded by farmland with fields of corn, soybeans, wheat, or cattle, and a few minutes down the road, we came alongside a field that had been freshly fertilized. Oh, the smell! There isn't much you can do in those moments except keep driving through, so that's what we did, with a little "Peee-ewwwing!"
From the backseat, we heard Elijah say, "It's a good a thing I have on a mask."
Even though he was being silly (I think), he did have a good point.
God has given us armor, according to Ephesians 6: 10-18, and most of us know that. We like to talk about all the pieces and what they represent. But that armor is only useful to us when we have it on, and have it on BEFORE a battle begins.
Trying to put on the snorkel mask after we'd enter the stinky section of the trip would not have helped Elijah at all (not sure that it truly helped him having it on beforehand, really, but we'll assume it did to help me make my point). And yet, so many of us seek God only when we're in the midst of trouble and try to build our spiritual strength suddenly with some extra Bible cramming and prayer time, throwing in some fasting when we're really in earnest.
That's not the time to do it. The Bible tells us to "take up the whole armor of God, that you may be able to withstand in the evil day, and having done all, to stand." (Eph. 6:13 NKJV) In the Good News Translation, it reads like this: "So put on God's armor now! Then when the evil day comes, you will be able to resist the enemy's attacks; and after fighting to the end, you will still hold your ground."
We have God's Word and God's Spirit to help PREPARE us to fight, to stand. We are to be seeking God always, daily putting on the armor He's given to us, even when our life seems to be peaceful and happy.
You never know when you'll have to face a battle or when the enemy will attack. Trouble doesn't wait for you to get your armor on.
Just ask Elijah – you want to have your snorkel mask on BEFORE you come alongside that fertilized field.