Jump to recipe
For some reason autumn always makes me want popcorn.
It might be all the fall festivals with the warm scents of kettle corn wafting through the air. It might be that we're more likely to be cuddling up on the couch for a movie now instead of playing outside as long as we can. It might be the simplicity of the treat.
It might just be that I really like popcorn.
According to family lore, my first steps were taken to get to popcorn, and I was busted as a little one eating strung popcorn off the Christmas tree (there's even photographic evidence).
So popcorn and I go back a few years…or more.
(This post contains affiliate links, which means, at no extra cost to you, I will get a small percentage if you make a purchase through the link.)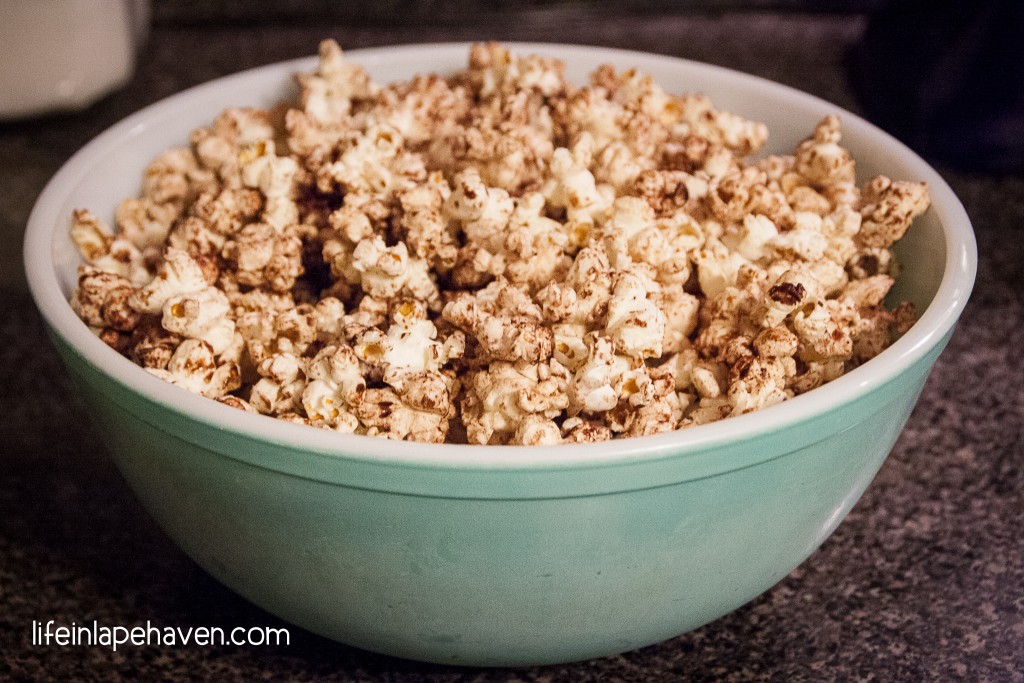 Then several years ago I was helping at a youth gathering at a fellow youth leader's home. We often had youth group at their home because they had a large house and loved hosting people. The leader's wife always had something special for us – fancy teas and hot chocolate, homemade waffles after a sleepover, and stovetop kettle corn at this particular meeting.
She had a funny pan with a crank that amused us all, but it produced the tastiest popcorn ever! Plus she had all kinds of variations she could make, and they were all good.
I immediately wanted a Whirley-Pop Stovetop Popcorn Popper for myself, so I could have yummy, crunch, sweet, and salty kettle corn and not have to share it with a dozen hungry teenagers.
It would be a few years later before I got my wish when I found a barely-used Whirley-Pop at the thrift store.
After that, I went on a hunt for recipes, finding all kinds of ideas online. I made plain salted popcorn, sweet kettle corn, caramel corn, and recently, pumpkin spice kettle corn. However, my very favorite (and my boys' favorite, too) is Cinnamon Sugar Kettle Corn.
It's super easy to make, and even easier to enjoy. It's so good that I have to stop myself from eating the entire bowl…pretty much every time I make it.
I make popcorn often, especially in the fall and winter. It's a fairly healthy, cheap, and really quick snack to make. In not much longer than it takes you to microwave a bag of popcorn, you could stovetop-pop a huge bowl of way healthier, tastier popcorn.
My recipe for Cinnamon Sugar Kettle Corn has come from some trial and error and tweaking of other recipes I have found. As always with my recipes, feel free to get creative and make it your own. If it comes out better than mine, please let me know!
Also, I imagine you can make this the old-school way with just a regular pan on the stove. I never have, but it should work just fine. Or you can scour your local second-hand stores in hopes of finding one, although I haven't seen another one since the day I got mine.
Amazon carries the Whirley-Pop Stovetop Popcorn Popper, though, so you could get it brand-new or add it to your Christmas wish list.
However you can make it, I know you'll enjoy it. Whether or not you share it or eat the whole bowl yourself is up to you.
By the way, I shared my Pumpkin Spice Kettle Corn recipe a couple of weeks ago in my "Family Room" email newsletter. Make sure you sign up to get other exclusive content and ideas. You can sign up by clicking HERE.
Cinnamon Sugar Kettle Corn

A quick, easy, fairly healthy, and super delicious Cinnamon Sugar Kettle Corn recipe using a stovetop popper and coconut oil.

Ingredients
3 Tablespoons Coconut Oil
1/2 cup Popcorn Kernels
2 Tablespoons Sugar
2 teaspoons Cinnamon
Dash of salt
Tips:
You can use a different oil, such as canola or vegetable oil, but the coconut oil is much healthier and leaves a very clean taste. Also, the popcorn is not as greasy feeling.
Salt to taste. Sometimes a dash is enough, other times a little more is needed.
To make Pumpkin Spice Kettle Corn:
Replace Cinnamon with 2 tsp. Pumpkin Pie Spice.
Replace 1 Tbl Sugar with 2 tsp. Brown Sugar
Instructions
Mix sugar, cinnamon, and salt together in a small bowl and set aside.
Add coconut oil and popcorn kernels to your pan.
Close lid or cover and heat on medium to medium-high, stirring (cranking the Whirly-Pop) or shaking the pan often.
When you hear the first kernel pop, quickly add your cinnamon-sugar mix to the popcorn pan. Be careful and quick as the popcorn may pop and try to escape when you open the lid. Do not add the sugar and spice at the beginning. I've done that. The sugar will start to burn before the popcorn pops, which makes for very unpleasant popcorn.
Cover again, stirring or shaking the pan constantly as the kernels begin to pop.
Once the popping slows to a few seconds between pops, remove from the heat.
Immediately remove the cover and pour popcorn into a serving bowl and serve.
YOU MAY ALSO LIKE:
Peanut Butter Chocolate Chip Protein Balls
Roasted Cinnamon-Spiced Butternut Squash with Sweet Potatoes & Apples