When Elijah brought home the flyer for a "Me and My Gal" night at his school, I admit – at first I dismissed it as something I didn't particularly want to do. I doubted that he even paid any attention to the note about a glow-in-the-dark themed dance/game night for the boys at his school to bring their "favorite girl" (mom, grandma, aunt) to, and that was fine with me.
However, I didn't throw the note away.
The next day while I was cleaning the kitchen, I looked at the note again, and I felt as though God wanted me to ask Elijah about. In my heart, I immediately knew that this would be important to him and important to my relationship with him.
That day he came home and mentioned the "glow party," saying that he wanted to go.
The more I talked to him about it, though, I realized the main reason he wanted to go: he wanted to be with me.
Then as I thought about that, I decided that we had another option in addition to "go to the party" or "don't go."
So, I gave Elijah a choice: we could go to the school event (where it would be somewhat awkward for us because we didn't know anyone else going, where it would be a later night than he was used to, and where we wouldn't be as free to just be us with all the dancing and games planned), or we could go on a "Mommy-Elijah date" where he got to plan what we did and where we went.
Elijah proved my theory of "just wanting to be with Mommy" correct. Without hesitation or second thoughts, he chose to do a date night, just us.
He also immediately suggested that we should go to the Japanese steakhouse for our date.
If only.
After explaining that not even Daddy usually got to take me there on a date, we discussed a more appropriate budget, and he made his second suggestion: going to get frozen yogurt. (We would have let him pick something a little more expensive, but that was what he wanted).
Then he proved that even though he's only 5-years-old, he knows the way to a girl's heart.
He said, "Then we can go to Hobby Lobby, if you want, Mommy. "
IF I want to go to Hobby Lobby? Hahaha.
Frozen yogurt and Hobby Lobby? Sounded like a great idea to me.
For the next couple of weeks, his world only existed on time that was measured by when our date night was. He counted down the days, he told everyone about "getting to take Mommy on a date," he wrote about it in his journal at school, and he reminded me every day that we had a special night coming up.
At one point, I thought I might have another thing on the night we had picked, and he was nearly in tears until I realized it was a week later.
I honestly never thought he would latch onto this idea as firmly as he did or that time with Mommy was something he was missing so much.
I probably should have. I mean, I've often thought about how we definitely want to do that as the boys get older. But I should have known he needed that to start now.
He's still adjusting to being in school all day after having spent pretty much all day, every day with me since he was born. His time when he gets home is spent playing with his brother, eating dinner, reading his homework book, and getting ready for bed. There hasn't been much Elijah-Mommy time, and definitely not as much as he was used to before school.
The day of our date I don't know how his teacher got him to focus on his work at all. He was bouncing from the moment he got out of bed in the morning until, and especially when, I picked him up in the afternoon. He told his teacher where we were going, probably for the fiftieth time that week, bless her heart.
And then we were off…well, after we dropped Josiah off at his "date with Grandma."
En route to the frozen yogurt place, Elijah told me that "tonight is going to be amazing."
He was so desperate for time with me that yogurt, Hobby Lobby, and a stop into Target for something we needed at the house was "amazing" to him.
Clearly, we need to spend more one-on-one time together.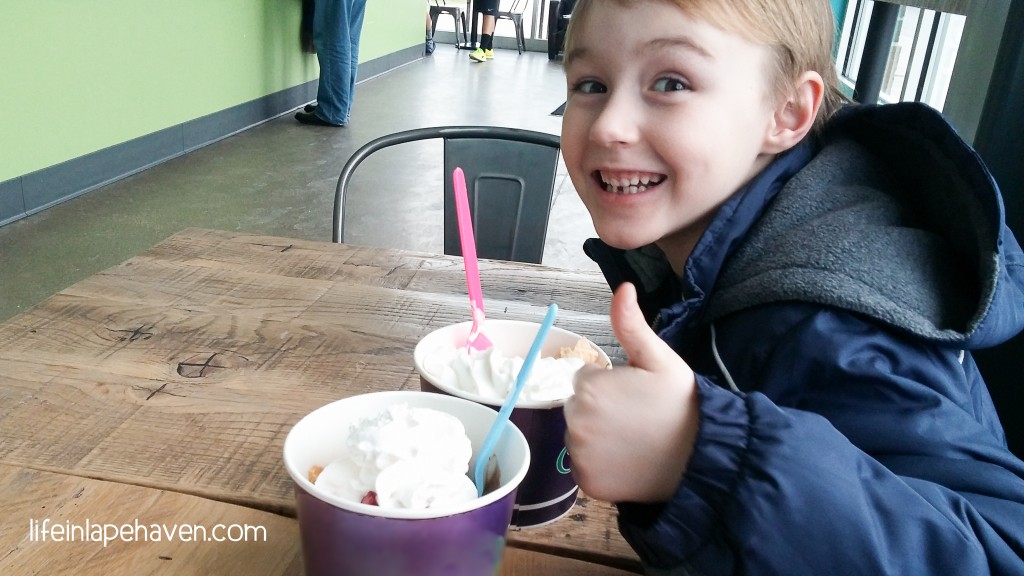 However, it was a delightful evening. We tasted different flavors of yogurt, then filled our cups with our favorites and topped them with a few items from the multitude of offerings, including berries, waffle cone pieces, and whipped cream. Elijah added a gummy frog to his because his teacher said that's what she liked from that yogurt place. (You know, during one of the many conversations he had with her about his date with Mommy.)
While we ate, he talked about his day, much like he would any other day. There were no deep discussions, no major life advice shared with him. Just us being together. And it was wonderful.
He brought money with him for Hobby Lobby…$1.25…so he could buy something…for himself (Some date.) He was thrilled when we found a stamp with the letter "E" in the clearance items for only $0.75. We were able to get him a child-friendly ink pad for only about $1 or so (using their weekly 40% off coupon) – Mommy's treat.
After we'd wandered through the wonderland of Hobby Lobby long enough, we headed to Target. When we were checking out, he whispered to me that he was going to ask the cashier for two stickers, one for him and one for me, "since we are on a date."
I'm not sure if the cashier heard him or not, but seconds later, she actually offered him a sticker before he could ask.
"Can I have two? I'm on a date with my Mommy, " he told her.
Of course, the lady smiled and happily gave us two special stickers. Elijah just beamed.
I'm not sure if the night lived up to Elijah's "amazing" expectations, but I know he was a very happy boy.
Something that to me was so simple and that started with something that I almost completely ignored meant the world to him.
So much so that the next morning, he was still glowing and measuring time by our date.
He climbed into bed, gave me a hug, and said, "It's the day after our date, Mommy."
I asked him then and there if he'd go out with me again.
Do you have special date nights or times with each of your children?
Earlier this year I shared my thoughts on Elijah's first day of school in the post, Embracing the Moments of "Mommy Sadness."