March 2 marks the birthday of author and illustrator Theodore Seuss Geisel, better known as "Dr. Seuss." His books, full of whimsical and wacky characters, silly, made-up words, and fun, quotable rhymes have introduced generations of children to the joy of reading and inspired their imaginations.
While I grew up reading and loving his books (I even used The Cat in the Hat as the basis for an essay on contentment in high school), having children means that I'm getting to enjoy them all over again. From the time Elijah was just a few months old, we have been reading Dr. Seuss books to him, and now to him, Josiah, and even Isaiah, at nap time, bed time, and random times throughout our days.
(This post contains affiliate links, which means that at no additional cost to you, I may receive a small commission when you purchase through the links. See my full disclosure for details.)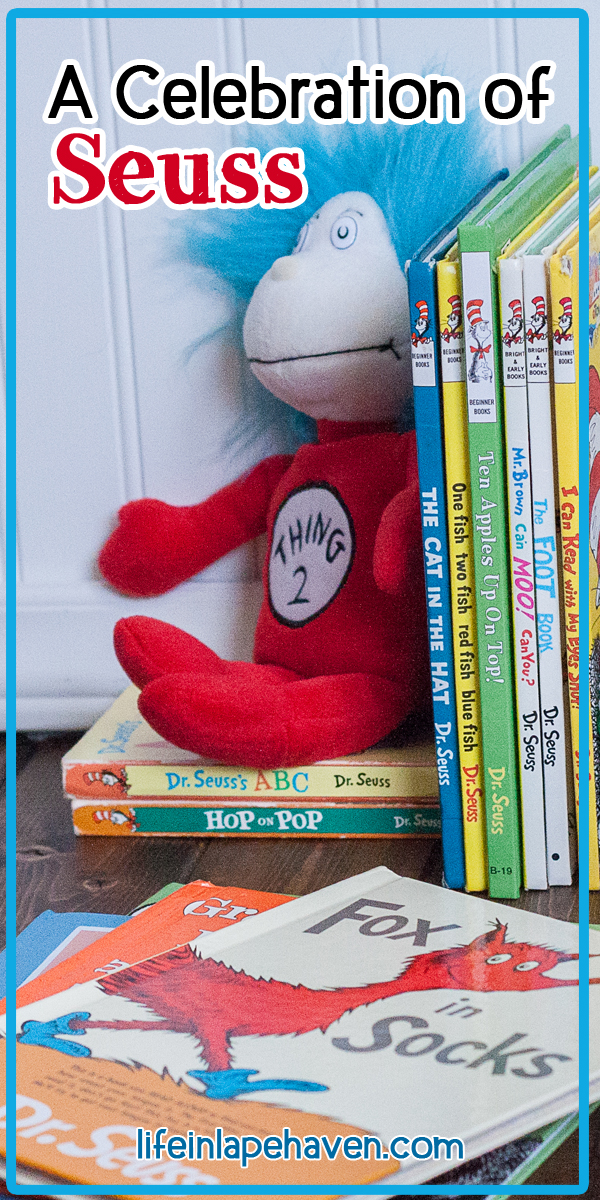 We started out with a couple of Bright and Early Board Books, which are abridged versions of Dr. Seuss classics and perfect for toddlers. I'm pretty sure one of the reasons that Elijah knew his alphabet before he was two was due to how many times we'd read Dr. Seuss's ABC. In fact, I could quote the entire book from "Big A, little a, what begins with A?" all the way to "A Zizzer-Zazzer- Zuzz, as you can plainly see."
We slowly added to our collection of Seuss, mostly by searching through the children's books at thrift stores. I don't know who is giving away these treasures, but when I can snag books like The Cat in the Hat, Green Eggs and Ham, and The Foot Book for 50-cents or a dollar, I get really excited! We've also bought some brand new for birthdays or Christmas.
The Seuss influence soon began showing up beyond Elijah's alphabet. Around three-years-old, he created a sort of game, where he would randomly call out rhyming words. For example, we'd be in the car, and he'd say a word, such as "bee," then he'd follow it with "me" and "tree," and when Brad and I joined in with words, he'd giggle and keep going.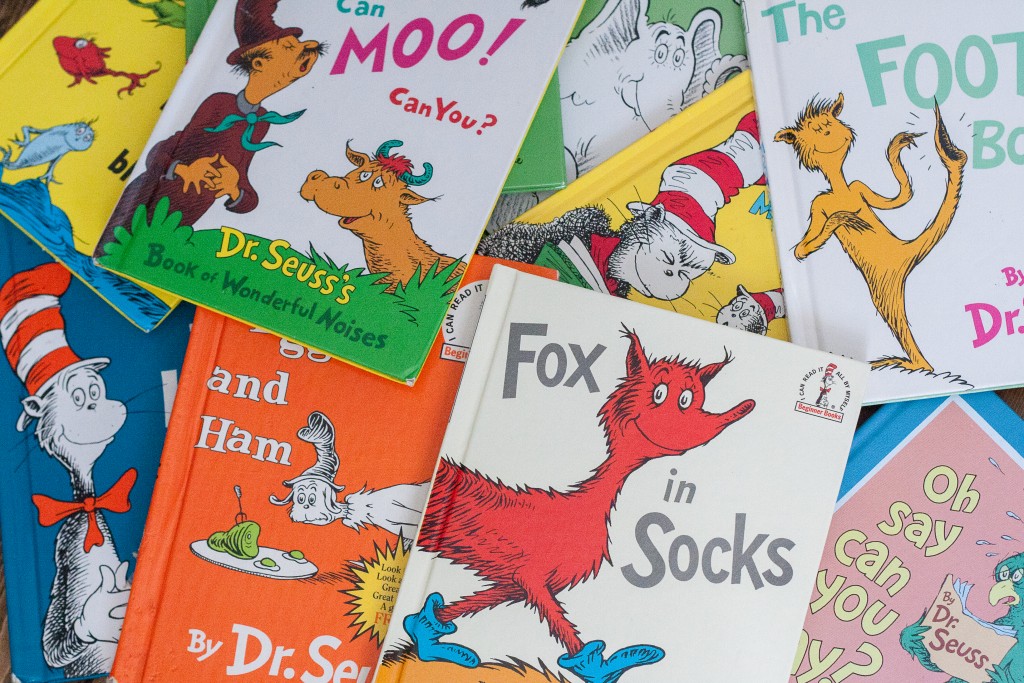 Elijah LOVED the rhyming in a Seuss book. His favorite book for a while (and one of my all-time favorites still) was One Fish Two Fish Red Fish Blue Fish. His favorite sentence was one that I would rattle off very quickly, causing him to laugh and ask me to repeat that page over and over (thus why I could rattle it off!),
"You never yet

met a pet, I bet,

as wet as they let

this wet pet get."
With all this affinity for words and reading, Elijah's done very well in school with his reading (he's consistently reading beyond his grade level), and he loves reading to us in the evenings.
One of the first "big" books that he wanted to tackle is the trickiest Dr. Seuss book I've ever read (and I've read pretty much all of them): Fox in Socks. It's the only book that I have a love-hate relationship with because it's a frustrating, tongue-twisting challenge every single time I read it.
However, Elijah, who literally cut his teeth on a Dr. Seuss board book, read it like a champ. I was so proud and impressed.
In case you've never read this one, which you totally should, here is just a sampling of the tongue-tangling rhymes in the book:
"Luke Luck likes lakes.

Luke's duck likes lakes.

Luke Luck licks lakes.

Luke's duck licks lakes.

Duck takes licks

in lakes Luke Luck likes.

Luke Luck takes licks

in lakes duck likes."
(And if you're thinking, "That one's not too bad," you're right. I didn't pick the hardest parts to share. I want you to actually WANT to read the book to your children.)
Not only is Elijah reading these books for himself, but he loves reading them to his brothers, which is sweet to see. They like to giggle together over the crazy words and silly stories.
When I told Elijah today about Dr. Seuss's birthday, and how old he would have been, Elijah said, "I wish he hadn't died yet. He probably would have had more ideas for different stories."
As imaginative and creative as the man was, I'm certain he would have.
After all, he's the one who wrote,
"Think left and think right

and think low and think high.

Oh, the thinks you can think up

if only you try!"
In honor of Dr. Seuss, March 2 has also been designated as Read Across America Day by the National Education Association. You can find activities and ideas on how to celebrate with your children here.
You can also find lots of whimsical fun at Seussville.com, the official site for all things Seuss, including games, crafts, and ways to bring the joy of reading to your children!
WHAT'S YOUR FAMILY'S FAVORITE DR. SEUSS BOOK?
YOU MAY ALSO LIKE:
Why Our Child Goes to Public School
Trusting God Through Kindergarten
The Most Important Thing My Child Learned From His 1st Grade Teacher
A Fun Way to Teach Your Children About God's Great Commission