Recently I've been giving you a behind-the-scenes peek at what growing up as a preacher's kid was like and how that has shaped me, my faith, and my parenting. If you've missed my first three confessions, you can catch up easily (Confession #1, Confession #2, Confession #3).
TODAY'S CONFESSION:
True Ministry ISN'T Easy or Glamorous
Growing up in a pastor's family, I understood from an early age that ministry – true ministry – wasn't an easy or glamorous path.
Sure, there were the infamous televangelists with glittering sets, personal planes, and hair that was way too big, who made it seem as though being a preacher was kind of like being a celebrity. But that idea is as false as Tammy Faye's eyelashes. 😉
Watching my parents' lives, I knew the truth.
Shepherding a flock, leading God's people, and following His call isn't easy. In fact, when my dad first felt called to ministry as a young man, an experienced man of God told him, "If you can do anything else, do that."
Because he knew that ministry and pastoring aren't for the faint of heart. They're for those with a servant's heart.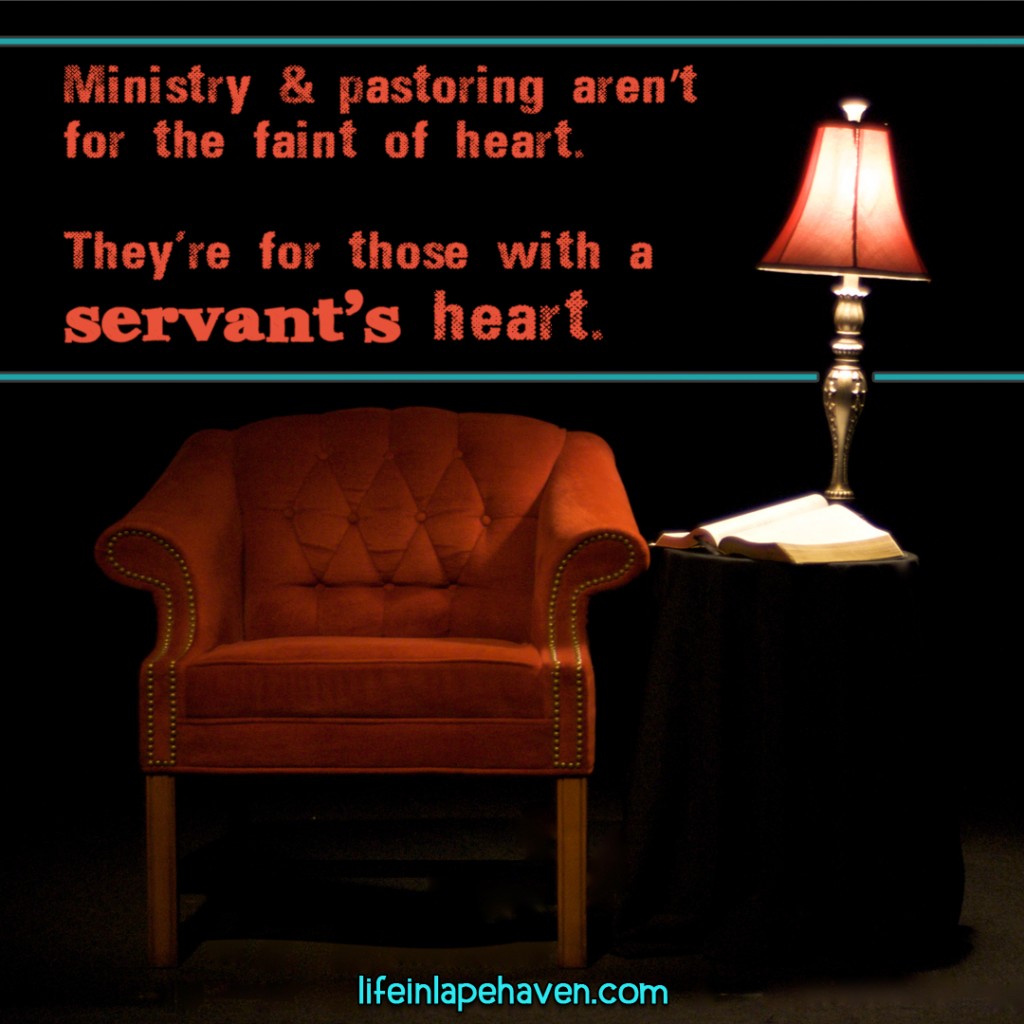 My parents have served wherever God has led them because they couldn't "do anything else."
When I was first born, that meant living in a small apartment in Alabama where the only furniture initially was my baby bed and a cot for my older brother. Later, God's path took us to Florida, Ohio, West Virginia, and Georgia, and no matter what "position" of leadership my parents ministered from, it was never about them.
God, need me to lead junior high kids? Really?!? Okay.
Need me to play piano as the back-up? Here I am.
Need me to lead praise & worship? Alright.
Need us to reach out to this hurting couple and counsel them? Our home is open.
Need us to start a church over there? We'll go.
Need us to minister to children and families in THAT part of town? We can love them!
Need us to forgive and keep giving when we've been hurt? It's hard, but our focus is YOU. (Help us.)
Being in ministry, leading, especially pastoring, means putting yourself to the side, "not my will, but Yours be done."
It means calls on the phone or knocks at your door at all hours of the day from a person or family in crisis or hours in the hospital with the sick or dying. It's conducting funerals and visiting prisoners.  It means being a part of the church but still being slightly set apart (similar to parenting – you can't always aim for "best friend" when you need to be the leader). It's being the "watchman on the tower," speaking the hard truths that some never want to hear.  It's dealing with petty squabbles or huge divisions in a congregation. It means pouring, and pouring, and pouring into someone only to have them turn their back on God and you. It's protecting your sheep from the wolves and doing spiritual warfare on their behalf. It's loving people deeply, no matter what.
It's hours on your knees, in His presence, seeking His face, praying for direction and leading because your responsibility is not just a big one, it's an eternal one.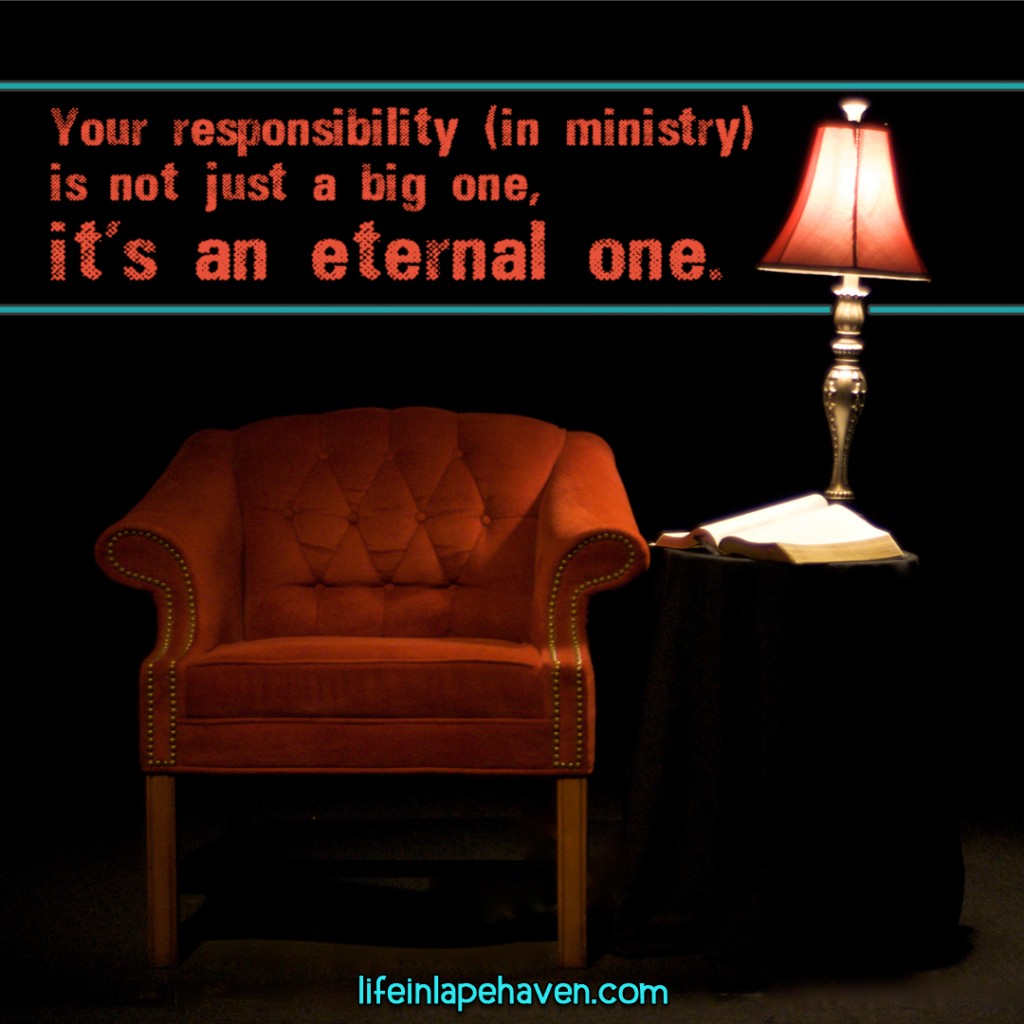 But it's not a responsibility without joys and rewards. God is kind of good like that. 🙂
Allowing God to use you in ministry means seeing a person's life changed and made new when they put their trust in Jesus. It's baptizing new believers, counseling engaged couples, officiating weddings, and dedicating babies. It's seeing God move through His people as they grow in Him. It's feeling like a proud parent when the congregation begins to serve and minister, too, and as a body you reach your community with Jesus's love. It's being surrounded by the Holy Spirit's comfort and guidance, knowing you can rely on God to never fail you, to give you the right words and actions just when you need them, and to supply every need you may have. It's trusting His strength in your weakness.
It's feeling humbled and amazed that God would choose to work through you.
And while some might think that these lists apply mostly to my dad since he was the "pastor," there is no separating my parents in this (or other pastor and wife teams that I've known). They are one, and God has used them as such. (My dad learned early on not to discount how God could use my mother). I promise you, from personal experience, they minister most powerfully and effectively when they are side-by-side. It's kind of a beautiful thing to witness.
I'm glad I've had that unique opportunity all of my life. You know, being the preacher's kid and all. 🙂
I'd like to challenge you, my readers, in two things based on not only my experiences as a PK but also my own experiences in ministry, both by myself and with my husband.
Number 1: PRAY for your pastor and leaders. LOVE them. They aren't perfect, but trust me, they love you and pray for you.
Number 2: Don't expect them to be the only "ministers" in your church. God has given you talents, abilities, experiences with Him, and a purpose in Him. You have a part in sharing Jesus with the world. You make contact with people every day that your pastor may never meet. Get to "going" per the Great Commission – speak with your neighbors, reach out in your community, volunteer in the nursery or children's ministry, mentor and disciple a teen, encourage your fellow church members, go on a mission trip, give, pray, love.
Even though ministry (even in the smallest stages) has its potential sacrifices, problems, and hurts, the joys,  rewards, and satisfaction of knowing you've been obedient to God's call on YOUR life far, far outweigh them.
"And He sat down, called the twelve, and said to them, "If anyone desires to be first, he shall be last of all and servant of all."~ Mark 9:35
"He said to him the third time, 'Simon, son of Jonah, do you love Me?' Peter was grieved because He said to him the third time, 'Do you love Me?' And he said to Him, 'Lord, You know all things; You know that I love You.' Jesus said to him, 'Feed My sheep.'" ~ John 21:17
"And He Himself gave some to be apostles, some prophets, some evangelists, and some pastors and teachers, for the equipping of the saints for the work of ministry, for the edifying of the body of Christ, till we all come to the unity of the faith and of the knowledge of the Son of God, to a perfect man, to the measure of the stature of the fullness of Christ; that we should no longer be children, tossed to and fro and carried about with every wind of doctrine, by the trickery of men, in the cunning craftiness of deceitful plotting, but, speaking the truth in love, may grow up in all things into Him who is the head—Christ— from whom the whole body, joined and knit together by what every joint supplies, according to the effective working by which every part does its share, causes growth of the body for the edifying of itself in love." ~ Ephesians 4:11-16