This post may contain affiliate links, which means at no additional cost to you, I may receive a small commission when you use those links.
If you've followed my blog for any length of time, you know by now that I read a good bit, especially Christian historical fiction. It's one of the ways I get my mind to slow down after a busy day of being Mom. And you probably already know that I'm a big fan of Roseanna White. Over the past year, I've been privileged to review and giveaway copies of both The Lost Heiress and The Reluctant Duchess, Books 1 and 2 in her "Ladies of the Manor" series.
Today I finally get to introduce you to Roseanna's last book in the trilogy, A Lady Unrivaled, as well as offer a copy to one of my happy readers. (More on the giveaway in a moment.)
In A Lady Unrivaled, we are once again transported back to Edwardian-era England (with a little stop-over in Paris to pick up a new character) and reunited with all of our favorite characters, both from upstairs and downstairs, both good and bad, as Roseanna weaves together the conclusion of all the intrigue, drama, and romance we've followed through The Lost Heiress and The Reluctant Duchess.
Adorable and optimistic Lady Ella Myerston and the infamous former rogue, Lord James Cayton, find themselves in a rather unique situation: Trying really hard NOT to fall for each other as they PRETEND TO BE falling for each other as part of a ruse to help them solve the mystery of the Fire Eyes diamonds and rid their families of the threat those supposedly-cursed jewels have brought to everyone around them.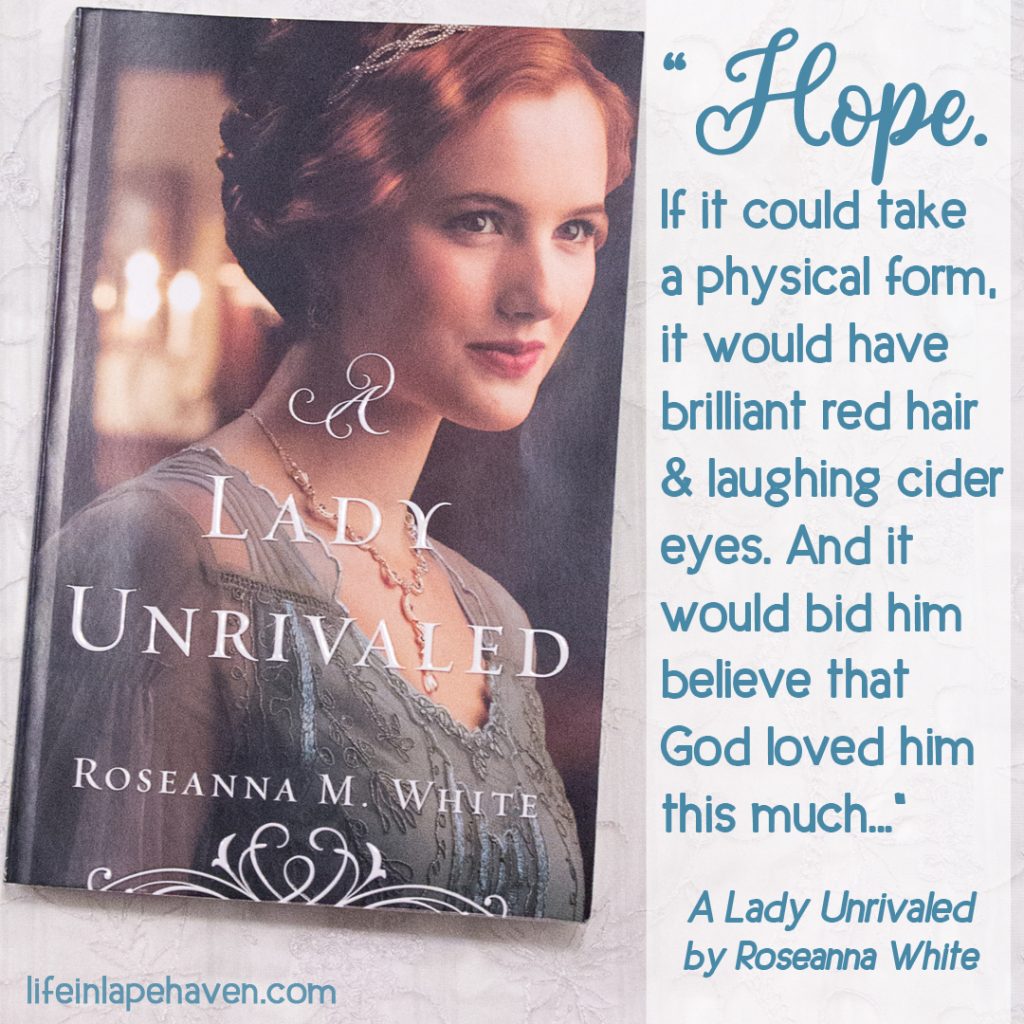 I've been waiting for Lady Ella's story since the very first book, and it does not disappoint. I love how her sunshiny personality and her determination to find the happiness in life aren't just fluff and silliness, but are based in her belief that there is always hope, especially when you are trusting God. She's an intelligent girl, who listens to God's leading, and is not as naïve as some may think, despite her optimistic views on life. She definitely sees hope for cranky Lord Cayton, and her mischievous flirting and teasing to both annoy him and make him smile (when he's stubbornly refusing to) are quite fun to read.
Cayton himself struggles with the reputation of who he once was, even as he's trying to live in the reality of who he is now, thanks to God's transforming power in his life. He's constantly being reminded of his past, most often by those wanting to use his former ways to get to the diamonds or those who don't quite trust the "new" him. Teaming up with Ella means having a constant cheerleader by his side and makes hiding behind his gruff and super-serious manner a little harder than before.  Following his character's journey from near-villain to redeemed hero has been one of my favorite parts of the whole series.
We also get to discover a little of the backstory of creepy Lord Rushworth and his never-very-nice sister, Lady Catherine Pratt, thanks to the addition of a new lady's maid, Kira, whose own story is tangled up with the Fire Eyes as well. Expect a few surprising twists from these three – that's all I'll say. 🙂
With A Lady Unrivaled, Roseanna has once again brings together a story with humor, heart, mystery, and a strong spiritual theme that will encourage you in your own walk with God. It's a series that I'm sad to see end, but one that I know I'll be rereading often.
Thank you so much, Roseanna White and Bethany House Publishing, for allowing me the chance to be an advance reader yet again. 🙂 Note: While I did receive this book in exchange for my honest opinion, my endorsement of it is based solely on how much I thoroughly enjoyed it. 
Below is a little bit more about Roseanna with links to her website and blog. You can also follow her on Facebook and Pinterest.
ABOUT ROSEANNA WHITE:
Roseanna M. White pens her novels beneath her Betsy Ross flag, with her Jane Austen action figure watching over her. When not writing fiction, she's homeschooling her two small children, editing and designing, and pretending her house will clean itself. Roseanna is the author of 10 historical novels and novellas, ranging from biblical fiction to American-set romances to her new British series. Spies and war and mayhem always seem to make their way into her novels…to offset her real life, which is blessedly boring.  She makes her home in the breathtaking mountains of West Virginia. You can learn more about her and her stories at www.RoseannaMWhite.com  and at Writing Roseanna.
⇒ GIVEAWAY ⇐
Now it's your chance to read Lady Ella and Lord Cayton's story for yourself. Enter below to win your own paperback copy of A Lady Unrivaled!
Thanks for entering! This contest is open to residents of the U.S. only and runs from Thursday, September 29 (12:00 a.m.) through Monday, October 3, 2016, at 11:59pm EST (I know, specific.).  The winner will be notified by email within 48 hours of the contest ending. Winner has 48 hours to respond before another winner is selected.
Don't want to wait for a giveaway to end? You can read an excerpt from A Lady Unrivaled on the Bethany House site.
Of course, you can always purchase a copy from your favorite bookseller or download it on Kindle to start reading it right now. 🙂