When Elijah was still a little-little guy, about 3 years old, we added a new tradition to our family Thanksgivings that he has faithfully continued every year since. In fact, it only became a tradition because he asked to do it the following year. I might forget it, but he always remembers!
Every year, Elijah gets to make a "special" dish to take to our families' Thanksgiving meals.
It all started because I was trying to keep him busy while I was prepping my contributions: sweet potato casserole and apple pies.
He wanted to help, but he wasn't quite old enough to peel potatoes or roll out pie crust. So, I reached back into my childhood and came up with a super easy side dish/dessert he could make: fruit cocktail with marshmallows. 🙂
I know, not exactly your normal Thanksgiving fare, but it was a dish my grandma often served with our meals when we visited when I was little, so I knew our family would be familiar with it.
Plus, all it requires is emptying a can of fruit cocktail into a bowl and stirring in miniature marshmallows. Elijah could totally do that. I opened the cans for him, let him dump it into a bowl, and had him stir as I poured in the marshmallows. Then he put it into the refrigerator until it was time to leave.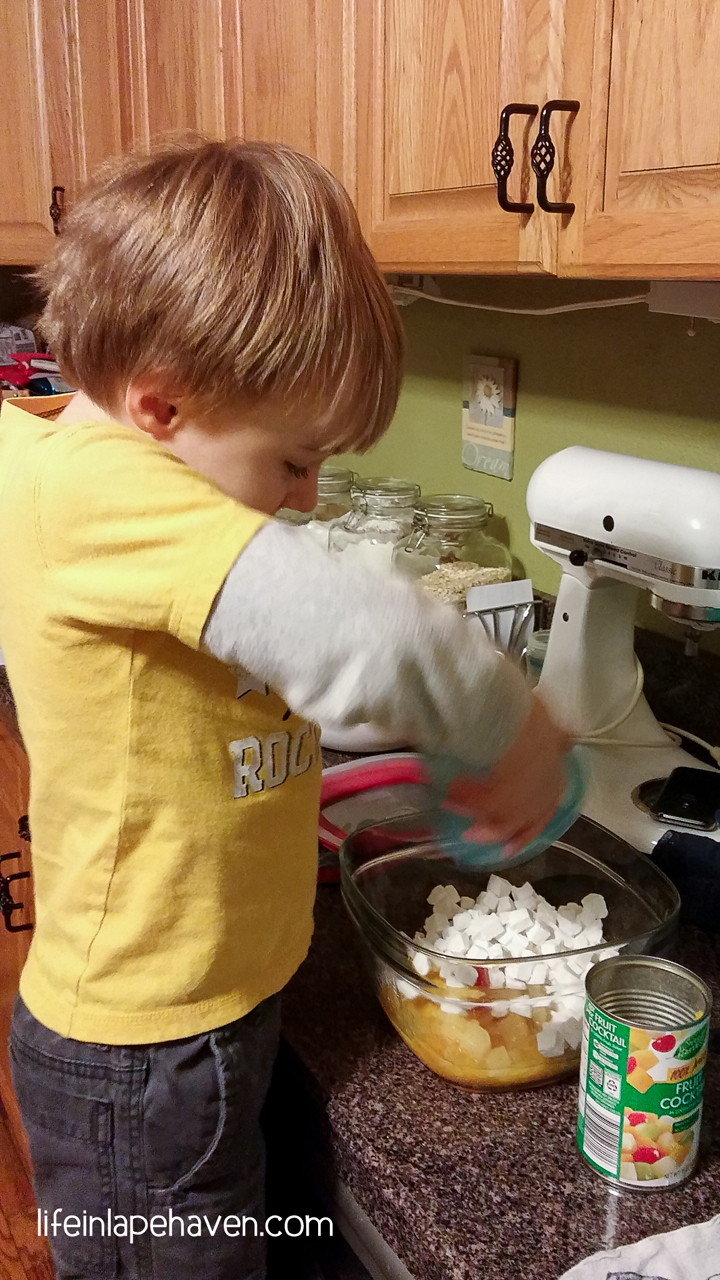 He was so excited and proud of himself for "making" something for the day. He carefully carried his creation to and from the car and into my parents' house.
When it was time to eat, he made sure that everyone knew that he had made the fruit cocktail. 🙂
And they made sure to compliment him on his tasty dish, especially my grandma, who knew exactly where the "recipe" came from.
The following year, I completely forgot about it, but as we got closer to Thanksgiving, Elijah asked me if he could make "his" fruit cocktail again.
And so, it's now "his" fruit cocktail.
And for him, it's a special concoction for special occasions. His memories of it are predominantly found in our holiday meals, so to him, it IS Thanksgiving fare.
In talking about Turkey Day this year, he was listing all the things he loves about the day, and he put making fruit cocktail right up there with the Macy's Thanksgiving Day Parade (one of our other big traditions here) and ALL. THE. PIES.
I had no idea that it was that important to him.
But it makes sense.
In a day where everyone is bringing something for the feast, what better way to be a big part of the day than to contribute to the table, too?
While for me it was simply a way to keep him busy, that small offering gave Elijah a deeper sense of belonging, allowing him to be an active part of the day, contributing to the celebration, and making something special for his family.
It's no wonder he never forgets to make it every year. 🙂
With that in mind, if you'd like to give your younger ones a chance to bring something to your family's festivities this Thanksgiving, I've scoured my recipes and those online for a few simple dish ideas your children can create for the holiday table.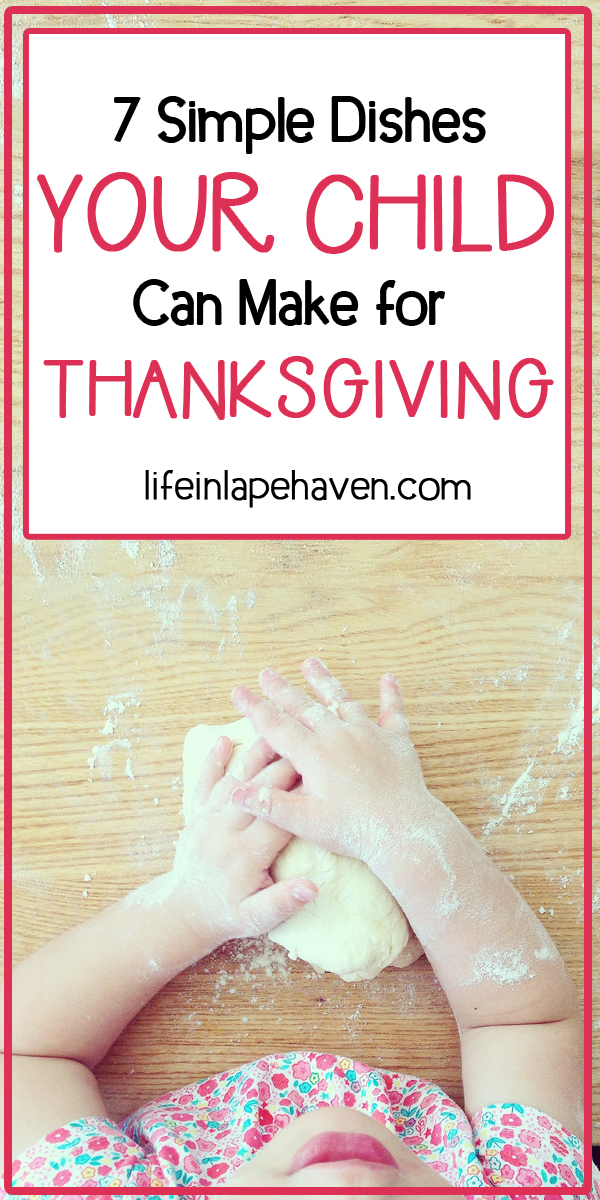 (This post contains affiliate links, which means at no additional cost to you, I may receive a small commission when you purchase through the link.)
7 Simple Dishes Your Child Can Make for Thanksgiving
1. Fruit Cocktail: A can or two of fruit cocktail in 100% juice. (If using 2 or more cans, you can drain the liquid from all but one). Stir in at least a cup of miniature marshmallows. It's really just to your preference. Chill in lidded bowl until ready to serve. It's best if made a couple hours ahead so that the marshmallows soften just a touch. Too long, though (like a couple days), and they will start to dissolve.
2. 5 Cup Fruit Salad: If you want to be more adventurous than just one can of fruit with marshmallows, you can try this tasty dish here. Made of just a cup of each ingredient, it's easy to put together!
3. Cranberry Sauce: If you're using the stuff in a can, let the kids take charge of that one. 🙂
If you're using fresh cranberries, kids like to mash stuff. 🙂 Or you could make it quickly and make Cranberry Sauce in the Instant Pot, but I doubt the kids can help too much beyond stirring there. (But I love my Instant Pot, and might try this recipe myself!)
4. Compound Butter: Most Thanksgiving menus include rolls, bread, or biscuits of some kind. Make it extra festive with some "fancy" butter.
You could take it even further and let your kids make the actual butter, too! Here are instructions for two different methods: In a Stand Mixer or in a Jar 
5. Rice Krispie Treats: Cereal, butter, marshmallows. This one's easy. And if you're worried about the stove, melt the marshmallows in the microwave.
Want to make it more festive? Try these adorable Turkey Rice Krispie Treats or make it chocolatey (never a bad thing!) with this Oreo-based recipe.
6. Cheeseball: While there are lots of variations for this classic appetizer, they all tend to be simple to put together. Here's a tasty looking Bacon Ranch Cheeseball that your kids could assemble with only a *little* mess 😉
7. Turkey Veggie Tray: With a little help or supervision with the cutting part, I know my boys would have fun assembling a fun veggie tray for the day.
BONUS RECIPE IDEA: Sweet Corn Spoonbread (also known as Corn Bake): Yes, this involves the oven. But hear me out. This is a simple dump-it-all-in-and-mix-it-up recipe. Kids are good at pouring stuff into the bowl (and many are good at missing…I know). With a little adult help with melting the butter, opening cans, and using the oven, your slightly-older kids can handle this one and have the joy of taking one of the "big dishes."
Of course, you can include your children in numerous areas of the meal prep, even if they can't make an entire dish all by themselves. Letting them have a part in creating the meal, which is kind of the centerpiece of Thanksgiving Day, will give them a sense of accomplishment, purpose, and pride, while creating new family traditions and memories to last a lifetime.
That's something to always be thankful for, right? 😉
WHAT DISH DOES YOUR CHILD LIKE TO MAKE or HELP MAKE?
Want more encouragement, recipes, and ideas from this real-life mom as I experience God's faithfulness through the joy and chaos of motherhood?

Join my email list!  
YOU MAY ALSO LIKE:
Roasted Cinnamon-Spiced Butternut Squash with Sweet Potatoes, & Apples
How to Make Salted Caramel Cream