It's been a while since I ordered from Stitch Fix, the online clothing subscription that I first tried out last fall. I had placed my account on hold for the summer because I didn't really need to add much to my warm weather wardrobe. However, I recently received a referral credit, so I decided to see what they would send me to update my closet for the fall.
In case you aren't familiar with Stitch Fix, they are a clothing subscription site that offers personalized styling based on information you give them – your style, sizing, likes. Their stylists send you 5 pieces of clothing to try on based on that information and your requests. Each time you receive a box, you are charged a $20 styling fee, but if you keep an item or two or all of them, the $20 goes toward the purchase. You have 3 days to try on the pieces and decide which you want to keep and which you want to return. When you decide, you go to your profile and check-out. Then you drop the stuff you want to return into the provided envelope and mail it back for free (free-ish if you didn't keep anything). They ask you at check-out what you like or don't like about each item, so the next box should be even more tailored to you.
This morning I checked my front porch, and there it was: the priority-shipped cardboard box with the Stitch Fix tape sealing it shut. Every shipment feels like Christmas because you just don't know what to expect, and you get to anticipate great things. I always get so excited to see what they've sent.
However, there has always been a bit of the anticlimactic letdown with each shipment as well because while I often like a couple of pieces, I have yet to like all of them. I was kind of hoping that since this was my fourth time around that the box would be full of more likes than dislikes.
The boxes are never a complete disaster, though – the fit is almost always really great – so it's sadly more of a *sigh* of disappointment that they've just missed the mark with either the color, the style, or the comfort, and I just can't make myself pay (a lot) for what I know I'm not completely happy with.
For this fix, I asked the stylist to send me a little of everything – pants, tops, skirt or dress, and even a necklace, since I could use a little sprucing up in pretty much every area of my fall collection. When I opened today's box, I found two tops, a cardigan, a sweatshirt, and a pair of jeans. So kind of a little bit of some things.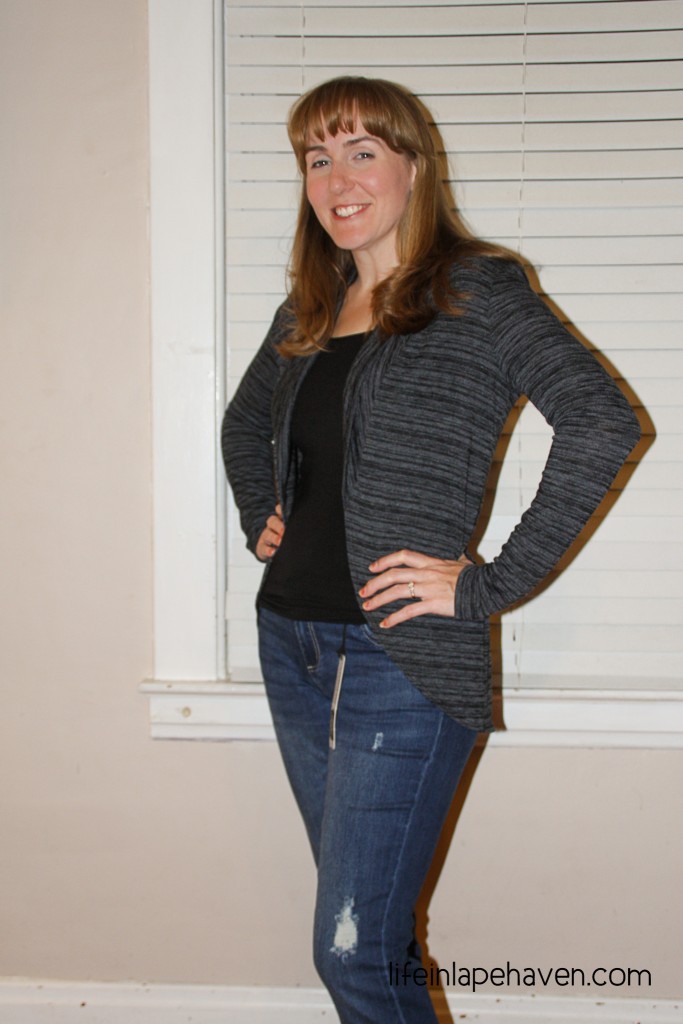 Item #1: Laila Jayde "Malaga Drape Cardigan"($48) – This is a thin cardigan, but it's super soft and comfy and fits well. I love when I find a top with sleeves that are long enough! The black/gray color would be easy for me to mix and match with pretty much anything. The downside is that it is hand-wash, and I think this must be a thing with Stitch Fix pieces because nearly everything I've ever received from them has been hand-wash only. Not what I need as a busy mom. Also, I just bought a very similar cardigan at Target on my birthday, although it was green and cost a lot less. The cardigan is being considered.
Item #2: Kut From The Kloth "Kate Distressed Boyfriend Jean" ($78) – (In all the pictures) I liked the feel of the denim and most of the fit, but not the rise. I'm not a lower-rise kind of girl, especially when I need to bend down often in playing with my boys. Plus lower-rise will nearly always equal a muffin top. No thanks. I also am not a fan of having holes in my jeans when I buy them. I know it's a style thing, but I have boys that like to mess with stuff, and that hole will grow by several inches when their little fingers get near it. It's better to let this one go. (I did leave the jeans on the whole time I was trying on the tops, just to see how they felt. I loved everything about them except the holes and the lower rise. Too bad.)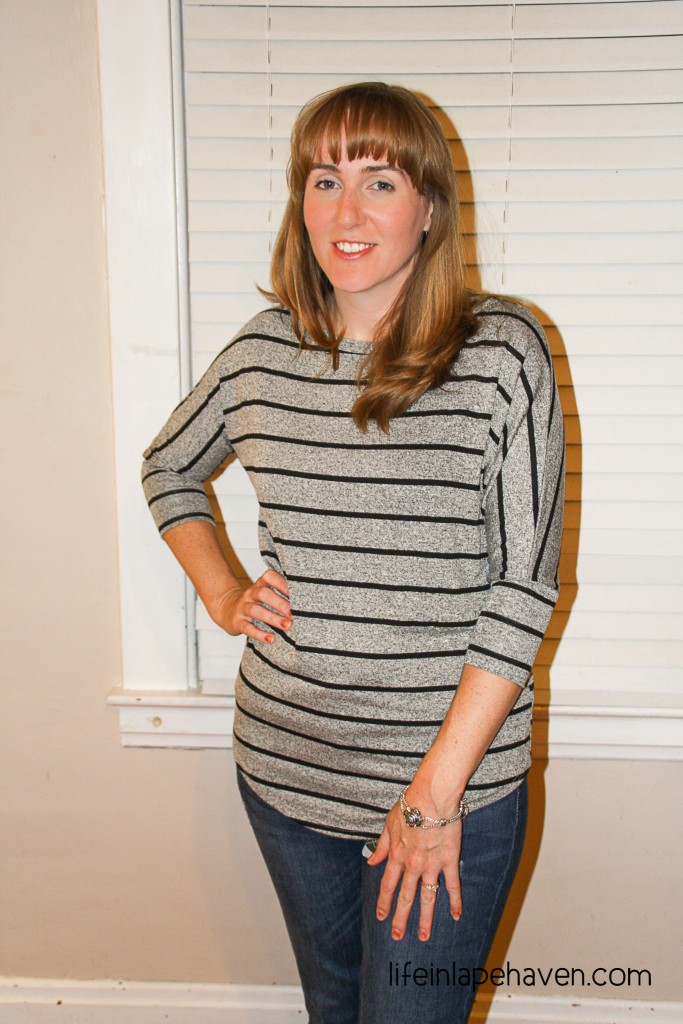 Item #3: Market & Spruce "Corinna Striped Dolman Top" ($48)– My stylist suggested that I pair this top with the boyfriend jeans "for a day at the park with my boys" with "flats or ankle boots." Hahaha…oh, sorry. But yeah, that is not an ideal park outfit for keeping up with my active boys. We go to the park to play – all of us – and we do a lot of climbing, running, and there will probably be some dirt (or a lot of it). So, nice try at visualizing my life, but…no. Aside from that humorous advice, the shirt was okay. Gray is not my best color, nor are horizontal stripes my best pattern. The fit was a little large in places, but fit well elsewhere, which was confusing. And since I have a gray and black striped Dolman sweater from a previous box, this feels redundant. Hmmmm.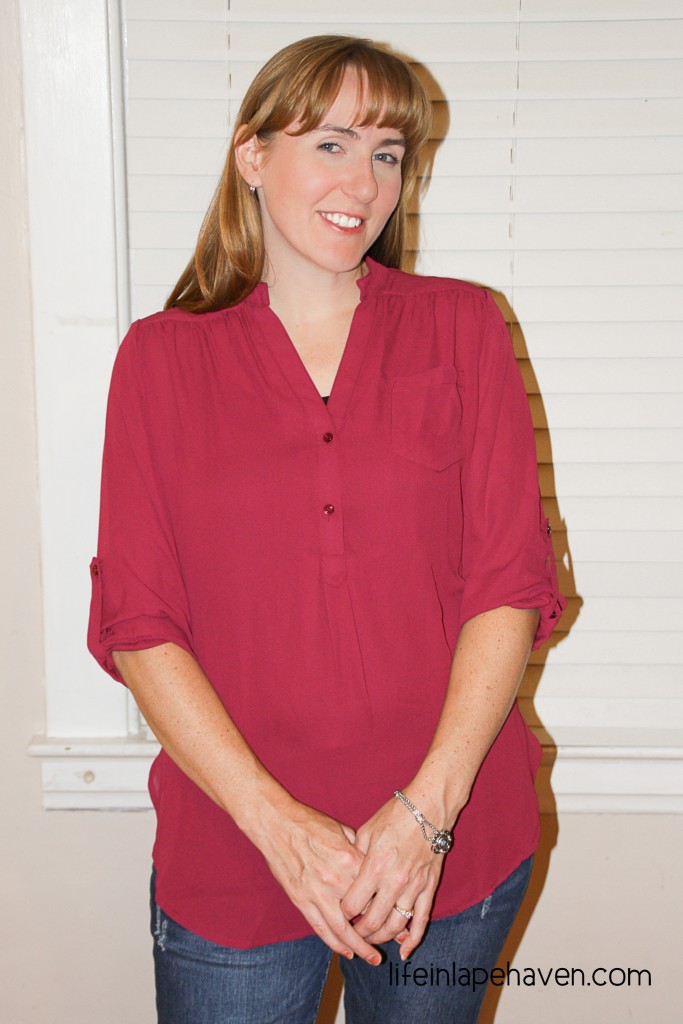 Item #4: 41Hawthorn "Colibri Solid Tab Sleeve Blouse" ($48) – While I like the color, fit, and the style of the shirt, I'm struck again with the maintenance of the piece. Another hand-wash. Plus, it's a thin polyester, which means I'm pretty much guaranteed to have to iron it every single time I want to wear it. Not decided on whether it's worth the extra effort. *Sigh*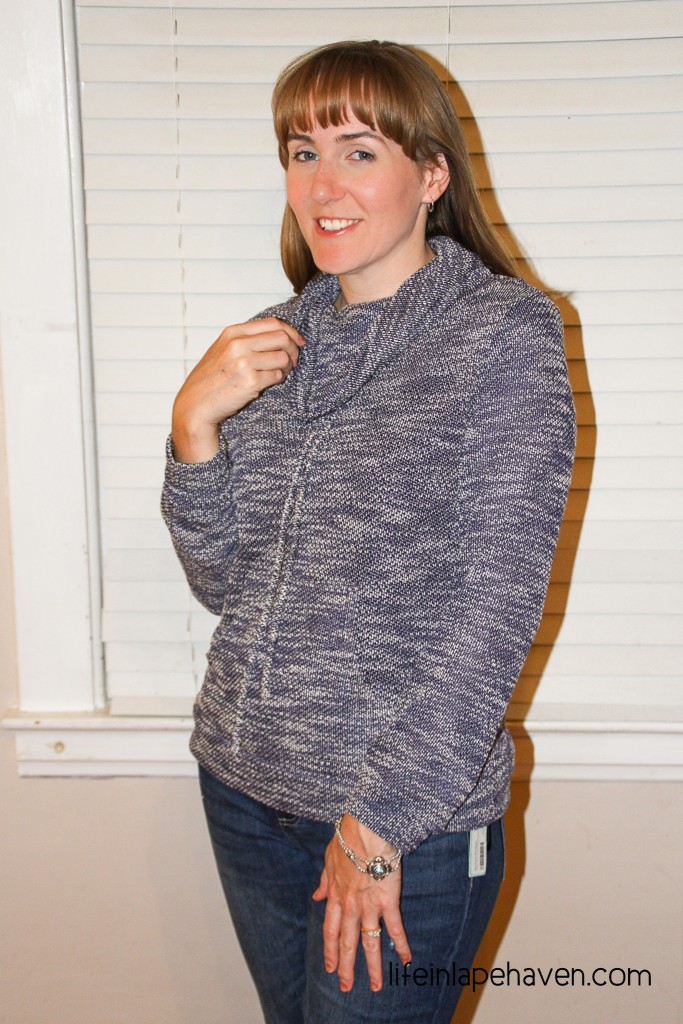 Item #5: Loveappella "Evie Draw String Funnel Neck Sweatshirt" ($64) – Just the name of this one had me leery, and then I tried it on. It's a navy blue and white sweater with a drawstring around the base of the funnel neck…because I need a new way for my children to choke me? I really don't get this one, but maybe that's just me. On the plus side it was machine washable on delicate, although still a "lay flat to dry" item. The length on the torso and sleeves were a bit short for me, so the style didn't even have to come into play. Overall, it just felt odd. So, nope. It's just not me.
So, after waiting all summer to jump back into the Stitch Fix game, I was left a bit ho-hum about this box. Thankfully I do have a referral credit to make it a little easier. If I had loved the whole box, I could get the 25% discount for buying all 5 pieces, plus the credit, and that would make the total about $190. As it is, the credit will make something closer to about $25 for me.
I love the idea of Stitch Fix, trying unique items, and the convenience of the whole thing. They generally send me items that fit well, and I've really liked some of the pieces, so it's been worth doing up to now. However, I'm not sure how many more boxes I want to get that are just okay. I'd like one that was fabulous all the way around.
What do you think of this box for me? What piece(s) should I keep? Help me decide by leaving your vote in comments below.
If you haven't tried Stitch Fix and would like to, here is my referral link https://www.stitchfix.com/referral/4200121. (Anytime someone signs up through your referral link, like this one, you get a $25 credit when their order ships. It makes continuing to use the service a lot more feasible for me.)
If you have you tried Stitch Fix, what has your experience been?