When I was little, maybe about four or five, I can remember lying down beside my dad in our little side porch/sun room, with my older brother on the other side of him. It was either afternoon or early evening, so maybe Dad was keeping us occupied so my mom could get my younger brother down for a nap. I don't remember that part. What I remember most is that we were listening to my father tell us stories about "Ishewa," a little Native American boy who always seemed to have great adventures, and that day he was going on a bear hunt with his father.
I mentioned the "Ishewa stories" to my dad a while ago, and he was surprised that I remembered them. I don't remember too many of the storylines, just that my dad was a great storyteller, and I loved the characters that he made up for us. His affinity for American history, including Native American life (his paternal grandmother was part Cherokee), and his hobbies of hunting and fishing and general rambles in the woods combined to give his stories authenticity and a slightly educational element, but he always made them fun and exciting. His tales might be one of the things that encouraged my love for historical fiction books. 🙂
Given how much I like to read and write, you'd think that I'd be the storyteller in our little family, but I'm not. While I do make up stories for our boys on occasion and sometimes even sing them per Elijah's request, which is harder, my stories are always random.
When our children look back at their childhood, the stories I'm certain they'll both remember best are the ones their daddy tells them and enacts with them. Those stories are called "Big Bad Bear, Baby Bear, Little Boy, Big Boy, and Monkey in the Woods." (Yeah, it's a mouthful…)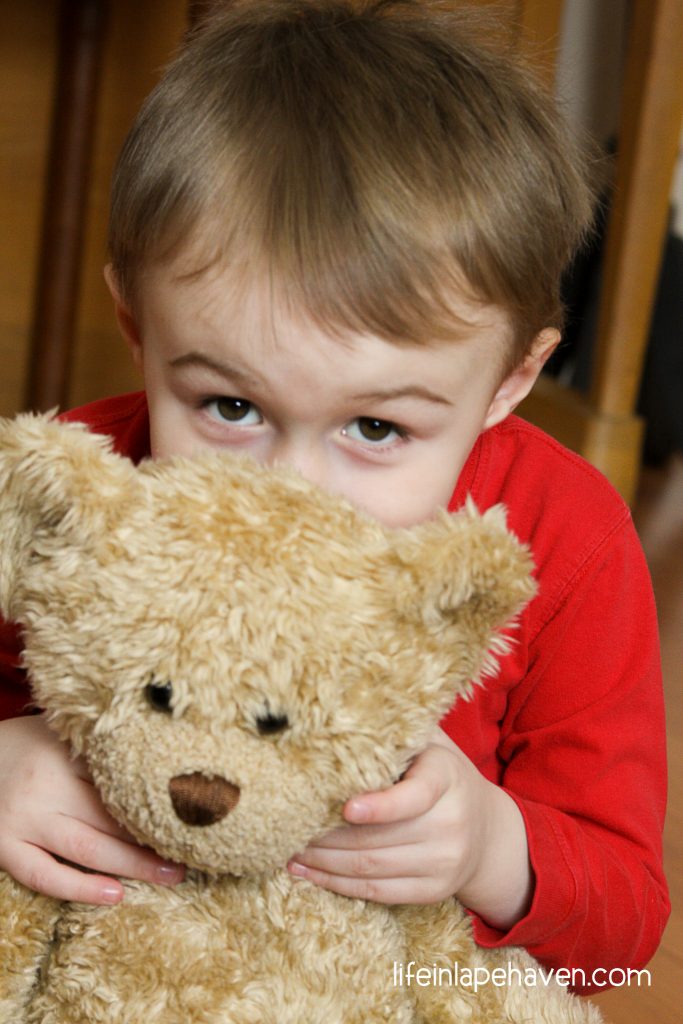 Started when Josiah was still a little one, these kooky adventures take place when Daddy and the boys go upstairs to play together. It's a combination game and storytelling, as they come up with new "episodes" every time they play. (Elijah tends to think of these stories like a TV series.) Daddy narrates, and the boys offer suggestions of what will happen "today on this episode of 'Big Bad Bear, Baby Bear, Little Boy, Big Boy, and Monkey in the Woods.'" While Josiah is "Little Boy," and Elijah is known as "Big Boy," they use their stuffed animals for the rest of the characters. "Big Bad Bear" is a gray bear puppet whose character is more grumpy than bad. "Monkey" is one of those toy monkeys with really long arms and legs that you can Velcro around you, and he's a crazy, clumsy monkey who always ends up falling down our stairs. "Baby Bear" is the teddy bear that Elijah snuggles at night. They also always visit "Grandma Monkey" at some point in the story, and she cooks them yummy food.
I don't know all the craziness that goes on, but I hear it: the laughter, the running, Brad doing silly voices, and my boys having a wonderful time. I've been tempted to join in before, but this is their thing with Daddy. It's more special that way.
If a father telling his son stories that include the child's stuffed animals sounds familiar, you may be thinking of A.A. Milne, who did the same thing with his little boy, Christopher Robin, and his teddy bear, Winnie the Pooh. Apparently fathers and storytelling is a thing in more than our family.
And for good reason. While Brad's storytelling technique is definitely different than my dad's (and far different than A.A. Milne's), the end results are pretty much the same: memories, bonding, a shared adventure, and children who know that they are important to their daddy because he takes time to play and imagine with them. (They also give moms a break. Haha)
As moms we have lots of opportunities with our children to bond and make memories. They know we love them because we snuggle them, kiss boo-boos, make them cookies, sing them songs, read them stories, and 50 million other things throughout a day. It's kind of easy for us.
But our kids need special moments with their daddies, too. Who better to lead them on wild (pretend) adventures and daring (imagined) feats than their big, strong daddy? (Remember, I'm a girl, and my father was telling me about a bear hunt, not a princess tea party, and I still cherish that story).
So, mamas, step back (if you have to) and give them those moments, and daddies, take them. Make time to spend with your little ones just playing make-believe, and create stories together that they'll remember for the rest of the lives.
Because, trust me, they may forget the storylines over time, but they'll never forget you were the one telling the story.
Feature image courtesy of Picture Bliss Photography.