Jump to recipe
My hubby calls me nearly every day on his way home from work. (It's something we started when we were dating…aww) Inevitably, after an update on the boys and how our day went, he'll ask, "What's for dinner?" He knows that he's in for a surprise when I reply with, "I'm concocting."
"Concocting," for me, means that I'm not just following a recipe. I might have one that I'm referencing, but I'm not sticking to it too closely, either because I'm making substitutions for certain ingredients or because I'm improving. Usually I'll end up with two or three different recipes for a certain dish that I pull from, and the resulting effort is bits and pieces of them all.
I know – It sounds scary. However, you can ask Brad, and he'll tell you that I have yet to make something horrible or totally inedible. (I'm not a food expert, but I do watch Food Network on TV.) I've made some okay meals this way and some super fantastic meals this way.
So when I found myself with a couple of pints of blueberries that I needed to use up quickly (they were on sale, and my boys love them, but they don't have a long shelf life), I started looking for a new recipe that I could use them in.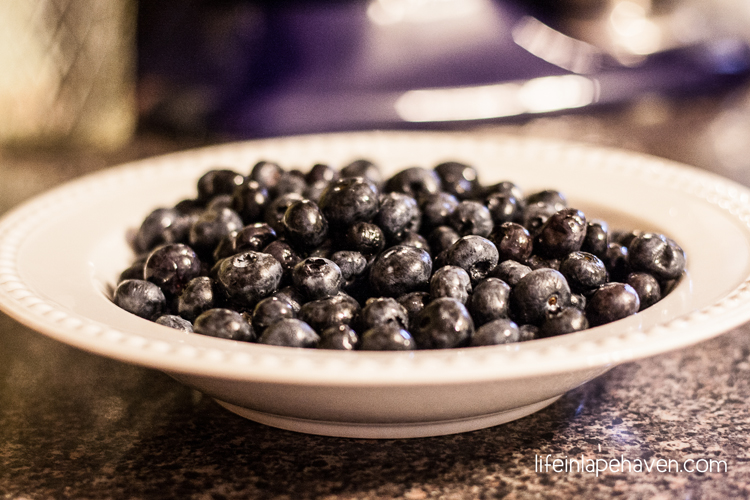 Having recently added this rather yummy recipe for beef empanadas to my repertoire, I was curious about using the dough from it for blueberry "pie pockets" or hand pies. Of course, I wasn't going to use the beef filling with my blueberries, so I needed a good blueberry pie filling. After searching for a while, I found a simple one and adapted it for what I wanted.
The results were delicious, and those little pies were gone within two days. The tweaked recipe mash-up has become a new favorite around our house, and I'm going to share it with you today.
Now I will say that the pie dough is not your average flaky pie crust. You could use any pie crust recipe or even store-bought crust with this filling. The reason I didn't is because I like the flavor of this dough and its elasticity. I don't have a problem with it tearing or breaking apart, and I can fill each pocket pretty full. Also, you can always change up the filling. Do your own concocting, and make it an adventure!
Blueberry Hand Pies

Ingredients
Blueberry Filling
2 ½ cup Fresh Blueberries
½ cup Sugar
3 ½ tablespoons Cornstarch
¾ teaspoon Ground Cinnamon
1 tablespoon Lemon Juice
1 teaspoon Lemon Zest or additional ½ teaspoon Lemon Juice
A Pinch of Salt
Hand Pie Dough
2 cups All-Purpose Flour
1 tablespoon Sugar
½ teaspoon Salt
½ teaspoon Baking Powder
¼ cup Coconut Oil (Or Lard or Vegetable Shortening)
¾ cup Milk
1 Egg, beaten
1 tablespoon water
Instructions
In a medium saucepan, mix together all the filling ingredients over medium-high heat until the mixture starts to thicken, about 3 minutes. As the sugar dissolves and the berries soften, you can mash up the blueberries a little with a spoon or potato masher. That will make the filling easier to spoon into the pockets. (I used brown sugar this time around because another person in our house used the last of the granulated sugar and didn't put it on the grocery list. Hmmm…Thankfully, brown sugar and blueberries go together nicely.)
Once the filling is thickened, but not stiff, remove it from the heat and set aside. (You can give in to the temptation to taste it, but be careful – it'll be hot!)
In a medium mixing bowl, combine the flour, sugar, salt, and baking powder. Whisk together until well mixed.
Add in the coconut oil. You can either cut it in using a pastry blender or use a fork or your fingers to work it into the mixture until the oil is thoroughly mixed in.
Make a well in the center of the mix and pour in the milk, stirring until it forms a ball. You can add additional flour a little at a time if the dough is sticky, but remember that it will pick up some flour when you roll it out later. Too much flour and mixing will make the dough tough.
Preheat the oven to 375F and line your baking sheet(s) with parchment paper.
Divide the dough into four pieces and on a floured surface roll it out until it is very thin (approx. 1/8" thick). Cut dough into circles. (I used my biscuit cutter, which is around 3" round. The size that you cut the circles will determine how many pockets you end up with). I usually get 30-35 circles, depending on how thinly the dough is rolled out.
In a small bowl, mix your beaten egg with the water to create an egg wash.
In small batches, brush the top edge of your dough circles with the egg wash. Add about ½ teaspoon or more (depending on the circle size) of filling to the center of your circle. You'll know if you've added too much filling when you try to fold it over (next step), but it's better to have a little too much filling rather than not enough since the filling will cook down some in the oven. (It's pretty disappointing to bite into a pocket that is basically empty.)
Fold the dough over and press it closed, using a fork to crimp the edges and seal it. (Getting a good seal is important, or your filling will squeeze out during baking, making your pockets look like little clams with their tongues sticking out…guess how I know? Of course, they are still tasty.)
Move the filled pockets to a prepared baking sheet.
Repeat steps 9, 10, and 11 until all your hand pies are filled, crimped, and placed on a baking sheet.
Brush the tops of the pies with the remaining egg wash and poke a couple of venting holes in the top of each one.
Bake for 20-25 minutes, until puffed and lightly golden.
Allow the pies to cool a bit and enjoy! They are especially yummy when they are still slightly warm.