When I was pregnant with Josiah, part of our preparation for his arrival was having two-and-a-half-year-old Elijah spend the night at either my parents' or Brad's parents' house every so often. Since Elijah was still so little, he hadn't had too many sleepovers, and we wanted him to be used to being away from Mommy and Daddy overnight when he had to stay with his grandparents while we were at the hospital.
My mom was taking care of my nephew at my brother's home during the week, so whenever Elijah stayed with my parents, he got to go with her in the morning and spend the day with his best friend in the world, his cousin Christian. Both of the boys loved that.
One evening when I went to pick up Elijah from my parents' house, my mom shared a cute story about how their day had started.
Since she needs to be over at my brother's home in time for his wife and him to leave for work, my mom's day starts early. She was up, getting ready, when Elijah woke up at 6 a.m. (So glad he was over at her house!)
He was still lying in bed when Mom heard him declare, "It's a wonderful day!"
Knowing that he was going to be playing with his cousin all day, I'm sure he was anticipating all the fun they were going to have together with each other and with their grandma.
However, he hadn't even gotten out of bed before he decreed how his day was going to go. He hadn't looked outside to see if it was sunny, cloudy, windy, or rainy to determine what the morning would be like (it still would have been dark, anyway).
He had already decided that it was a wonderful day.
So many more of our days would be wonderful ones if we started them off this way, if even before we opened our eyes, we reminded ourselves that "this is the day the Lord has made;" and determined that "we will rejoice and be glad in it." (Psalm 118:24)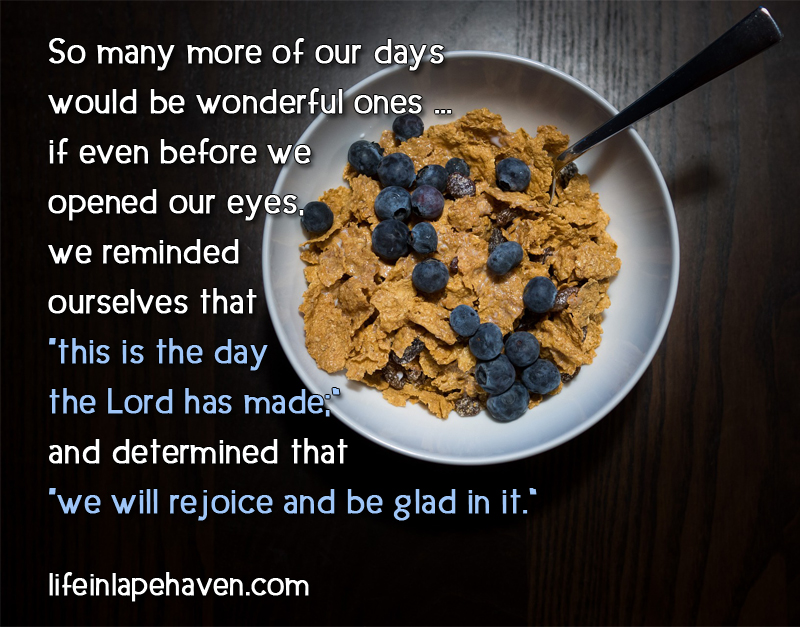 Our attitudes, perspectives, and expectations can make a great situation miserable or miserable situation great or, like Elijah, a good situation wonderful.
Today, I'm challenging you to find your inner "Pollyanna," and just like the little girl who could find something to be glad about in any circumstance, look for joy, look for good, and look for God working in, around, and through you.
When you're tempted to complain, remember all the many things for which you have to be thankful. When you want to criticize, find something to praise. If someone frowns your way, hit them with a megawatt smile (sometimes just annoying that grumpy person will be enough to make your smile last all day).
Yes, we have hard days and trials, and sometimes the silver lining is hard to find in an overcast sky. When that happens, here's a jumpstart for your positive thinking: you are not alone. You are NEVER alone. We have a God Who loves us, and He will walk with us, comfort us, guide us, work miracles on our behalf, carry any burden we entrust to Him, and give us hope and peace in every circumstance if we ask Him and let Him.
With God, we can begin every day with anticipation, knowing that it can be a wonderful day.
So how is YOUR day going to be wonderful?
Get more ideas & encouragement from this real-life mom as I experience God's faithfulness through the joy and chaos of motherhood.

Join my email list!  
YOU MAY ALSO LIKE:
Simple Ways to Spark Joy in Your Children
Out of the Mouth of Babes: A Write 31 Days Series