(Shhh! It's Educational!)
By the way, this post contains affiliate links, which means that at no additional cost to you, I may receive a small commission when you make a purchase through the links.
This Christmas my hubby really, really wanted to get our boys a tablet so they could play their ABCMouse.com and other learning apps and games without risking Daddy's Surface or draining Mommy's phone. When he found a good deal on a Kindle Fire, I acquiesced, even though I didn't think my boys' needed access to yet another screen.
However, with parental controls for when they can play, what they can play, and how long they can play, the tablet has actually been a very good tool for our boys. (Yes, Brad was right.) My favorite parental control setting is the one that requires the boys to spend at least a certain amount of time playing the educational apps before they can even see the icons for the "fun only" games.
This meant, though, that we needed to find some really good educational app options for them. We definitely included ABCMouse, but we wanted them to have more to choose from. I also preferred they be inexpensive, or better yet, FREE. Some of the good ones we found are totally free, while others are free but have more with the paid upgrade, and still others are, at most, a few dollars.
Since the boys each have their own profile, we can customize who gets what apps, so Josiah's educational apps are the counting, colors, shapes, and ABC ones. Ones that he seems to really enjoy are Toddler Counting 123, Phonics Island by 2 2Learn (we upgraded from the free), and Monkey Preschool Fix It! (I really like that one)
For Elijah, some of the apps we included were Phonics Island (even though he's reading well), Sight Words & Flash Cards Volume 1 by 2 2Learn (also upgraded), and Monkey Word School Adventure, plus some free Kindle books that he can read.
They have been doing well with using their learning apps, and I can definitely tell that the boys are learning, especially Josiah, who has been counting things and trying to identify letter sounds.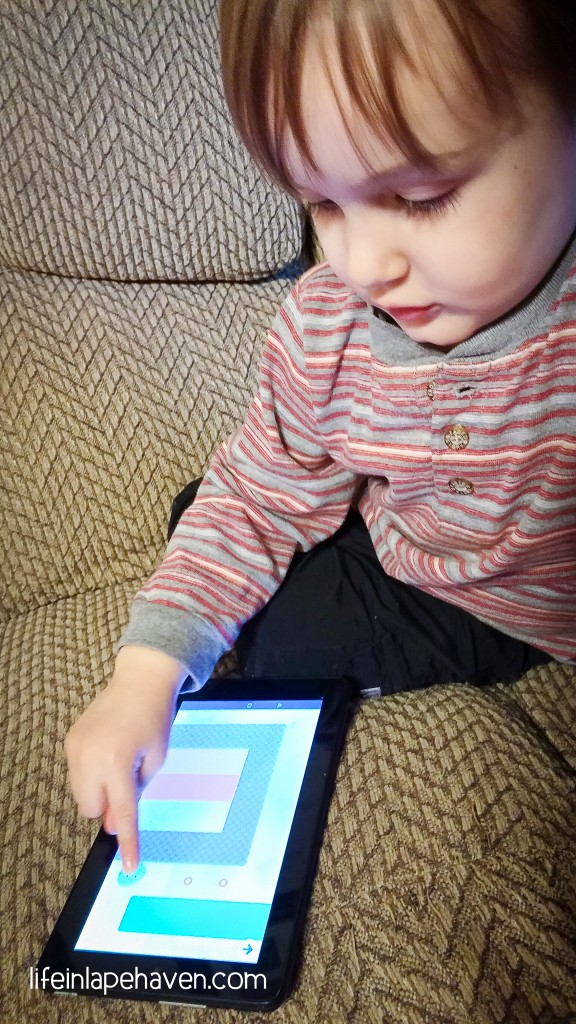 However, the other day, Elijah asked if we could find him a new game or app for the tablet and offered to pay for it with his own money from his piggy bank.
We did a quick search on Amazon for apps for kids, and I sorted the results by the highest customer rating. That's how we found ThinkRolls 2. This app had a 5-star rating from 97-percent of the reviewers, with the remaining 3-percent giving it 4 stars.
If you've never heard of the app (we hadn't), here is some of the game description:
"Thinkrolls 2 is an enlightening logic puzzler for kids 3-9…Children must use all their wits to navigate 28 spunky characters through 235 levels of increasingly complex mazes (117 for ages 3-5 and 118 for ages 5-9)… This clever game of logic keeps kids on their toes as they use properties of matter and basic physics to make their Thinkrolls not only roll, but float, glide, and teleport through a series of themed chapters. Each gradually introduces a new scientific concept in an accessible, easy to understand way. As kids explore and master, through trial and error, how to navigate the twists, turns and many pitfalls, they gain confidence in their deductive reasoning and ability to problem solve."
It intrigued me, so I looked for reviews outside of Amazon and found this YouTube video, which shows you how the app is played.
Elijah watched along with me, and just a little way into it, he was saying, "Yes, I want that one."
Not only does Elijah LOVE it, but so does Josiah, and I have been very surprised and impressed to watch them figure out how to move their character through the maze and the obstacles. They are learning how to think through steps to solve a problem, and when they make a mistake, the character doesn't die. They just hit the do-over button at the top corner, and they can try again. Plus, the game lets them keep trying and trying until they get it. It isn't timed, there's no limit on do-overs, and no help prompts, unless you, as the parent, give them a nudge.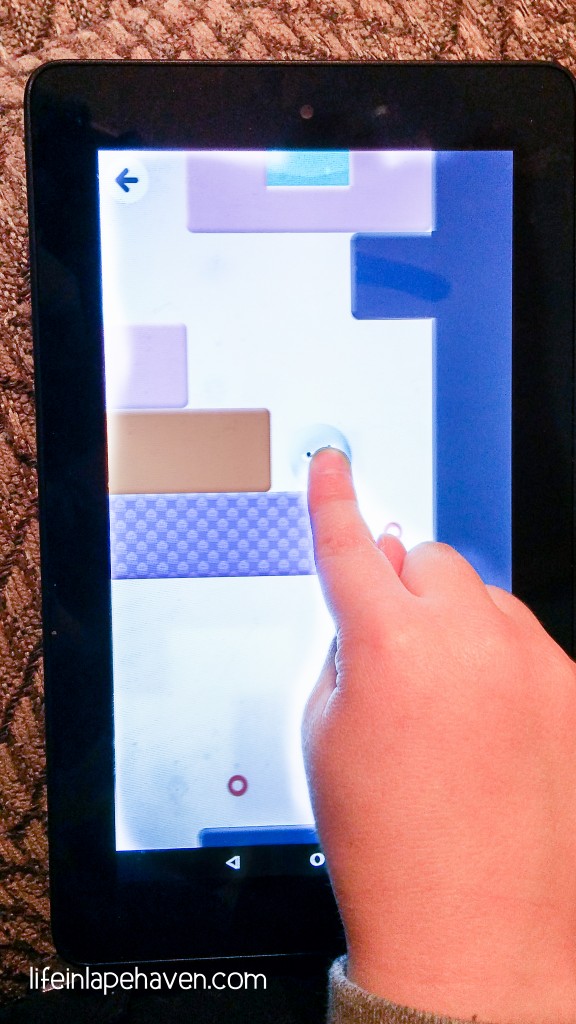 Each time they finish a level, they unlock a new little character, which Elijah said is his favorite part. Once he completes the "easy" levels, we can bump him up to the harder levels and see how he does, so the game can kind of grow with them. You can also have up to 6 player profiles on the game with different difficulty settings, so you can have your preschooler and elementary kids playing at their own levels. The game automatically starts wherever you leave off.
By the way, this game isn't only for kids. When I had Brad play it the other night, I later had to suggest that he quit playing and get ready for bed. Haha. It IS really fun.
It is a purchased app, but the few dollars have already been more than worth it for my boys…all three of them. 🙂