Jump to recipe
Earlier this year, I was looking for something new to make for dinner. Tired of the usual standbys, I went searching for inspiration on Pinterest, and I came across a fairly easy-looking recipe for which I had enough of the ingredients in my pantry or refrigerator that I could try it out.
Knowing that my guys all love pasta, I decided to see how they liked Beef Stroganoff, something that I knew my two little boys had never had. It was a bit of a gamble since they can have their picky-eater moments, but it turned out to be worth the risk because everyone loved it. This quick, tasty dish has since become a regular menu item in our house, one that my boys eat right up.
The recipe I started with is Creamy Beef Stroganoff from Cooking with K, but of course, as usual, I've tweaked it based on what I have on hand and our family's tastes.
This is a really simple, throw-it-together kind of a meal, and according to the original recipe, you can make the sauce (minus the sour cream) and freeze it, which would make it an even quicker dinner if you prepped ahead. I haven't tried this yet. I do, however, usually buy 3 or more pounds of ground beef, and brown and freeze it in 1-pound portions, so I have that ready to go. (This is great for quick sloppy joes, spaghetti, cheeseburger soup, or even this beef stroganoff.)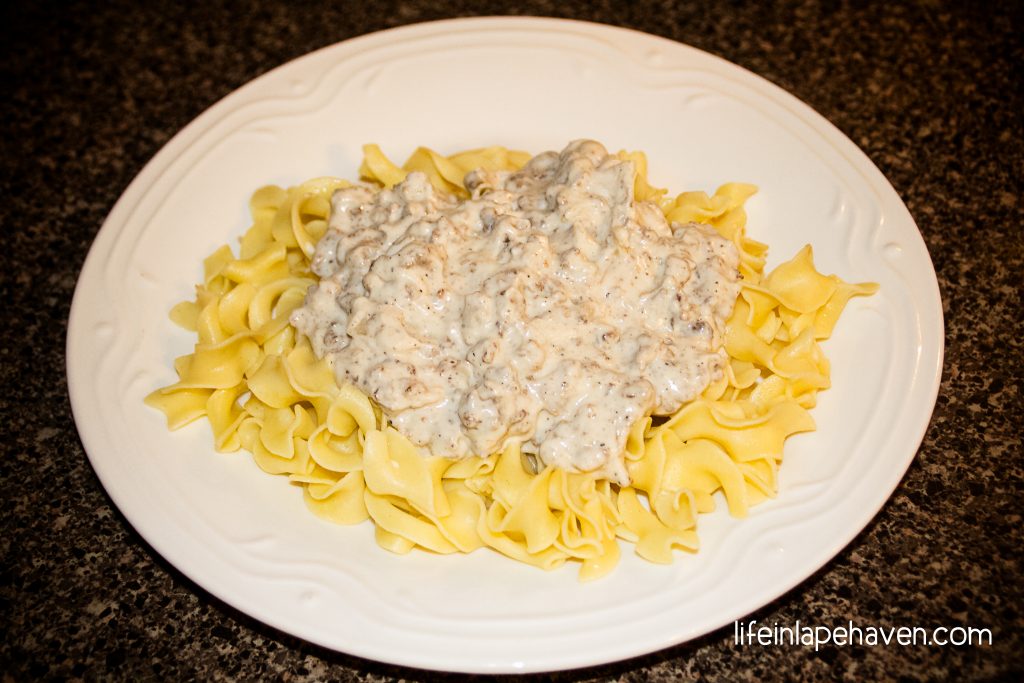 Some of the changes I have made to the recipe include using a little less ground beef and onion, not using any green peppers, adding more evaporated milk, and using Greek yogurt instead of sour cream. It's also nice to jazz it up with fresh mushrooms or heavy cream instead of evaporated milk.
It might not be the prettiest dish, but it is definitely a delicious one. 🙂
Here's my version of an Easy Beef Stroganoff. Enjoy!
Easy Beef Stroganoff

Ingredients
1 lb. Ground Beef
1 1/2 tsp Salt
1 tsp Pepper
1/2 medium Onion, diced
1 can of Cream of Mushroom Soup
1 cup Evaporated Milk
1 cup Greek Yogurt (or Sour Cream)
Cooked Egg Noodles (I always cook an entire package, but you only need about half)
Instructions
In a large skillet, brown ground beef, seasoned with the salt and pepper, until nearly done.
Add onions, cooking until tender.
Add soup and milk and stir to combine. Simmer beef mixture for 10-15 minutes, stirring occasionally.
Remove from heat and stir in Greek Yogurt.
Add cooked egg noodles & stir to coat them in the sauce. (Since I made an entire package of noodles, I didn't combine them, but instead served the sauce over the noodles that I needed.)
*Note: If making the sauce ahead, freeze it before you add the Greek yogurt (or sour cream). When you are ready to prepare the meal, warm the sauce, then add the Greek yogurt, and serve over some cooked egg noodles.
* You could also use fresh mushrooms, sauteed when you are cooking the onions and meat, or use cream instead of evaporated milk. Yum.