Jump to recipe
This year for his birthday, Elijah wanted to have his party at our local state park because he wanted to go fishing as part of his day.
With Elijah's birthday party being outside at the park, our party food had to be easy and portable, especially knowing that all the kids would be distracted by the nearby playground and fishing dock. Plus the party was in the mid-afternoon, so lots of food just wasn't necessary. As a result, we went with really simple fare with a bit of a fishing and water theme: cupcakes (decorated with blue shark gummies in "water" frosting), whale crackers, and watermelon.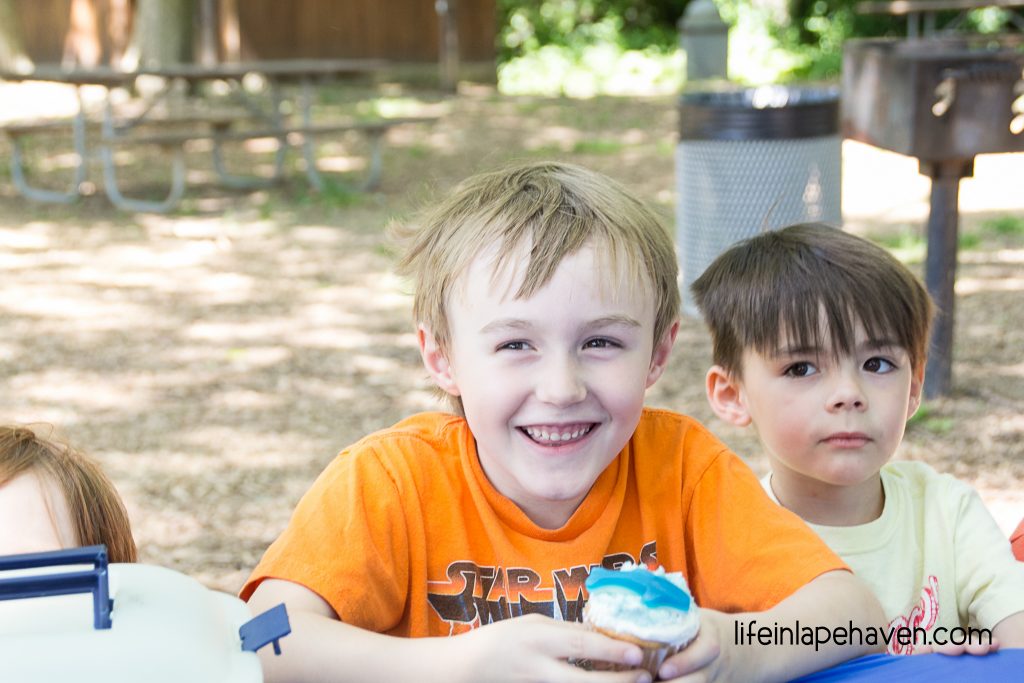 We allowed for lots of time for Elijah, Josiah, and their cousins to play on the playground and fish from the dock, so this was one of the easiest parties I've ever planned and one of the most relaxing (minus keeping little boys from casting into each other accidentally while they fished…)
Doing cupcakes instead of a large cake was a given, but frosting is a tricky thing with hot temperatures. I was hesitant to use a buttercream, but after a different frosting recipe totally flopped for me (I plan to try it again sometime, though, so stay tuned), I decided we could make a buttercream icing work.
For one, we kept the cupcakes in the refrigerator until the last possible minute before we left. Once we were at the park and had served everyone, we kept the leftovers in the cooler. They did really well. Plus, I think the sprinkled sugar I put on top (to add a little color and mimic water) helped keep the frosting from getting too sticky on top. 🙂
I researched some recipes before I made the frosting because I wanted for-sure proportions for the icing rather than just tossing some butter, powdered sugar, vanilla, and a splash of milk into my mixer like I usually do.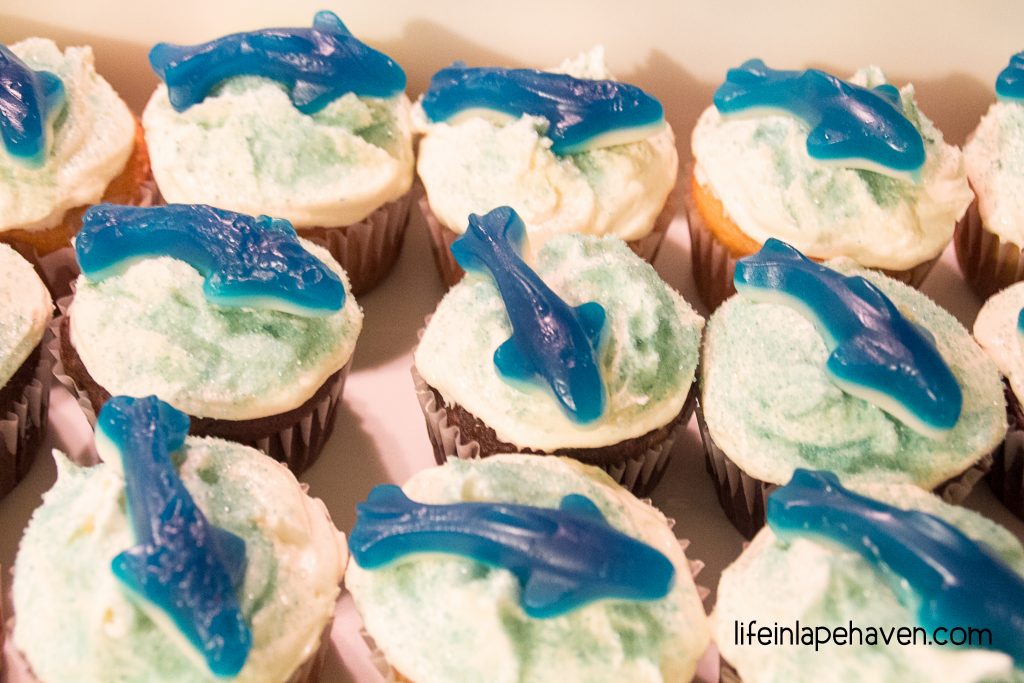 I'm so glad I did.
The recipe I chose was titled, "The Best Vanilla Buttercream," and I have to agree with them on that. It IS the best vanilla buttercream I've ever used.
I made a double batch since I had 48 cupcakes to cover, but I probably would have had enough from a single batch since I'm apparently not a heavy froster. However, there really is nothing wrong with having extra buttercream left over. It should freeze well enough, and I know we won't let it go to waste.
While I tend to tweak every recipe I try, this one I followed pretty much exactly. I did, however, use a little heavy cream as part of the milk, just because it seems to make icing a little bit fluffier and yummier.
So, here you go: The Best Vanilla Buttercream Frosting I've Ever Made
The Best Vanilla Buttercream Frosting I've Ever Made

Ingredients
½ cup (1 stick) Butter, softened to room temperature
5 cups Powdered Sugar
2 tsp Vanilla
2 Tbl. Milk
2 Tbl. Heavy Cream
Instructions
In mixer, beat butter until light and fluffy.
Slowly add powdered sugar, mixing in one cup at a time.
Add vanilla, milk, and cream.
Beat together until thoroughly combined and fluffy.