For the last few months, this third pregnancy has had me slightly off my game more so than my other two pregnancies did. The tiredness, nausea, yucky taste, and more have been a bit of a struggle, especially with having my two boys to keep up with. Now that I'm a little more than halfway through, I'm feeling a bit better, for now (I know that the end-of-pregnancy uncomfortableness is still ahead of me).
With all the not-so-fun things that come with pregnancy, there are still so many wonderful parts of pregnancy than make up for the inconveniences and discomforts.
Here are 8 of My Favorite Things About Being Pregnant
#1. Expectant Mother Parking
Okay, this might sound silly, but I was so excited the first time I was able to pull into one of those special parking spaces. I had seen them popping up at various stores not long before I became pregnant with Elijah, and I thought that it was such a nice consideration for expectant and new mothers.  I waited until I was rather obviously pregnant before taking advantage of them, so you know I was happy to have a shorter walk into the grocery store at that point.
#2. Special Consideration from Others
Similar to the expectant mother parking, it's always nice when people are extra kind to you, and when you're pregnant, most people are especially kind and helpful. Sure, some people might be a bit too free with their advice or invading your personal belly space, but for the most part, you are treated with a courtesy and friendliness that is often only experienced during the holiday season.
#3. Ultrasounds & the Heart Doppler
Few sounds are as beautiful as hearing your baby's heartbeat, especially for the first time. It's the highlight of every doctor's appointment. That deep little "swish, swish, swish" sound is reassurance that your little one is doing well.
And while I'm not a fan of having a ton of ultrasounds while I'm pregnant, it is pretty exciting to have that visual confirmation of your baby's growth. Seeing the profile, and yes, finding out whether you are carrying a boy or a girl, is a milestone that every mother waits for (even if you don't want to know your baby's sex before he/she is born).
#4. Feeling the Baby Kick
Even beyond the ultrasound, this is the milestone I look forward to and cherish:  feeling the baby move. Trying to explain the sensation to someone who's never been pregnant is pretty much impossible, but once you've experienced it, it's something you'll never forget. (I've had dreams that I was pregnant and in those dreams, I felt that baby moving…crazy.)
And, yes, as the baby gets bigger, those flutters and shoves become jabs and hard kicks and "please quit pushing on my ribs." But even with those more powerful movements, you are bonding with your baby, learning their personality before you officially meet them.
For me, Elijah was my little ninja. He liked to kick, and kick, and kick. He also showed his stubbornness early by kicking me every time I moved to my left side, and he would continue kicking until I rolled to my right.  Yep. I even warned Brad about this one.
Josiah's style was more parkour. He flipped, kicked, and shoved constantly, and that has carried over since birth. He is our little daredevil who never walks when he can run, who climbs EVERYTHING just so he can jump off it. We'd kind of hoped he would be a bit more laid-back than Elijah, but…nope.
We've already been praying about this third boy. 🙂
#5. Comradery with Every Other Mother in the World
Just like you bond with your baby while you're pregnant, being pregnant also gives you an instant bond with every other woman who has ever been pregnant or become a mother in some way. You'll exchange stories about your experiences during the months you carried your babies and share your birth stories and the first-six-weeks-with-a-newborn stories.
Despite what we hear about "mommy wars," I've found that most moms are super supportive and encouraging, and that kind of community is a wonderful thing.
#6. Deeper Appreciation for My Mother
Nothing makes you appreciate your own mom like becoming one yourself.  Experiencing pregnancy, labor & delivery, and life with a little one, you can't help but think about your mother, now that you know what she went through for you.
Thankfully, my mom and I have always had a very close relationship, and my pregnancies have only brought us closer. Not only has she been the one I go to for advice, encouragement, questions, and prayer, but my mom has been there with me through each labor and delivery. She has coached me through two un-medicated natural deliveries, knowing the pain I was feeling but helping me stay focused and determined through it all. (She's not a professional doula, but she totally could be!) And of course, she has always been ready to help during those early weeks (and anytime, no matter our kids' ages, actually), even if she just does dishes for us or sits with the baby while I get a nap.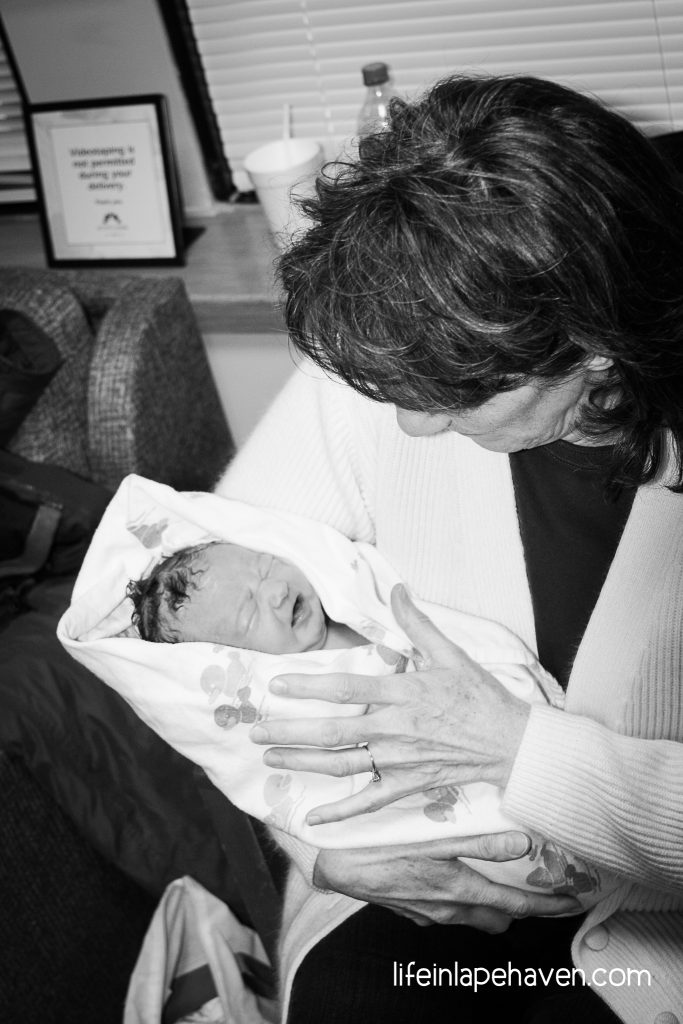 #7.  Deeper Appreciation for My Husband
Pregnancy and parenting aren't easy, but it is easier when you have a supportive, on-board partner to share it with.
Most any given day, I know that I have a rather fabulous husband. He has been fabulous from day one. But I am reminded even more so of his fabulousness when I'm pregnant and once we're in the midst of caring for a newborn.
Not only does he help with our boys even more and take care of additional household chores when I don't feel well or just physically can't, but he does it with joy. He insists that I rest when I need to because he knows I have a tendency to push myself maybe more than I should.  He does whatever he can to help me through the unpleasant parts of pregnancy, whether it's stopping on his way home to pick up more salt & vinegar chips to help me with the nasty taste in my mouth or massaging my achy legs at night even when he's really tired himself.
In the delivery room, if my mom is the coach, he's my cheerleader. I know it's tough for him to see me go through it, but he's never left my side. And once our babies arrive, he is the sweetest of daddies, changing their first diapers and waking in the night along with me to bring the baby to me for feedings (in the weeks that Brad is off from work) or doing his best to soothe a cranky little one, sometimes falling asleep in the rocking chair himself.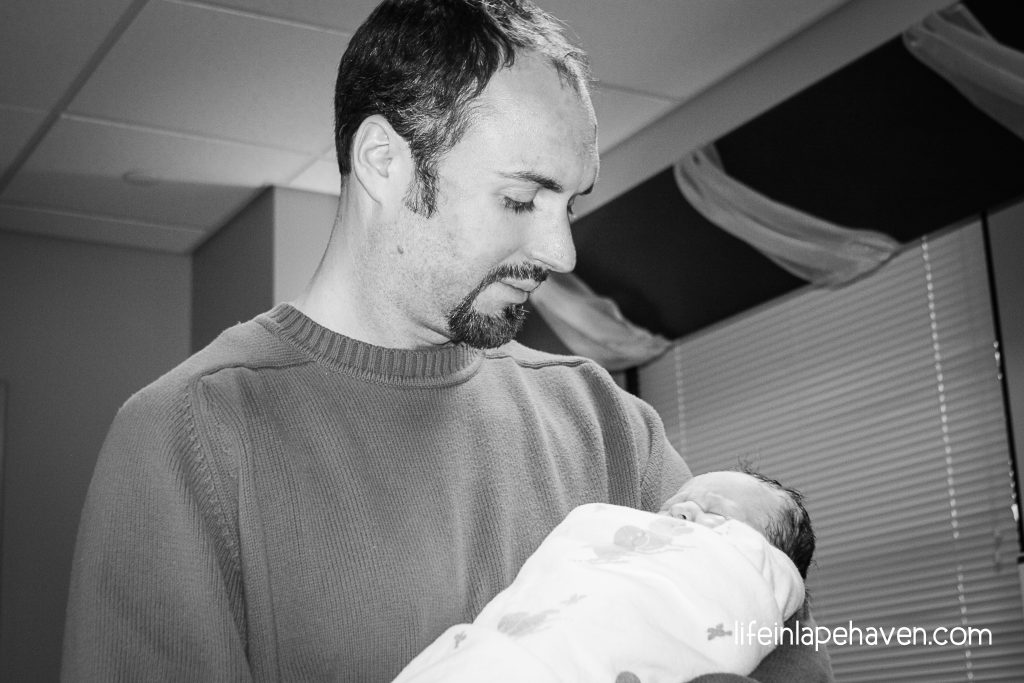 #8. A Baby
This sounds kind of obvious, but the best part of being pregnant, the one thing that makes all the difficult, painful moments worthwhile is that moment when the doctor hands you your squirmy, wrinkly little one and you really meet your baby for the first time. That moment, and about a million others over the next year (and years). Loving and caring for this child, watching them grow and learn, knowing that God has a unique and divine purpose and plan for him, and seeing that plan slowly unfold through his personality and talents, his likes and passions, and God's leading – there really is nothing better.
It doesn't change, either, from your first baby to your second or third or so on. Each one brings a new, unique joy and love to your life.
It is absolutely the best part of being pregnant.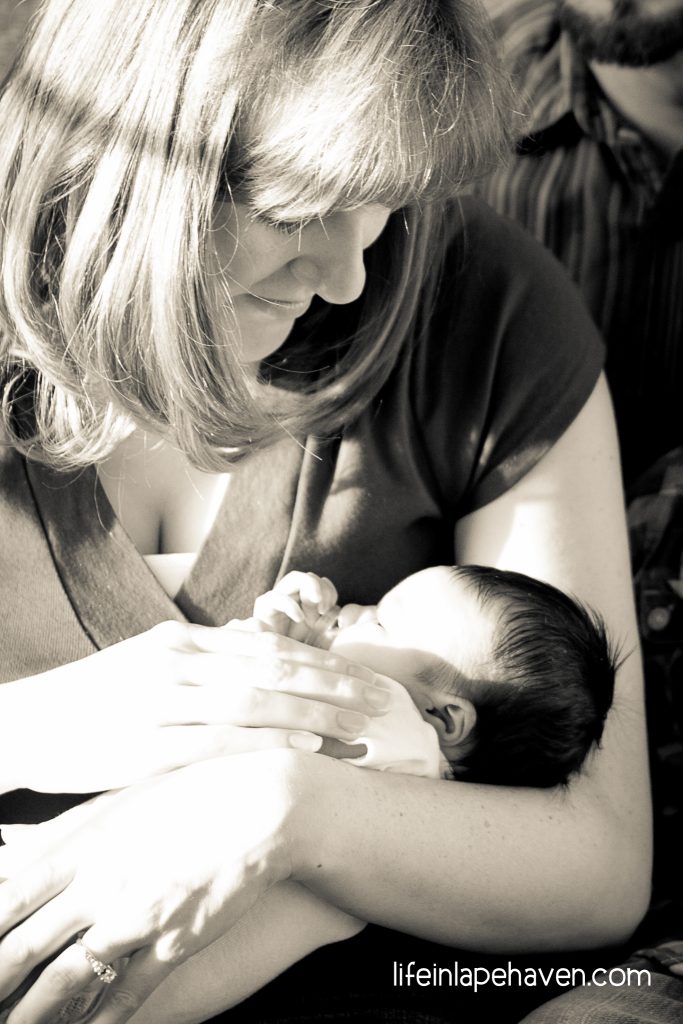 So, moms, what would you add to the list? What is something you love or loved about being pregnant?