Jump to recipe
I love having a garden. Being able to go outside and pick what you'll have for dinner is awesome and so fun. However, when everything comes on at once, it can be tricky to eat it all up before it goes bad.
This year, hubby, our boys, and I planted a small garden with cucumbers, tomatoes, zucchini, and yellow summer squash. Our zucchini and summer squash plants were initially feeding the local rabbits, but once we blocked the plants off with chicken wire, we've managed to harvest a few vegetables from each plant.
My parents' garden, however, has flourished with zucchini and squash, so with all that they've grown and our own garden's contribution, we have quite a bit to use up between us.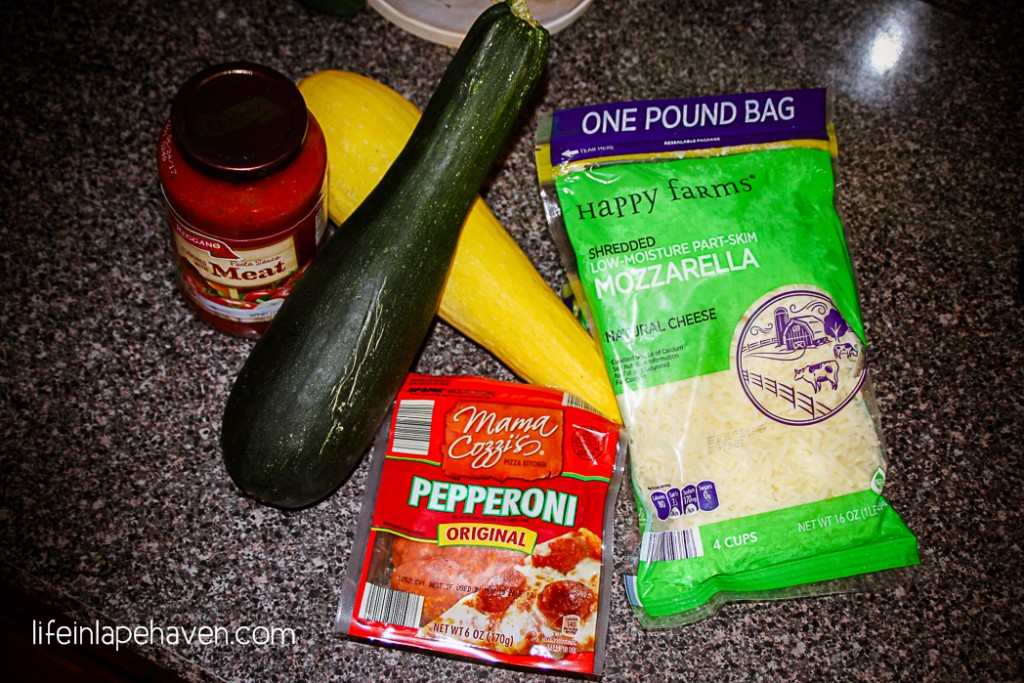 For my family, the go-to recipe for zucchini and/or squash has been zucchini pizzas. (In case you don't know, zucchini pizzas are made by slicing the zucchini into thick rounds or cutting it in half as "boats" or planks, then topping it with pizza sauce, pepperoni, cheese, and whatever other pizza toppings you want, and baking it.) It's so yummy, and it gets my guys to eat their veggies.
Well, at least two of my three guys will eat their zucchini or squash. Josiah, who's 2, just pulls off the toppings and eats those, leaving the sad little zucchini "crust" all alone on his plate.
So last week, as I stared down at a zucchini and squash that needed to be cooked, I had an idea and decided to try it out.
Since there wasn't enough there to make zucchini pizzas for everyone, I decided to slice them both very thinly then cook it in a pot, adding the sauce and pizza toppings at the end to create the flavors of zucchini pizza, but all mixed together. I hoped this would serve two purposes: it would stretch what I had to work with and maybe, just maybe, Josiah would eat it better.
It was super quick and easy to throw together, and the end result was tasty, just like zucchini pizza, only saucier, which my guys loved.
My experiment worked, at least on one count. It definitely made enough to feed us all. Josiah, however, was not convinced. He actually sat there and picked the toppings out, bit by bit, leaving strips of zucchini and squash behind. *Sigh*
Brad and Elijah loved it, so it has become a new go-to zucchini recipe for us. Since I know we're not the only ones with an over-abundance of zucchini and squash right now, I thought I'd share my little thrown-together, quick and easy, one-pot meal recipe with you all.
Just a note: Feel free to tweak the ingredients to your family's liking. If I were making this just for myself, I'd use less sauce (maybe even half as much), but my guys love some pasta sauce. (Ours is almost a zucchini pizza soup. Haha) You can add more or less pepperoni and cheese and add whatever other pizza toppings you have on hand.
If you try it out, let me know how it goes over with your crew and if you were able to sneak it past any picky eaters with better luck than I had!
Zucchini Pizza in a Pot

Ingredients
1 large zucchini
2 medium yellow summer squash
4 cups of water
1 (24) ounce jar of Pasta Sauce
2 cups Mozzarella Cheese
1/2 cups diced Pepperoni
Pinch of Salt
Instructions
Clean zucchini and squash, then cut off the ends of each one.
Slice zucchini and squash thinly (I used a mandolin, which makes it much faster and more consistent.)
In a large saucepan, add the water and salt. Bring to a boil.
Add the sliced zucchini and squash.
Cover and cook, 6 minutes, or until the zucchini and squash are just tender. Stir it occasionally and be careful not to overcook.
Drain, trying to get as much water out as you can.
Return the zucchini and squash to the pot, and add in the pasta sauce, mozzarella cheese, and pepperoni.
Stir gently to combine. If needed, return to the heat for a minute or two, stirring constantly, to allow the cheese to melt.
Serve immediately.