Each night in Lape Haven finds my husband and me guiding our little boys through their bedtime routine. Some nights it's sweet and easy, and some nights it's a struggle because "I DID brush my teeth" and "I want you to hold me" or "I'm too tired." (That's the boys, not Brad and me…usually)
However, no matter how delightful or frustrating the getting-ready-for-bed goes, we always finish the night with Bible reading. We generally have a bedtime story before our Bible time, but we have found that when the boys are not behaving during the getting-ready time, losing their bedtime book can be a rather effective punishment. However, we never take away Bible time.
Since our guys are little, we have various kids' Bibles and books that we pick from for our nighttime reading, but our absolute favorite way to study the Bible with the boys is doing "Bible Guy" on Mommy's phone or Daddy's tablet.
The actual name for the app is The Bible App for Kids, but around here it is affectionately known as "Bible Guy" because when we first started using it, Josiah was just starting to talk. One day he wanted to play on my phone and kept asking for "guy." It took a second, but I finally realized that he was referencing the icon for The Bible App for Kids, which is a cute cartoon Jesus. I asked him, "Do you want to play the Bible?"
His reply, "Bible guy."
And there you have it.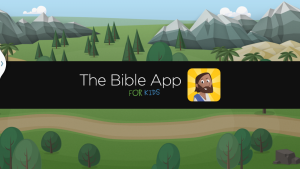 The Bible App for Kids is from YouVersion (makers of The Bible App, which is a great regular Bible app to have on your phone or tablet), produced in  partnership with OneHope, and is a FREE app of interactive Bible stories, with new stories added regularly. Each story is age-appropriately told without sacrificing the truth of the Word and features narration, touch-activated animations, questions throughout the stories, and special activities and challenges to help children enjoy and remember them.
One of the things I love is that fact that they don't just tell your cookie-cutter "for kids" Bible stories. While they do include Creation, Noah's Ark, David & Goliath, Daniel & the Lion's Den, and Jesus's birth and death, they cover the whole Bible. Some of the Old Testament stories include Adam & Eve's first sin, Abraham being asked to sacrifice his son, the plagues in Egypt and Passover, Samson's disobedience, Elijah's challenge on Mt. Carmel (my Elijah LOVES that story), and Nehemiah rebuilding the walls of Jerusalem. From the New Testament, they have stories about Jesus's baptism (which sparked the conversation with Elijah that led to his baptism this year); Jesus being tempted in the desert; several of the parables that Jesus told; miracles that He did (including delivering the demoniac); His death, resurrection, and ascension; the coming of the Holy Spirit, Paul's conversion and travels; and a glimpse into Revelations about Heaven. There is even a story that ties the whole Bible together, showing children God's plan of salvation for them. And, as I said, they are updating and adding new stories frequently.
The characters and animation are adorable, and my kids love to see what part of the pictures "does something." The creators of this app clearly love children and have a great imagination and a good sense of humor. My boys are engaged in each story, which means they will remember the truths they are learning. While their site says the app is for children 2-8 years old, my littlest guy loved it when he was even younger, and so do my hubby and I (and we're slightly older).


This app is also available in many different languages, which I think is awesome. This means that children around the world are learning God's Word through this app. In fact, one of our missions for the children at our church's Vacation Bible School this year was raising money to help get this app translated into yet another language. (If you'd like to support OneHope, you can check out their ministry here.)
I should mention that there are NO in-app purchases, and it is not easy for your child to accidentally download something else. Just to rate the app, I had to hold down on the "Rate This App" button for 3 seconds before it would open up an outside link. As a mom who has found random apps on her phone from my child clicking on a button while he's playing, I appreciate the child-proofing they've done with the app while still making it easy for my kids to navigate through it.
The only issue we've had with the app is that it used to crash at random times. However, they seemed to have fixed that issue lately, as they've brought out updates and new stories.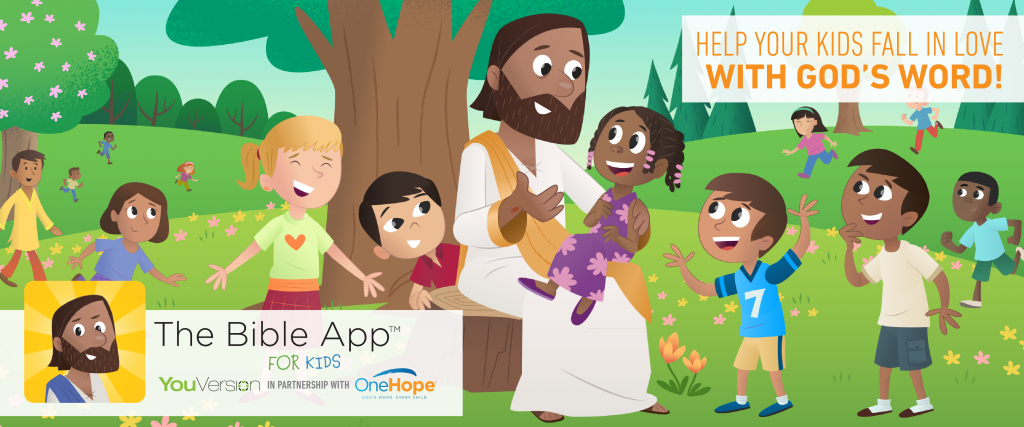 The Bible App for Kids is easily our favorite FREE app for kids, but I would pay for it in a heartbeat. When something as simple as a phone app can get your child excited about the Bible, spark important conversations about their relationship with God, and help them see His love for the whole world, I'd say it's worth it.
*Logos and The Bible App for Kids pictures are copyrighted by OneHope and YouVersion. *
Get more ideas & encouragement from this real-life mom as I experience God's faithfulness through the joy and chaos of motherhood.

Join my email list!  
YOU MAY ALSO LIKE:
4 Reasons Why Bedtime Is Our Best Family Time
Our "Vision Verse" for Our Kids
How God Can Use Your Faithfulness in Motherhood