Thank you to everyone who entered my first-ever giveaway here on Life in Lape Haven! It was a lot of fun to host, and I enjoyed all the interaction with new and old friends. 🙂
Rafflecopter has done its job and selected a random winner, so congratulations to Jennifer H! She will be receiving a copy of The Lost Heiress by Roseanna M. White​.
Thanks, again, for making this a fun giveaway! If you didn't win this one, there are a few other contests for The Lost Heiress still going on all over the web, including a fabulous one from Roseanna herself. They end soon, so be sure to follow the links below today.
Enjoy & good luck!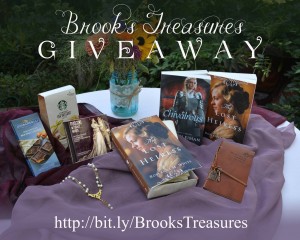 Roseanna's giveaway is awesome!  You can win a prize pack that includes a copy of The Lost Heiress PLUS a necklace inspired by Brook's (it's so pretty and unique), chocolate, coffee, music, and more! The contest is open through tomorrow, September 15, so hurry over!
(After you've entered the giveaway, go ahead and snoop around Roseanna's blog and learn more about her. She always has challenging, encouraging, and fun posts.)
Bethany House Publishers is hosting a wonderful giveaway celebrating the release of not only The Lost Heiress, but also Kristi Ann Hunter's A Noble Masquerade (I haven't read it yet, but I did enjoy her novella, A Lady of Esteem, which is currently free for Kindle.) This contest features two prize packages, one for each book, and both are full of great items. You just need to jump over there to check it all out. According to their page, there are only 7 days left to enter.
Savanna at the Engrafted Word is also offering a copy of The Lost Heiress to one lucky reader. You can read her interview with Roseanna and enter for your chance to win.
And of course, if you don't win one of those, you can purchase your copy at tons of sites and stores, including Christianbook.com, where it is currently on sale! 🙂