About a week after Elijah started kindergarten, he came home on Friday afternoon, and Josiah, who was feeling the daily absence of his big brother, decided to do a little show for Elijah while I was cooking dinner. (A lot of our life happens in the kitchen).
Standing on top off their daddy's old yellow art box as his stage, Josiah began his performance with a greeting of "Gentlemen!" in a surprisingly deep voice for a 2-year-old. After a short, mixed-up version of the alphabet ("C-B-S"), he got to the main event: serenading his brother with "Jesus Loves Me." However, his rendition took a sweet turn, as you'll see:
For some reason, little Josiah tended to always sing this song as "Jesus loves YOU," instead of "Jesus loves me." But that was okay with me. He clearly knew that God loved him. (He had told me just that morning, very confidently, that "God likes me. Jesus likes me, too.")78
What I loved about his song to Elijah was that Josiah simplified our calling as Christians down to one or two lines and declared it with such joy!
"Jesus 'lub' you, this I know. I 'lub' you!"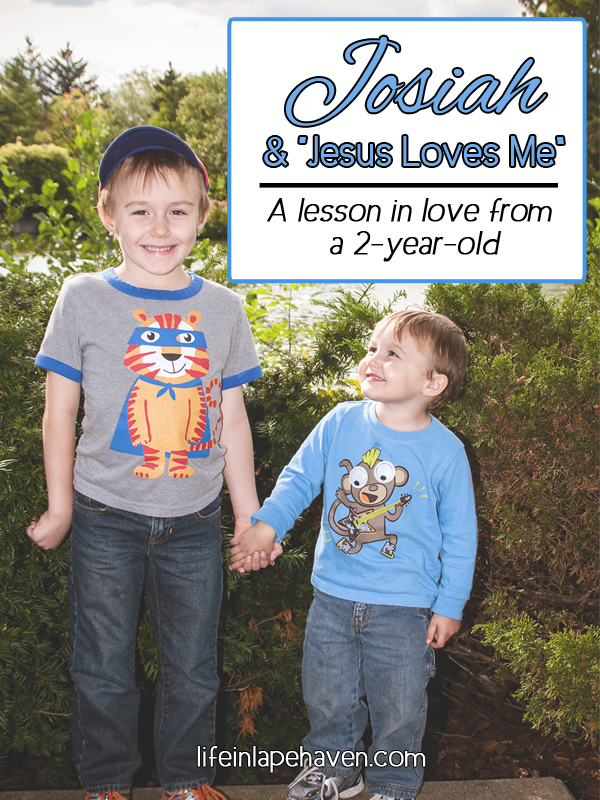 In 1 John 4:19 & 20, we're reminded:
"We love Him because He first loved us. If someone says, "I love God," and hates his brother, he is a liar; for he who does not love his brother whom he has seen, how can he love God whom he has not seen?"
Jesus loves me, so I love Him; Jesus loves you, so I love you, too.
Get more ideas & encouragement from this real-life mom as I experience God's faithfulness through the joy and chaos of motherhood.

Join my email list!
YOU MAY ALSO LIKE:
How We Changed Our Family Atmosphere with One Question
Simple Ways to Spark Joy in Your Children
The Tale of a Tooth & Noticing the Big Things in Our Kids' Lives