Sometimes, my kids say stuff that is just plain funny, no lesson attached. Sometimes, their innocence, lack of experience, or a simple miscommunication gives us a chuckle, and that's enough.
Today, for Day 10 of the Write 31 Days challenge, you get two quotes. Two quotes with stories that I'm sure we'll be retelling over and over again all throughout our kids' lives.
Elijah and the TV
Last summer our family enjoyed a slightly extended vacation down South. Since I lived in Georgia for about six years (from the end of 9th grade to a couple years after graduation), I was very excited to see familiar places and visit some friends as well.
We first spent a week near Beaufort, South Carolina, sharing a huge vacation rental with my hubby's family. At the end of the week, his family headed back up to Ohio, and our little crew headed down to Georgia, where we would be staying in a home owned by my former youth pastors' family.
The River House, as they call it, was just that – a small home along the river in southeast Georgia where their family members go to spend time with friends, do some fishing, or just relax. After the adventure of finding the dirt trail road (beside the cotton field – no, not that one…not that one…maybe this one…no…) that led to the house and driving down that bumpy road for over a mile, we carried in luggage and started getting ourselves settled. Our two boys wandered through the rooms, exploring their new surroundings, while my friends answered any questions we had.
Suddenly, from across the room, Elijah exclaimed, "There's no TV!"
Glancing over into the living room, all of us adults laughed. He wasn't very far from what, to him, must have seemed to be just an odd piece of furniture, a very large, old console television.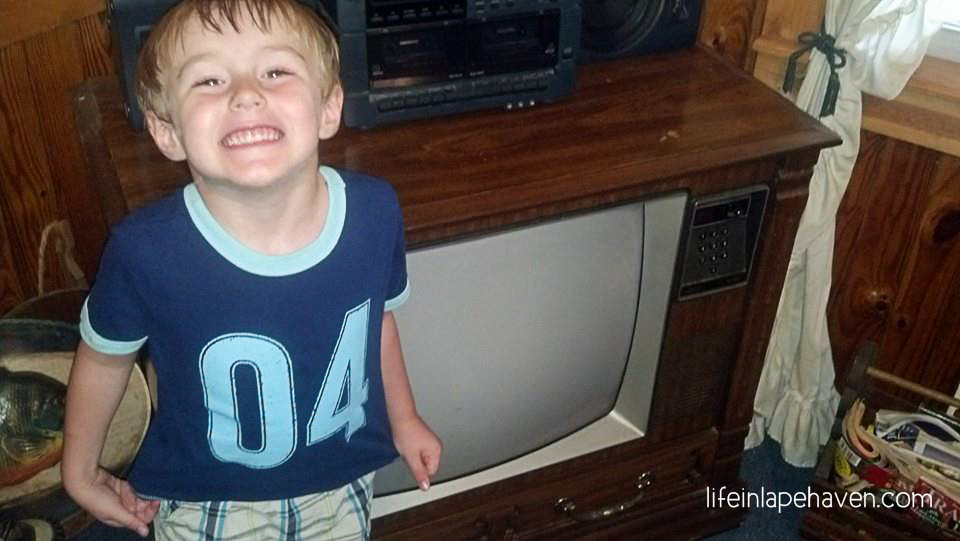 Once we pointed out the television to him, his next question was, "Where's the remote?"
Elijah and the Wookie
My hubby is a nerd. He is. But that's okay because I, myself, have some geeky tendencies, so we get along really well. Because of this, our boys are exposed to the coolest parts of nerdiness regularly, such as Star Wars (we're a Star Wars family, not a Star Trek family).
My boys haven't managed to finish an entire Star Wars movie, but they still love it. (Josiah's favorite is "Darka Bader," so you can tell he doesn't know the story.) We have to see every commercial, toy aisle, or t-shirt that features a Star Wars character. If it's combined in anyway with LEGO – well, their day is just complete.
So when I found Elijah a Chewbacca t-shirt at the thrift store on New Year's Eve a couple years ago, he was over the moon ("That's no moon."). He was so proud of it.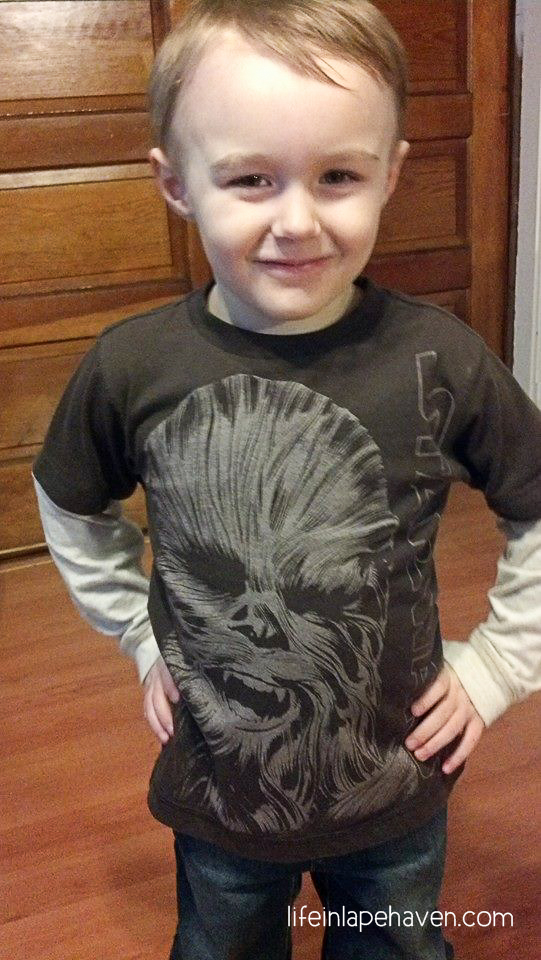 That evening we celebrated the new year with the traditional kielbasa and kraut.
The next day, when I asked Elijah what he wanted for lunch, he said, "Chewbacca."
I laughed and said, "You can't eat Chewbacca!"
Sometimes he can be so silly, so I thought he was just playing. However, he kept insisting and got upset. I finally realized that he was serious and that what he was trying to say was "kielbasa."
Apparently introducing Chewbacca & kielbasa on the same day can lead to some confusion.