This post may contain affiliate links, which means that, at no additional cost to you, I may receive a small commission if you make a purchase using the links.
Elijah was pretty excited when he realized today that Thanksgiving is not very far away. He's looking forward to the "big feast," he said.
For the last two years, Elijah has enjoyed contributing to the Thanksgiving "feasting" by making a dish to share with our families: fruit cocktail with marshmallows.  However, in the last few months, he's been asking to expand his culinary skills in the kitchen. Apparently he wants to be able to do more than empty a can of fruit into a bowl and stir in some marshmallows. So, we've been working on that.
I don't blame him. The more recipes I've learned to make and the more techniques I've perfected, the more confident and excited I am to try something else in the kitchen.
As I've built my culinary repertoire over the years, I've also built my stash of kitchen gadgets and accessories. Some of them I never would have tried on my own; others I just had to have.
So for today's Tried It Tuesday, here are 11 of my favorite gadgets and accessories that I have tried out in my kitchen: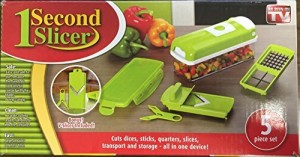 1. The One Second Slicer – This one was a Mother's Day present that Elijah picked out. He's kind of a sucker for the "As Seen On TV" items, thanks to infomercials, so I was a little doubtful of how well or how often I would use this. However, it has been a pleasant surprise. It's a much less-messy way to dice tomatoes, for one. Plus my boys love to watch when I use it, so it keeps them entertained…until they start fighting over who gets to help me close the lid down. The fact that I can use the base as storage is nice, and it cleans up rather easily. Good job, Elijah!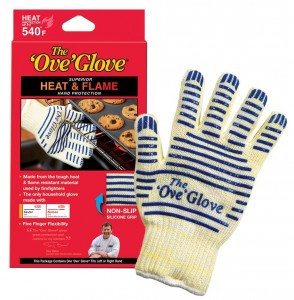 2. The Ove' Glove – I received this amazing little oven mitt a few years ago at Christmas. My mother-in-law liked the one that she had, so she got one for all the girls. This glove is made to withstand heat up to 540 degrees and has silicone strips on the outside for a good grip. I use this thing pretty much every day and would like to get another (hint, hint, Hubby). The only caution is not to get it wet or steamed up. Water conducts the heat then right into the glove.
3. Stick Blender – My stick blender (also called an immersion blender) was one of those items I had been watching for after seeing the Pioneer Woman, Ree Drummond, use one when she made her fabulous broccoli cheese soup. I wanted to make the soup, and I really wanted a stick blender. When I found one that came with a food processor attachment, too, I grabbed it, since I didn't have a food processor either. Haha. That broccoli cheese soup has since become a staple of our fall and winter menu, and I have found many other uses for the blender, including pureeing up fresh pumpkin for donuts, ice cream, cookies, and of course, pumpkin pie. The food processor has also seen its share of action, so it was a worthy purchase all the way around.
4. Silicone Baking Mat – When I make a wish list for Christmas, I generally have a few kitchen items on the list. My baking mat was one of them. The state of my non-stick baking sheets was not pretty, and since I already used parchment paper often, I knew that I would use a mat just as frequently. I was right. Cleaning them has always been easy, too.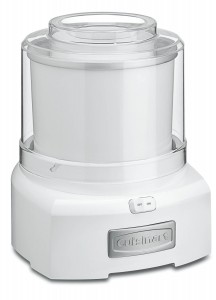 5. Ice Cream Maker – My first ice cream maker was a cheap one that I found on clearance at Walmart. It was the older style that requires ice and rock salt and makes a ton of noise. However, once my husband had tasted real, homemade ice cream, he was hooked. When he found a deal on a refurbished Cuisinart Ice Cream Maker for $30, he bought it to surprise me. The freezable bowl replaces the ice and rock salt, and while it's still not quiet, it's nowhere near as noisy as my older one. And the ice creams we have enjoyed! I actually think my hubby might love this appliance more than I do.
6. Flirty Apron – Every cook needs a good apron, sure, but we girls like a pretty one while we're at it, too. I saw these adorable aprons on Facebook one day from FlirtyAprons.com and showed Brad the ones I liked. Lo and behold, Valentine's Day, my sweetheart gifted me with one, along with some awesome chocolate ice cream, proving that he really did know how to make his girl happy. My apron has even doubled as part of a costume or two for our boys' birthday parties.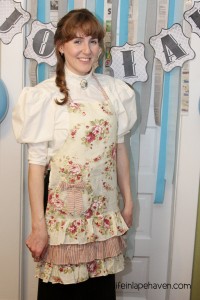 7. Pizza Stone – This is another of my Christmas wish list items and another item that I think my family is very glad that we have. Homemade pizza is so much easier now that I don't have to cook it on those not-so-great non-stick baking sheets that you can't cut on. The crust is awesome, we can serve the pizza directly off the stone, and the stone cleans up easily.
8. Ice Cream Scooper – I bought this not for our ice cream habit, but actually to help with scooping out cookie dough and filling cupcake pans. I especially like using it for cookies because it goes so much quicker!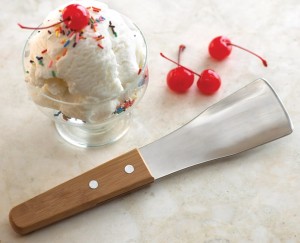 9. Ice Cream Spade – Another present from my in-laws, this is THE ice cream server in our house. The shape looks weird, and you won't end up with a cutesy little scoop, but it cuts through frozen-solid ice cream better than anything else. If you can't tell, we like our ice cream around Lape Haven, so this item is a MUST.
10. Rice Cooker – I don't know that I ever would have bought us a rice cooker, honestly. I don't have tons of storage in my kitchen or pantry, so I like to have items that multi-task. However, when the lid to my small cooking pan got bent (thank you, little boys who like to play in my pans), making rice became a struggle because the lid didn't fit tightly. When I mentioned perhaps buying a rice cooker, my parents gave me one that had belonged to my grandma. I had to Google the manual to figure out how to use it, but once I had the basics (it really is EASY), I have been turning out some pretty tasty rice.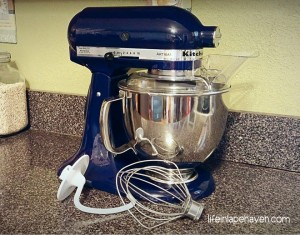 11. Kitchen Aid Mixer – I love my mixer. It is probably my very favorite appliance in the kitchen. Of course, it is also the most expensive appliance in the kitchen. However, my very first Kitchen Aid stand mixer was one that Brad found on Craigslist for only $30. Yes, $30. It worked just fine, but the "OFF" switch didn't work. That meant that I had to plug it in to start it and pull the plug to stop it. But it was still a game-changer! I was suddenly able to make homemade bread easily, and if I was mixing up something, I could step away for a second if I needed to, and it would be doing the work for me. Of course, I use it for cookies, cakes, and icing, but I also use it for making whipped cream, shredding chicken, and I've even made butter in it. So much fun! Last year, there was a great deal on Black Friday, so I got an upgrade to a new Kitchen Aid in time for lots of Christmas baking.
TELL ME: What are some of your favorite kitchen tools?