This post contains an affiliate link, which means that at no extra cost to you, I may receive a small commission if you use the link.
Of all the holidays on our calendar, no other day has as many songs about it as Christmas does. From Christmas carols to holiday classics to brand new songs released every year (who HASN'T done a Christmas album?), you can fill December entirely with songs all about Jesus, winter, Santa, and general "Christmasness."
As I began thinking about all things Christmas earlier this month, I realized that I have a lot of truly wonderful and precious memories tied to specific Christmas songs. Stop and think about it. I bet you do, too.
Just for fun, and for a few sentimental smiles, I've compiled a list, in no particular order, of memory-rich Christmas songs and why they mean so much to me.
#1. O Holy Night: When I was younger, my mom was given a musical Christmas decoration of an angel kneeling at the manger, a little baby Jesus resting on the hay. When you wind it up, it plays "O Holy Night."
Not only was it one of "Mom's special decorations" in my mind, the song itself is beautiful. Several years later, I would sing it with our high school choir, kneeling for the entire song – all the verses – holding a lit Christmas candle. In a darkened sanctuary, it was pretty powerful.
But perhaps one of the sweetest links to the song has come in the last couple of years, when Elijah started asking me to sing it to him at bedtime (only one verse). I'm not sure why he latched onto that song in particular, but I've sung "O Holy Night" to him countless times, from January through December. It was only just this past month that he even realized that it was supposed to be a "Christmas song." Since it isn't the easiest song to sing, there have been nights I've felt somewhat self-conscious about my singing, but Elijah's smile still beams sweetly, happily, no matter how imperfect my voice.
#2. Christmas All Over Again: This song was the very first song on my mom's "A Very Special Christmas 2" CD. This meant that every year, the day after Thanksgiving, this was usually the first song blaring as we started decorating our house for Christmas, singing, dancing, and laughing all the while. The song is VERY danceable! It's kind of my "let the Christmas season begin" anthem now.
#3. The Chipmunk Song (Christmas Don't Be Late): Growing up, my brothers and I probably would have picked this as one of our favorite Christmas songs. It's classic. However, it earned its place on my list when it became part of my annual Christmas-light-viewing tradition with a few of my closest friends.
Every year around the holidays, anytime we were out and about at night (which, since I was generally driving them home from a youth meeting, was at least once a week), I would drive us around to see Christmas lights in the neighborhood. Our soundtrack for the ride was my Billboard's Family Christmas Classics, which included "The Chipmunk Song." As part of the festive fun, we always sang along, but one night one friend decided to be stubborn. She wouldn't sing a word. So, I kept replaying the song until we finally got her to sing at least "Me, I want a hula-hoop!" and my night was made, along with a memory that is still silly and precious to me. I can't hear that song without thinking of them.
Here's an official lyric video, so you can follow the bouncing ball and sing along! (This is for you, Amanda!)

#4. Hark! The Herald Angel Sing: Believe it or not, this was the first Christmas song that Elijah learned at least a verse of. Sure he knew parts of "Frosty the Snowman" after multiple out-of-season viewings of that Christmas cartoon, but it was repeatedly watching "A Charlie Brown Christmas" at two-years-old that taught him "Hark! The Herald Angel Sings." Not only did he like the cartoon, he also had a Charlie Brown book with the story, and at the end, they all sing the carol. We all had to each time as well. Elijah even sang it for his Grandma Lape as part of her Christmas gift that year.
#5. The Little Drummer Boy: Okay, this one's kind of mean, but I can't help it that that's how the memory was made. Haha.
When I was a young teenager, we were up at my paternal grandma's for Christmas and went to her church's Christmas service. As part of the program, an older lady with rather unnaturally bright red hair and a red dress (yes, she reminded me of a much older "Annie") sang this very song. She stood still and stiff for the most part and was sooo serious as she sang her "pa-rrrrrrum-pum-pum-pums," rolling her "R's" excessively and shaking her head along with her vibrato that I couldn't help but giggle. (And giggling in church is dangerous because when you aren't supposed to laugh or giggle, it's even harder to stop.) I wasn't the only one who got tickled, though, so I didn't feel as badly. That lady forever changed that song for me. 🙂
#6. The Twelve Days of Christmas: In the middle of December 1999, my entire immediate family moved from Georgia back up to Ohio. My sister's family and my dad had already headed north a week or so earlier, with my oldest brother returning back to Georgia after an issue with one of the vehicles. My mom and I had waited for my youngest brother to finish his semester at school, so when we finally pulled out of the driveway, we each were driving one of the four cars in our little caravan making the 13-hour drive.
Since this was back before everyone had cell phones, we couldn't communicate much with each other while we were driving, but when we had a rest stop, I remember my mom telling us what radio station she was listening to because she'd found one that was playing Christmas songs.
Once we were back on our way, one car following the other, "The Twelve Days of Christmas" came on. To show that we were hearing the same thing, Mom and I counted off the number for each of the twelve days' items, using one hand, holding it up so that we could each see the other person's through the back window or rearview mirror. (Eleven and twelve were a bit trickier.) It was how we sang along together while we were all in different cars.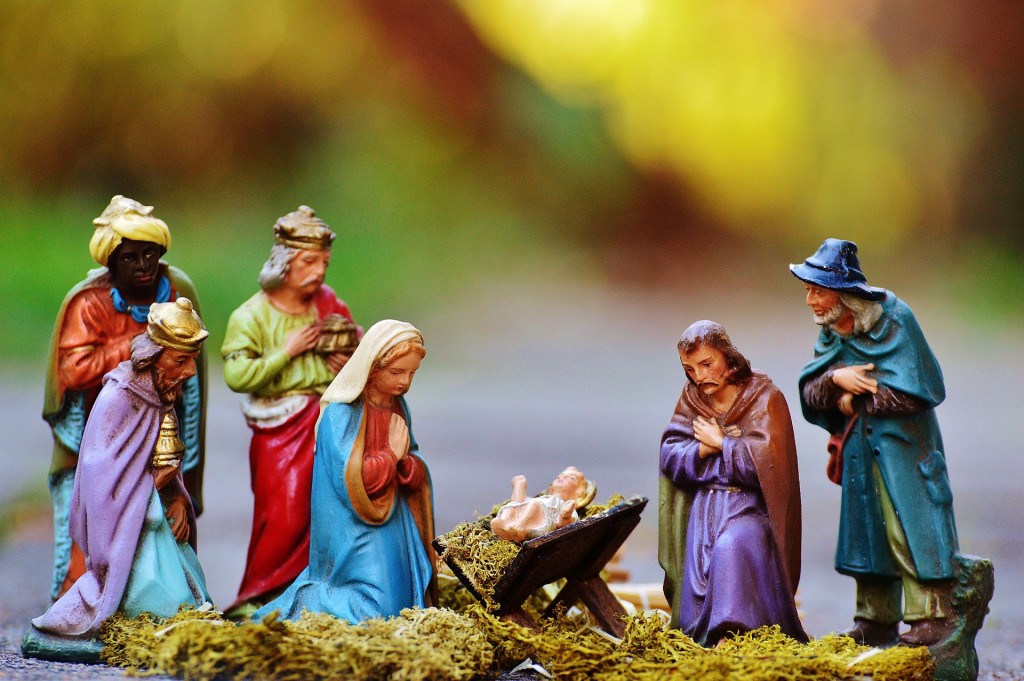 #7. Emmanuel: Written by my father, who is a published singer/songwriter, this is a very special Christmas song. I wish I had a recording uploaded to share with you because telling you about won't really do it justice.
However, from the time he wrote the song (back when I was much younger), I always looked forward to him ministering with it at Christmas time at church. No matter how many times I've heard it, it's still powerful. Below are the lyrics, at least. (Copyright Jerry Holman)
Long ago and far away

In a place that far from here

A Babe was born into the night

He knew creation, He hung the stars

But the love He had for man

Compelled Him to leave His paradise.

He became Emmanuel, God with Us.

Emmanuel, God Most High

Unashamed He left His throne

Taking on the form of man

And He became, and He is, Emmanuel.

Then came the time as it was told

By the prophets of old

For Him to bleed and die upon the tree

He was spotless, without sin

Neither was guile found in His mouth

But He gave His life so we might go Free.

He became Emmanuel, God with Us.

Emmanuel, God Most High

Unashamed He left His throne

Taking on the form of man

And He became, and He is, Emmanuel.
As always, there are more I could add. "Sleigh Ride" is my mother's favorite, and "Wonderful Christmastime" is my mother-in-law's most hated, so we tease her with it. "The Christmas Song" was my paternal grandpa's favorite, and I can't help but think of him when I hear it.
So many songs throughout this month bring back thoughts of Christmases past, and as we're listening to and singing them with our boys, I know we're making new memories that we'll cherish for many Christmases to come.
Do you have a special Christmas memory linked to a Christmas song?