Christmas According to My Boys
Elijah was only six months old for his first Christmas, so it wasn't until the following year, when he was a year-and-a-half, that he really began to "get" Christmas. That was the year Brad and I really started to experience the holiday in a new way. Seeing Christmas through my children's eyes is a wonderful, joyous, and sometimes hilarious thing.
I thought it would be fun if I sat down with my boys and asked them some questions about Christmas.  Here are some of my favorite parts of our conversations. I videoed them and typed their answers verbatim, so you can get a glimpse into how delightful and blessed my holidays are with them.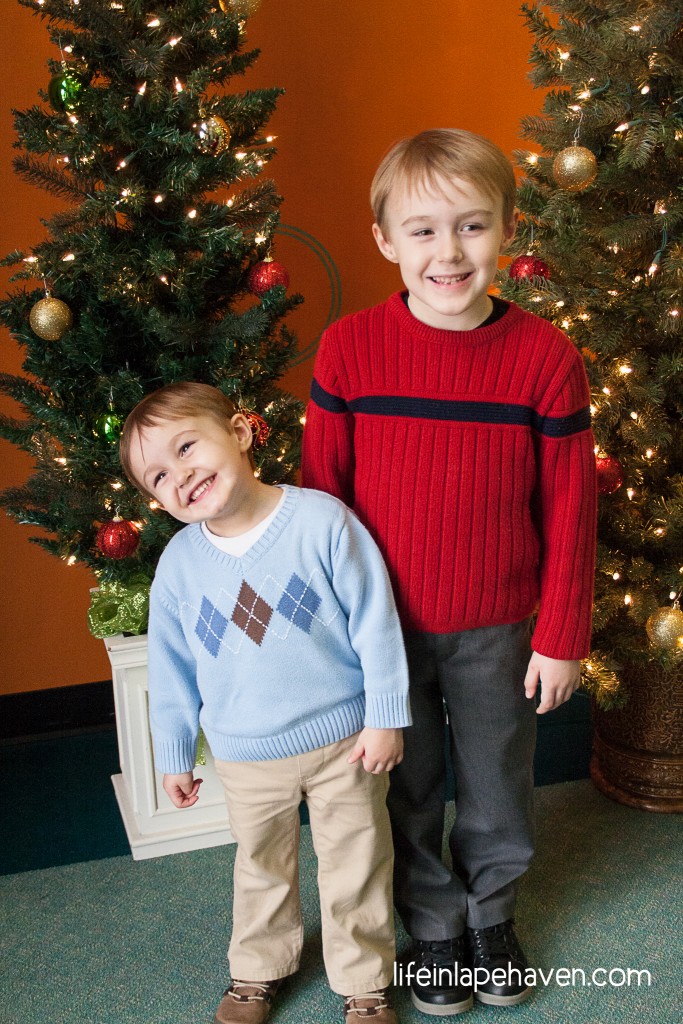 CHRISTMAS ACCORDING TO ELIJAH (5 Years Old)
Tell me about Christmas:
Elijah:  It's one of my favorite days…it is a very good time, and I love it because it is Jesus's birthday. That's when people give, and that's kind of like being God's servant, sometimes. (Giving is like being God's servant. Amen!) Why it's my favorite is because it's when Jesus was born, and it's his birthday. And because I like birthdays, probably He likes birthdays.
What's best part of Christmas?
E: Maybe… I don't know. Probably… I think the best part of Christmas is…I don't know…there's lots of things to choose. There's a lot of them that I'm thinking about…Snow, presents, stockings, AND when we get to eat breakfast because last Christmas Mommy made a really, yummy, yummy breakfast. (I did. Here's the recipe for French Toast Casserole.)
To whom are you most excited to give their gift?
E: All I'm going to say is "cousins." Because that's easier to say than all the names.
What is one way you can give even when you don't have money?
E: A hug. Maybe write them a letter. That's all I can think of.
How can you help people have a good Christmas if you don't know them?
E: Just say, "hello." Be kind.
Why do we celebrate Christmas?
E: Because it's Jesus's birthday.
Can you tell me about Jesus's birthday, and what happened?
E: Well, I don't know what Mary was doing, but she was probably doing something, and then an angel just appeared. Like magic sometimes. Then she had to go to Joseph, and they were going to marry each other because she was going to have a baby. Then they traveled on a donkey, and they had a long journey.  And probably on Christmas they had their baby…but, yeah, on Christmas they had the baby. And then the angel came to shepherds and said, "Good news. There is a baby in a stable that has been born." And there was a star on top, and probably the angel was watching.
After the angel came and told the shepherds, the shepherds went to the stable. And then they saw the baby. And then a long time ago, probably past (he means a while later), like 2 years, like Mommy said, these guys on camels, these kings brought presents for the baby. Silver, is that one?
Me: Gold
E: Gold?  *Pause…*
Me: Frankincense
E: (Smiling) Frankincense and myrrh.
What was so special about the baby?
E: That He was God's Son, and He can create anything He wanted.
Why did God send His Son? Why did Jesus have to come?
E: To die for us.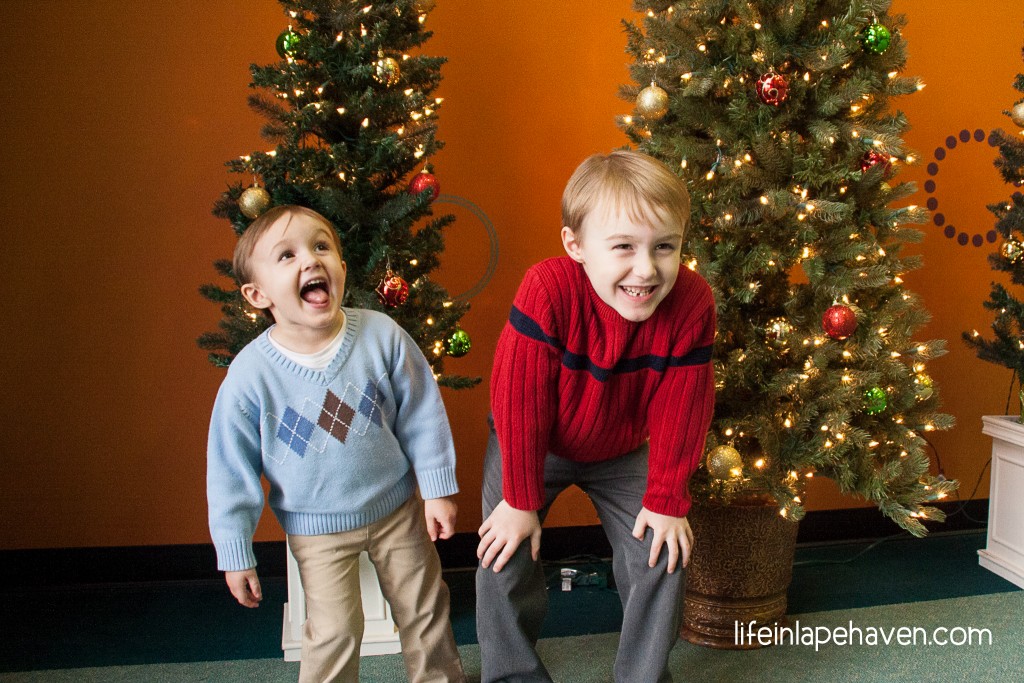 CHRISTMAS ACCORDING TO JOSIAH (2-1/2 Years Old)
Josiah had watched me ask Elijah questions, so he was ready with his answers before I even had a chance to ask them.
Josiah: Mommy, I want to buy present for Grandpa and Grandma and Grandpa Rowland, and Daddy and Vinny. A bone – a character one, like has scrubby one. (I have no idea what "has scrubby one" means)
Tell me about Jesus:
J: Jesus loved to buy a present, too. (Hahaha. But, hey, Jesus is the best gift, so he's close.)
Do you remember the story of Jesus?
J: Jesus died on the cross, like this (makes a cross with his fingers).
Why did Jesus die on the cross?
J: Because He keep us safe.
We talked about the story of baby Jesus, too.
J: Mary had the baby.
Who came to see the baby?
J: The camels. The angels and the horsey. And the cow.
What do we do at Christmas?
J: We give presents. And buy one for Jeremiah. (I LOVE that he said GIVE instead of GET) I like to buy a present for Grandpa. A toy present. A hippo. (For Grandpa)  And a dinosaur.
Me: For who?
J: Jesus
Elijah jumped in here: Jesus already made the dinosaurs. He already has a dinosaur.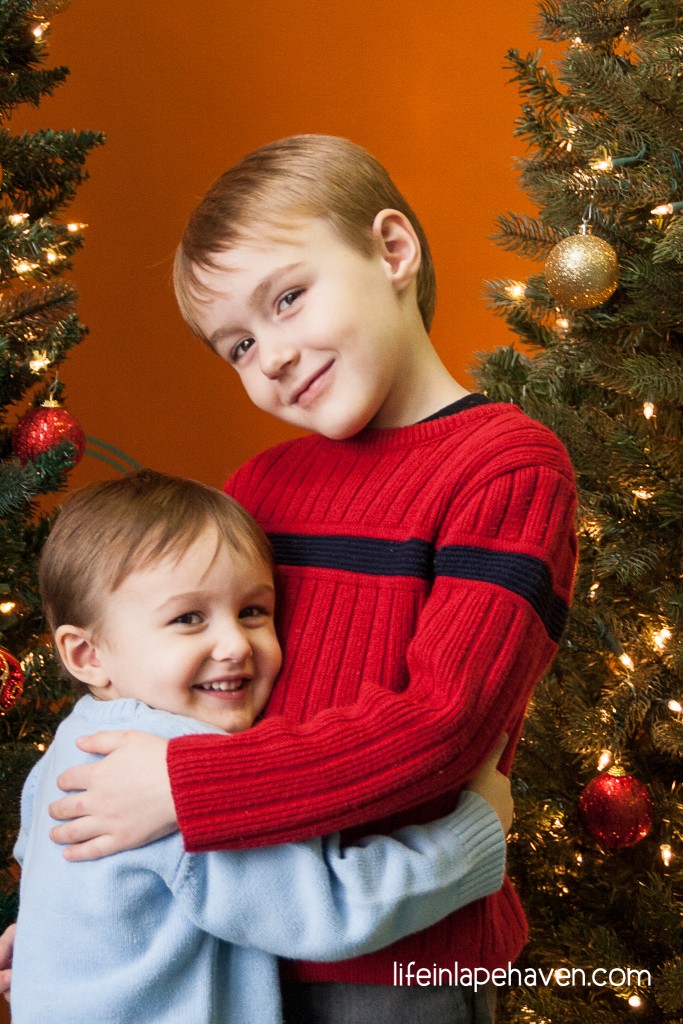 There you go. Christmas as explained by my two precious boys: Giving is like being God's servant, baby Jesus was visited by "these guys on camels" and all the animals in the barn, Jesus came to die for us, Jesus died for us to keep us safe, and you can't give Jesus a dinosaur. He already has one.
What fun, sweet, or profound things have your children said about Christmas? 
YOU MAY ALSO LIKE:
10 Ways to Help Your Children Make Christmas More About Others
Why We Don't Need More This Christmas