As most of you know by now, I've been reading (and LOVING!) an advance copy of Raising Grateful Kids in an Entitled World,  a new book from Kristen Welch, writer of the blog, We are THAT Family, as part of her launch team. Well, today you are in for a treat!!! For the first time ever, I am co-hosting a blog hop all about gratitude, inspired by the book and featuring soooo many great bloggers! We're all sharing about what gratitude looks like in our homes.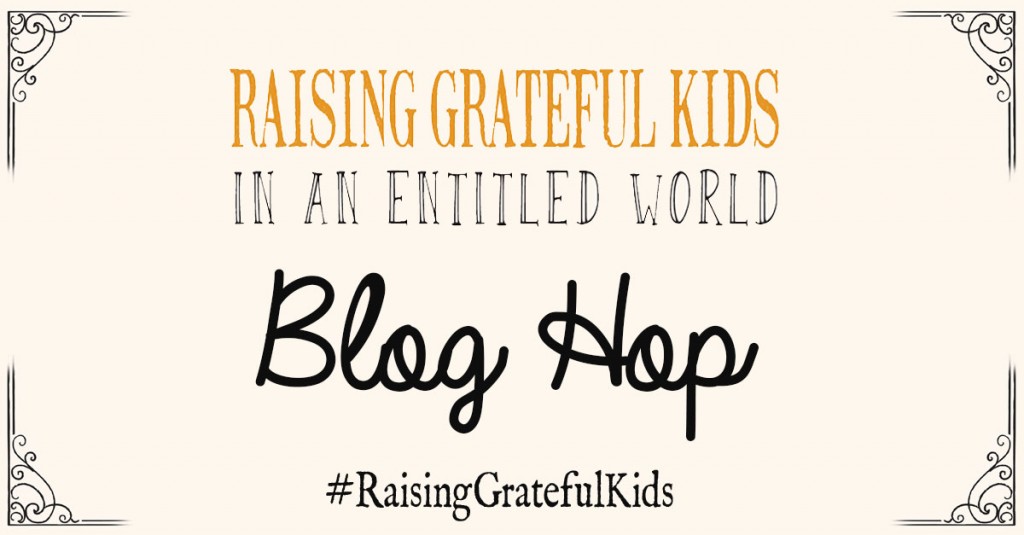 When the blog hop theme was announced, the thing that kept coming to my heart was the voice of my not-quite-3-year-old praying at bedtime recently:
"Thank You for me. Thank You for Vinny. Thank You for ice cream and watching a movie. And thank You that horsies be nice to us."
That was Josiah's prayer.  Since he's so young, it is always fun and somewhat amusing to hear what he wants to thank God for every night. He usually adds in a surprise or two, such as the "horsies be nice to us." (We haven't been anywhere near horses since the fall, so I'm not sure why that was on his mind.) My other son, Elijah, at 5 years old, can be equally random, or seemingly so.
However, as entertaining as my children's prayers are, they are always precious, often inspiring, and sometimes convicting.
From the time our boys were able to repeat simple words, Brad and I have encouraged them to say their own prayers at night, rather than recite a memorized prayer. We have kept it fairly easy for them because praying should be, after all, fairly easy. Sometimes we adults like to overthink and complicate things that God hasn't.
Prayer is talking to Him, sharing your heart and seeking His, and "with thanksgiving, let(ting) your requests be made known to God." (Philippians 4:6)
Since we didn't want Elijah and Josiah to get the idea that so many seem to have of God as a heavenly Santa Claus, who is just at our beck and call, doing whatever we want, we've always stressed the "with thanksgiving" part of their praying.
In teaching them to pray, if they needed help,  I would prompt them with something such as, "Tell God what you're thankful for or what you liked about today, and then ask Him to help with something you need help with."
As a mom, it blesses my heart when I hear them pray because nine times out of ten, they pray longer about the things they are thankful for than things that they need or want. And the things that they are thankful for show me that, even though they've learned how to pray by listening to us and following our examples and leading, sometimes they have a more grateful heart than I do.
They thank God not only for their family members (including our dog, Vinny), but they thank him for specific toys, special moments in their days, and random things about the world that they've noticed or experienced. Oh, and Batman. (Seriously, one of Josiah's other prayers had the line, "Thank You for Jesus and Batman.")
I've also begun to see Elijah's thankfulness transfer from the "praise" part of his prayers to his requests. After Elijah and I had a conversation one day about the difference between wants and needs, and I showed him a video of a lady in Africa walking miles just to get water, he began to pray not only for what he thought he needed or wanted, but also praying for what others needed, praying for people all over the world. Because he was thankful for what he had, he wasn't filling his prayers with "give me," but with "give them."  (He's also been enjoying using this daily prayer journal printable for his prayer time.)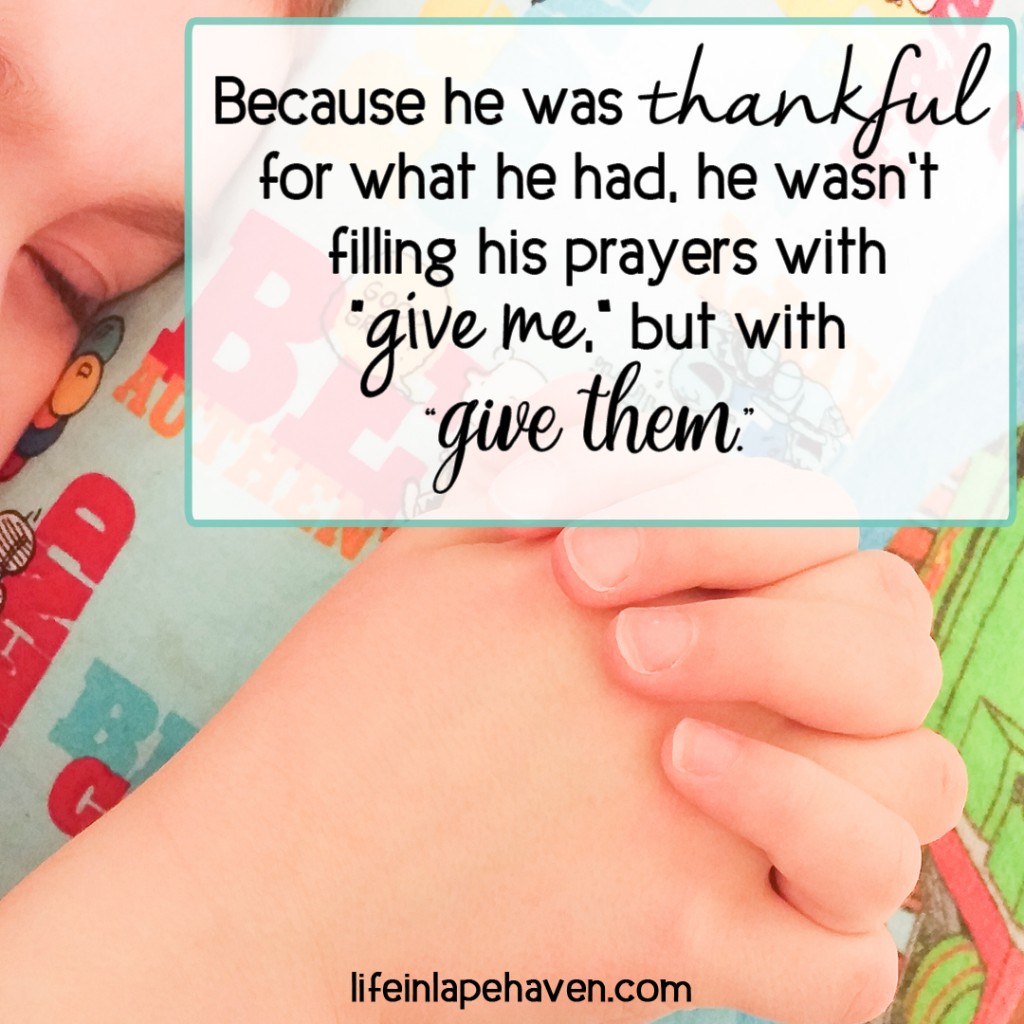 Listening to my son ask God to give people clean water makes me proud of him and challenges me.
Listening to my littlest guy thanking God for everything he could possible think of – Grandma, Grandpa, candy, Star Wars, "for no spiders" (AMEN!) – shows me his heart and causes me to look deeper into my own.
Am I taking time in my prayers to stop and thank God, really thank Him, for all the wonderful things He's given me and done for me? Honestly, if I tried to thank Him for it all, I would easily be "praying without ceasing."
Furthermore, am I praying not just for me, my family, my friends, and our needs but for a world that needs God, too?
As Kristen says in Raising Grateful Kids in an Entitled World, "We teach gratitude by living it. We are the example."
Sometimes, our kids surprise and humble us, though, by teaching us and being the example we need.
—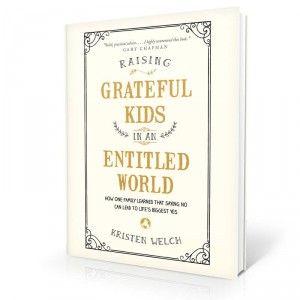 If you would like to pre-order Kristen's book, you still have time!  You can preorder the book (through January 25) at RaisingGratefulKids.com for $16. Also, if you'd like to read the first chapter, you can find it here on the Tyndale House site. You can also download a FREE printable journal to accompany the book.
—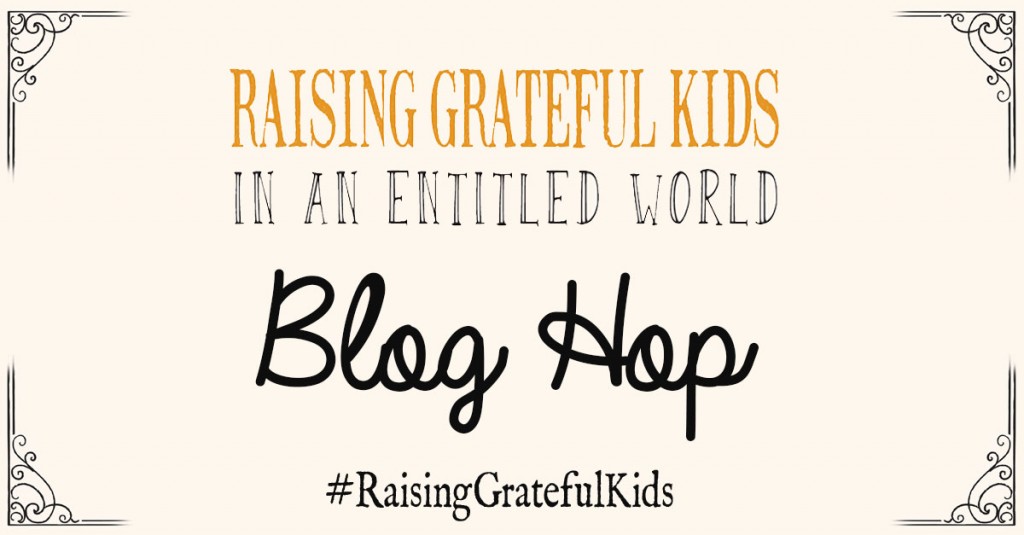 I am so honored to be a co-host of this Raising Grateful Kids in an Entitled World BLOG HOP with this wonderful community of bloggers. They are each sharing their own thoughts on what gratefulness looks like in their lives and their families, as well as encouragement, tips, and activities to help you cultivate gratefulness in your homes. Make sure you check out each one!
Inspiring an Attitude of Gratitude – by Alison
Rasisng Grateful Kids – by amanda
Why You Can't Buy Gratitude At The Dollar Store – by Andrea
Missing – Gratefulness in our home – by Ange
Choosing Gratitude – by Angela
Gratefullness – by chaley
5 Steps to Gratitude-Fille Family – by Christa
Practicing Grateful Parenting – by Dana
Sing a Song – by Hannah
Cultivating gratitude in our family – by Jamie
Gratefulness In Our Home – by Jana
Gratefulness In Our Home – by Jana
Let It Begin With Me – by Jen
Choosing Gratefulness – by Jennifer
Raising Grateful Kids in an Entitled World – The Book – by jeri
Eradicating Entitlement – What are you rooted in? – by Jessica
Gratefulness in our home – by Kate
The Problem With Entitlement is that it begins with us – by Katelyn
7 Unusual Ways I Know How to Be Grateful – by Kathryn
Raising Grateful Kids – by Keri
How My Children Remind Me to Pray with Gratitude – by Kishona
Grateful – by Kristy
Entitlement: The Ugly Truth of a Beautiful Lie – by Leigha
The Most Important Thing You Can Do To Raise Grateful Kids – by Lindsey
Dear Son: How Do I Teach You To Be Grateful Without Guilt? – by Marie Osborne
Gratitude, A Practical Definition – by Mia
Cultivating Gratitude in Our Home – by Nancy
Learning Gratitude through Chronic Illness – by Rachel
Being Grateful – by Rebecca
I've Found Something I Can't Live Without – by Sarah
The Power of Naming our Gifts – by Sarah
Outfitted – by Sarah Jo
Growing Gratitude in our Family – by Sondra
Teaching Gratefulness – by Stephanie
How Grateful Looks From Here – by Alison
Fighting Entitlement in Children and All of us – by Leah
Entitlement Problem – by Karrie
Grateful Today – by Krystal
—
For more ideas and tips on cultivating gratitude in your home, you can follow my Raising Grateful Kids board on Pinterest.
—
More on gratitude:
Why We Don't Need More This Christmas