No one plans to raise a selfish child or spoiled brat. Every parent dreams of their child being selfless, generous, and appreciative. But it's challenging to raise a grateful child in a culture that has a hard time saying no. We love our kids and want to give them the world. How do we say no to our child when "every other child" gets "everything they want?"
Kristen Welch, author of We are THAT family and founder of Mercy House, is learning the way to give the world to her children is by giving them perspective. She's discovered the ultimate yes in bringing up faith-filled kids who love God and others.
It's never too late to raise grateful kids. With Raising Grateful Kids in an Entitled World, get ready to cultivate a spirit of genuine gratitude in your family and create a home in which your kids don't just say―but mean!― "thank you."
Back in November, I read those words as I considered joining the launch team for this new parenting book (which releases tomorrow, Tuesday, January 26). While I felt as though my hubby and I were doing a fairly decent job of raising our boys, who are still young at almost-3-years-old and 5, to be considerate, compassionate, and grateful, I was also excited to discover what advice and affirmation Kristen's book would hold. Having read her blog, We are THAT Family, I knew it would be full of insightful and Biblically-founded wisdom from her experiences with her family and her relationship with God.
I was right.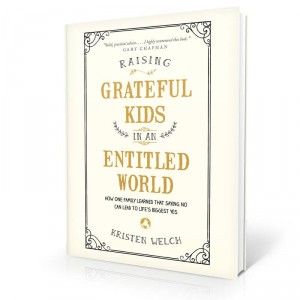 From the very first pages of the Introduction, I was being challenged and encouraged in my role as a Godly mother, to lay the right foundations for my children, even when it's hard or they don't think it's fair. I was reading passages out loud to my husband and discussing the points that Kristen brought out.
As we got closer to Christmas, I wrote a post, "Why We Don't Need More This Christmas," about scaling back on the gifts for our children and ourselves. While this was an idea we'd already been working toward, as I read through the first chapters of Kristen's book, which deal with the entitlement and self-centeredness of our culture, the idea of tempering our children's expectations of Christmas became more than just a good idea, it became a starting point for change in our family's mindset and expectations.
Through other circumstances at the time, I could see a lightbulb going off for my husband. Like me, he began to see the areas in his own life where entitlement had settled in and taken root long ago. It truly surprised him.
As the parents, we were discovering what Kristen did:
"And as uncomfortable as it sounds, parents who want less-entitled kids have to be less entitled themselves, and parents who want to raise more grateful kids need to start by living more grateful lives."
As I made my way through the rest of the book, which challenges parents on everything from unsupervised or excessive use of technology to "participation awards" and not allowing our children to fail to preparing them to be okay with being different from the world, I noticed something that was pretty impressive.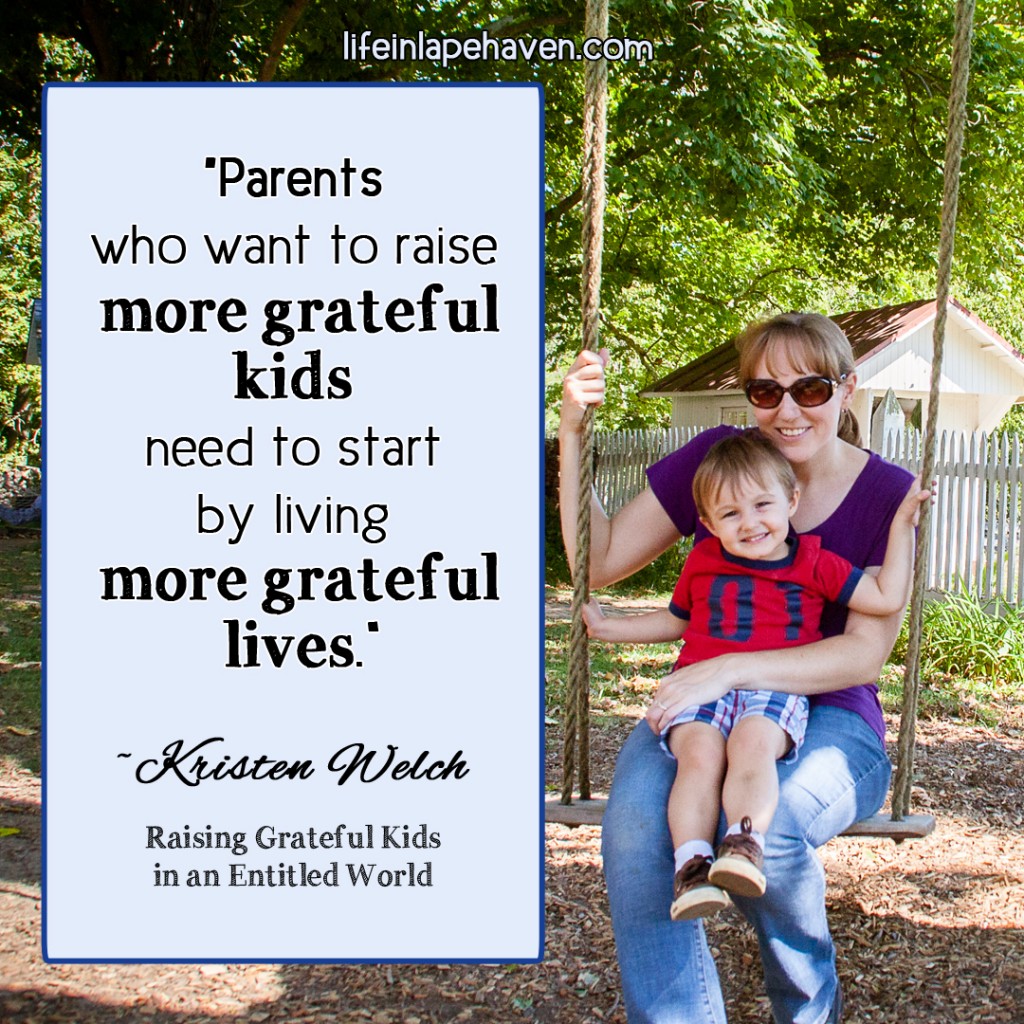 In everyday situations, not only was I more aware of my own entitlement and therefore putting aside more of my selfishness, but I was responding to my children's entitled or selfish tendencies more intentionally, utilizing the wisdom and tips I'd gained from reading Kristen's experiences, sometimes without even realizing in the moment that I was doing it.
While I love the many, many take-aways and quotables from this book, the true mark of a great book is when it makes a change in you and when you can easily apply it lessons to your life.
Raising Grateful Kids in an Entitled World is one of those books, and I wish every parent would read it.
I know that I'm very grateful that I did.
—
You can pre-order a copy of the book, which releases tomorrow, at RaisingGratefulKids.com or from your favorite bookseller, such as Barnes & Noble or Amazon.
Here is an affiliate link for Amazon (which means that at no additional cost to you, I may receive a small commission if you use the link) since it is currently only $10 on their site: Raising Grateful Kids in an Entitled World.
You can also read the first chapter here on Tyndale's site, and on Kristen's We are THAT Family blog, you can download a free journal that goes along with the book.
If you would like to see more of my thoughts on Raising Grateful Kids in an Entitled World, you can check out "How My Children Remind Me to Pray with Gratitude" and "One Question I'll Be Asking My Children (& Myself) Everyday."
For more ideas on cultivating gratefulness in your home, you can follow my Raising Grateful Kids board on Pinterest. 🙂




—
~ GIVEAWAY ~
Because I think Kristen's book is such a wonderful resource for parents, and I know that so many of you are eager to read it,

I'm giving away a paperback copy to one of you!!!
Thanks for entering! This contest is open to residents of the U.S. only and runs from Monday, January 25 (12:00 a.m.), through Friday, January 29, 2016, at 11:59pm EST (I know, specific.).  The winner will be notified by email within 48 hours of the contest ending. Winner has 48 hours to respond before another winner is selected. 
*I received an advanced digital copy of this book from Tyndale House Publishing as part of my participation on the launch team and in exchange for my honest review. My recommendation is based entirely on my enjoyment of the book.*
*Book image courtesy of Tyndale Publishing House.