Remember that day not too long ago where my day was so epically bad that I had to post about it? Yeah, the day with not one, but two potty-training accidents in an hour, spilled milk and flour, scorched dinner, and general chaos?
Remember how I ended that night with such a sweet surprise of silly putty in my back jean pocket?
Well, good news!
I got all that silly putty out, even the deeply smashed in parts, and it was ridiculously simple.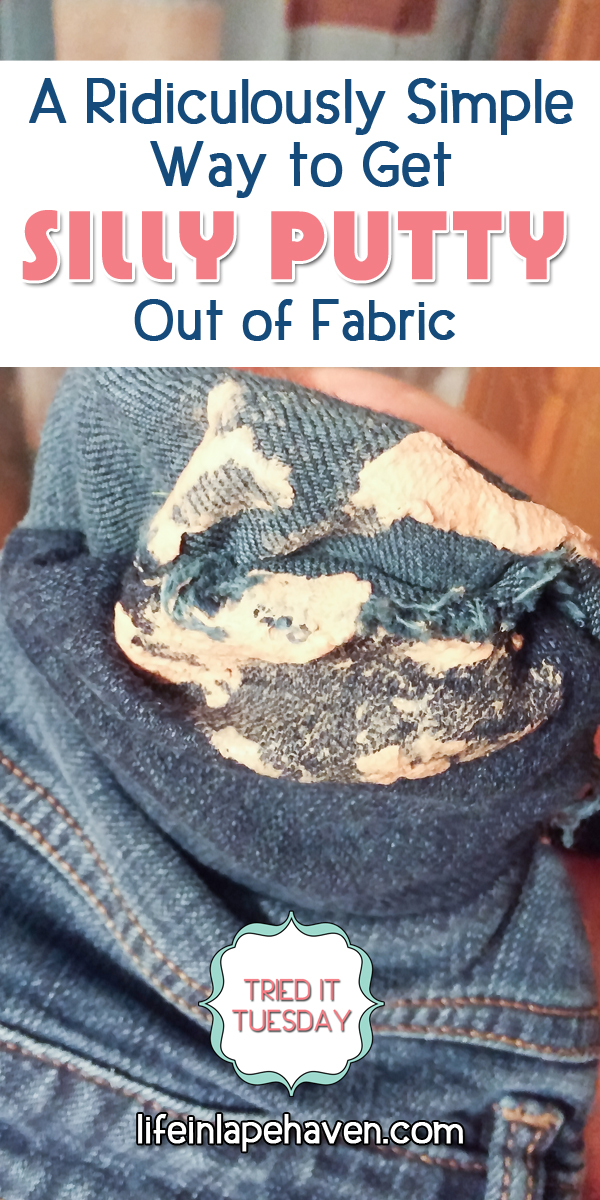 First off, as soon as I discovered the silly putty, I pulled out as much as I could. But of course, since I'd sat on it for a while before I found it, it was stuck pretty well.
There was a good bit of silly putty left smooshed into the fabric, and I had no idea how to get it off. I actually waited a day or two before even trying to tackle the mess because I was a little worried that it would require a lot of effort.
However, I also had a few pairs of Elijah's jeans marked up with dry erase marker, so I decided to experiment on both problems at the same time.
I investigated silly putty remedies on Pinterest and Google, and I found that many solutions called for ice cubes or freezing the silly putty and/or rubbing alcohol and WD40.
*SPOILER ALERT* – None of those are the easy solution that I found!
I did try stuffing the pocket with ice cubes, and I managed to pick a few tiny pieces off after the ice froze the putty, but glancing around at my table, I spotted something else that I decided to try.
Hand sanitizer.
With its alcohol-base but thicker consistency, I had just seen it help somewhat to get dry erase markers out of Elijah's jeans, and since so many silly putty solutions suggestion rubbing alcohol, the hand sanitizer was worth a try.
I turned the pocket inside out, with the putty-iest parts showing and squirted some sanitizer on it.
All I did was massage the gel into the putty and use my nails to scrub it in a bit. A few seconds of working it in, and the putty dissolved, leaving the jeans clean.
That was it. A few more squirts of the sanitizer and rubbing it in, and the pocket was done. All the silly putty was gone without a whole lot of effort.
After that, I just washed the jeans as I normally would.*
It was amazingly simple.
*Note: Since hand sanitizer is alcohol-based, it might stain some fabrics, such as silk. As with all cleaners, test an inconspicuous spot of the fabric first.
---
With boys, I've learned how to handle all kinds of stains:
How to Get Dry Erase Marker Out of Clothing
How to Get Grease Stains (even set-in ones) Out of Clothing
How to Get Grass Stains Out of Clothes
Get more ideas & encouragement from this real-life mom as I experience God's faithfulness through the joy and chaos of motherhood.

Join my email list!