This post contains a couple of affiliate links, which means, at no additional cost to you, I may receive a small commission if you use the links. 
Three years ago we welcomed our little daredevil, Josiah, into our family, and this past weekend, in addition to all the Easter festivities, we celebrated his third birthday, Star Wars style.
Now before I get too far into this, I just want to say that we do birthdays the way that we do because our family enjoys it. Before I was a stay-at-home mom, most of the jobs on my resume had event planning as part of my job description. I have fun planning, creating, and setting up our parties and putting my own DIY touches on them. Of course, even though I love doing parties, I also love not spending a ton of money on them because after all, it's just a kid's party. So, I try to do a fun party frugally.
In addition, my boys have inherited their mother's love of playing dress-up, and ever since Elijah attended a cousin's pirate-themed costume birthday party when he was two, he has wanted to do costumes for his birthday. Since we can usually throw together fun costumes really inexpensively, and we try to pick themes that lend themselves to easy, simple costumes, this has become our family's tradition.
If you see parties as just a bunch of fuss and bother, that's fine. Celebrate your way. Even though I scroll through Pinterest for ideas and inspiration, I NEVER feel as though I HAVE to throw a perfect party such as you see on there. We just take the things that will be fun for us and forget the rest.
I also ALWAYS ask my boys what they want to do for their birthday. They are free to say they don't want to dress up, or we can go to the park or out to dinner, or whatever they'd enjoy (within reason and budget). So far, they have always wanted a party at home with family and costumes. I also let them help decide on the theme.
When Josiah chose Star Wars for his party this year, I was surprised, and I wasn't.  They've only seen parts of the original Star Wars movie (you know, the REAL Star Wars), so I didn't think they were that into it. However, I don't know if you've noticed, but Star Wars stuff is kind of EVERYWHERE this year. So, yeah.
THE INVITE
With every party we do, I always start with a plan: a theme, color scheme, costume ideas, menu, and an invitation, which I always create in Photoshop. (You could probably use PicMonkey, too, although I never have.) I generally make my invites as a 4×6 or 5×7 because then I can just have them printed like photos if I need to have actual copies to hand out or mail. I also create an event on Facebook, which works well for most of our family. Since we have about 25 people when both sides of our families – Great-grandparents, grandparents, aunts, uncles, and cousins – all come, we usually only have family at these parties.
Here is the invite I created for Josiah: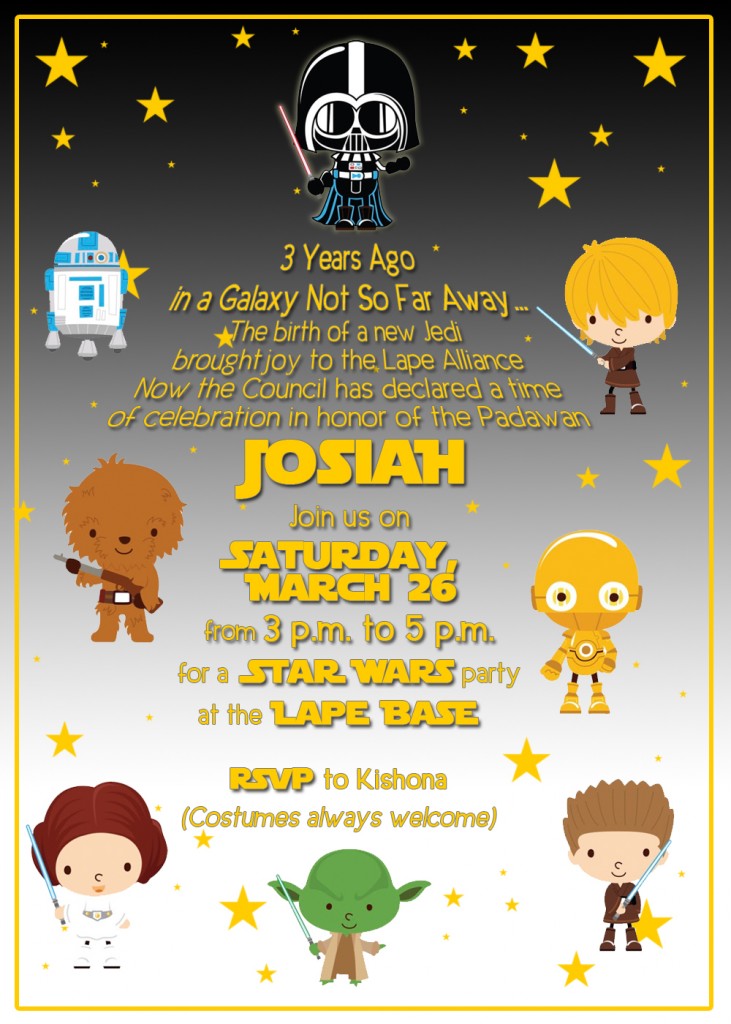 I found the characters on a free print-out that I downloaded, and I cropped each character out in Photoshop. The font I used is the free font, Star Jedi.
THE COSTUMES
When Josiah picked his theme, I knew I was going to be Princess Leia because she's really the only girl character from Star Wars that my boys know. However, wearing a white long-sleeved, long gown when hosting a 3-year-old's birthday party is not the most practical idea. Thankfully, Leia had some better options in the other movies, and with white pants, a white turtleneck, and a white puffy vest, plus my snow boots and an updo of Heidi braids, I was able to recreate her look on the ice planet of Hoth from The Empire Strikes Back.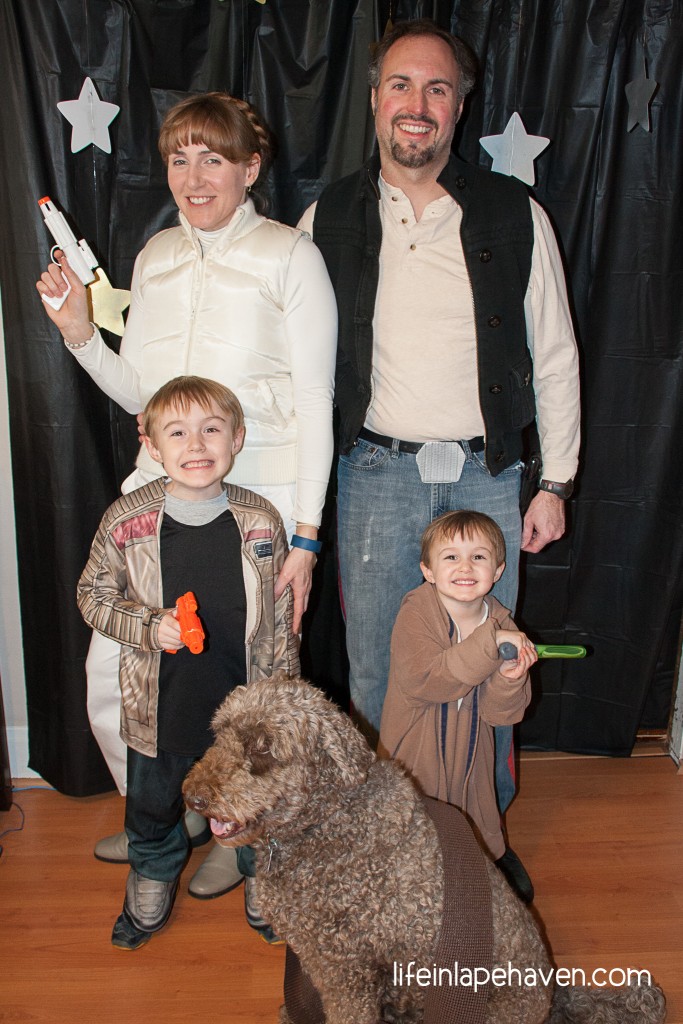 Of course, my hubby had to be Han Solo to my Leia, and he had the easiest costume of all: jeans with red masking tape, cream-colored shirt, black vest, and a silver-spray-painted, cardboard cut-out belt buckle on his gun holster.
The boys went back and forth about who they wanted to be, but thankfully Josiah decided on Luke Skywalker (tan pants, a cream tunic, brown belt, and a too-big brown hoodie) over Darth Vader, and Elijah lucked out when I found a Finn costume (from the newest movie & who he really wanted to be) on clearance! Most of the pieces for our costumes were either stuff we already had (I always save our costume items) or things I picked up at the thrift store. Our guns came from the Dollar Tree.
Our Labradoodle, Vinny, was our Chewbacca. I just cut off a piece of brown shelf liner that we had and looped it over him to create a super simplified bandolier. I don't think he truly appreciated the honor it was to be the coolest Wookie ever.
THE DECORATIONS
For parties I usually decorate rather minimally. I make sure that we have a backdrop or decorations at the food table, and then I come up with a background for pictures in the living room.
In the kitchen, I used a black plastic tablecloth hung behind the food table to create an outer space feel. I bought a pack of white paper star cut-outs, spray painted some of them gold and silver, and then taped them to fishing line that was thumb-tacked to our ceiling in front of the background.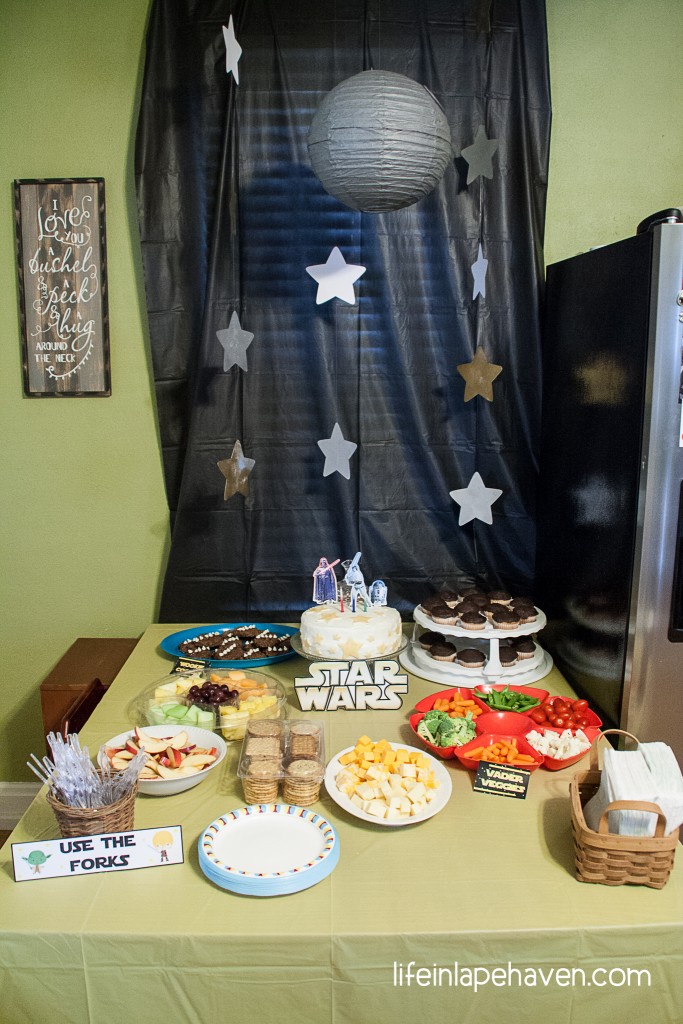 A gray paper lantern with a couple of tweaks became our "Death Star" looming over all the goodies. I found a diagram of the Death Star online and printed it out so that the circle for the laser beam was the right size to be proportional to my paper lantern. I also took a black Sharpie and made an equator around its middle.
The addition of a Star Wars movie poster on another wall in the kitchen completed that room.
Our picture backdrop was again made from black plastic tablecloths. Since I've used these kinds of tablecloths before for backgrounds, I've discovered that the easiest, most secure way to hang them is to fold it over to the length that you need it and tape a hem on one end. You basically create a curtain out of the plastic. I then run a piece of string through the hems and tie it up over our living room pocket doors.
A few more strands of fishing line with stars tacked in front of the plastic curtains, and our picture area was done. It wasn't anything fancy, but it was better than just a plain wall.
THE FOOD
We always hold our parties in the afternoons, which means we don't need to feed everyone a full meal. However, we always have fruits, veggies, and cheese and crackers to snack on before the cake and ice cream are served, plus tea and lemonade to drink. To carry the Star Wars theme through the goodies, I printed out these super fun food labels that were full of great ideas and delightful puns. My favorites were Han's Rolos and Luke Skywater. I totally bought Rolos just so we could use that. 🙂
We also made our version of "Wookie Cookies," decorating my regular recipe for No-Bake Cookies with a chocolate candy melt bandolier and white chocolate chips as the ammo. I let my boys add the "ammo," which they thoroughly enjoyed.
THE CAKE
I have made every birthday cake for my boys since Elijah's very first one, and this year was no exception. I'm not a great cake decorator, but I try to do something fun with them.
For Josiah's cake, I made a classic white cake and filled it with strawberry jelly and one of my favorite icings, Cloud Frosting. Made with cream cheese, cream, and powdered sugar, this easy, yummy icing is always a hit, plus I knew that it would go well with the strawberry jelly filling.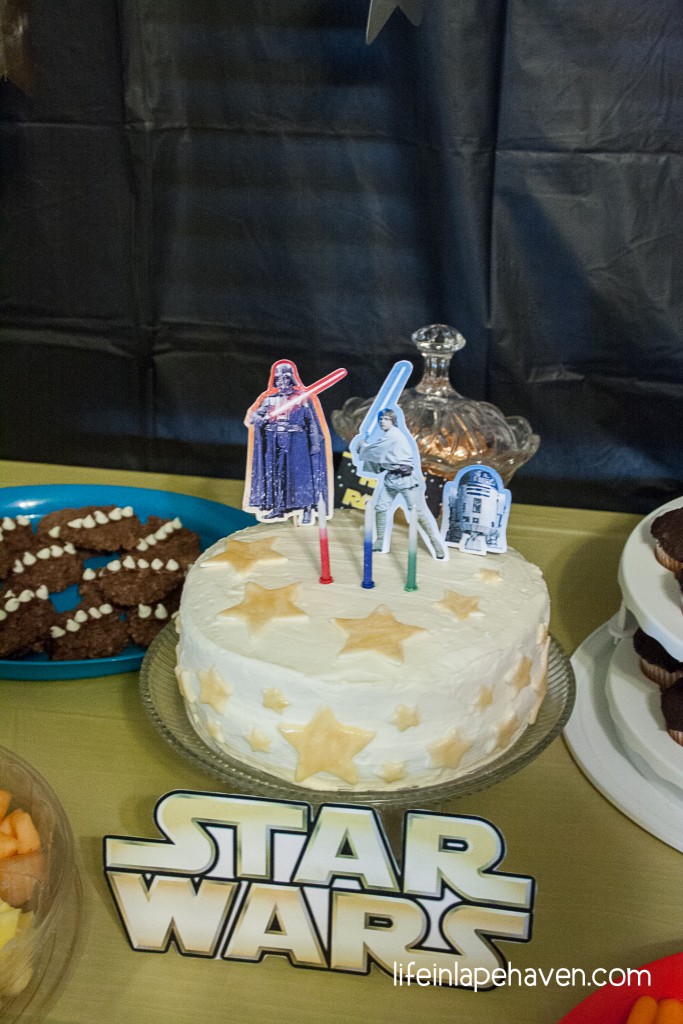 To make the strawberry filling, I heat a few cups of an all-natural strawberry jelly in the microwave and then stirred in a little over half a package of unflavored gelatin to help it set up better and not make the cake soggy. I had never tried that before, but it worked really well and tasted delicious.
To decorate the cake, I looked everywhere for a simple star decoration or candy. Finding none that would work, I decided to try my hand at homemade marshmallow fondant, using a recipe I found on Pinterest. It worked really well and was actually a lot easier than I anticipated. The worst part was all the powder-sugar fingerprints I left around my kitchen. I only made about ¼ of the recipe, initially thinking I'd just try it out before I made my stars, but when it came together so easily, I went ahead and cut out my stars ahead of time. Once they dried out a bit, I brushed them with a gold icing and let them set up.
Through my Pinterest searching for Star Wars ideas, I came across these free printable Star Wars cupcake toppers, which gave me the perfect toppers for the cake. I cut out the characters and taped them to some bamboo skewers, and with my stars surrounding them, it made a perfectly fun cake for Josiah's day.
ATMOSPHERE, FAVORS, & FUN
One thing that I always try to have ready for our parties is a playlist that matches the theme, and a Star Wars party is nothing without an epic soundtrack in the background. I loved being able to use our Amazon Prime access to their music library and create a playlist with all the songs we needed. Try Amazon Prime 30-Day Free Trial
Technology also helped us create a memorable encounter for Josiah with Darth Vader. My oldest nephew, Jericho, who is a big Star Wars fan, is in the Airforce and stationed in South Carolina. Knowing that he had a Darth Vader costume from last Halloween, I asked him if he would be so kind as to call us on Skype during Josiah's party while in his Vader costume.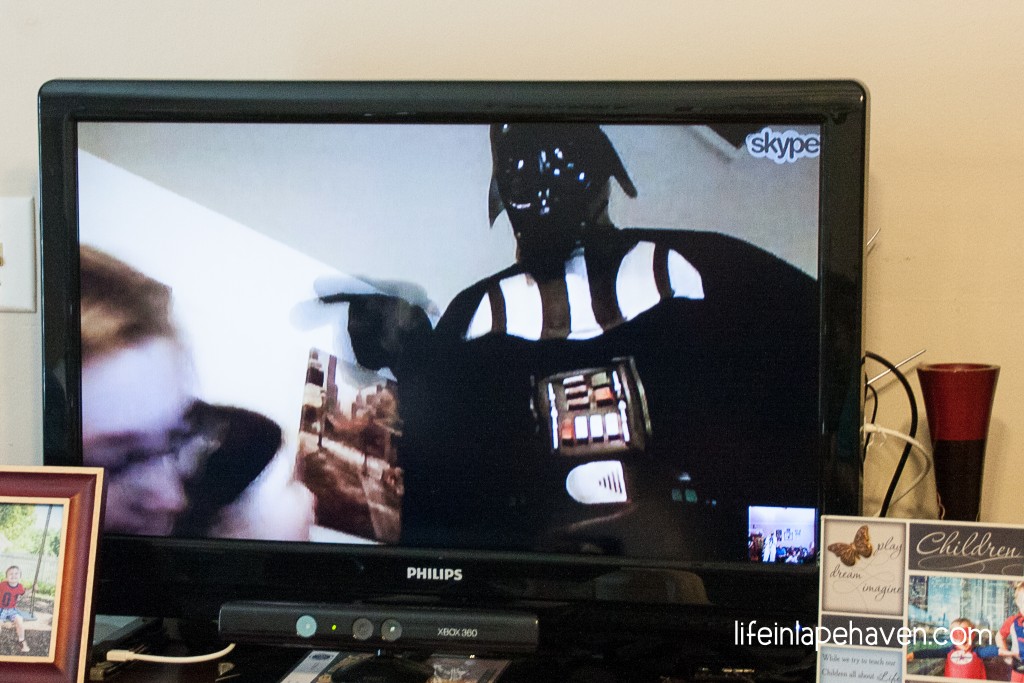 Josiah's reaction was priceless. While we were all talking to my niece-in-law over Skype, she played a sound bite of Darth Vader's breathing as Jericho walked into the frame in costume. Josiah ran from where he'd been standing in the middle of the room to the couch along the wall, squeezing in between my sister-in-law and my grandpa. After the initial surprise wore off, though, our little guy had fun getting birthday wishes from one of his favorite characters.
While I had planned to play a game of "Find the Droid" with the kids, one of the Star Wars party games we found, they were all too busy just having fun together to focus, so after Josiah opened his presents and thanks his guests, we handed out the favors for the kids so that they could just keep playing.
Favors are always a maybe-maybe not thing for us at parties. As a parent, I'm not thrilled when my child brings home little trinkets and extra stuff that they didn't really need. However, as the hostess, if I can find something that is fun token, I try to give the children something. Plus, I think this also encourages my birthday boy not to be as selfish about his day, since I generally have the boys hand them out.
For Josiah's favors, we gave out Star Wars tote bags (from the Dollar Tree) and bubble wand "light sabers."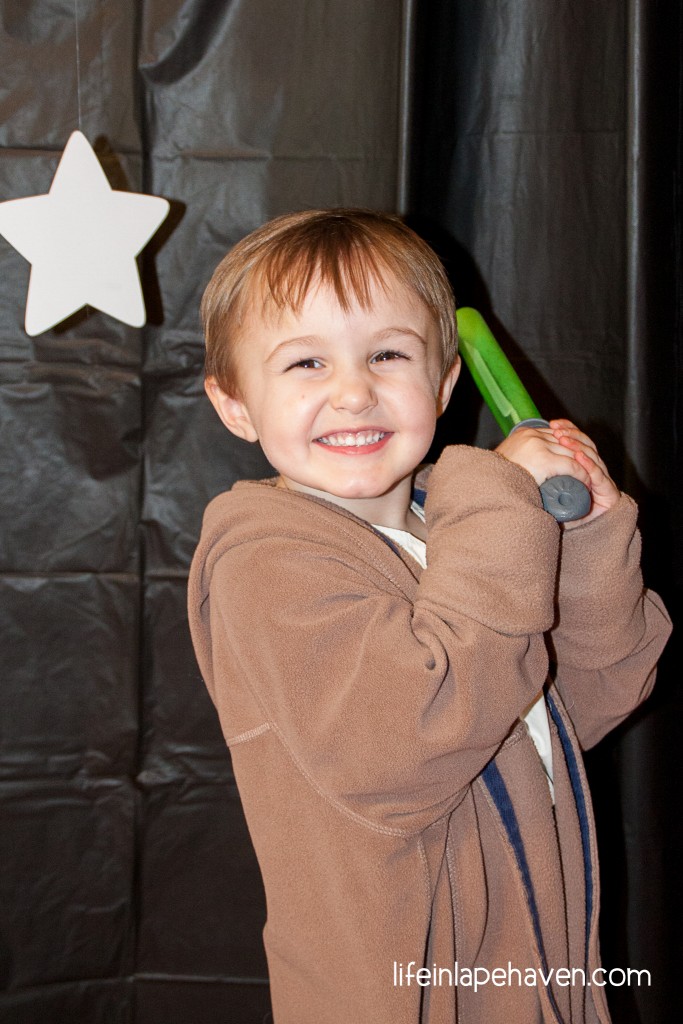 Then just like that, our boys were outside enjoying a beautifully sunny day with their cousins, blowing bubbles and fighting off imaginary Storm Troopers.
I'm pretty certain that the Force was strong with this party, or at least our little Jedi thought so. 🙂