Have you ever had one of those conversations with your kids where it starts out with a really random question from your child, but then God opens the door to allow you to share something important or foundational for their faith? Do yours involve Star Wars, too?
This week a seemingly out-of-nowhere question from Elijah led us into a discussion about sin and how we all get to decide whether we are going to do things God's way or not…all while talking about Darth Vader and armies.
It all started as we were driving along the backroads, heading home from my brother's house where the boys had enjoyed a playdate with their cousins that afternoon.
Not far down the road, Elijah asked me, "What does the army do?"
At first, I asked him to repeat the question, because my first thoughts when he asked were spent trying to figure out what he was thinking. They hadn't played "soldiers" that day, there weren't any signs or billboards around to spark the thought, and no one had been talking about anything remotely related to the military that I could remember, so this seemed like a pretty random train of thought. (I'm sure it wasn't for him…)
So, in an attempt to give him the simple answer, I told him that the army helps protect us and fights against bad guys in the world.
His reply was, "Like Star Wars."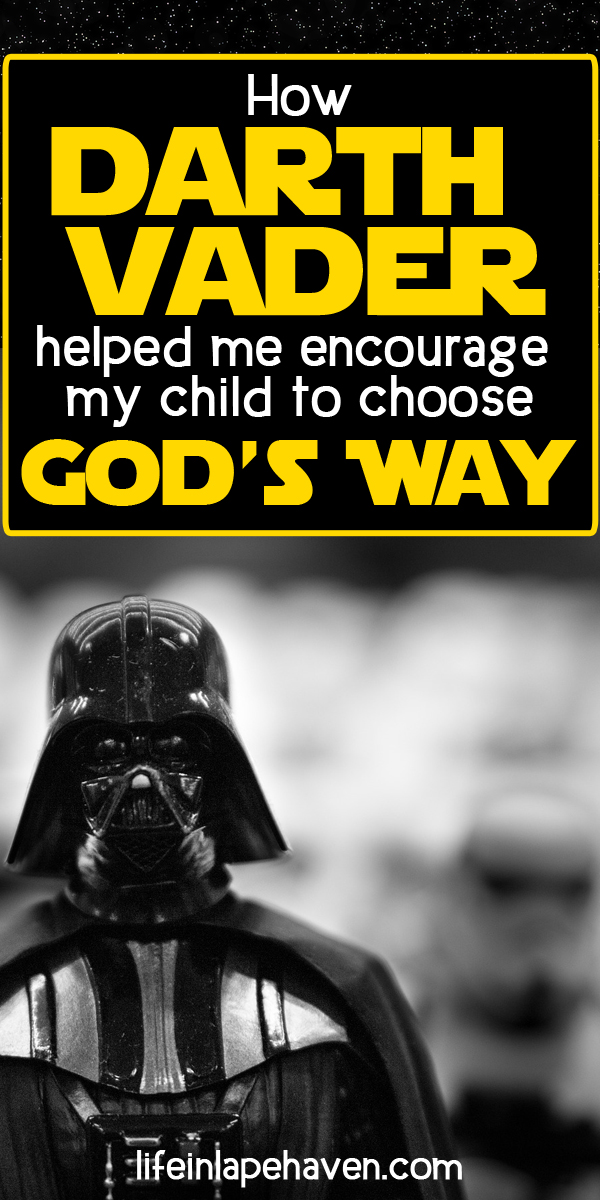 Again, I had to try to follow his thought process. "What do you mean?"
"Like the Resistance fights the Storm Troopers." (He finally got to see the newest movie.)
"Ok. Yes. I guess so. The Rebel Alliance and the Resistance fight against the bad guys, like Darth Vader and the Storm Troopers." (Sorry if you aren't a Star Wars fan…we kind of are around here. We were basically talking about how the good guys battle the bad guys in the movies.)
Then Elijah said, "Well, Darth Vader was kind of good." (Because right before he dies, Vader admits that the stuff he did was bad, and he helps to save Luke's life despite almost 3 movies of being the bad guy.)


And just like that, the conversation shifted, and God showed me a teachable moment and gave me the words to share.
"Well, Darth Vader did kind of say he was sorry, and he did something good at the end. And no matter what we've done or when we ask, God will forgive us. But just think about how much of his life was wasted, spent hurting people and doing bad things instead of helping people and doing good. It would have been a whole different story if Darth Vader had chosen to do what was right rather than go along with the 'Dark Side.' But he kept choosing to do bad things, over and over again, until almost the last moment."
Elijah thought about that for a second, and then, like a true big brother and human, he tried to justify himself based on someone else- his little brother: "Well, sometimes, Josiah makes me do bad things." (I think he was remembering earlier in the day when the boys were arguing, and by Josiah arguing back and not letting Elijah boss him around, Josiah "made" Elijah shove him.)
So, I told Elijah that no matter what someone else does, we still ALWAYS have the choice about how we are going to behave.
"You know that God wants us to be loving, forgiving, helpful, kind, giving, and patient, right? You already know what God wants you to do. But the problem is that we don't always want to do what is right. In fact, since Adam and Eve disobeyed God in the Garden of Eden, we all tend to want to do the wrong things. We don't want to share, or be helpful, or be obedient. When Josiah isn't sharing with you, your first thought is probably NOT that you should be kind to him, is it? It's to get angry and be mean right back to him. So, you have to choose how you are going to behave. That's why we need Jesus. He gives us the heart and the power to want to do the right things. So no matter what, you have a choice to either do things His way or not, no matter what Josiah or anyone else does. You get to choose, and He will help you if you let Him."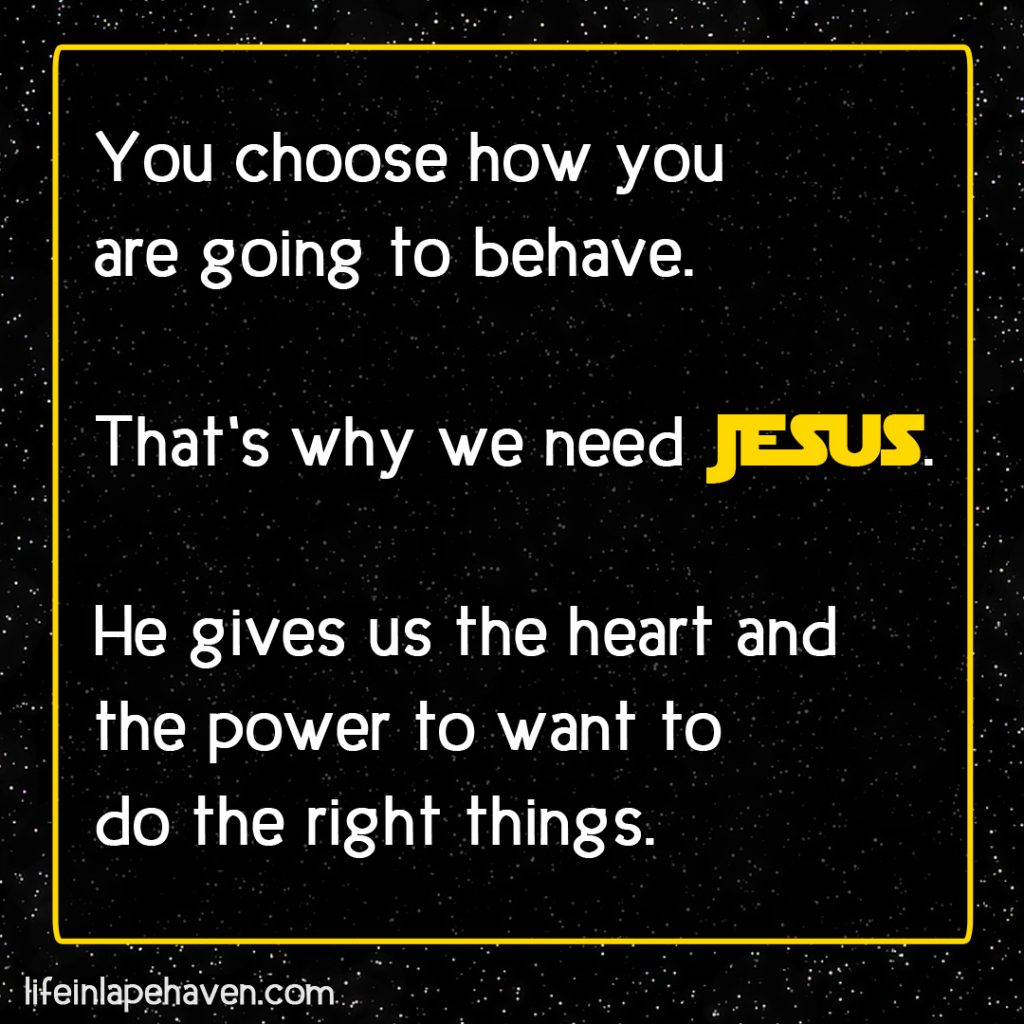 Elijah was pretty quiet for a while after that, and then moved on to talking about something completely different, but I'm fairly certain his heart received at least some of the message.
So, parents, make sure you're listening, not just to your children's questions but to how God wants you to answer them.  Sometimes the most random conversations can be used to plant seeds and leave an eternal impact.
Get more ideas & encouragement from this real-life mom as I experience God's faithfulness through the joy and chaos of motherhood.

Join my email list!  
YOU MAY ALSO LIKE:
Simple Ways to Spark Joy in Your Children
How We Changed Our Family Atmosphere with One Question
The Tale of a Tooth & Noticing the Big Things in Our Kids' Lives