This post contains an affiliate link, which means at no additional cost to you, I may receive a small commission when you make a purchase through the link.
With Josiah's recent birthday, he has had an influx of new toys, clothes, and games to enjoy.
Of all the things he received for his birthday, there is one thing that both he and Elijah have been playing with more than any other: The Sneaky Snacky Squirrel Game.
I could claim all kinds of "awesome parent" points for this since it was from Mommy & Daddy, and I picked out the game… except that with Easter and birthday party prep, I kind of overlooked getting him a present until a couple days before his birthday.  (Brad and I have been considering getting the boys a swing set or playset for our yard, but we hadn't found one yet, so we kept putting off getting Josiah's birthday gifts, just in case we came across a swing set before his birthday.)
Thankfully, my instincts were good on this one. I knew I had seen comments about how much families liked this award-winning game, so I figured it would be worth a try. Besides, we (read: Mommy) can only play so many games of Candyland.
From the minute we opened the box, the boys were intrigued (and fighting over the adorable "squirrel squeezer"). With their little tree trunks in front of them, they barely let me read over the very easy directions before they started trying to play.
It's a really simple game with a spinner, acorns in five different colors, tree trunks for "stashing" your acorns, and the aforementioned cute little squirrel squeezer that you use to pick up the acorns. The object of the game is to collect all 5 colors of acorns before anyone else, but you have to watch out for obstacles on the spinner that slow you down: the Sad Squirrel that causes you to lose your turn and the wind storm that blows all your acorns back to the main tree.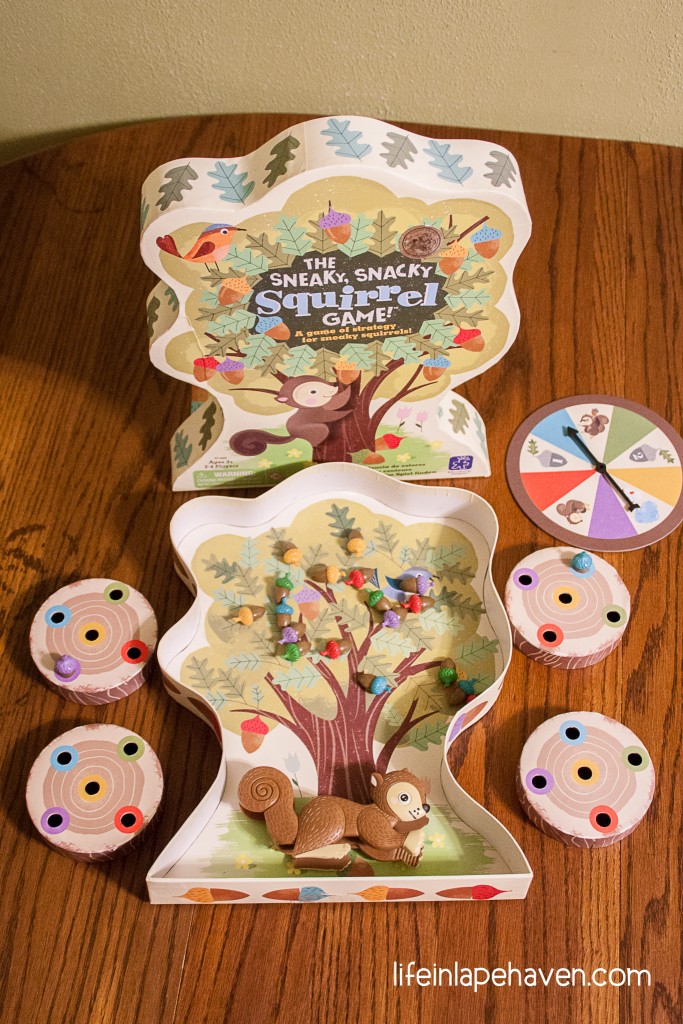 Without a doubt, our boys' favorite thing to land on is the Sneaky Squirrel because then they get to steal an acorn from someone else. They are positively delighted to get to be so mischievous. Of course, they don't really enjoy it when someone else steals their acorn, so it's been a great game for teaching them to be a good sport.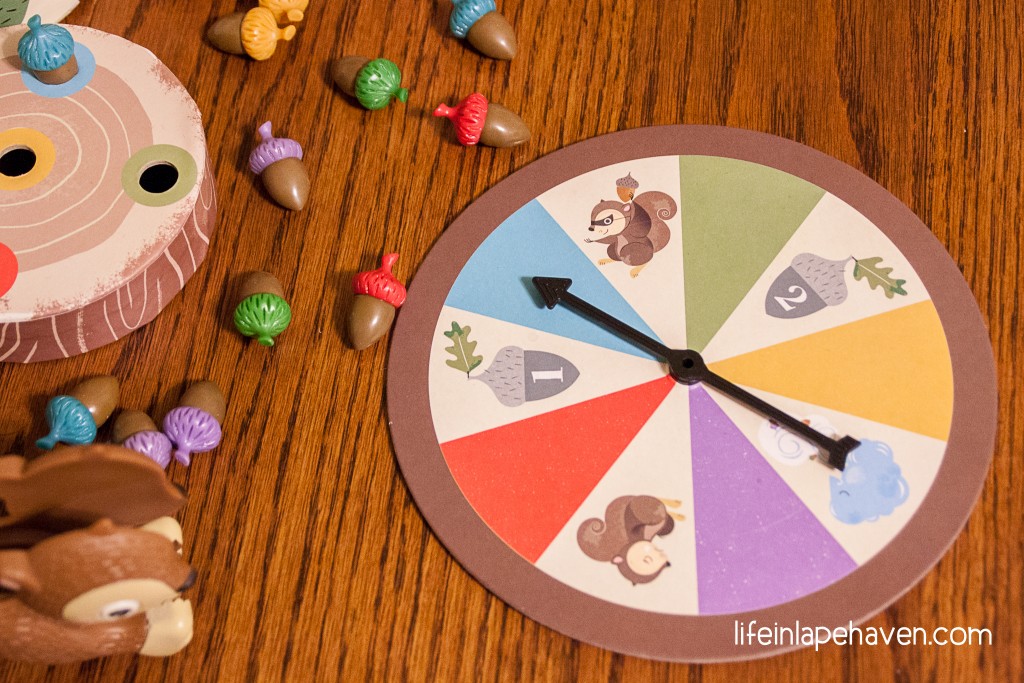 That first day we played several rounds of the game, and we've played it nearly every day since. They played it with their grandparents, and Josiah even took it over to his cousins' house this past week to introduce them to the fun. Watching the four boys play it together was hilarious and precious. They all loved the sense of accomplishment when they managed to collect all their acorns and win a game.
As a parent, I appreciate the simplicity of the game, which makes it easy for my 3-year-old to play without help, while not being too young for my 5-year-old (or  Brad and I) to have fun. The game is designed to help encourage color identification, as well as matching, sorting, strategic thinking, hand-eye coordination, fine motor skills and pre-handwriting skills, and I can already see improvement for Josiah in some of those areas.
So even if it was more of a last-minute gift, it has turned out to be a great one, one that our entire family enjoys playing, and one that has easily become our boys' new favorite board game.