This post contains affiliate links, which means that, at no additional cost to you, I may receive a small commission if you make a purchase through the link.
This week marks the launch of her second book in the series, The Reluctant Duchess, and Roseanna is here again to share a little bit about the intrigue, romance, and inspiration that await readers in the story of Highland heiress, Lady Rowena, and Brice Myerston, the flirtatious English Duke who comes to her rescue.
*Note: I received an advanced reader copy from Roseanna and Bethany House Publishers in exchange for my honest opinion. My endorsement of the book is based solely on how much I thoroughly enjoyed it. 🙂
So, Roseanna, according to your "Author's Note" in the book, the story for the The Reluctant Duchess, like The Lost Heiress, was imagined by a young Roseanna several years ago. How much of your eighth-grade idea survived the rewrites and edits?
Um . . . Brice's name, LOL. I think that is seriously about it. And the fact that Rowena (who used to be named Augusta and went by Gusty—which no one but me liked, so alas!) was abused by her father. I knew nothing about what an abused young lady might feel when I started this story at age 13, so it's no surprise I didn't finish this one back then. It bears more of a resemblance to the version I actually finished when I was twenty-five, though a lot has changed since then too. And I'm so glad—Rowena needed to go through quite a few drafts to hit the right balance of broken-but-not-too-bitter.
In The Lost Heiress, we traveled from Monaco to England. This time, with The Reluctant Duchess, we're off to the Highlands. What inspired you to bring your heroine from Scotland?
Well, I have some Scottish blood, so I've always been intrigued by things Scottish. But honestly, it's because in that aforementioned draft, Brice had a subsidiary title of Inverness (the region where Loch Ness is), so I sent him up there, and that's where she lived. Then I really liked the flavor that brought, so even though Brice now has ties to Scotland only through his mother's family, it was something I wanted to explore.
After researching all these far-off destinations, which one is at the top of your list should you ever get to visit?
We're actually planning a trip to England this fall. 🙂 Hoping to visit Cornwall (setting of the first book in my next series), perhaps drive into Wales—perhaps, perhaps up to Yorkshire, and also take the train to Paris for a night. (That sound you hear is my Paris-obsessed 10-year-old daughter squealing and jumping up and down at the thought of seeing the Eiffel Tower. And my son going, "A train! Cool!") 😉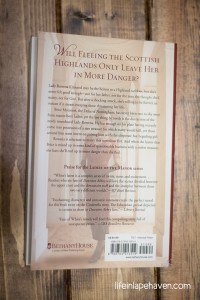 Being from the Highlands, Rowena and her family have such fun accents and phrases to read. How challenging was it to write in both English and Scottish accents for your characters?
The English accent hasn't been too bad. I've always loved British TV, so I hear that a lot. But to get the Scottish in my ear, everyone recommended I read Outlander. So I did, and that certainly helped me figure out how to spell things, LOL. I also watched YouTube videos of people in the Highlands and took notes about the phrases they favored and the cadence and syntax they used. And of course, I had websites bookmarked with Scots phrases and their meanings.
Also, while you were in the thick of penning this story, did you find yourself using phrases around the house, such as telling your children, "Dinna fash yourself"? 🙂 (I TOTALLY would!)
Well DUH—of course I did! LOL. I still use "canna" a lot. And will occasionally tell one of my kids that they look "all peely-wally." Just to see their response. Of course, they've lived with me all their lives, so they just roll their eyes and continue on their merry way. (My son, when he was about four, once responded to my typical speech by saying, "Only pirates say 'blast,' Mommy." Pirates and historical writers…)
Rowena faces some pretty difficult challenges from the beginning, some not-so-light-hearted situations that few authors want to put their heroines through. Why did you feel compelled to start Rowena's journey from there?
Because…that's who Rowena is. I know this is hard to explain to those who don't live in worlds of fiction inside their own heads, or perhaps even to writers of plot-driven stories. But mine are all about the characters to me. And Rowena…Rowena is lacework. She's a collection of holes and knots that she doesn't realize is beautiful until she can see her life all stretched out before and behind her by the end of the book. It was quite a challenge to write her, but I wanted to explore the internal healing she required—and how God uses all the empty places.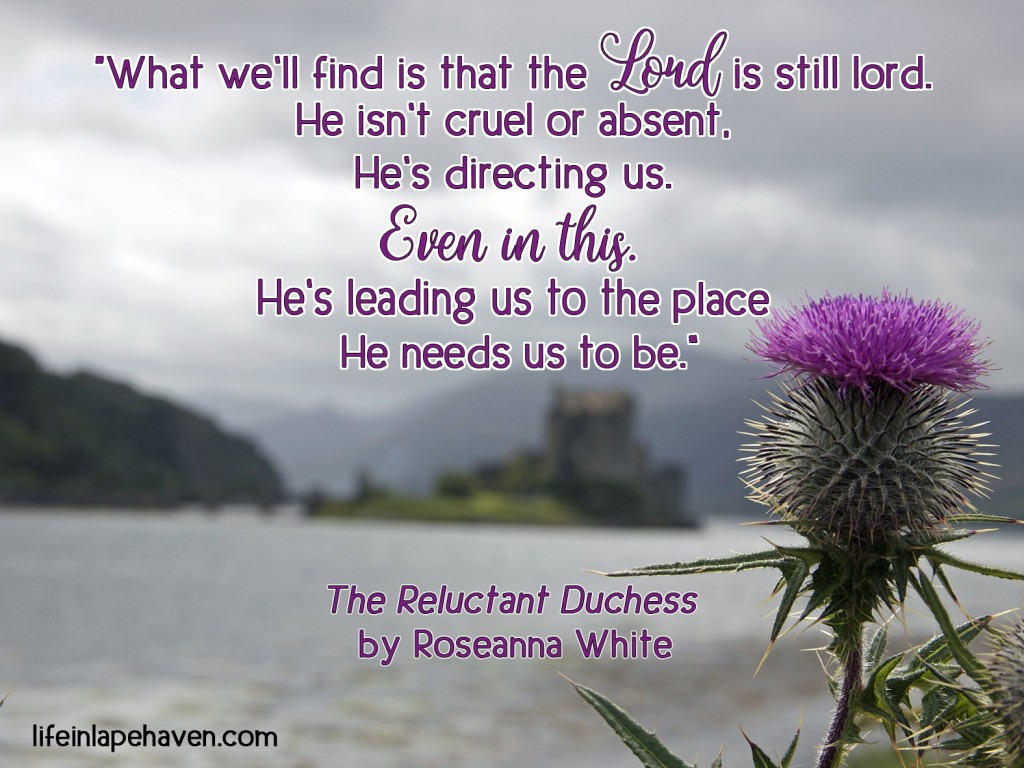 We have to talk about Brice Myerston, the charming Duke of Nottingham, the (nearly) perfect hero in the book. He's kind of a big deal. 🙂 I'm pretty certain he got his own fan club after the release of The Lost Heiress, and he may be one of my favorite heroes that I've read in quite a while. What (or who) was your inspiration for his character, and what were your goals for his growth throughout the book?
I didn't have a specific inspiration for him, actually. I just wanted him to be so charming that Rowena would be immediately wary, LOL, and yet an actual Godly man—because she needed someone gentle, peace-seeking, and yet strong. She needed someone who would listen to God's leading in his relationship with her.
But yes, I confess that my other big goal was to make him so well-loved in The Lost Heiress that readers HAD to get his story in book 2, LOL. All too often second books in a series are all but forgotten, and I didn't want that to be the case here. 😉
I think one of my favorite traits in Brice is his sensitivity to the Holy Spirit's leading, even when he might not want to obey. (Guys, take note. A man who follows God closely increases his "swoon factor" exponentially.) What do you want your readers to take away from this aspect of his character?
LOL on the swoon factor. 🙂 What I really want readers to take away is that that close relationship is something anyone can have, if they pursue God that fully. God may not speak to us audibly, but He will guide us through our days, and He'll speak to us in whatever way we best hear Him.
For every book you write, there is a theme. What was your guiding theme for Brice and Rowena's story?
It comes courtesy of George Muller, a missionary to England in the 1800s. That empty plates—empty places in our lives—are not a lack. They're just an opportunity for God to provide for us in ways we couldn't have imagined.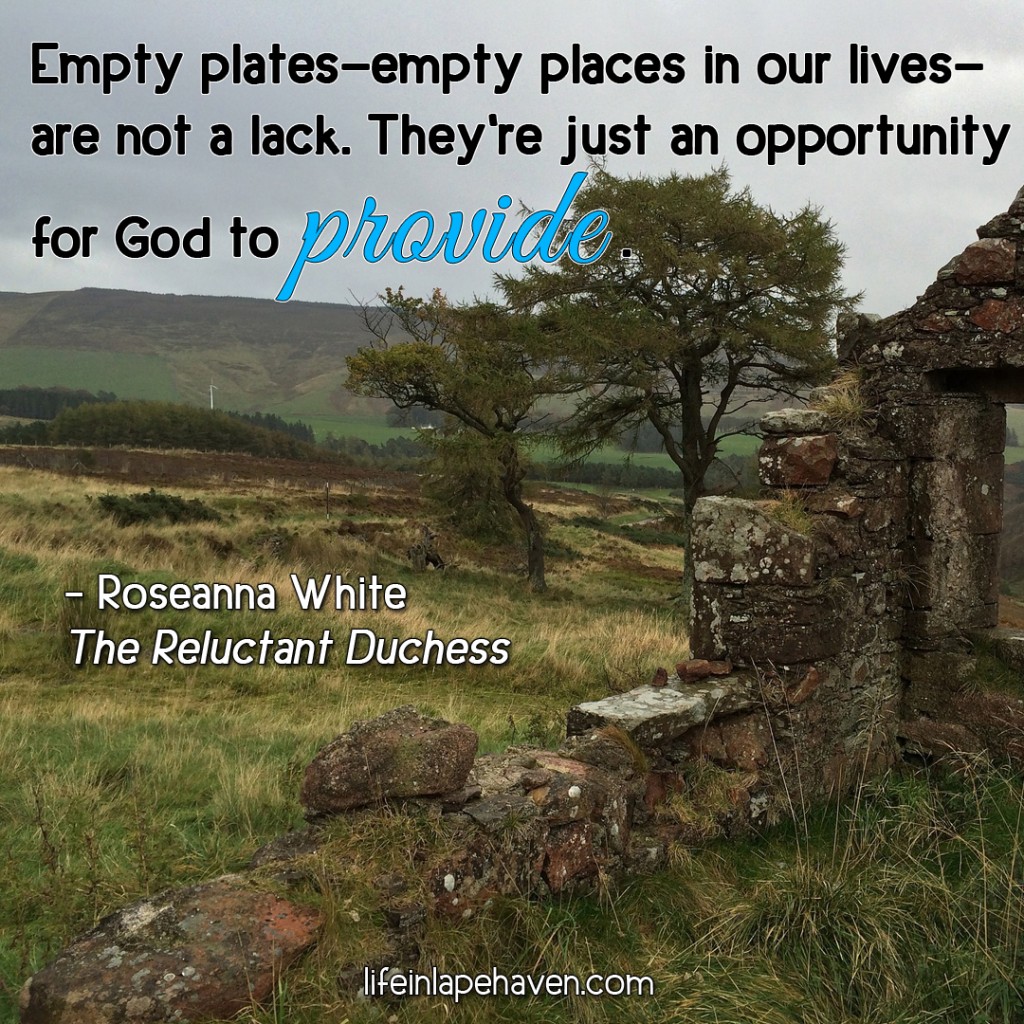 What is your favorite scene or quote in the book?
Oh gracious . . . probably the maze scene at Whitby Park. I love the glimpse we get of Ella, which sets the stage for her in book 3. And I love the confrontation between Rowena and Brice after he "rescues" them from the maze. 😉
You did a Periscope interview with Cara Grandle a few weeks ago where you discussed writing. You said that the reason you write was to minister to others (which I LOVE), so how do you hope God uses this book to minister to the readers?
I don't generally know how God is going to use my books…just that if I'm faithful to write the story He gives me and seek to learn His truth as I'm writing it, He will. Maybe it'll resonate with someone who has suffered abuse…or maybe with someone whose life feels empty…or maybe someone doesn't think they can hear God that clearly but will seek to. I don't know. Most of the time, it isn't someone or something I imagine. Which makes it all the more beautiful when I get an email saying, "This…this was for me." Makes me sniffle every time!
We know that there is a third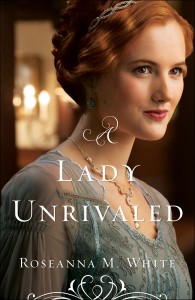 book, A Lady Unrivaled, waiting in the wings. Can you give us a little hint about what to expect and when we can look forward to reading it?
Absolutely! A Lady Unrivaled releases in September and features the adventure-and-romance loving Ella as our heroine…and a hero you might not expect—Cayton, the Duke of Stafford's misanthropic cousin who is a cad in book 1 and in the throes of grief in book 2. In book 3, he's been redeemed but doesn't quite know how to grasp that with both hands. And Ella, while still all sunshine and birdsong, has to learn when to trust her own instincts again after the shock that comes at the end of book 2. The mysteries of the Fire Eyes are finally fully understood and explained, with the help of a Russian ballerina sent by "the Russian buyer" to find out what's become of them. Loved exploring a bit of Russian culture through her! At the moment, it's my favorite of the series. But then, the most recent is always my favorite, LOL.
It is always so much fun being able to talk with Roseanna (Thank you, Roseanna!). Below is a little bit more about her with links to her website and blog. You can also follow her on Facebook and Pinterest. 
ABOUT ROSEANNA WHITE:
Roseanna M. White pens her novels beneath her Betsy Ross flag, with her Jane Austen action figure watching over her. When not writing fiction, she's homeschooling her two small children, editing and designing, and pretending her house will clean itself. Roseanna is the author of 10 historical novels and novellas, ranging from biblical fiction to American-set romances to her new British series. Spies and war and mayhem always seem to make their way into her novels…to offset her real life, which is blessedly boring.  She makes her home in the breathtaking mountains of West Virginia. You can learn more about her and her stories at www.RoseannaMWhite.com  and at Writing Roseanna.
⇒ GIVEAWAY ⇐
And now that you're all excited to read The Reluctant Duchess, here's your chance to enter to WIN a copy of your own!
Thanks for entering! This contest is open to residents of the U.S. only and runs from Thursday, April 7 (12:00 a.m.) through Monday, April 11, 2016, at 11:59pm EST (I know, specific.).  The winner will be notified by email within 48 hours of the contest ending. Winner has 48 hours to respond before another winner is selected.
While only one happy reader will be able to win my giveaway, I'm not the only person celebrating the release of The Reluctant Duchess. Below is a list of several other giveaways going on right now for this enchanting, suspenseful book!
Don't want to wait for a giveaway to end? You can read an excerpt from The Reluctant Duchess on the Bethany House site.
Of course, you can always purchase a copy from your favorite bookseller or download it on Kindle to start reading it right now. 🙂