This past weekend, our family had the joy of celebrating the wedding of some very dear friends who are really more like family.
Having known the groom, Jeremy, since he was a sophomore in high school and I was one of his youth leaders, he's kind of like another little brother to me. When he and Brad met not long after Brad and I started dating, the two guys became close friends pretty quickly.  In fact, Brad had the honor of serving as the Best Man this weekend, which meant we were involved with lots of the pre-wedding events leading up to the big day.
Knowing all the behind the scenes things that need to happen before a bride walks down the aisle, both from planning our own wedding and others that we've either been in or helped with, Brad and I were more than willing to do whatever they needed us to so that Jeremy and his beautiful bride, Rachel, could have a wonderful event on Saturday.
We made the over-two-hour trip to northeast Ohio on Thursday so that Brad and the other groomsmen could take Jeremy on his bachelor outing of rock climbing, shooting, and dinner that evening. Then on Friday, we joined others from the bridal party and the bride's family in a day of decorating and rehearsal.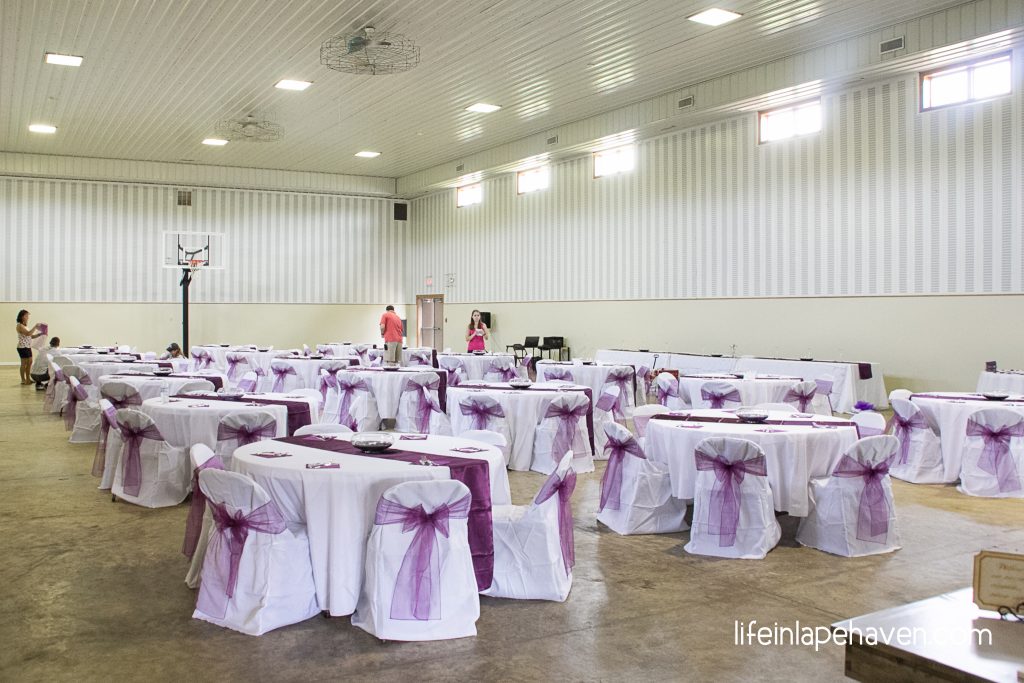 That was when we all met Mike, the maintenance man at Jeremy and Rachel's church. He was an older man, about my parents' age, and he was there to basically let us into the church and the student center (where the reception would be held) and show us where everything was that we might need. However, he did much more than that.
From the moment we stepped into the first building to decorate for the reception, he was a cheerful presence, quick to help out and gracious about any request or questions we had. Nothing was an inconvenience to him. He was great with my boys (which all moms know is the key to our hearts), allowing them to be little boys. He even gave them permission to run a few laps in the sanctuary later, which I had to veto not long after when they started trying to climb over the pews!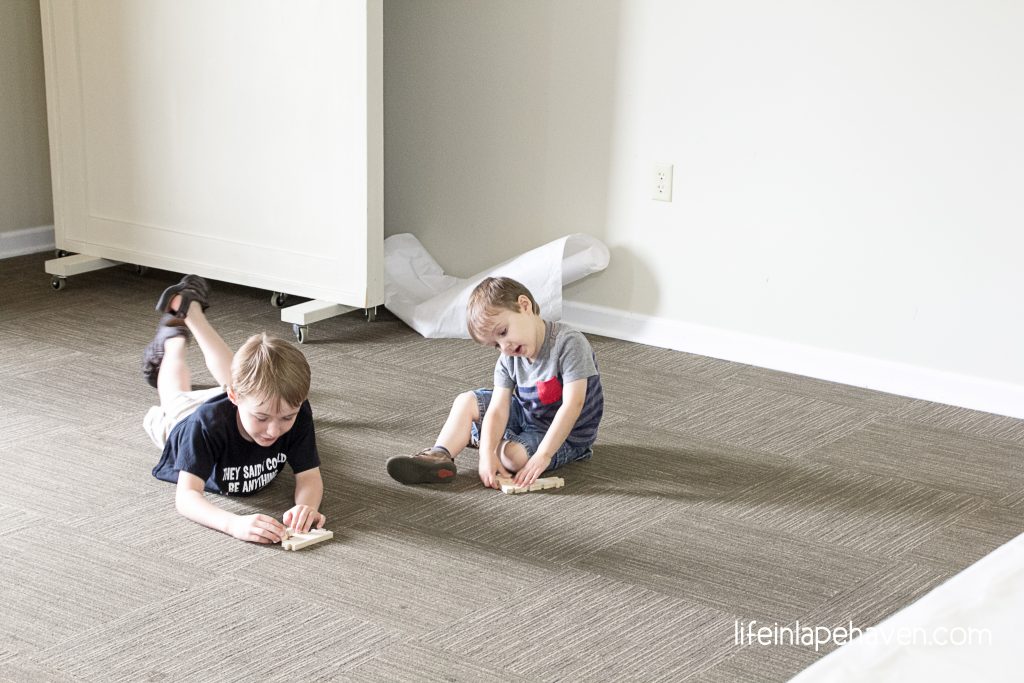 While talking about my boys, he shared with me about how he came to Jesus in his 30s and how he knew God's timing was in that because his children got to witness firsthand how his life changed completely from who he was before Christ to the new man he became.
Mike found great joy in being able to help Jeremy & Rachel prepare for their special day, and he did his best to take on any task he could to help alleviate their stress or nervousness. Since that was my mission, too, when I wasn't corralling my boys, he would tell me things that someone needed to know but ones that he didn't want to bother the bride and groom with at the moment, such as where the candles were for the candelabras on the platform or asking to make sure that everything went well with the rehearsal and sound.
On the day of the wedding, he was there just as early as we were, keeping Jeremy informed about rearranged tables and such and, again, trying to do what he could to help.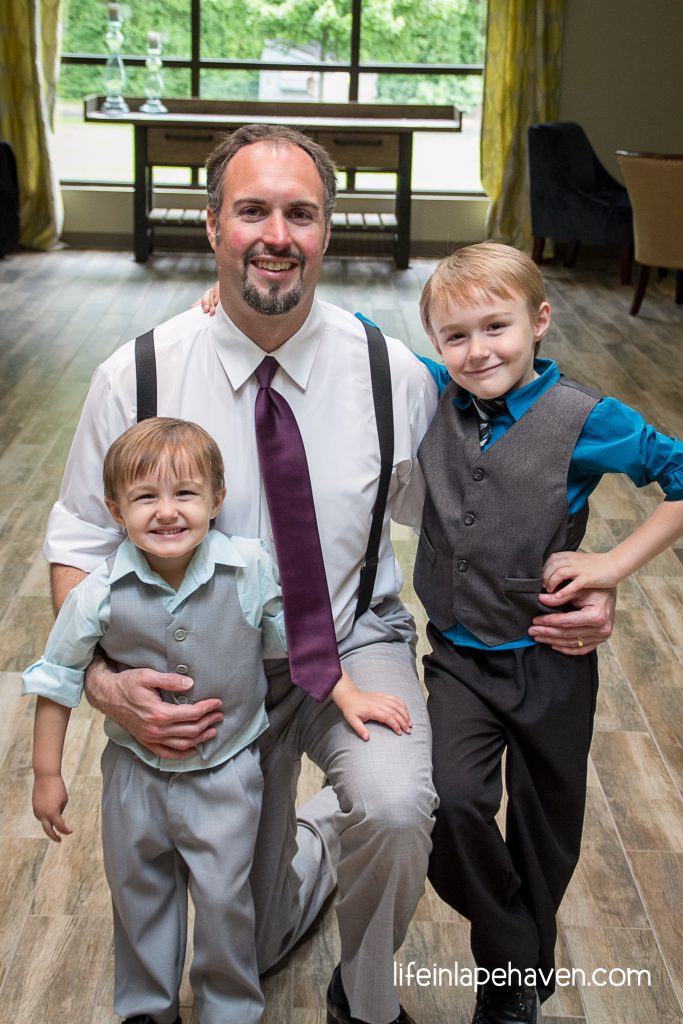 While the bridal party, Brad included, were getting ready and Jeremy was in the lobby getting his pictures, I tried to keep my boys out of the way and busy with coloring in the sanctuary. They had been really good over the busy day before and were excited that it was "wedding day," so they were having a hard time not wanting to be in on everything that was going on. That's when Josiah decided to use his red crayon to draw a nice long line down the light-colored pew, right on the front of the seat back, so it was very obvious. As soon as I saw it, I cringed. I knew it was NOT the washable kind of crayon. Then I glanced up, and I could see Jeremy through the double doors, posing for the photographer, and I cringed again.
There was no way I was going to bother him with this, but I knew just who to find to help me out.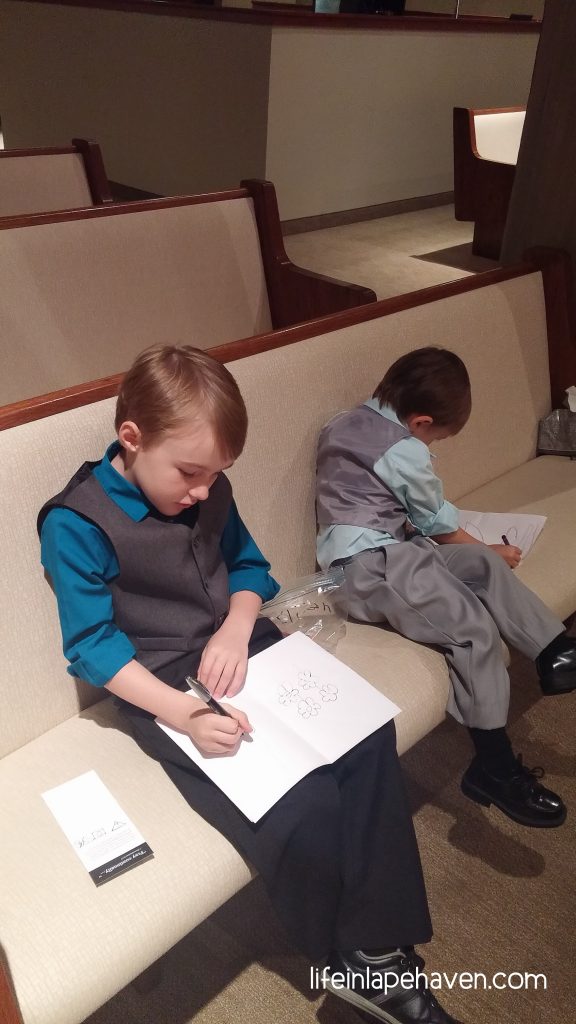 Not two minutes later, there was Mike, walking through the front doors, so I hurried over to him. Knowing how kind and patient he had been with my children the day before, I knew he would be understanding with this little disaster. Even still, I hated to have to tell him. (If your child has ever damaged or destroyed someone else's property, even accidentally, I'm sure you know how I felt.) Quickly and quietly I explained that my 3-year-old had gotten a little carried away with his coloring, and I apologized. (I did try to clean it off as best I could without making it worse. Note: My old reliable, hand sanitizer, did help a little but not enough.)
His response was exactly what I'd come to expect from him, "That's ok. We have children in here every Sunday, and we have this all the time. Show me which pew it is, and we'll take care of it."
I had Josiah apologize, and even though I could tell he didn't want to do it, I could also tell that he wasn't afraid of Mike's reaction either. Mike simply said, "It's ok. I'll fix it. But now you know not to do that again, huh?" And that was it. He reassured me that it happened often and that he had a cleaner that would take it right out. He told me not to worry about it.
I know from my years of growing up in the church that some people would have reacted differently, berating my child or me for desecrating God's house or being very put out with the situation. Thankfully, this man showed us compassion and grace.
Beyond telling Brad, Mike and I neither one mentioned it to anyone else, least of all Jeremy or Rachel. (I guess now they'll know 🙂 …)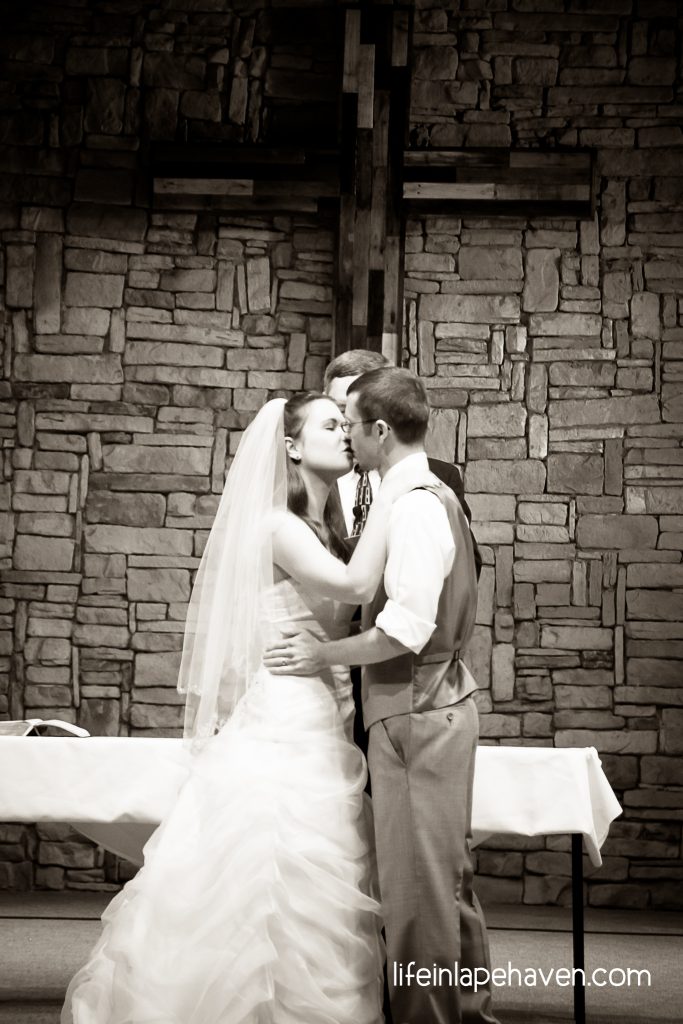 Of all the wonderful people we met this weekend (and there were many), Mike left the biggest impact on my heart simply by being a joyful, willing, humble servant who was eager to help beyond his job description to make my friends' wedding goes as smoothly as possible and who shared God's love with all of us. He not only represented his church well, but Christ well, too. He used his generally behind-the-scenes position to minister to everyone he came into contact with.
So even though the photographer was great, the pastor who officiated was wise and eloquent, and the caterers provided us with some delicious food, it was the maintenance man who contributed the most to a beautiful day for us all.
Thanks, Mike!