Jump to recipe
When Brad and I were first married, our church had a picnic once a month in the summertime, which meant that as a newlywed who was still building her recipe repertoire, at first, I didn't have a lot of ideas for what to take each time. After all, there's a bit of a difference between cooking for two and cooking for a crowd.
After a couple of summers of taking things like fresh fruit salads, cookies, or random recipes, I was inspired by a side dish at a new local barbecue place, a side dish that I loved and knew I could recreate or at least get pretty close to: Sweet Vinegar Slaw.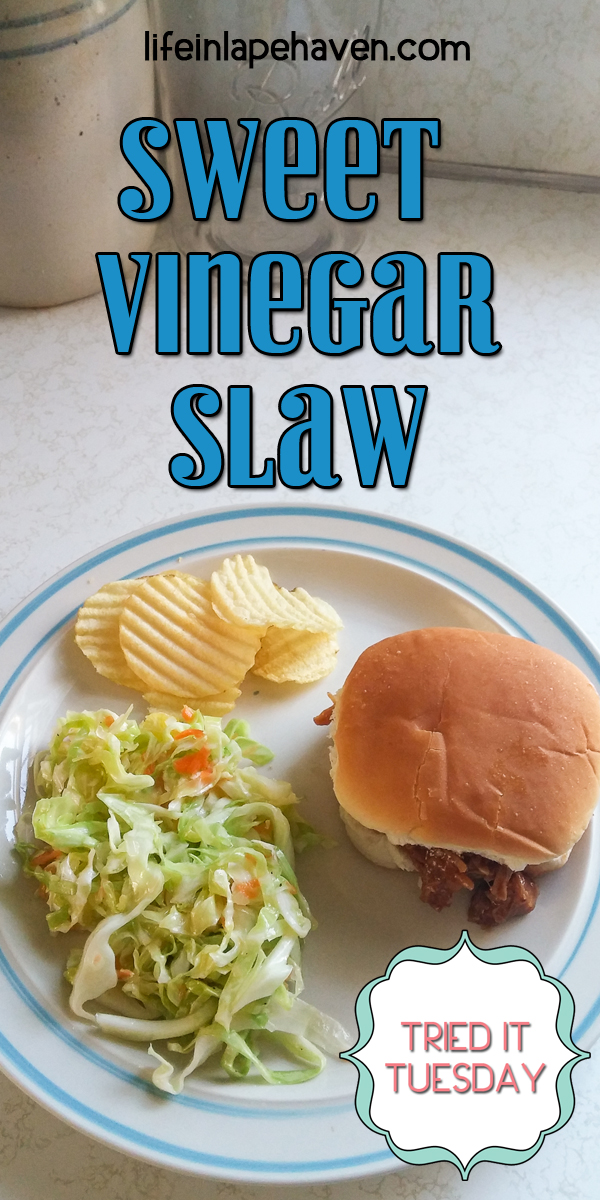 I've never been the biggest fan of traditional coleslaw. I mean, it's okay with your bucket of fried chicken and all, but I could take it or leave it.
However, when I first tasted this vinegar-based slaw at the barbecue restaurant, I was hooked. It wasn't like the creamy, mayonnaise-y taste of regular coleslaw, but rather a sweet, sour, tangy, crunchy yumminess that is especially awesome with barbecue ANYTHING.  
So, I went home, hit up Google, and found several recipes that seemed to mimic the slaw I'd had.
I honestly don't remember where I came across the recipe that I finally made (and I tried looking it up), but it's been written in my little recipe journal for several years. It's a definite go-to recipe, especially in the summer.
From the first time I made it to every time since, this slaw has been a hit. It's great for potlucks, picnics, and family gatherings, and unlike creamy coleslaws, you don't have to worry too much about this in the summer heat. The vinegar and sugar won't spoil as easily as mayonnaise. Plus, this recipe goes a long way.
While it's a good side for just about anything, we LOVE this on barbecue pulled pork sandwiches. It's a tasty little culinary match made in heaven. 🙂
So, to get your summer started off right, here's how I make Sweet Vinegar Slaw. Enjoy!
Sweet Vinegar Slaw

Ingredients
SLAW
1 medium - large Cabbage, chopped
1 small Vidalia Sweet Onion, finely chopped
1 Carrot, peeled & grated
1 Cup Sugar
DRESSING
1 tsp. Sugar
1 tsp. Salt
1 tsp. Mustard
Dash of Pepper (to taste)
½ cup Canola Oil
1 cup White Vinegar
1 Tbsp. Apple Cider Vinegar
Instructions
Clean and core cabbage, and then slice it into thin strips.
Finely slice and dice your sweet onion. While you could use another onion variety, the Vidalia Sweet Onion adds to the "Sweet" of the "Sweet Vinegar Slaw." Also, having lived in Glennville, Georgia for a few years, the largest producers of Vidalia Sweet Onions, I'm kind of a fan.
Put your cabbage, onion, and a peeled and grated carrot into a large bowl. You need a bowl that will be large enough to allow room for mixing and tossing the slaw.
Sprinkle the 1 cup of sugar over your slaw mixture.
Stir to combine, and then set aside while you prep the dressing.
Combine all of the dressing ingredients into a small saucepan and whisk together.
Bring to boil over med-high heat, stirring occasionally. Boil for 3 minutes, stirring occasionally. *WARNING: Keep your face back away from the boiling dressing. Hot vinegar in the air isn't pleasant, as it can burn your eyes or affect your breathing. Also, you are boiling oil, which can spit and pop out of the pan. Be careful.
Remove the dressing from the heat to cool it completely. I transfer it to a metal bowl that is placed over an ice bath and whisk it until the dressing is cold (just takes a couple of minutes). You do not want to add warm or hot dressing to your slaw mixture. It'll make it wilty.
Pour cooled dressing over the slaw and mix thoroughly.
Refrigerate. Ideally you would prepare this ahead of time and refrigerate it overnight before serving. However, I have made it the same day and refrigerated the slaw for only a few hours, and it still tastes great. The longer the slaw sets, the liquidier it will become. Use a slotted spoon when serving.
Get more ideas, recipes, & encouragement from this real-life mom as I experience God's faithfulness through the joy and chaos of motherhood.

Join my email list!  
YOU MAY ALSO LIKE:
Homemade Stove Top Macaroni & Cheese