A few years ago, our family started observing St. Nicholas Day (December 6) as part of our yearly Christmas traditions because it gave us a chance to spotlight the more factual history of the man who used his life and resources to serve God and bless others.
So, when Roseanna M. White announced that she was working on a new fictional book based on the real St. Nicholas (the historical beginnings of Santa Claus), I was eager to be one of the first in line to read Giver of Wonders when it finally released last month.
*Note: This post may contain affiliate links, which means that at no additional cost to you, I may receive a small commission when you use the link.*
Before I get into my thoughts on the story, here is the back-cover synopsis of Giver of Wonders: How a Christmas Tradition Began for you, just to whet your appetite: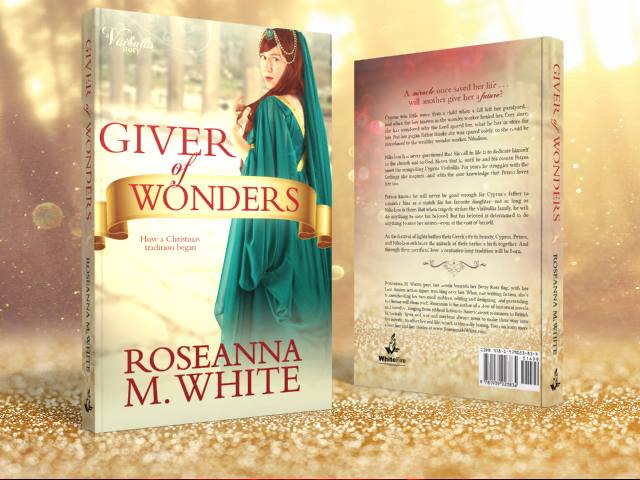 A miracle once saved her life – will another give her a future?

Cyprus was little more than a child when a fall left her paralyzed…and when the boy known as the wonder-worker healed her. Ever since, she has wondered why the Lord spared her, what He has in store for her. But her pagan father thinks she was spared solely so she could be introduced to the wealthy wonder-worker, Nikolaos.

Nikolaos has never questioned that his call in life is to dedicate himself to the church and to God. Never, that is, until he and his cousin Petros meet the compelling Cyprus Visibullis. For years he struggles with the feelings she inspires…and with the sure knowledge that Petros loves her, too.

Petros knows he will never be good enough for Cyprus's father to consider him as a match for his favorite daughter–not as long as Nikolaos is there. But when tragedy strikes the Visibullis family, he will do anything to save his beloved. Unfortunately, his beloved is determined to do anything to save her sisters–even at the cost of herself.

As the festival of lights bathes their Greek city in beauty, Cyprus, Petros, and Nikolaos celebrate the miracle of their Savior's birth together one last time. And in remembrance of their Lord's greatest gift, one of them will make the ultimate sacrifice for the others…and a centuries-long tradition will be born.
Sounds good, doesn't it?
That's because it IS!
As I say basically every time I read one of Roseanna's books, she doesn't disappoint. And pretty much every time I read a new story by her, it becomes my "new" favorite. 🙂
But when you combine my favorite holiday with great storytelling and a call to genuinely live out your faith with simple obedience, it becomes something truly special.
In Giver of Wonders, the story of Cyprus, Petros, and Nikolaos is a retelling of one of the St. Nicholas tales I've heard, but Roseanna makes it real. Their struggles to know and fulfill God's purpose in their lives despite tragedy, family opposition, and self-doubt are not just points in a Christmas legend, but relatable, heart-stirring, and thought-provoking moments for the reader, challenging us to trust and believe God through anything.
And while I was caught up in the story and the romance and the frustrations of the characters, I loved how Roseanna reminds us that the struggles in our faith and for our faith are vital.
As Nikolaos says at one point, "When faith is easy, it loses its potency."
But Roseanna also constantly brings us back to the amazing possibilities of a life lived full of faith and trust in God, and she sums it up beautifully in what is probably my favorite line in the entire book. It's on the very last page: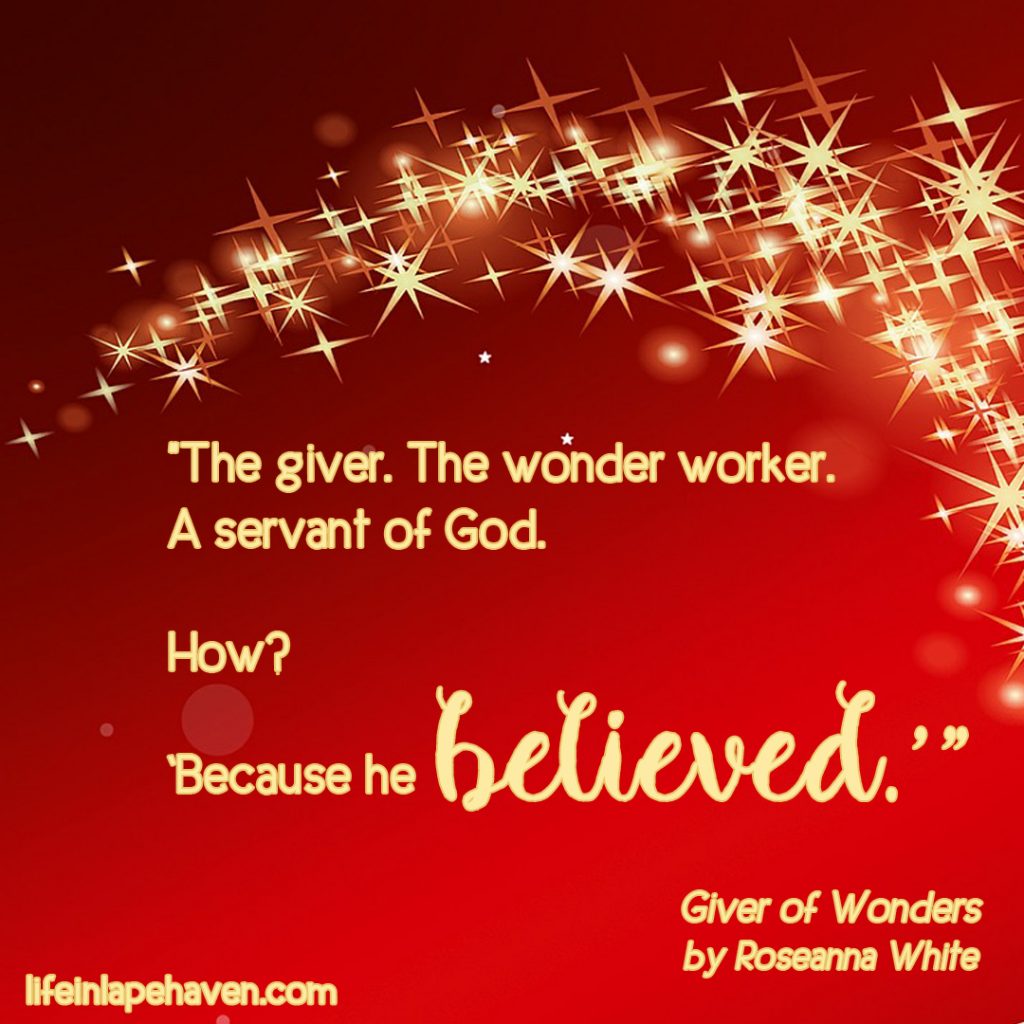 Giver of Wonders is a Christmas story that I will be re-reading all year long.
Giver of Wonders: How a Christmas Tradition Began is now available at any of your favorite booksellers. Or you can download it on your Kindle or Kindle app to begin reading it RIGHT AWAY! 🙂
Thank you, Roseanna White and WhiteFire Publishing for another WONDERful book 🙂 and the chance to be an advanced reader! While I received a digital copy of Giver of Wonders in exchange for my honest opinion, you know that my endorsement of the book is based solely on how much I absolutely loved it. 
More about Roseanna White 
Here is a little more about Roseanna with links to her website and blog. You can also follow her on Facebook and Pinterest.
Roseanna M. White pens her novels beneath her Betsy Ross flag, with her Jane Austen action figure watching over her. When not writing fiction, she's homeschooling her two small children, editing and designing, and pretending her house will clean itself. Roseanna is the author of 13 historical novels and novellas, ranging from biblical fiction to American-set romances to her new British series. Spies and war and mayhem always seem to make their way into her novels…to offset her real life, which is blessedly boring.  She makes her home in the breathtaking mountains of West Virginia. You can learn more about her and her stories at www.RoseannaMWhite.com  and at Writing Roseanna.