This year has been a musical one for our family as we've attended a number of events to watch my nephew Levi, a senior, perform with the school band. From his duties assistant drum major during marching season to solos on his saxophone at the winter concert to performing with the OSU High School Honor Band, Levi's passion for music is apparent. And with his events, we've been able to share that love with our boys.
In fact, one of the highlights of our holiday season was joining Levi to watch a performance of the Columbus Jazz Orchestra. While I liked seeing my little guys bop to swinging renditions of Christmas classics performed by highly talented professional musicians, watching Levi's pure delight and rapture as he soaked it all in was the absolute best part. He was lit from within – with not just hearing a song, but understanding the intricacies, wanting to replicate the runs and harmonies, longing to perfect his own gifting into something as phenomenal.
So when I started reading Roseanna White's newest book, A Song Unheard, Willa's driving passion for music was easy to imagine and understand.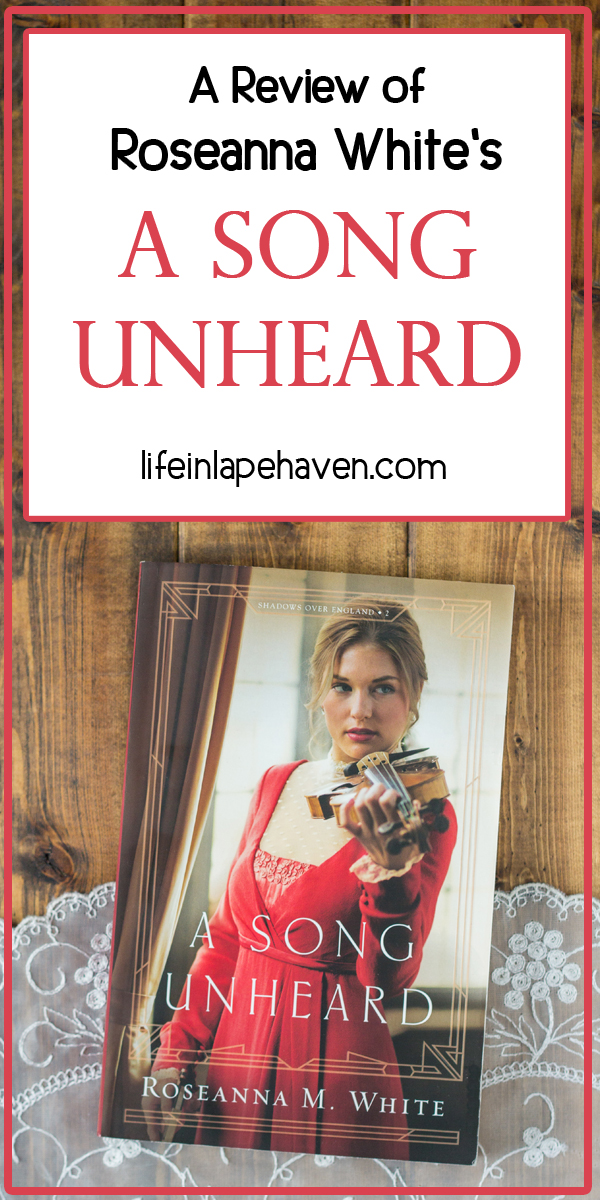 Haven't met Willa yet? Let me introduce you to her via the back cover summary of the book (which is the second in Roseanna's "Shadows Over England" series):
"Willa Forsythe is both a violin prodigy and a top-notch thief, which makes her the perfect choice for a critical task at the outset of World War I – to secure a crucial cypher key from a famous violinist currently in Wales.
Luka De Wilde has enjoyed the life of fame he's won – until now, when being recognized nearly gets him killed. Everyone wants the key to his father's work as a cryptologist. And Luka fears that his mother and sister, who have vanished in the wake of the German invasion of Belgium, will pay the price. The only distraction he finds from his worry is in meeting the intriguing and talented Willa Forsythe.
But danger presses in from every side, and Willa knows what Lukas doesn't – that she must betray him and find that key, or her own family could pay the same price his surely has."
I don't know if it was all the musical references and scenes with violin lessons, or my own recent experiences with concerts and passionate musicians, but in Willa's story, I found that Roseanna has written one of her most flowing, lyrical tales yet.
Masterfully arranged, Willa's story is a song that will fill your heart. It's dramatic with plenty of tension and dynamics; soothing and heart-rending in the soft, tender moments; and generously accented with playful, snappy interludes, while a beautiful, sincere theme of redemption and hope flows throughout the entire piece… I mean, story. 🙂
Willa is the kind of heroine I LOVE in a story – strong, quick-witted, independent, passionate, funny, and a bit stubborn. She loves her family fiercely and is proud of the life they've made, but her insecurities, flaws, and past leave her guarded and (secretly) feeling broken inside, with music and her talent on the violin as her solace.
Perfectly matching Willa for just the right spark is our hero, Lukas. Full of charm, Lukas is an oh-so-smooth but still somehow sweetly adorable ladies' man who's starting to re-examine his life in light of the devastating events in the world that have left him endangered in his own country and separated from his family.
Even in the midst of loss and physical pain, the boy can still flirt, and his quips and lines as he banters with a determined-not-to-swoon-over-him Willa had me smiling throughout the book.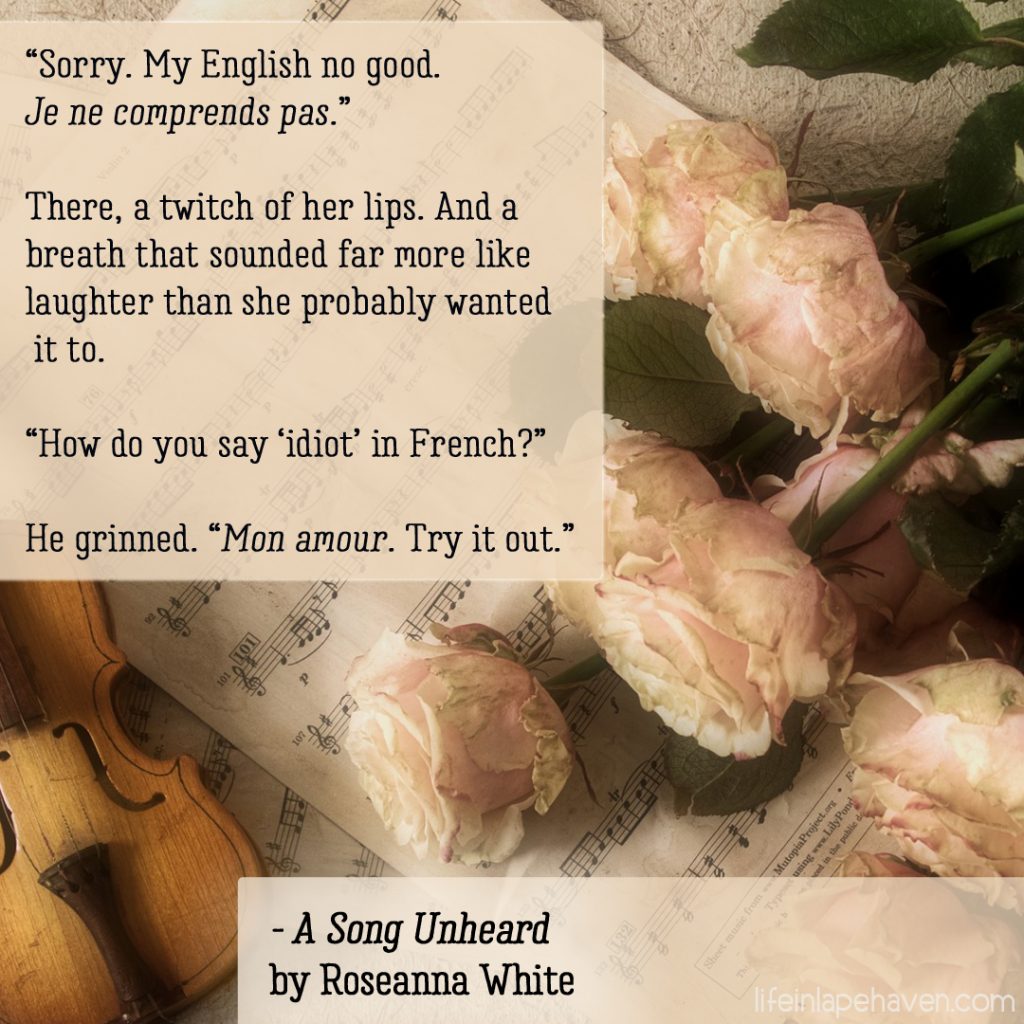 Of course, as always, Roseanna writes a story about much more than just blushes and romantic overtures.
Both main characters have their own internal conflicts as well as brushes with darker, more nefarious persons and the danger they tend to bring with them, especially Willa. (I guess that's what you get when you agree to steal a secret that many powerful people want.)
And they both face turning points in their faith, or lack thereof.
I'm always impressed with how realistically and honestly Roseanna can write God's gentle drawing of a person's heart, all the seeds of His love and forgiveness that other people plant and water in them along the way.
Two such influential characters, Gwen and Margot, have some beautiful moments in the story, as they offer grace and compassion in their own ways.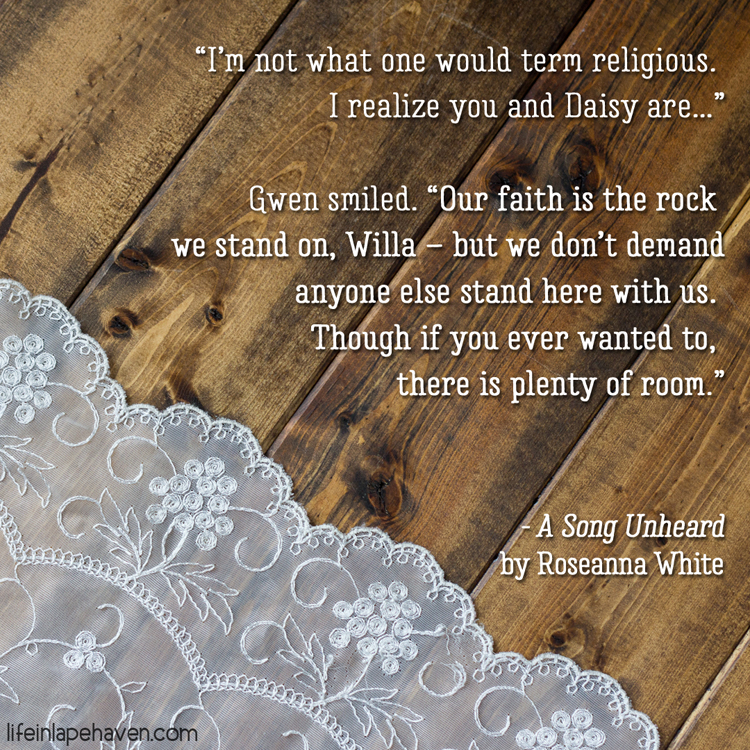 One of my favorite lines, though, comes from Margot, a savvy young prodigy herself, but in a different area. She basically steals every scene that she's written into with her humor and brilliance, and I absolutely loved her! (Fingers crossed that we meet her again in the future!!! I've heard rumors…)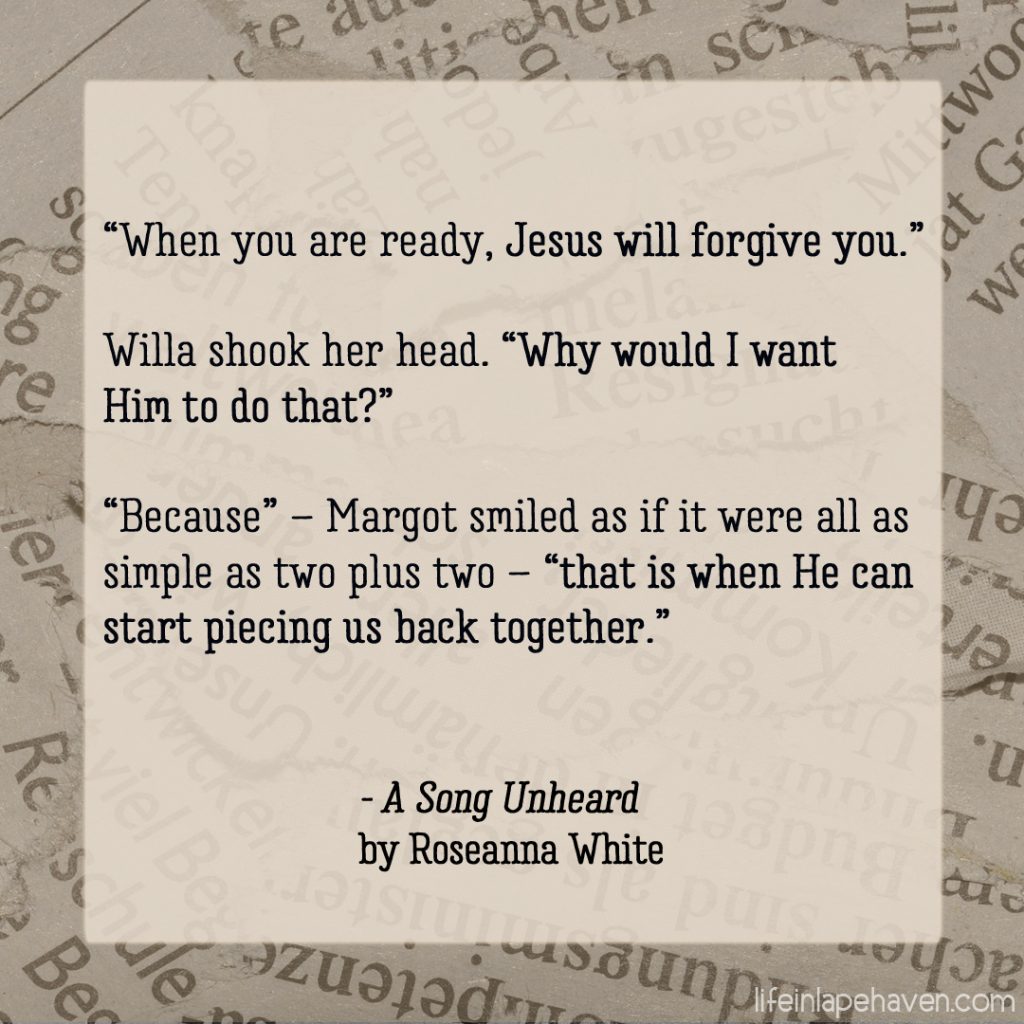 As if a captivating plot, remarkable characters; and a spiritual message that bolsters your faith weren't enough (and really, those just seem to be the standard I expect from her anymore), Roseanna makes my little grammar-nerd, bookworm heart sing with her clever turns of phrase, vivid wording, and creative writing style. This book seemed to be especially inspired with little unique descriptions and analogies hidden throughout. It delighted both the writer and reader in me and confirmed yet again that Roseanna's own genius and passion are definitely in crafting unforgettable tales.
In case you need further persuading to go grab this book right now, here is the official A Song Unheard book trailer which features an original song composed specifically for this book!
 (Below are a few affiliate links, which means that at no additional cost to you, I may receive a commission when you use the links. See my full disclosure for details.)


A Song Unheard is now available at any of your favorite booksellers. Or you can download it on your Kindle or Kindle app to begin reading it RIGHT AWAY! 🙂 
From now through February 11, 2018, you can also enter to win a copy of A Song Unheard, as well as 14 other books and a $50 Amazon card, over at the
Stay tuned, too, for the third book in Roseanna's "Shadows Over England" series, An Hour Unspent, which comes out in September.
In case you missed it, here's my review of book one in the series, A Name Unknown.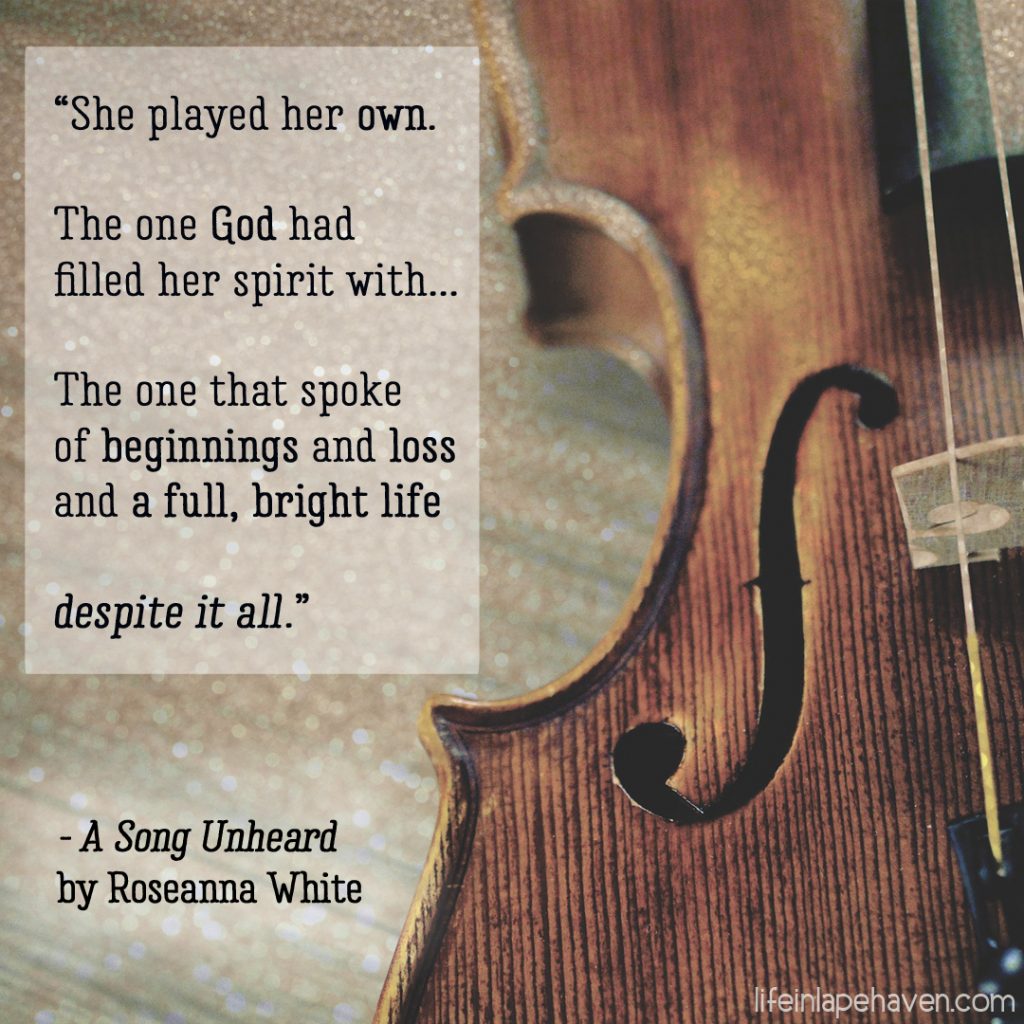 Thank you, Roseanna and Bethany House Publishing for another great book and the chance to be an advanced reader! (I received a complimentary copy of this book from the publisher. I was not required to write a positive review, and all opinions expressed are mine alone. My endorsement of the book is based solely on how much I loved it.) 
More about Roseanna White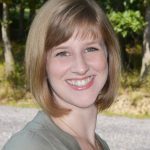 Roseanna M. White pens her novels beneath her Betsy Ross flag, with her Jane Austen action figure watching over her. When not writing fiction, she's homeschooling her two children, editing and designing, and pretending her house will clean itself. Roseanna is the author of over a dozen historical novels and novellas, ranging from biblical fiction to American-set romances to her series set in Britain. She and her family make their home in the breathtaking mountains of West Virginia. You can learn more about her and her stories at www.RoseannaMWhite.com.
You can follow her website and blog and find her on Facebook, Twitter, Instagram, and Pinterest. 

Get more ideas, reviews, & encouragement from this real-life mom as I experience God's faithfulness through the joy and chaos of motherhood.

Join my email list!  
YOU MAY ALSO LIKE
The Lost Heiress – Interview with Roseanna White
The Reluctant Duchess – Interview with Roseanna White
A Review of Roseanna White's GIVER OF WONDERS