A few years ago our family added a new tradition to our Christmas celebrations: the observance of St. Nicholas Day.
If you've never heard of St. Nicholas Day, don't worry. Neither had I until my sister-in-law shared about it a several years ago, and it wasn't until a few Novembers ago that I really started looking into the day to find out more about it. (It's a big deal in European countries, but not as widespread in America. While it seems to be more prevalent as a Catholic holiday, since Saint Nicholas was a priest and bishop of the early Catholic Church, in my researching, I have found that Christians of all denominations celebrate the day honoring the real-life St. Nick.)
(This post contains affiliate links, which means that at no cost to you, I may receive a small commission when you use the link to make a purchase. For more, see my full disclosure.)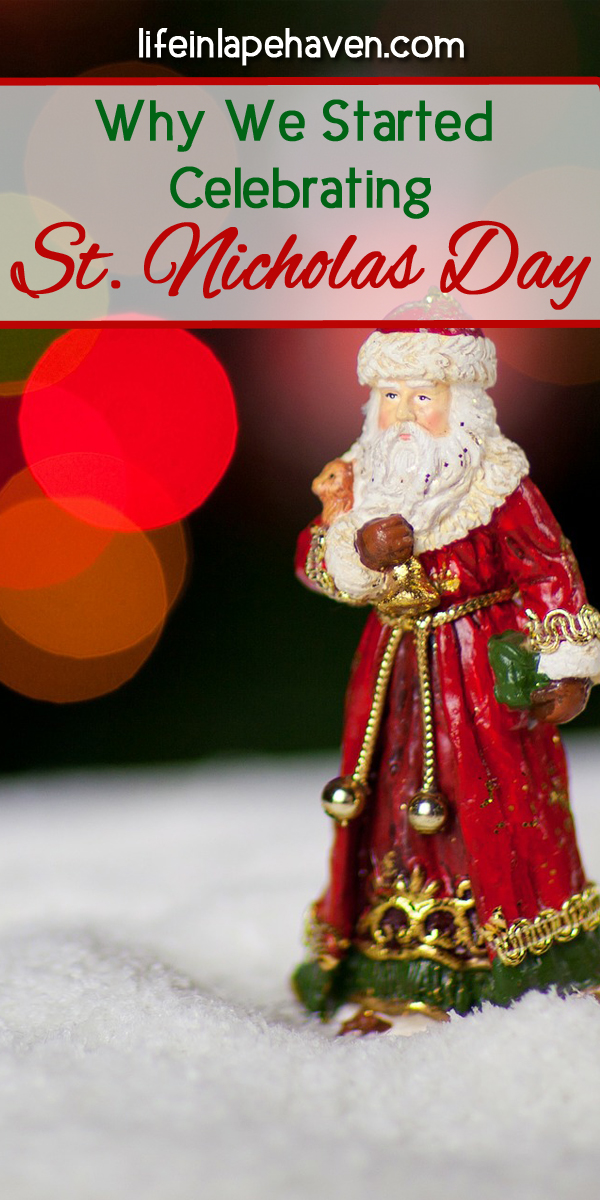 Growing up, our families didn't focus much on Santa Claus at Christmas time, even though we didn't completely shun the idea. Now that we are parents, Brad and I don't want our children to be overly obsessed with the story of a jolly elf bringing them lots of toys either. We've not encouraged our boys to make Christmas lists or write letters, mainly because we don't want them to think that that is the main point of Christmas. In fact, when Elijah was little, it wasn't until random people (at the store or church) started asking him what he wanted from Santa that he even thought to ask for specific things at Christmas.
Of course, again, we don't avoid Santa. We watch Christmas specials, sing "Santa Claus Is Coming to Town," and if we see a Santa and Mrs. Claus while we're shopping or at Christmas events, our boys say, "Hi," just like they do with other costumed characters and maybe get their picture taken (if it's free or I can take it. Haha). Elijah has never been fooled by people in costumes or thought that they were real. He just sees them as playing dress-up like we like to do, so we didn't even need to pretend with him. Josiah was a bit more shy, so while he might not have been sure if they were real or playing, he wasn't as likely to be as anxious to see them either way.
So for our first few Christmases with kids, we just kept Santa on the sidelines, acknowledging him as one of the back-up dancers to the holiday, along with Frosty, Rudolph, the Grinch, and even good old Charlie Brown, while Jesus  – of course – always took center stage as the true Star of the season.
However, knowing what I did about the real Saint Nicholas, and then learning more as I investigated his holiday, I wanted my boys to see beyond just the Santa stories and learn the truth about the man behind all those Christmas legends because THAT Saint Nicholas clearly points to the heart of Christmas and the Savior.
(There's also a really great fictionalization of the story of Saint Nicholas by Christian author Roseanna White, which, while more for adults, is a great read and helpful in understanding the times in which he actually lived.)
After talking it over with my hubby, we decided that we would add celebrating December 6, St. Nicholas Day, into our Christmas traditions.
First we all watched the Veggie Tales version of his life, Saint Nicholas: A Story of Joyful Giving, which is a great way to share with little ones about where "Santa" comes from. Then Brad and I talked to the boys about the real Saint Nicholas, a Christian man who helped the needy and gave to bless others. We told them about how he had even been in prison for serving God and how his story eventually morphed into the tales of Santa Claus that we hear today.
Then we gave them the exciting news that we were going to celebrate a special day in his honor, and as part of that celebration, they would leave their shoes out overnight, re-enacting one of the most famous stories about Saint Nicholas.
As St. Nicholas Center shares it:
"One story tells of a poor man with three daughters. In those days a young woman's father had to offer prospective husbands something of value—a dowry. The larger the dowry, the better the chance that a young woman would find a good husband. Without a dowry, a woman was unlikely to marry. This poor man's daughters, without dowries, were therefore destined to be sold into slavery. Mysteriously, on three different occasions, a bag of gold appeared in their home-providing the needed dowries. The bags of gold, tossed through an open window, are said to have landed in stockings or shoes left before the fire to dry. This led to the custom of children hanging stockings or putting out shoes, eagerly awaiting gifts from Saint Nicholas."
Leaving shoes out to be filled with little treats was the way that my sister-in-law always celebrated the day as a child growing up and the way that she and my brother do now with their children.
Elijah was quite excited to have yet another day in the month to expect something special. However, mixed in with his anticipation of a small surprise and goodies, instead of thinking of flying reindeer and sacks of toys, there was an appreciation for someone else who loved Jesus and used what he'd been given to minister to others.
That's a pretty good take away any time of the year.
St. Nicholas Day is December 6, and if you'd like to find out more about who he really was, you can find lots of information at St. Nicholas Center and all over the web.


Get more ideas & encouragement from this real-life mom as I experience God's faithfulness through the joy and chaos of motherhood.

Join my email list!  
YOU MAY ALSO LIKE:
A Review of Roseanna White's "Giver of Wonders"
Why We Don't Need MORE This Christmas