All this week, I'll be sharing my blog space with 4 very dear blogging friends who also write to inspire and encourage moms. Together we are bringing you a special 5-blogger collaborative series all about life as a mom. It's aptly named the Mom Life Series. 🙂

---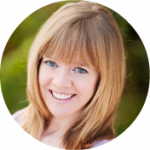 Today's Mom Life Series post is from Laura of Fantastically Four. She's sharing about "6 Powerful Ways to Be Christ-Centered Every Day." I hope you are encouraged and inspired as you read!
---
6 Powerful Ways to Be Christ-Centered Every Day
Hi, I'm Laura, and I have focus issues.
Here's a fuller picture: I'm a stay-at-home mom, a work-at-home mom, and a mom of two (ages 5 and 2). Need I say more? Well, I will anyway.
Sometimes what seems like the simplest things are really the most difficult to do. I'm a Christian who has had a relationship with God since I was 12, but I don't spend every moment of my day in tune with God.
*gasp!*
No matter what's happening today, I should act and speak in Jesus' name, and I should be constantly giving thanks to Him. I'm not writing this to be hard on myself, but to let you all know that it's okay to admit to the truth: living out our faith is challenging.
Every day, I want walk in Jesus' footsteps, taking up the cross of my sins and imperfections (Luke 9:23). Daily, I want to be transformed the way God intends (Romans 12:12).
So how does a busy mom go about it? What does having a Christ-centered home and spirit really look like?
Make sure to catch each day of this special series.
Day 2: The Pros and Cons of Mom Failure by Denise Renae
Day 3: The One and Only Parenting Book You'll Ever Need by Kristina of Messy Tire Love
Day 4: What I've Learned About My Wife's Life as a Stay-at-Home Mom, Told By a Dad at Home Unexpectedly by Me 🙂
Day 5: 5 Lessons for Motherhood from History's Only Perfect Teacher by Lisa Mullen, The Merry Momma
Get more ideas & encouragement from this real-life mom as I experience God's faithfulness through the joy and chaos of motherhood.

Join my email list!  
YOU MAY ALSO LIKE:
How to Find Your Quiet Moments When Life Is LOUD
3 Things I Know About Becoming a Mother
5 Everyday Moments that Make Being a Mom Totally Worth It
The Last Time He Called Me, "Mommy"