I'm sitting here on the couch, enjoying one of those very rare moments when my house is quiet in the middle of the day. Sure there is the white noise of the baby monitor close by, the whir of the washer in the other room, the click of my keyboard keys as I type, and the hum as the furnace decides it's ready to chase away a bit of the fall chill in the house. But other than that – it's still and quiet.
Our little guy is upstairs napping, our oldest son is at school, and my husband took our middlest to the store with him.
It's just me and silence.
This is that golden silence that every mother needs on occasion. The calm hush we long for when our kids are bickering, the baby is squalling, the dog is barking, and the oven timer is going off to remind us to hurry along before we burn dinner.
It's that elusive peace that we are willing to stay up *just* a bit longer for after the kids are put to bed, even when we're dead-on-our-feet exhausted.
It's what we need to catch our breath and refresh our souls, and then even when we manage to find it, it's fleeting.
Like now. Little man is waking up from a shorter-than-he-and-I needed nap.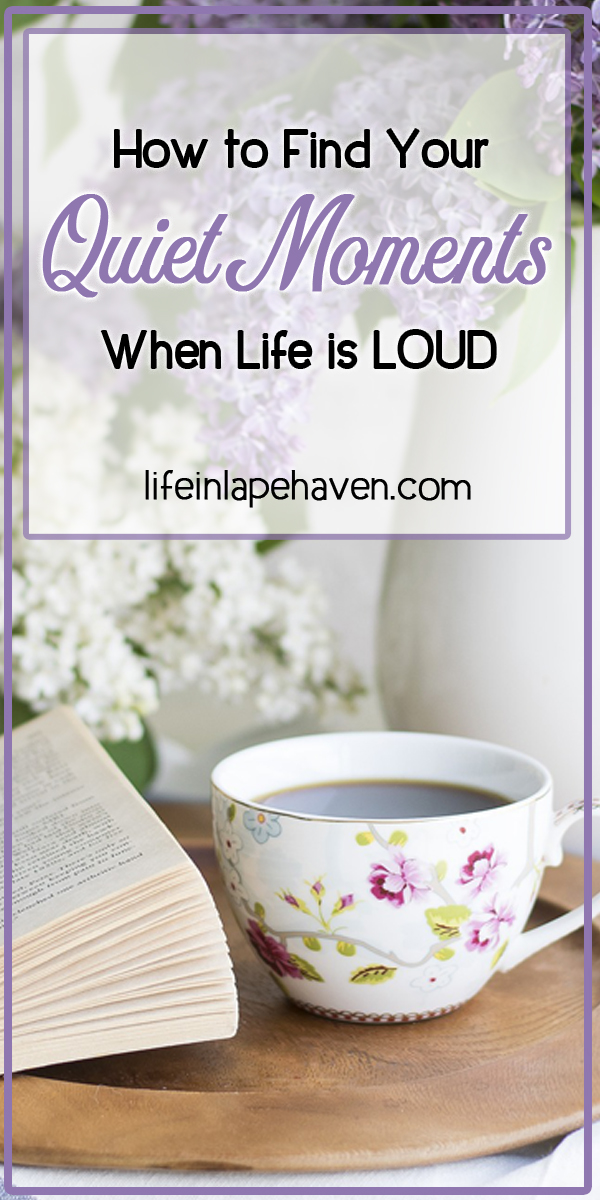 SEVEN HOURS LATER…
So, that was a nice 15 minutes of quiet earlier today. 🙂
(This post contains affiliate links which mean at no additional cost to you, I may receive a small commission when you use the links. You can see my disclosure statement for more.)
I know you understand those days, moms (and dads). And I know we all also have those days where even 15 minutes of quiet is nowhere to be found.
A lot of my days feel like THAT: days where the demands are constant, the noise incessant (even just when the kids are nicely playing, it can be…energetic), and I feel unfocused, scattered, or overwhelmed. Those loud days can be difficult parenting days.
It's hard to "mom" well when you can't even hear yourself think.
However, lately God has shown me that there ARE moments throughout my day that, while not perfectly calm and still, are moments where I could enjoy a pause or get mentally organized or just talk to Him.
But every time I get a moment to myself, whether I'm doing dishes while the boys play upstairs, folding clothes after bedtime, driving home with two boys asleep in the car, or even when I'm getting my makeup on or taking a shower – I've been filling up those moments with distractions.
And it's not always Facebook. 🙂
In fact, usually I'm trying to be overly-productive.
I can listen to a podcast or watch a webinar while I'm making dinner or just cleaning up the kitchen.
Having the Kindle app on my phone means that I can read a book while brushing my teeth or drying my hair.
Amazon.com – Read eBooks using the FREE Kindle Reading App on Most Devices
Or maybe I'm listening to music as I sort clothes in the laundry room.
And of course, when my boys are otherwise occupied, finally getting to watch something on TV besides Paw Patrol, Wild Kratts, or Tumble Leaf (an Amazon series) is kind of appealing for my clothes-folding or dusting in the living room.
But my multitasking has also been over-tasking my focus and leaving me feeling disconnected from myself and from God.
By filling up all my possible quiet moments, I have been taking away my chance to pause and ponder – like finding the root of recent disciplinary issues with my boys, thinking through blog post ideas that I wanted to write, planning ahead for upcoming family events, or most importantly, praying or meditating on God's Word and giving Him space to whisper direction, correction, or vision to my heart. (Nothing will renew your strength for the day better than finding time in God's presence – even if it's only a few seconds.)
So, I've started appreciating those short blips of calm that I find in my days and using them more wisely – by just letting them be truly quiet moments (or maybe "quiet-ish" moments – as quiet as they can be with life still going on around me.)
I turn off the noise that I can, leave my phone alone, and I think, pray, and listen.
Once again, I feel focused, capable, and in control. I'm better able to handle the ever-present "busy" of my kids and the many demands of being a mom, wife, and homemaker.
I'm not saying that when you have a spare moment of your own that you can't watch TV, listen to music, catch up on your favorite blogger's posts 😉 or read a book. We need that time, too.
(In fact, we love our Amazon Prime membership because of all the shows, movies, music, and e-books we get in addition to our free 2-day shipping 🙂  – Join Amazon Prime – Watch Thousands of Movies & TV Shows Anytime – Start Free Trial Now
)
However, if you are filling EVERY spare moment with your own distractions, you will eventually feel the loss of the peace and preparedness that comes in the quiet.
So, if like me, you've felt out of sorts and need to recharge or refocus, look for those little moments where, instead of filling them up, you can pause to appreciate the quiet and let God refill you.
WHERE DO YOU FIND YOUR QUIET MOMENTS DURING THE DAY?
Want more encouragement from this real-life mom as I experience God's faithfulness through the joy and chaos of motherhood? Join my email list!  
YOU MAY ALSO LIKE:
Let Me Be Singing: This Mother's Anthem for Good & Bad Days
The Verse that Became My Mommy Motto