It was one of his very first words, as it is for most little ones. But when my sweet baby boy said it, it was a first for me, too:
"Mommy."
I had waited all my life for this – for the honor and joy of being a mommy.
Sure, it didn't sound exactly perfect at first, coming from his little baby lips just learning to articulate babbles and chatter.
But he knew what it meant. I knew what it meant.
And he used it enough that it was soon much more clearly pronounced. It was his favorite word for his favorite person.
"Mommy."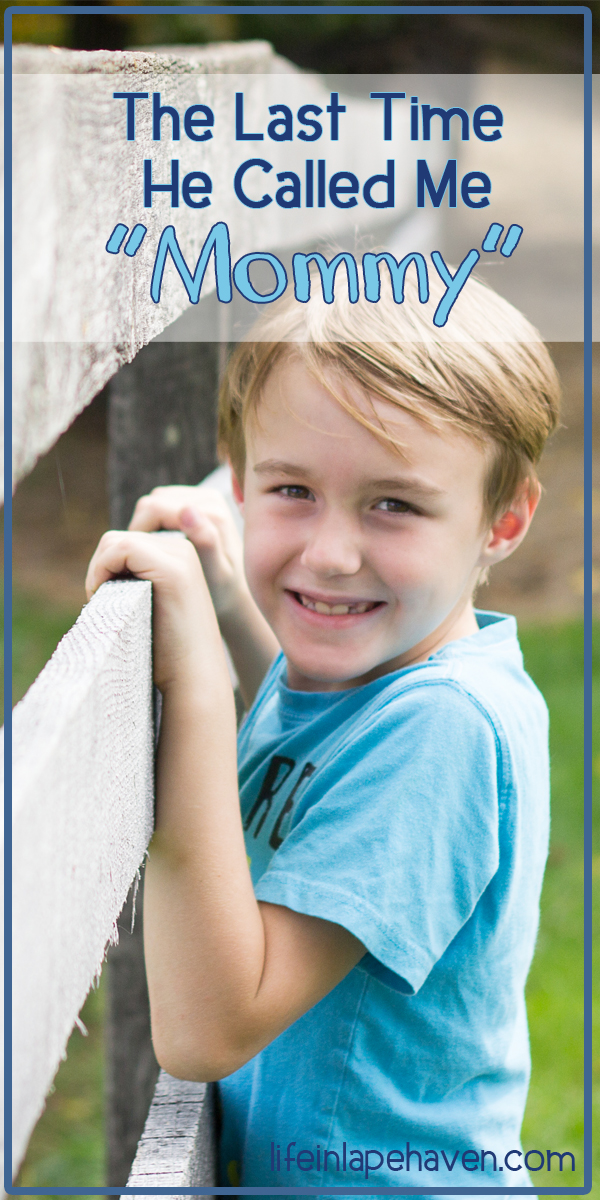 Whenever he was sleepy or hungry, it was "Mommy."
When he saw me first thing in the morning, he reached up and smiled, "Mommy."
When he got a boo-boo or something scared him, he cried, "Mommy."
When we came to pick him up from visiting grandparents, he came running for "Mommy!"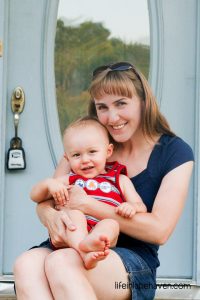 Through ABC blocks, play-dough fun, finger-painted masterpieces, hopscotch in the living room, dance parties in the kitchen, sorting laundry together, picnicking in the backyard, it was "Mommy" – all day long.
As he added words to his vocabulary, and we added a little brother to the family, it became, "Mommy, guess what," "Mommy, why this," "Mommy, why that," "Mommy, come see," "Mommy, come help," and of course, "Mommy…mommy…mommy…mommy!" 🙂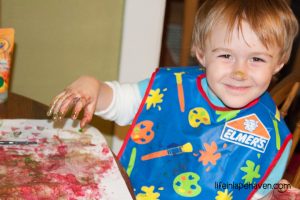 Once he started kindergarten, it was, "Mommy, I counted to 100 today!" or "Mommy, I was line leader" or "What did you and Josiah do today, Mommy?"
Then one day,
"Hey… Mom."
The very deliberate, well-enunciated word had a special emphasis on the last M.
My first-grader watched me, a slight grin on his face, a slight question in his eyes. He knew what he'd said. And he was waiting for Mommy's…no, "Mom's" reply.
With my own slight grin and slight questioning look, I said, "Mom?"
His smile was both ornery and sheepish as he nodded.
"Mom."
It's not a milestone you'll find in a baby book, but it's one every mother notes because it snags on your heart. You might not even pay attention to the day, month, year, because "surely, he's just testing it out."
When I smiled back at him – *sigh* – that was it.
We turned a page. And he'd been given permission to grow up just a little bit more.
I became "Mom."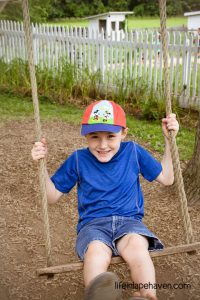 Of course, I'm still "Mommy" to my younger two. (Actually, to my littlest boy, I'm just now "mum-mum," not even quite "Mommy" yet.)
But, well, my middlest, my nearly-5-year-old, he's on the brink, and he doesn't even know it.
But I do.
In the next year or two, he'll lose his first tooth, his baby face roundness will lengthen out, and he'll test out the big boy word, too.
"Mom."
Not yet, but it's coming.
So, I'm listening, cherishing, holding on to being his "Mommy" for as long as I can.
Because I may not remember the last time he calls me "Mommy," but I know I'll remember the first time he doesn't.
Get more ideas & encouragement from this real-life mom as I experience God's faithfulness through the joy and chaos of motherhood.

Join my email list!  
YOU MAY ALSO LIKE:
Embracing the Moments of "Mommy Sadness"
Saying "Yes" to a Roly Poly Pet