About three years ago, we had to redo our entire bathroom due to a leak. (Ok, actually we only HAD to replace the tub and surround and flooring, but we CHOSE to update the sink, vanity, mirror, and toilet at the same time.) We put in a new tub and surround and finished it off with beautiful oil-rubbed bronze fixtures. Since everything was being redone, we put bronze fixtures on the sink as well. It was so pretty and pulled together.
Within a few weeks' time, I was regretting the bronze fixtures. They were not the easiest things to clean. Then I started noticing calcium build-up from our water on the shower curtain, fixtures, and I could even feel it on the shower walls, despite the fact that I was cleaning them all as recommended with "gentle cleaners."
So for the last few years, I have hated cleaning our bathroom. I do it, but I have dreaded it every time. It feels like wasted effort when you clean, and then what you cleaned (and tried really hard to clean well) doesn't look or feel clean. Ugh.
And I tried all kind of cleaners, techniques, and ideas. Nothing worked well and easily. If it worked decently, it took forever and wore me out. If it was easy, it didn't really do the job.
Then, hallelujah! I found a new idea to try in late February this year. Scrolling through my Pinterest feed, I saw a recipe for what some called a soap-scum remover and others named it a shower cleaner that only required vinegar and Dawn dish detergent, the two darlings of homemade cleaners. Since I'd been using vinegar to get some of the calcium deposits off, I was intrigued. When I read the directions that made it seem rather simple and easy, I was ready to try it out.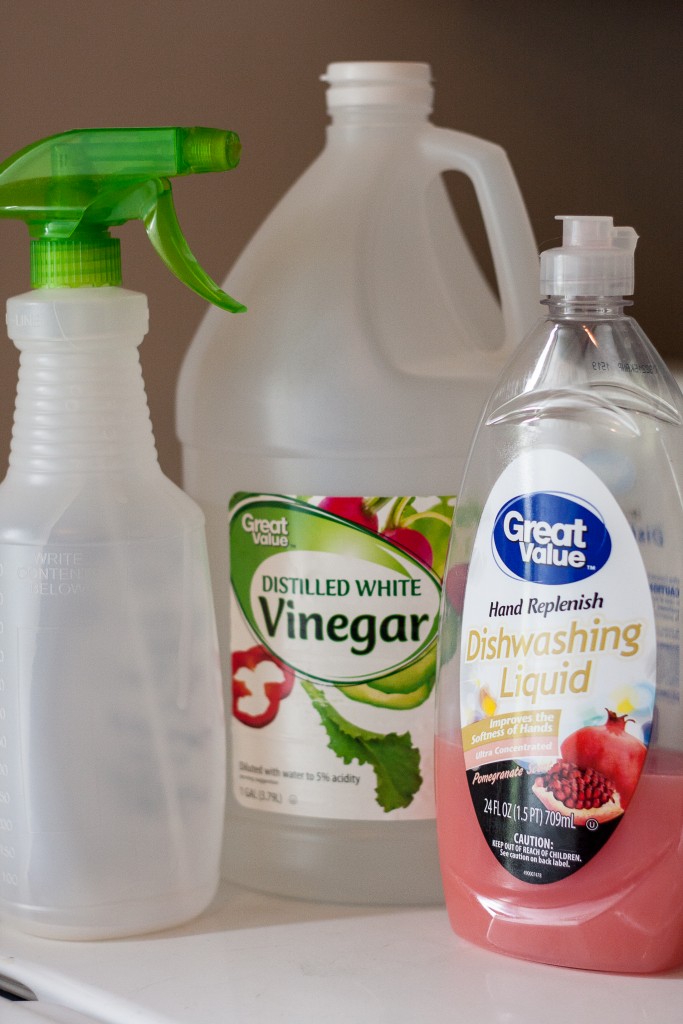 I heated ½ cup of white vinegar in the microwave (about a minute or so), poured it into a spray bottle, added ½ cup of dish detergent (I didn't have Dawn on hand, so I used my generic-version of Dawn), and swirled the bottle to mix the ingredients. Then I sprayed down my entire shower surround, tub, fixtures, and even the shower curtain. Following the instructions, I left it alone for 2 hours…and then some. I had lunch to make, kids to wrangle, and then it was time for naps.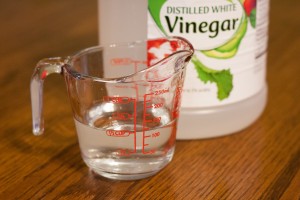 So, a bit over 2 hours later, I went back in with a damp kitchen cloth (it has some texture to it), took a swipe at the bathtub ring, and the results: AMAZING.
I actually stood back in shock.
The yucky stuff had wiped right off! I was staring at clean, shiny tub! Excited and inspired by the first result, I went to work wiping down and rinsing the rest of the tub. I did have to slightly scrub at a few places that were more built-up, but even those were easy compared to my previous cleaning attempts.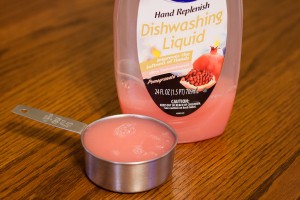 This worked so well, even on the bronze fixtures, that I was HAPPY to be cleaning.
Wait…what?!?
Yep. Happy to finally be able to really get my bathroom clean and sparkling without stinky chemicals or hours of scouring.
I have been using this recipe ever since. Always works like a charm.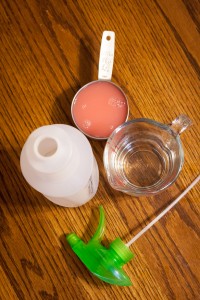 One warning, though: Hot vinegar is potent. Whew! When I spray this in the shower, I do it quickly and hold my breath. It will make your bathroom smell like vinegar during those two hours you leave it on there, but once you've rinsed it off, your bathroom will just smell clean, which is exactly what you want.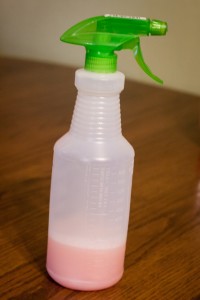 2-Ingredient Tub & Shower Cleaner
½ cup Vinegar
½ cup Dawn (or equivalent dish detergent)
Spray Bottle
Heat vinegar in microwave for a minute to a minute-and-a-half. Pour into spray bottle. (I use a funnel to limit the mess). Add ½ of dish detergent. Put the spray nozzle on, and swirl the bottle to mix the ingredients. Spray tub, shower, or fixtures. Leave it alone for 2 hours. Wipe off with a damp cloth and rinse area clean. Rejoice over an easily cleaned bathroom.
YOU MAY ALSO LIKE:
How to Get Grease Stains (Even Set In Ones) Out of Clothes
A Ridiculously Simple Way to Get Silly Putty Out of Fabric