With the rain finally staying away and allowing us to have some summer sun, the boys want to be outside constantly, and being energetic, curious, creative boys, they are always looking for something different to get into, especially if it's messy.
Yesterday, we satisfied that mess-loving, outdoor-play need with a little homemade sidewalk painting.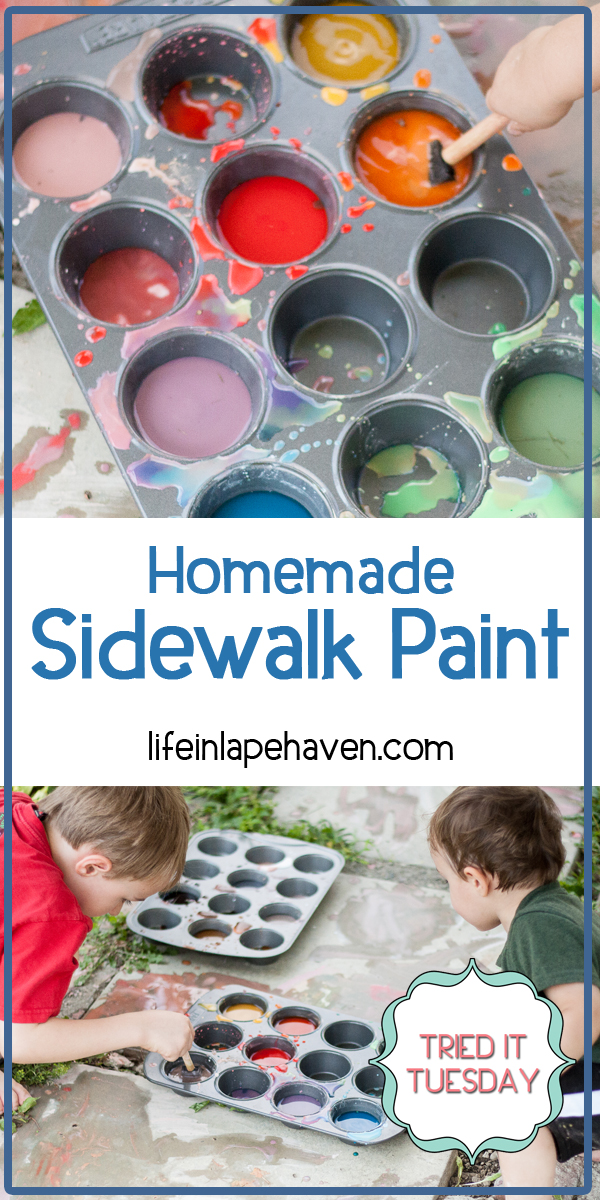 We've actually tried this once before, so I knew it would be a hit. Elijah is our resident artist, so anything crafty or involving drawing or coloring, he's there. Josiah is not quite as artistic, but he's starting to enjoy drawing simple things, like circles and his interpretation of faces and "writing" letters.
If nothing else, I knew they would both have fun getting messy. Because that will happen. It did last time, so I fully expected it this time.
I was not disappointed, and neither were they.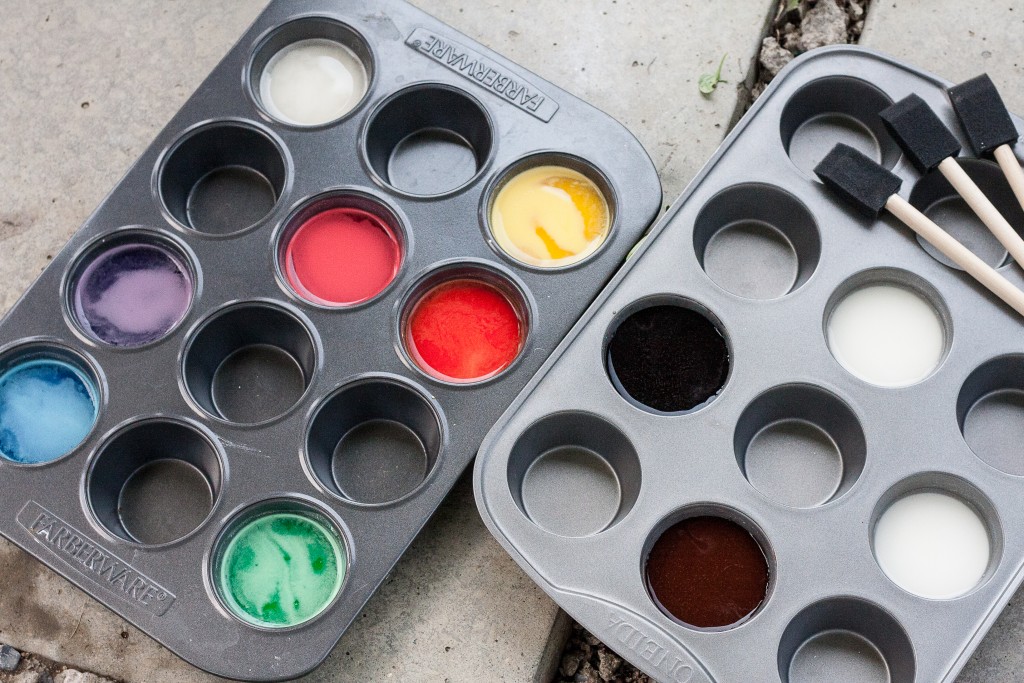 Whipping up a batch of sidewalk paint is really easy:
SIDEWALK PAINT
1 part cornstarch
1 part water
Food coloring
I actually used 1½ cups each of water and cornstarch, mixing them thoroughly together in a large spouted bowl, then poured the slurry into a couple of my muffin tins.
I've found it's a good idea to fill every other cup of the tin because little guys will slop colors around, and if they are all side-by-side, you'll end up with murky brownish colors in every cup really quickly. I filled each cup about halfway full and ended up with at least 10 cups to paint from.
When we added food coloring to the half-filled cups of the muffin tin, we mixed up a rainbow of colors, plus black (all colors) and brown (red, yellow, & green), and we left a couple of them white.
All that's left to do is get painting.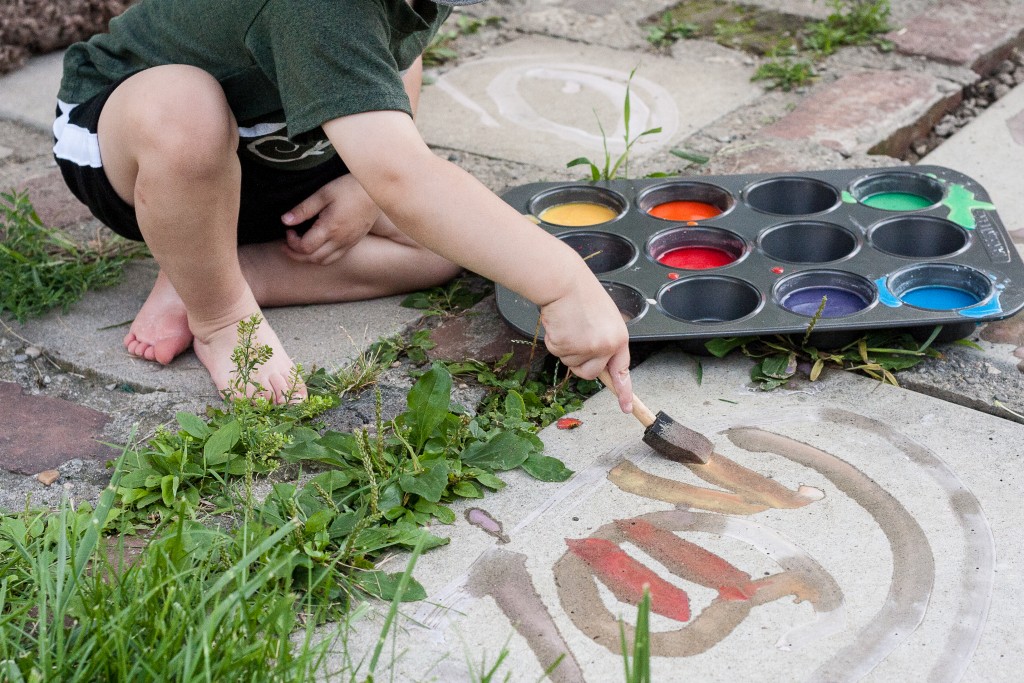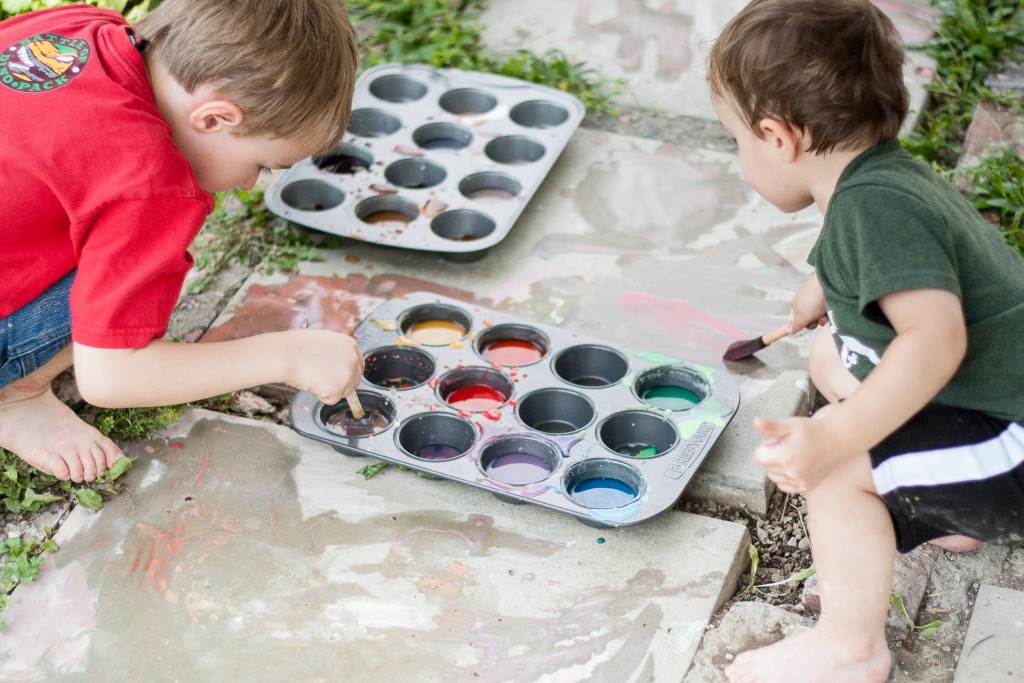 We started out using foam brushes, which work really nicely on the smooth concrete by our fish pond (The foam can get a little mangled when used on the rougher sidewalks if you aren't careful).
The paint dries the brightest if you paint slowly and let portions somewhat dry before adding a new color, but try telling that to a little one who is just having a blast with the swirling colors. At their age, they aren't as concerned with the final result as we might be.
Inevitably, my guys discarded the brushes to do a little sidewalk finger painting.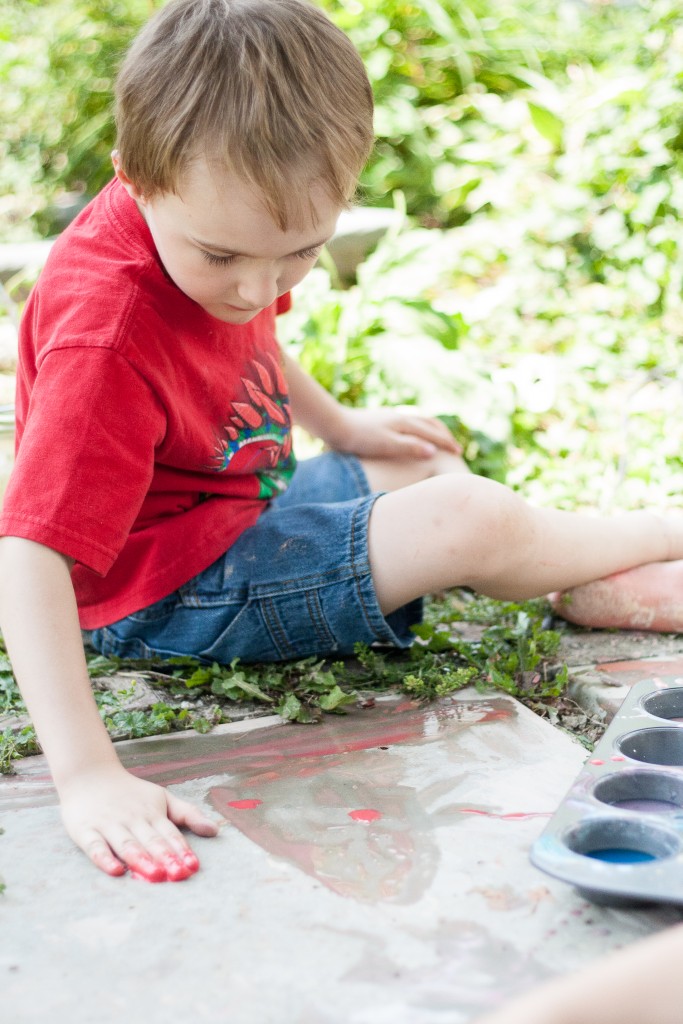 And then some body painting.
And some pour-everything-out-and-mix-it-around-with-your-hands-and-feet painting, which actually gave us some pretty cool results.
Yes, they were messy, but as I said, getting messy is part of the fun.
So far, we haven't had any issues with the paint staining clothes, but I can't make any promises. We did have two little boys who needed a good soak in the tub afterward, but they were two very happy little boys.
This is definitely something I can see us trying again soon.
YOU MAY ALSO LIKE:
Simple Ways to Spark Joy in Your Children