My children are really doing wonders for improving my laundry skills and stain-treating know-how lately. First it was the hunt to figure out how to get rid of dry erase marker on my 5-year-old's pants. Then, thanks to my 2-year-old, I learned how easy it is to remove silly putty from fabric.
This week, Elijah's sloppy eating habits have sent me on a new quest: How to get grease stains – set-in ones, too – out of clothing.
(This post may contain affiliate links, which means that at no additional cost to you, I may receive a small commission when you use the link.)
Last week my son wore a brand-new yellow polo shirt to church and at lunch spilled pasta sauce on it. My hubby used cold water to sponge it off, and I thought we might have dodged a stain bullet. I even pretreated it before washing it, just to be safe. However, I was disappointed when I went to fold the laundry and saw three very obvious oily, grease splotches on Elijah's only-worn-once new shirt. Ugh.
Then that night as I was pulling clothes out of his dresser for him to wear to school in the morning, I picked out a long-sleeved dark blue shirt, only to toss it back down in defeat when I noticed that it had some mysterious greasy-looking stains on it, too.
Determined to salvage these two shirts, I looked for solutions online for how to remove grease or oil stains from clothing. Having tried the chalk idea in the past with little success, I skipped that, and we didn't have any WD-40 on hand, so that knocked out a good number of Pinterest search results for removing grease spots.
Then I found one that promised that I could get the grease out, even if the item had been through the dryer, using only items that I had in my house!
It required Spray 'N' Wash stain treater, baking soda, dish detergent, and an old toothbrush. Check, check, check, and check!
I was ready to treat, scrub, and wash, and hopefully save two shirts.
Following the directions I had found, I treated the shirts with Spray 'N' Wash and used the toothbrush to scrub it in. Then I heavily dusted the treated areas with baking soda and scrub some more. (Actually, Josiah came in and wanted to help, so I let him do some scrubbing). After that I added some dish detergent, scrubbed a final time, and then let the shirts set about 10-20 minutes.  (The instructions online said you could leave it anywhere from 5 to 30 minutes.)
After washing and drying the shirts as usual, I laid them out on the table for inspection.
Sadly, the yellow shirt still had some visible staining, even though it was much less than before. The blue shirt actually looked completely stain-free, however, which made me very happy. It wasn't until I took a picture of the blue shirt, using my flash, that I could even see even a hint of a small stain or two that I must have missed treating the first time through.
Having evidence that the solution would help, I put the yellow shirt through a second complete stain treating and scrubbing, then washed and dried it again.
This time, the stains were pretty much gone. Again, it only shows up vaguely when I took a picture with my flash on. To the naked eye, it looks like a stain-free shirt again!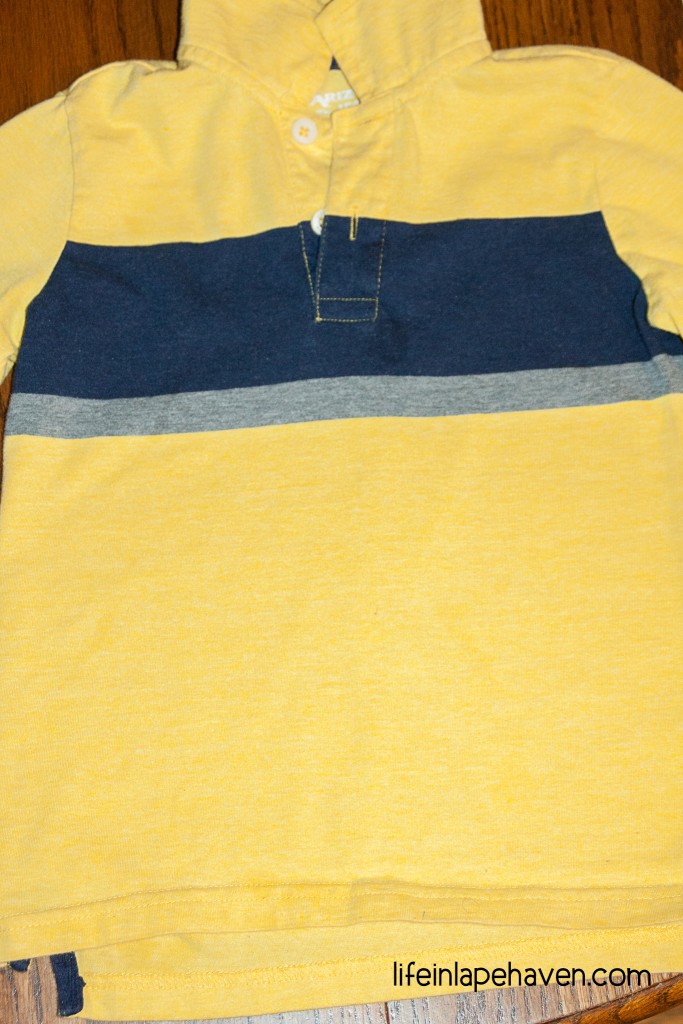 So, now I know that Spray 'N' Wash, baking soda, and dish detergent are a great combination for getting grease and oil stains out of our clothing.
I wonder what new stain my little boys will find for me to become an expert on next…
Here's a hint: It's grass stains! 🙂