Jump to recipe
For several years, the company that Brad worked for rewarded their employees with tickets for them and their families to different special events. When we were first engaged, in fact the day after we got engaged, we had passes to Cedar Point in Sandusky, Ohio (the BEST amusement park EVER). I spent the day staring at my ring, getting used to the feel of it, and answering congratulatory texts from friends and family while waiting in line to face down some epic roller coasters (Millennium Force, anyone?)
Over the next few years, we got to pick between either Cedar Point or Kings Island (since both parks are owned by the same company). When Elijah was a little over two, we decided to use our tickets for a family day and introduce him to one of the parks.
Since Kings Island was closer to home, and since we knew we'd be in the kiddie area all day (Planet Snoopy features all the Peanuts characters, and Elijah has ALWAYS loved Charlie Brown), we headed to Cincinnatti for a little getaway. We spent the morning at the park, then checked into a hotel in the afternoon so that our little guy could get a good nap before we went back to Kings Island for the evening. The next morning, after time in the pool, we headed home, taking our time and finding a few other adventures along the way.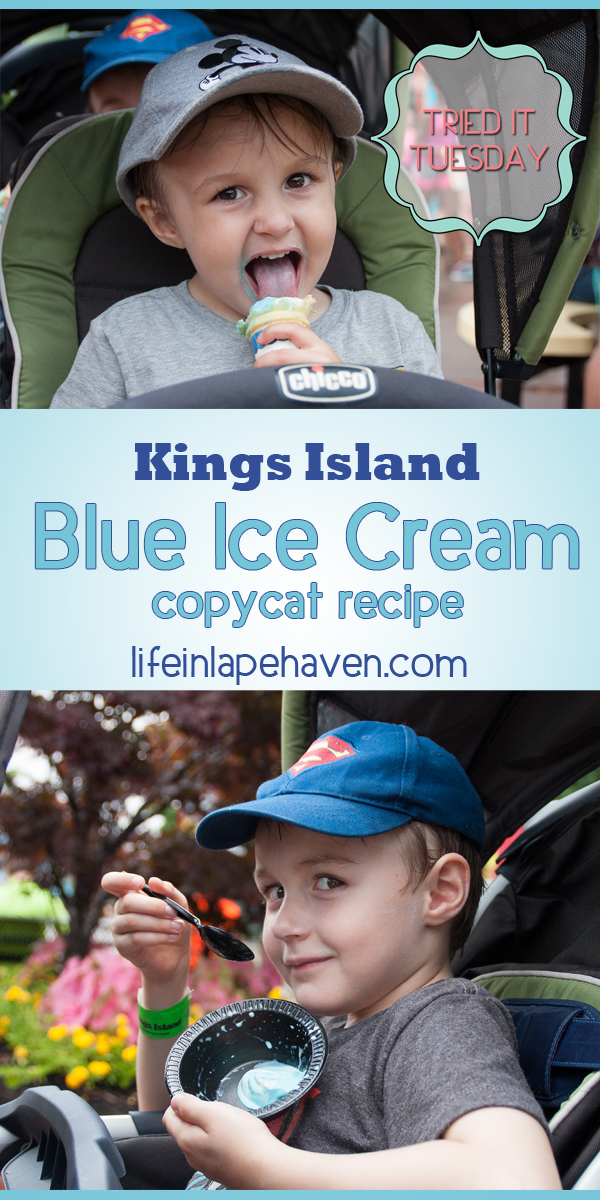 It became an instant tradition for our family, and when Josiah was all of four months old, he enjoyed the sights and sounds of Kings Island from his stroller or being snuggled up to mommy in his carrier.
Then a couple of years ago, Brad's company changed plans, hosting their employee outings at the zoo instead. It was still a great event, but Elijah missed our tradition.
So that year we made sure to set aside a day to visit Kings Island. Elijah even saved up his birthday money to pay for his own ticket because he REALLY wanted to go (and we were trying to teach him that if you spend a dollar here and a dollar there, you don't get to do anything big with it).
Having grown up in Ohio, I remember going to Kings Island when I was about Elijah's age, and it was something special to see my little guys smiling at the fountains at the entrance and leaning way back to look up at the (replica) Eiffel Tower. With two boys big enough to enjoy the park, or at least their portion of the park, we knew it would be a wonderful day.
And it was…even when it stormed. And it did, as in thunder and lightning and downpours stormed. After hanging out in a gift shop until the rain let up, we wandered out to see what rides were open. That was when I noticed the blue ice cream.
Even though I'd been to Kings Island often in my lifetime, I'd never paid any attention to the blue ice cream sold in the park. However, a few days before this year's trip, someone mentioned it on Facebook. So when I saw it, I was curious. What does blue ice cream taste like? Why are there so many people in line for it? Have I been missing out on something all these years???
I had to know. I suggested we have some ice cream while we waited for the rides to dry off. Hubby requires very little coaxing about that kind of thing, so that's what we did.
One bite, and the long lines made sense: Creamy and sweet with a subtle blueberry-raspberry flavor. Yum!
We were all pleasantly surprised and immediately hooked, and it was declared that blue ice cream would become part of our Kings Island tradition from that day forward.
Only I didn't want to wait until next year, so a few days after our trip, I was on Pinterest, looking for a copycat recipe for Kings Island's blue ice cream, or blueberry ice cream, or Smurf ice cream (The blue ice cream was originally created in 1982, when the kiddie area was all Hanna-Barbera, and they introduced a Smurf ride – That was my favorite ride when I was a little girl).
However, if someone has a copycat recipe for this blue ice cream, they aren't sharing it. After Pinterest, I tried Google. The only thing I learned was that there is a small ice cream shop near Cincinnatti that buys the same mix that Kings Island uses, and they serve it year-round. Nice for them, but no recipe for me.
I went back to Pinterest and pulled the recipes for any blue ice cream I could find, even though none of them said anything about Kings Island. One did mention Smurf ice cream and used raspberry extract, so that's the one I tried.
In case you're wondering, here's a link to the ice cream maker that we use. (It is an affiliate link which means that at no additional cost to you, I may receive a small commission when you purchase something through the link.) —> ICE CREAM MAKER
The first time around I followed the recipe exactly and was rewarded with a blue ice cream that tasted like Froot Loops milk. Boo. The boys liked it, but eh…not me. The lemon oil really takes over.
The second time around I left out the lemon completely, hoping that the raspberry would shine through more but still be subtle.
Now, since it had been a few weeks since we'd had the original ice cream at the park, it was hard to say for exactly sure that it's a 100% copy of that ice cream, but it was close enough and tasty enough that my household was happy. This recipe will definitely work for us to satisfy those blue ice cream cravings until we can get back to the park each summer.
Updated Note: If I weren't making this to show others that it tastes like the blue ice cream at Kings Island, I would not have added any blue food coloring. It really isn't necessary to the taste. We have since learned that our boys are sensitive to artificial food dyes (it causes behavioral changes in all of them), so we avoid them completely now.
Also, I might play around with how much raspberry extract I add the next time I make it. I'm just wondering how a little more would taste…
If blue ice cream isn't your thing, you can always check out my recipe for homemade Vanilla Ice Cream, too. 🙂
Get more ideas, recipes, & encouragement from this real-life mom as I experience God's faithfulness through the joy and chaos of motherhood.

Join my email list!  
YOU MAY ALSO LIKE:
How We Made Our Family Vacation about a Little More
 Simple Ways to Spark Joy in Your Children
How We Changed Our Family Atmosphere with One Question
Chocolate Cake with Simple "Bavarian" Cream Filling & Chocolate Ganache