Jump to recipe
Growing up, family gatherings at my maternal grandparents' farm were always packed-house events with plenty of love, laughter, food, and volleyball (it's kind of our family sport).
Grandpa and Grandma raised five children in their three-bedroom, one-bath home, and with addition of spouses and grandchildren (which numbered 14 when I was a young teen), dinner time meant a main table in the kitchen and a kids' table in the utility room (when there were just 6 to 8 of us grandkids) and/or in the living room. It also meant that you wanted to get in line for food before the older grandsons.
Thankfully Grandma made sure she always had plenty of her most coveted homemade offerings: mashed potatoes, green beans, yeast rolls, and a type of sweet and tangy pickle that my Great-Grandma Leora (Grandpa's mother) used to make, called "lime pickles."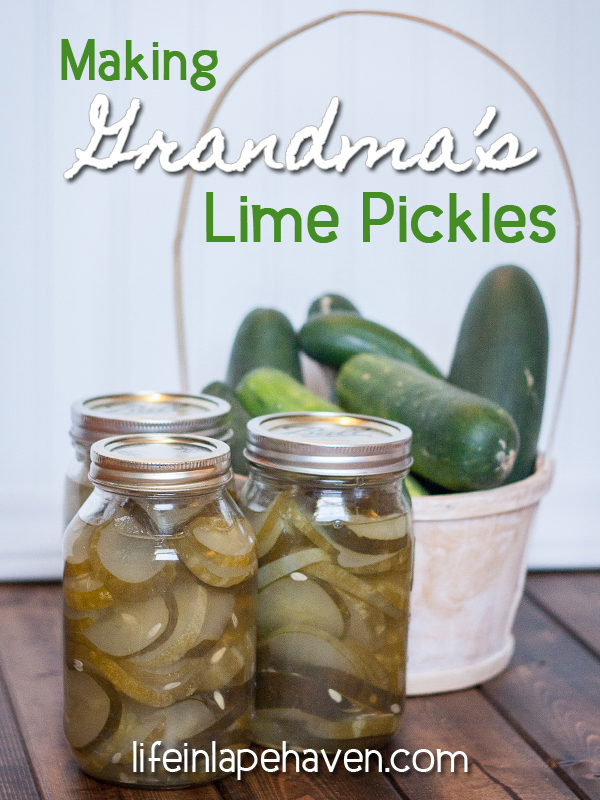 I cannot remember a single "everybody's here" family dinner where we didn't have all four of those items on the menu. After church on Sunday, they were there. Every Christmastime, they were there. Easter, there. Birthdays, there. Always, there.
As I got older, I helped out in the kitchen prep for some of those meals, so I learned how to make mashed potatoes, green beans, and yeast rolls just like my grandma. I was only missing one part of that nostalgic culinary quartet. Even though I've opened countless jars of her pickles over the years, filling bowls and setting them on the table, it wasn't until a few years ago that I finally had the chance to learn how to make my grandma's (and great-grandma's) lime pickles.
Having never canned anything ever, I admit that I was a little intimidated by the idea. But Grandma was, as she always is, remarkably encouraging and patient, "Honey, if I can do it, you can it."
Since making lime pickles requires a 24-hour soaking of the sliced cucumbers in the lime solution, Grandma had done all the prep work the day before, bless her heart. She sliced the cucumbers from her garden and ones I'd sent down to her from ours, and she mixed up the lime solution and put the slices in the mix to soak.
As we started the process of transferring the soaked cucumbers slices to the sink for a good rinsing off, Grandma gave me a little history on this recipe. She learned how to make lime pickles from her mother-in-law, my Great-Grandma Leora. (I'd always figured it was something passed down to her from her own mother).
The first time she went to help Great-Grandma make the pickles, Grandma realized that Leora was using lime, as in calcium hydroxide. She asked her mother-in-law, "Are you sure?" All Grandma knew about lime was that it was something that they dumped a cup of down their "backhouse" (outhouse) every so often, to keep the outhouse from smelling. Great-Grandma assured her that lime was what they needed to use.
Leora got her lime at the feed supply store back in the day, but we used a package of "pickling lime" from the grocery store. The pickling lime helps to maintain the "crunchiness" of the cucumber, but since it is alkaline, it can neutralize the acidity in your pickles, leading to sickness, if you don't rinse them thoroughly enough. We rinsed ours in four changes of water in the sink, until the water was clear.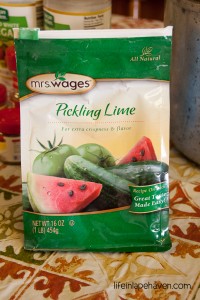 Once the cucumber slices were rinsed well, they got to sit in a clean bath of rinse water for a few hours, during which time Josiah (who was with me) and I got to share lunch with my grandparents and just visit.
Any meal at my grandparents includes "visiting," that time after everyone's finished eating, but no one gets up from the table because you're sharing and talking and laughing together. It's almost sacred time, and there have been so many visiting sessions that I wish I could have recorded so that I would have my grandpa's stories and silly jokes and Grandma's laughter and comments to share with my children for years to come.
Three hours later, the lunch dishes were cleared from the table, Josiah was off to explore with his great-grandpa, and Grandma and I were ready to get to pickling. She had the canning jars cleaned and waiting in the oven, and she set the temperature to 200° to sterilize them as we cooked the cucumbers on the stove. Also on the stove, she had the jar lids and rings in a pan with water (about ¾ of the way full). Once they came to a near boil, she turned the burner down to a low simmer. Grandma explained that lowering the temperature kept the lids' seals from sticking together.
Following Great-Grandma Leora's recipe, we mixed up the brine in a large stock pot and created a "bag" of all the spices. (Grandma used an old kitchen washcloth, cut off a strip to tie it up, and then cut off the excess. You could use cheesecloth or a clean linen cloth.) Once the brine was stirred well and the bag of spices tossed in to float around, we filled the pot with our rinsed cucumbers slices. We actually had so many cucumbers that we had to make extra brine and spices to have enough to come up close to the top of the pot.
Setting the heat to medium-high and stirring occasionally, it was just a matter of time (about 15 minutes) before the first few slices started to become clear or translucent, meaning they were ready to go into a jar. Using a slotted spoon and a funnel, I ladled the first few slices into a waiting, very warm jar fresh from the oven. Once I'd found enough "clear" pickles to fill about half of the jar, Grandma used a towel to hold and cover the top of the jar, giving it a good shake or three, before allowing me to continue to fill it. When the pickle reached almost to the top of the jar, and after another good shake to make sure we couldn't fit any more in, Grandma used a ladle and tiny strainer to add brine to the jar, filling it up to just where the neck of the jar starts. She gave the mouth of the jar a good wiping off and then using tongs, I carefully place a lid on the top, followed by screwing on the ring. (Note from my first experience: Don't leave the tongs too close to the small pan on simmer. Metal gets warm there.)
With the jar filled, lidded, and ringed, we set it aside on the counter to begin cooling. (I was quite proud of the first jar.) Then it was on to Jar Number Two. By the time the cucumbers had been cooking for about 30 minutes, all of them were clear and ready to be canned, so Grandma and I worked out a good system of me filling a jar halfway, and then while she shook it down, I worked to fill a second jar. We went back and forth between them until one was filled, brined, sealed, and set on the counter to cool. Then we pulled new jar from the oven.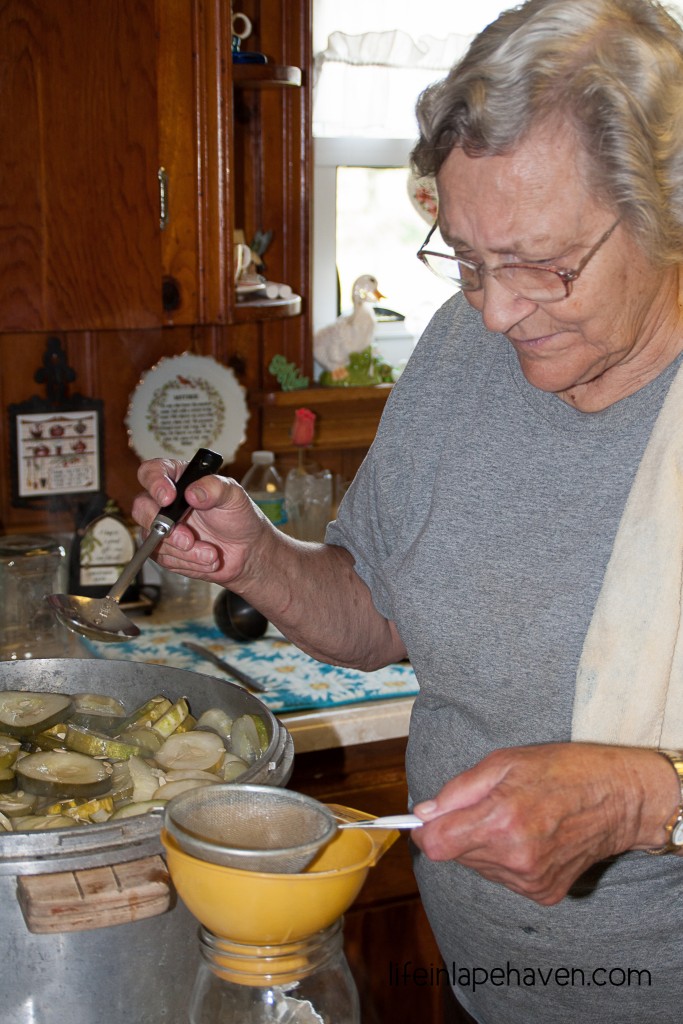 We took turns spooning the pickles out of the brine because the hot vinegar in it can be potent and stings the eyes. However, while we worked, we talked and enjoyed our time together. I would ask her questions about making the pickles, and she would try to answer, but she laughed and told me, "I've never taught anyone how to make them. But I've made them enough that I should be able to tell someone how to do it!"
At the end of the day, we had 12 jars (10 of pickles and 2 of pickle brine), which we split between us since, as my grandma explained, she'd used mostly my cucumbers while she had supplied the items for the brine. (I would have been happy with just learning…and maybe one jar of pickles)
Grandma said they were ready to enjoy as soon as they'd cooled, or the next day, or a couple of years later (as long as they aren't soft and don't smell or taste funny). She also instructed me to remove the rings from the jars in the next day or two. Apparently my grandpa had once left some rings on and found out how hard it can be to remove them after they've been screwed on so tightly for a few years. He said, "You might need a crowbar."
As we sat at the kitchen table, listening for the jar lids to "pop," signaling that the jars had cooled enough and sealed properly, she shared some additional family recipes with me, including recipes from my great-great grandmas, both of my maternal great-grandmas, and even one from a great-great aunt. I definitely plan to try them out and share them with you some time. These recipes, like the one for my Great-Grandma Leora's Lime Pickles, are part of my inheritance, and they are something I will share with my children throughout the years. Maybe someday I'll get to teach them to my own grandchildren.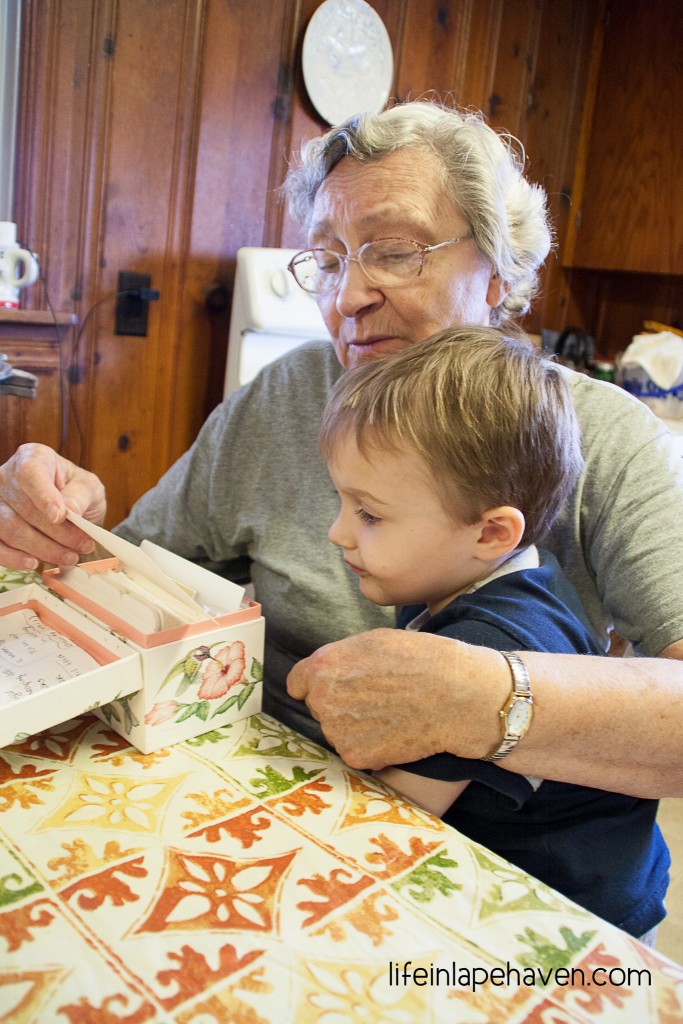 It might sound silly to some, but I felt so privileged to be able to learn from my grandma how to make her pickles. It's something that I've always wanted to do, and I know I have cousins who would have loved to have shared the experience, too.
Grandpa told me later that my grandma had been "really looking forward to doing this with you." It almost made me cry. It made my day to know that it was important and special to her, too.
Setting aside this time to allow my grandma to pass on her knowledge, recipes, and stories brought us both tremendous joy and beautiful new memories to cherish together…and five jars of lime pickles each.
Get more ideas & encouragement from this real-life mom as I experience God's faithfulness through the joy and chaos of motherhood.

Join my email list!  
YOU MAY ALSO LIKE:
The Unique Game My Family Has Played for 5 Generations
6 Fun Ways to Entertain Your Kids with Nothing But Their Imaginations