This post contains affiliate links, which means that at no additional cost to you, I may receive a small commission when you use the links.
After a hectic day of being "Mom," some days (okay, most days) I just need a nice bedtime story to read myself to sleep, to help my mind calm down instead of going through the to-do list for tomorrow. This means I'm always on the lookout for great new authors to read, especially those writing Christian historical fiction. A few years ago, I saw a post from a friend about Roseanna White's book, Ring of Secrets, so I checked it out and immediately fell in love with her characters, her stories, and her faith in God, which shines through every book beautifully. I have been reading her books ever since.
When she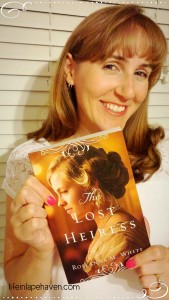 started sharing glimpses and teasers of her next book, The Lost Heiress, on her blog and pinning character ideas on Pinterest, it seemed as though September 2015 couldn't get here quickly enough (although I was pretty excited that the book's release was during my birthday month). When she asked for advanced reader volunteers, I was thrilled to be counted among them.
I watched my mailbox for an entire week, awkwardly meeting our mailman at the gate daily (I probably should have told him that I was expecting mail…), awaiting the moment I'd find The Lost Heiress in an envelope addressed to me.
But not only did I get a chance to read this amazing story before its official release (and it's sooo good!!!), I also had the wonderful opportunity to talk with Roseanna herself (via Messenger, thus all the smiley emoticons!) about the story and the story behind the story! (Feeling kind of important here!)
*Ahem…time to break out those journalism skills from my years at the newspaper…*
Before I even get into the plot, characters, or events of the book, I have to say that I LOVE, LOVE, LOVE the history of this particular book. For those who don't know, can you tell us where (and when) The Lost Heiress was "born"?
Roseanna: I'd love to! When I was 12, I fell in love with English-set historical romances thanks to Lori Wick's The Hawk and the Jewel. I decided the first week of 7th grade that I was going to write a novel set in England of the 1860s–and that I was going to finish it! It took me a year and a half, but I did. I wrote a full-length novel about a girl named Brook who was raised as a princess, but who through the connections of her best friend Justin–heir to an English duke–discovered that she was actually English and had to go home, only to discover that the same mystery that resulted in tragedy for her parents was set to come after her as well. Twenty years later, almost everything about that story has changed except the two main characters' first names and that kernel of the premise. 🙂
You shared your early cover designs for this book online, and they made me so happy. I was also an aspiring preteen novelist (not a good one), and I also drew character sketches for my stories (I still have them, but they are so packed away that I couldn't find them to share for everyone's amusement today). It's so fun to know that I wasn't the only one who did that.  🙂  
I had about 4 or 5 stories (none finished) that I can recall off-hand. How many other early "Roseanna Higson" novels were there? Have any or will any others be resurrected for us to enjoy?
Roseanna: Oh my… well, I did plan out this series back then, so The Reluctant Duchess is also a revision of my 13-year-old idea of a sequel. 🙂 And my first published novel, A Stray Drop of Blood, was begun when I was 15. It started its life as a short story, then I wrote the novel during college. I had one other completed novel by the time I graduated high school, but 8 finished manuscripts when I graduated college. And yes, I always drew covers for my early stories! Often many versions, over the years…
That last cover is actually pretty good. Mine always looked more like the first one! Haha. Okay, continuing…
Being a wife and mother of two very active boys, I know how busy life can be just keeping on top of home and family things, so how do you even find time to write a blog, let alone turn out beautifully researched books full of delightful, developed characters, and do all the other jobs you do, too (editing, designing, speaking)?
Roseanna: My canned answer is "I neglect the housekeeping." Which is true, LOL. But I've been writing so long that it was always a steady part of my day, and I quickly learned how to make sure I had writing time, even with small children. My mainstay is getting up early. I'm a morning person, so those quiet early-morning hours are my favorite. And while my youngest also likes to get up early, he knows that he's not allowed out of bed until 6, and he has to entertain himself until 7:30. 🙂 I homeschool, so we have a nice schedule of the normal day. I write early, do design and editing work after the first part of school, and use evenings to play catch-up with whatever projects are most pressing. But still, without my annual writing retreat that lets me write half a book (almost) in 5 days, some of those deadlines would be very tricky!
It's always nice to have a reason to NOT do housework!!! 🙂
I have to mention the cover because it is gorgeous! The colors, the model, her dress, her hair. Perfection. Any chance we'll get a YouTube tutorial on how to fix our hair like the cover model's? (When we had my son's turn-of-the-century "Newsie" party, I tried to do an intricate Edwardian hairstyle, but nope. I know why they all needed a lady's maid.)
Roseanna: Oh, that would be fun! Given that I didn't do this design, I'm not sure what they might have over at Bethany House, but I'll see if they ever do that sort of thing!
Oh, yea!!!! 🙂
Ok, so on to the revived story of Brook. There are so many great characters in this book: Brook is spunky, smart, and adventurous; Justin and Brice – swoon; Deirdre, who, even when she's making horrible choices, you're rooting for her; and Whitby. I loved him. A lot. (I now also want a magnificent black horse, but my hubby is allergic.) Who is your favorite character? And which ones were the most fun to write?
Roseanna: Oh, HARD question! Brook and Justin and Brice have all been there since the original story, so obviously I love them all. Deirdre's a rewrite of a maid named Liddy from my original–I'd downplayed her in the previous version I pitched to editors, but then upped her role quite a lot in this version, which I loved being able to do! But I think it's Whitby. He's a new addition to this latest iteration of the book that I pitched to Bethany House, and now I can't conceive of how I thought I had a story without him. I mean SERIOUSLY. He made the story in so many ways, and that family aspect I got to put in with Brook being reunited with her father, who had never stopped looking for her…it makes my heart happy. 🙂
Awww. Definitely glad they all got to be a part of the story.

My hubby, who is not a reader, listened as I read him the first chapter (and then later read more of the book on his own), and he enjoyed the story. In his words, "It's really cool. I could see it being a really good movie." I think he thought "romantic" and "historical" somehow did not equal "cool." What?!? (Thanks for proving him wrong.) But following his train of thought, any plans to make this or any of your books into a movie some day? (Due to my stalking, um…I mean, "following" your Pinterest board for this series, you should know that I have been totally imagining Robert Downey, Jr., as Whitby and yes, I think he should play him.)
Roseanna: He totally should. If he would come work for a few bucks and a lot of goodwill… 😉  Actually, my hubby would love-love-love to get into film-making and turn this into a movie. For now, we're planning on doing a live-action book trailer (like a movie trailer, but for the book) to test out his new toy–I mean, camera. A local historical house is excited to help us out with the interior shots. 🙂 Thus far no Robert Downey Jr. has come out of the woodwork to volunteer to play Whitby…
Another yea!!! A book trailer and maybe a movie!!!
There are plenty of twists and turns to this tale, and if I can ask without giving anything away, what was your inspiration for Brook's necklace?
Roseanna: I had a necklace when I first came up with this story that I thought was super fun. It was a leather band with 8 wooden beads on it. As I was playing with it one day, I thought, "This looks like it could be old. Maybe I can put it in the story…have it be from her mother." And so it became a plot point. When I was rewriting the story this final main time, I decided to make it more accurate to the times and situations, so instead of leather and beads, I decided on a gold and pearl necklace. The style is Victorian but was still popular in the Edwardian era. And to make it extra fun, I designed the necklace as I envisioned it and made a couple to give away (and one to keep…you know, for the actress playing Brook in that someday-movie LOL).
Writer, editor, designer, mom, and JEWELRY maker! 🙂 It's so pretty – You did very well.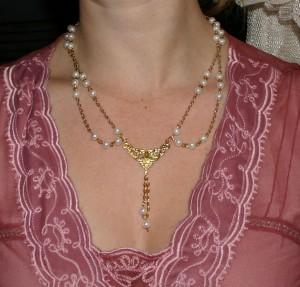 If you could convince Monsieur Bisset (The family's French chef du cuisine in The Lost Heiress) to whip you up something to drink, what would it be? (I'm a tea girl all the way, so a nice pot of Earl Grey would be just fine with me.)
Roseanna: I would definitely choose coffee. I do enjoy tea but not quite as much as I coffee. 🙂 Though I'm not sure I'd like the espresso of 1910…those machines are reported to have left a burnt taste, though it still caught on and became hugely popular. And while Brook takes it black, I'm a sugar-and-cream kind of girl. Or flavored creamer, as the case may be. 😉
Mmm…burnt coffee. Haha. I think I'll stick with my tea (with a nice drizzle of honey and a splash of milk or cream.) 🙂
Aside from the nicely crafted mystery and romance, what do you want readers to remember most from Brook's story?
Roseanna: Hmm…I think the underlying theme that emerged for me is that we can't live in fear. Not of judgment, not of being rejected, not of loss. Loving–be it our family or romance–is worth the risk of loss. And though grief might bring us to our knees, that's where we find the Lord.
I really loved that part – "But it brought me to my knees—and the Lord was there, through it all, supporting me. The Lord was there, shaping me…"And you answered perfectly to lead into my next question!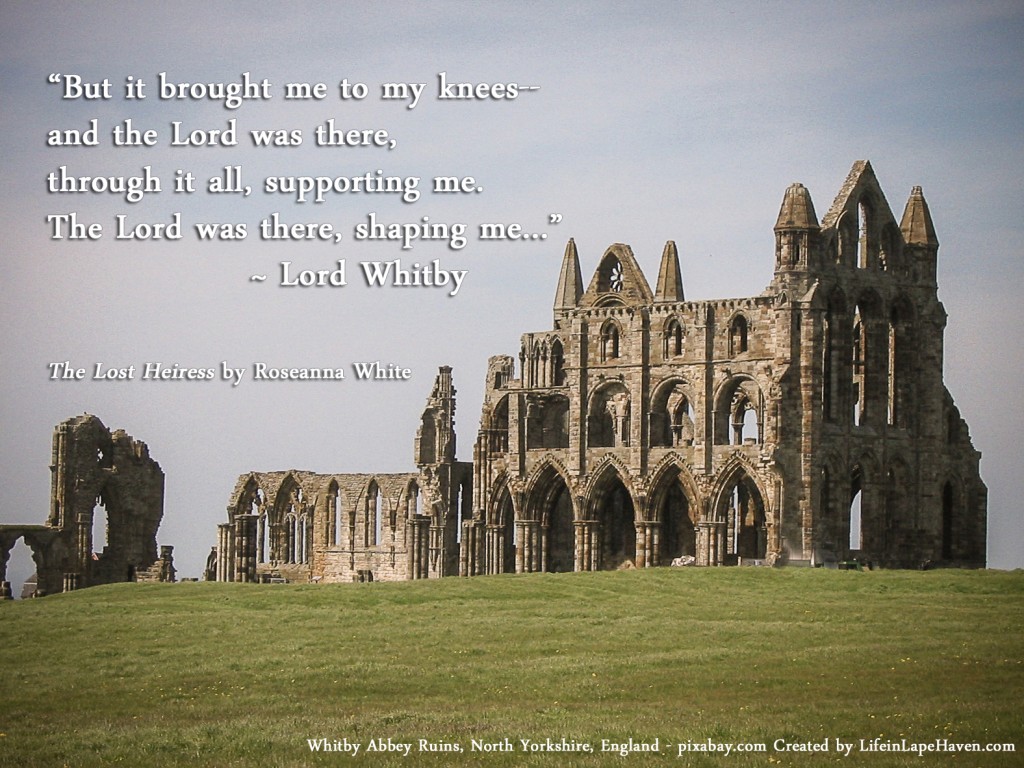 Faith in God is always an integral part of each story you write, and I am so pleased that you go beyond just having someone come to the Lord at the end of the book or merely mentioning their church attendance, and do it without being straight-up "preachy." You write Him with a reality that only comes from personal experience. I know that God has used your words to challenge and encourage me, so how has He used your writing to grow you spiritually?
Roseanna: I have learned so much about faith through my writing! And I have (literally) dozens of unpublished manuscripts that helped in that too. Each time I write a story, I pray that God will show me a new Truth about Him, and what it means to serve Him. And without fail, He does. Writing about situations I certainly haven't faced forces me to see the world through eyes other than my own. And when I do that, I see God in a whole new light. I just pray I can be a mirror to reflect that Light!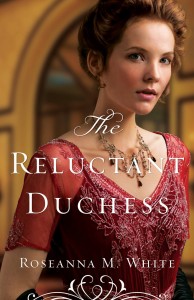 Now that I've finished this book, I need to know what happens next in this series. What is the second "Ladies of the Manor" book, The Reluctant Duchess, about?
Roseanna: Brice, now in possession of a rare treasure, heads to the Highlands on holiday. The year before at their lodge, his father had died, so he's now the Duke of Nottingham, and plotting how to put an end once and for all to all the intrigue surrounding this treasure. But instead of relaxation, he finds a noblewoman in duress. Rowena, heiress to a Highland earl, is desperate to escape Loch Morar and its ghosts–living and dead. A whirlwind wedding makes her a duchess and provides a means of escape…but the more she gets to know her new husband the more she wonders what dangers Brice has invited into his life–and the less sure she is that she has a place in it.
So happy that Brice is our leading man for the second book! I'm sure his "uncanniness" will come in handy on this new adventure!
And how long do I have to wait for it to come out?
Roseanna: April 2016.
I think I can be patient…maybe. Haha! 🙂

It was so much fun to interview Roseanna (Thank you, Roseanna!). Below is a little bit more about her with links to her website and blog. You can also "follow" her on Facebook and Pinterest. 🙂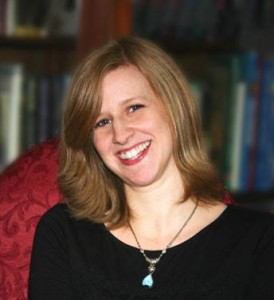 ABOUT ROSEANNA WHITE:
Roseanna M. White pens her novels beneath her Betsy Ross flag, with her Jane Austen action figure watching over her. When not writing fiction, she's homeschooling her two small children, editing and designing, and pretending her house will clean itself. Roseanna is the author of 10 historical novels and novellas, ranging from biblical fiction to American-set romances to her new British series. Spies and war and mayhem always seem to make their way into her novels…to offset her real life, which is blessedly boring.  She makes her home in the breathtaking mountains of West Virginia. You can learn more about her and her stories at www.RoseannaMWhite.com  and at Writing Roseanna. 
Okay, now for my first ever giveaway!
Life in Lape Haven is proud to offer one happy reader a copy of The Lost Heiress for their very own! You are going to love it! And yes, you're welcome. 🙂
a Rafflecopter giveaway
Thanks for entering! This contest is open to residents of the U.S. only and runs from Thursday, September 10 (12:00 a.m.) through Sunday, September 13, 2015, at 11:59pm EST (I know, specific.).  The winner will be notified by email within 48 hours of the contest ending. Winner has 48 hours to respond before another winner is selected. 🙂
YOU MIGHT ALSO LIKE:
The Reluctant Duchess: Interview with Roseanna White
A Review of Roseanna White's Giver of Wonders