Around here, winter is our favorite time for board games, card games, and puzzles. While the boys are always up for Candy Land, Chutes and Ladders, or Go Fish, they get really excited when we ask them if they want to play Carrom.
(This post contains affiliate links, which means at no additional cost to you, I may receive a small commission if you use the links.)
In case you've never heard of Carrom, it is a tabletop game that is similar to pool. You play on a square Carrom board that has a pocket on each corner, and instead of using a cue stick to hit billiard balls, you use your fingers to flick a "striker" ring into other rings, attempting to send your rings in to one of four corner pockets. You can play one-on-one or as two teams of two.
For me, this game always means family, laughter, and occasionally, a sore finger. (Flicking wooden or plastic rings can really sting sometimes.)
I was introduced to Carrom when I was little, and for the most part, it's a game that I've always played at my maternal grandparents' house. My great-grandparents, John and Leora, taught it to my grandpa, who shared it with my grandmother, and later they played the game with their children. My grandparents have taught all of the grandchildren and great-grandchildren as we got old enough to learn. It's a family tradition.
Whenever we visit them during the winter months, their board is usually already set out on a card table with four chairs around it, rings on the board, ready to go.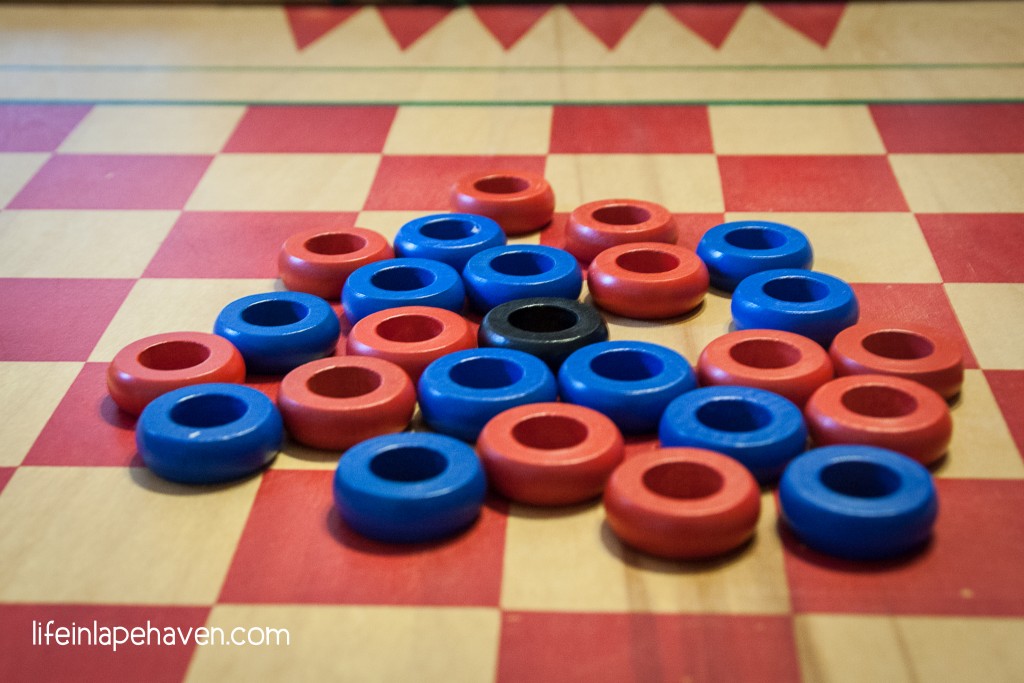 Having played pretty much all his life, Grandpa is really, really good at Carrom, and Grandma's not too bad herself. Sometimes I like to play just so I can watch them work their magic. Being truly great grandparents, they don't show much mercy during a game, especially now that we're older, although they take it a little easier on the great-grandchildren. 🙂
Of course, as we play, we have plenty of time to talk and share, which is really what makes the time special.
My mom and I have both found Carrom boards for just a few dollars at the thrift store and then ordered the rings online so we each have our own to practice on and teach my boys and their cousins. You can order entire game board sets online, too – Carrom Board Game
This year Josiah was old enough to begin learning how to play, and so on New Year's Day we set up the board, and Elijah, Josiah, and their cousin Christian all had fun flicking the rings around the board. It was hilarious watching Josiah try to shoot because he had to make this "Popeye" face every time he shot. Meanwhile, Elijah has gotten better and better each year, and it's impressive to watch him plan out his turn and actually be able to do it the way that he saw it.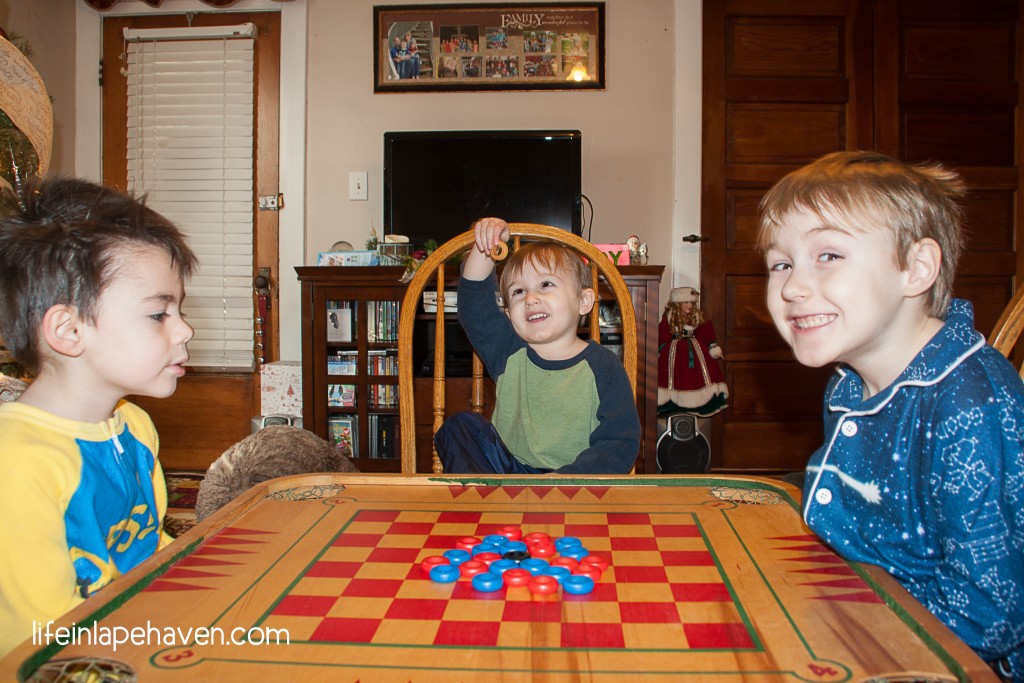 I think we played at least three times while Christian was here and another three or four once Brad got home.
The boys can't wait to visit their great-grandparents soon so they can play with them. They are at least the fifth generation in my family to enjoy this game, and I'm so glad that we get to carry on this fun family tradition.
To learn more about Carrom, you can check out Wikipedia, Carrom.org, and Masters Games.
You may also like these other memories I've shared about my grandparents and my Great-Grandma Leora:
The Legacy in an Apple Pie Recipe
Get more ideas & encouragement from this real-life mom as I experience God's faithfulness through the joy and chaos of motherhood.

Join my email list!