Jump to recipe
A Delicious, Easy Apple Pie Recipe, Four Generations in the Making
This past week, for Thanksgiving, I made a homemade apple pie from scratch.
Now while that might sound tasty to you, it probably doesn't sound significant, and maybe in your family, it's not.
However, for me, this apple pie represented four generations of good cooks (yes, I'm counting myself in there. Trust me – this apple pie earned it for me).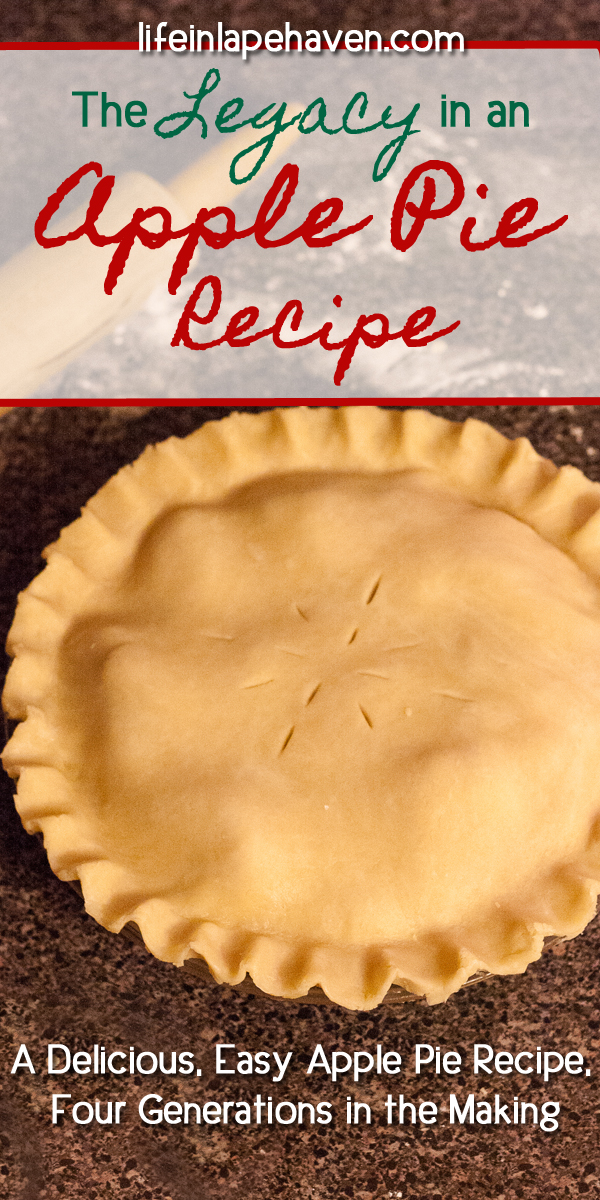 My Great-Grandma Leora (my maternal grandpa's mother), whose pickles I learned to make this summer, used to make apple pies. It was one of the many recipes for which she is remembered. She often made apple pies ahead and froze them, so that she would have them when apples weren't in season.
Amazingly enough, when she died, my grandfather found some of her apple pies in the freezer. Since I was pretty young at the time, I don't remember how many there were, but I do remember my mom telling me that Grandpa had the last of her pies about a year after she'd passed.
How cool is that?
Now I don't know if Great-Grandma expected her legacy to be her baking, but at least part of it is. Not only was she still feeding her family a year after she'd died, but her recipes have become an inheritance for her grandchildren, great-grandchildren (my cousins and me), and even her great-great grandchildren.
From her pickles to her pies to her cakes and cookies, she's still at all of our family gatherings.
Of course, Great-Grandma didn't give out all her secrets. For example, my mom's apple pies didn't start tasting exactly like Great-Grandma's until she figured out that the apples that Great-Grandma used in her pies, the ones from the tree in her yard, were Cortland apples. It made all the difference.
With that knowledge, my mom makes some delicious apple pies!
As for me, well, I've always struggled with getting my pie dough just right. I can slice up the apples and toss them with the sugar and cinnamon and freeze it in batches ready to fill a pie. But my pie crust has never gone well or been "as easy as pie."
However, knowing that I CAN make pie crust from scratch, I refuse to buy it. I have kept trying out new recipes to find one that works well for me and tastes good.
When I was at my grandma's learning how to make the lime pickles, I talked to her about my frustrations with making pie dough.
Flipping through her recipes, my grandma found a recipe from her mother, Edith, titled "Never Fail Pie Crust."
"This is the one I always use, "she told me.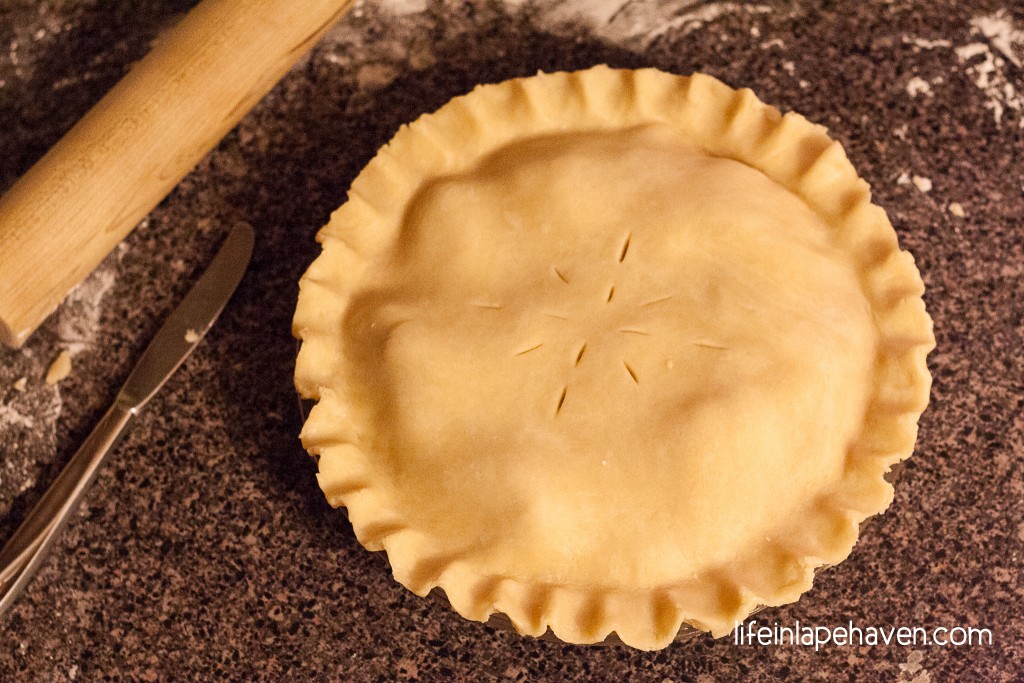 Scribbling it down, I tucked it away with several other family recipes that she gave me that day, anxious to try them all out.
Of course, I waited until the day before Thanksgiving to try out the pie crust recipe.
Thankfully, it was the easiest pie dough I've ever worked with. I mixed it up and rolled it out in one take! Yea!!!
As I was laying the dough into the pie plate, it occurred to me that I was making an apple pie with one great-grandma's filling recipe and another great-grandma's pie crust.
I thought about all the family holidays, church potlucks, and special gatherings that each of those ladies had baked for and brought dishes to. I imagined them as mothers, working in the kitchen while their children (my grandparents among them) played in the next room or helped them with a chair pulled up to the counter. I could see my mom as a little girl, learning how to roll out pie crust from her mother and her grandmothers so that one day she could teach me.
Suddenly I related to my great-grandmas in a way I hadn't really done before, as wives, moms, and women. It was kind of like that moment as a child when you realize that your parents are people, too. (Haha) I could see the legacy they passed down beyond just wonderful recipes. They both took good care of their families, loved God and serving Him, and shared their gifts with those around them.
I imagine they would both be quite pleased to know that their recipes were continuing to fill the tables (and tummies) at our family festivities.
To top off my great-grandma pie story, at our Thanksgiving dinner on Thursday, my grandpa reminded us that the day would have been his mother's (my Great-Grandma Leora's) birthday.
I was definitely giving thanks for Great-Grandma Leora, Great-Grandma Edith, and their baking legacy as I bit into my first piece of delicious homemade apple pie.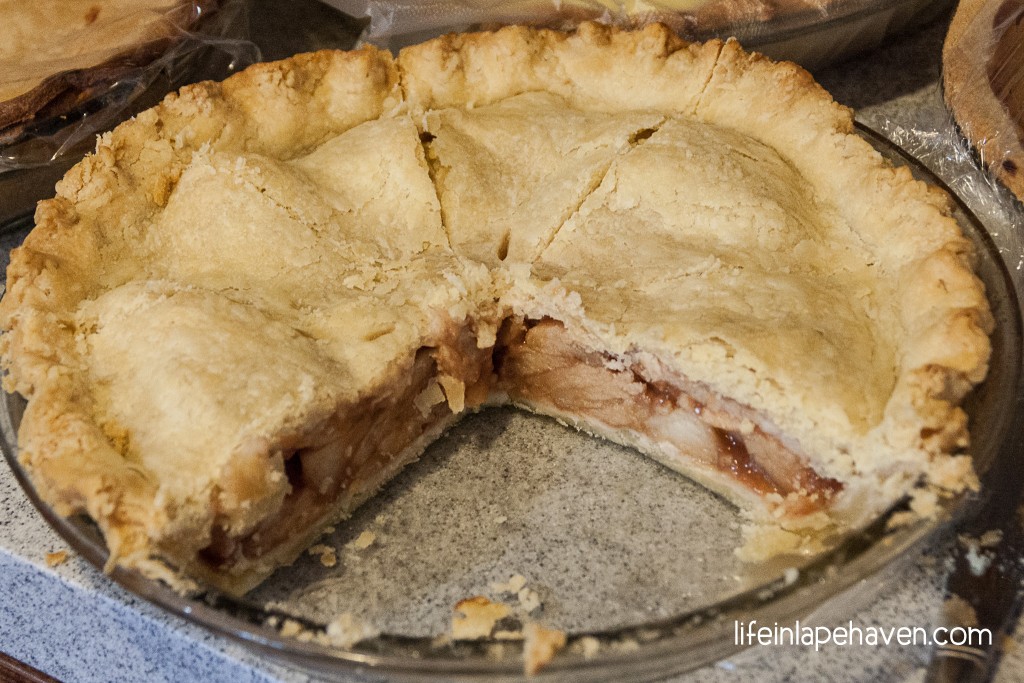 Want to enjoy some tasty apple pie of your own? Here you go – my Great-Grandmas' Apple Pie recipe. (For good tips on how to roll out your pie crust, read here.)  Yum

Ingredients
Great-Grandma Leora's Apple Pie Filling:
5 cups Cortland Apples, sliced
1 Tablespoon All-purpose Flour
1 Tablespoon Corn Starch
1/4 cup Brown Sugar
1/4 cup Granulated Sugar
1 teaspoon Cinnamon
5 shakes of Salt (That's how my mom has always measured it - 5 shakes of the salt shaker. It's not more than 1/8 tsp.)
1-2 Tablespoons Butter
Great-Grandma Edith's Never Fail Pie Crust:
3 cups All-purpose Flour
1-1/4 cup Shortening or 1 cup Lard
1 teaspoon Salt
1 Egg, beaten well
5 Tablespoons Water
1 Tablespoon Vinegar
Instructions
Apple Pie Fillng:
Mix flour, corn starch, brown sugar, granulated sugar, cinnamon, and salt.
Add apples and mix to coat.
Use right away or freeze until needed.
Pie Crust:
Combine flour and salt.
Cut shortening or lard into the flour mixture.
Combine egg, water, and vinegar.
Pour liquid into flour mixture, mixing all at once and blending until moist. (Dough can be kept up to 2 weeks, wrapped in plastic or in a sealed container, in the refrigerator)
Roll out half the dough on a lightly flour surface until you have a circle larger than your pie plate and a dough thinner than 1/4".
Fold the crust in half and gently drape it over the pie plate, opening the crust, and working it down into the pan. Gently pat the sides to make sure the crust is against the plate.
Place apples in a prepared pie crust.
Place dollops of butter on top of the apples (4-5 places in the pie).
Roll out the remaining dough, following the steps above, to create a top crust. Poke a few holes, as decoratively as you like, at the center of the crust.
Add top crust, sealing the top and bottom crust edges together by lightly dabbing some water on the upper edge of the bottom crust, where the two crusts will come together.
Trim off the excess dough and pinch the crust together.
Bake at 450 degrees for 15 minutes.
Then reduce the heat to 350 degrees, baking for an additional 30 minutes.
Allow pie to cool before serving.
Get more ideas, recipes, & encouragement from this real-life mom as I experience God's faithfulness through the joy and chaos of motherhood.

Join my email list!  
YOU MAY ALSO LIKE:
Giving Him Apple Pieces to Put in the Pan
7 Simple Dishes Your Child Can Make for Thanksgiving