This post contains an affiliate link for the book. At no additional cost to you, I may receive a small commission if you use the link.
Over the last couple weeks, as part of the Raising Grateful Kids in an Entitled World launch team, I have been participating in an Instagram Daily Photo Challenge with the theme of "What are you grateful for?"
The challenge was inspired by the Gratitude Bracelet we received from the book's author, Kristen Welch (We are THAT Family). The bracelet is made by women at the Mercy House, the maternity home in Kenya that Kristen founded. (For more on Mercy House, check out this short video.)
It's a white-bead bracelet with three copper beads. Each copper bead is for a different question that will remind you to be grateful every day.
Who do I appreciate today?
Today, what made me smile?
How was God good today?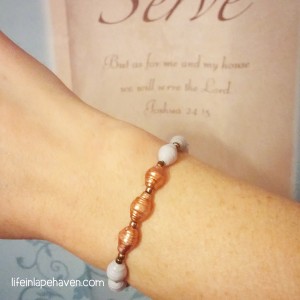 WHO DO I APPRECIATE TODAY?
So, for the first five days, the challenge was to share "a different person each day who you appreciate."  I'm pretty sure this was the easiest one for all of us. There were pictures of everyone's husbands, children, best friends, parents, pastors, and so on.  However, even though we generally KNOW that we're thankful for our families and friends, it's something else entirely to pause in our day and really think about why we are so thankful for them and to truly take time to appreciate them. I could probably have filled all two weeks of the photo challenge on this question alone.
TODAY, WHAT MADE YOU SMILE?
The next five days, though, were devoted to "something that made you smile."
To quote Buddy the Elf, "I like smiling. Smiling's my favorite."
I'm usually a "pretty positive, find the silver-lining, there's always something to be thankful for, let's play the Glad game with Pollyanna" kind of girl. Even when I have those tough days in motherhood, I don't stay in the yucky too long. I'll soon be looking for the good, the giggles, and the grins.
Therefore, Question Two was, again, another easy way to count my blessings.
HOW WAS GOD GOOD TODAY?
Then we got to the five days of God's goodness, and I was stumped.
It was not because God hasn't been good, but rather because He is SO good that it was hard to narrow it down.
After some pondering, my first photo of "How God was good today," I took a picture of the Bible I've had since 10th grade, opened to a scripture that I'd circled at some point during my youth group years: Psalm 71:17 & 18: "O God, You have taught me from my youth; and to this day I declare Your wondrous works. Now also when I am old and grayheaded, O God, do not forsake me, until I declare Your strength to this generation, Your power to everyone who is come."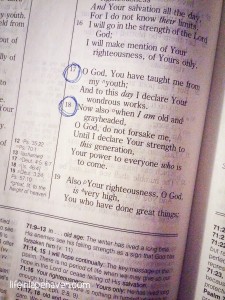 Having followed God since early childhood, my life has been full of God proving His goodness and faithfulness to me over and over again.
Loving me, saving me, knowing me, keeping me. That kind of goodness is hard to capture in one little Instagram picture. It would be hard to capture with a million.
The rest of my photos for the challenge were maybe less serious, but they still celebrated God's goodness with joy:
A side-by-side of a cherry pie bar dessert I made and one of Josiah's recent selfies.  Elijah's to-do list for Sunday. A glimpse into my preschool Sunday school class. Homemade chicken and dumplings. My Mercy House gratitude bracelet.
While the challenge was for fun and to help promote gratefulness and Kristen's new book, it also served its most meaningful purpose when it reminded me of how important it is to stop in the busyness of every day and appreciate each little detail and blessing that God has placed in our lives and His wonderful lovingkindness, mercy, and goodness in doing so.
Let me challenge you today to pause, take a minute, and think about what you would share: five people you appreciate, five things that make you smile, and five ways that God has been good to you.
"Every good gift and every perfect gift is from above, and comes down from the Father of lights, with Whom there is no variation or shadow of turning."  ~ James 1:17
How has God been good to you this week?
If you'd like, you can purchase your own gratitude bracelet from Mercy House, and you'll be supporting young mothers and their children. That's one more thing to be thankful for. 🙂
—
If you haven't yet entered the giveaway to win a copy of Kristen Welch's newest book,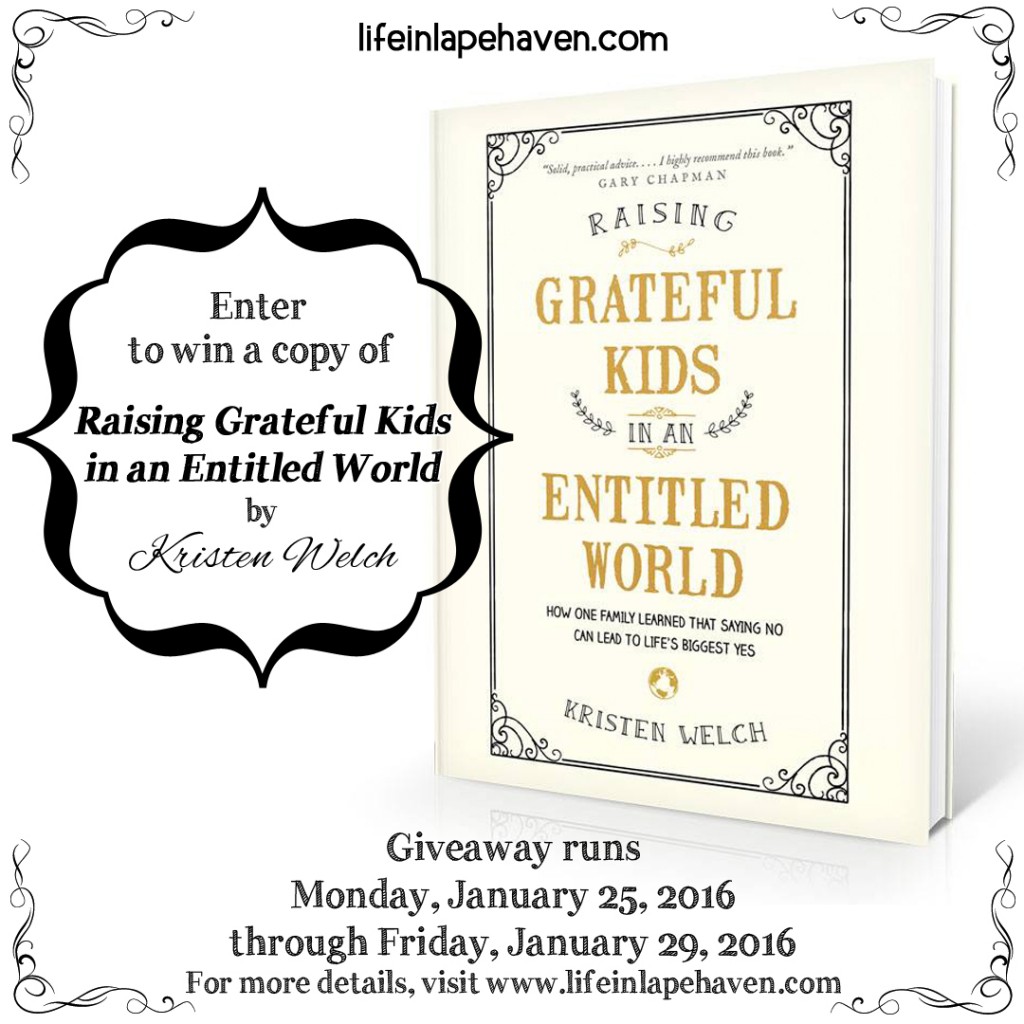 Giveaway is open until Friday, January 29, at 11:59p.m. US residents only.
See giveaway terms for more details.