In wrapping up my series of "Confessions of a Preacher's Kid," I'm looking ahead through the wisdom I've gained growing up in church and in a ministry family and thinking about how I want to apply those experiences in laying a solid foundation of faith for my children and encouraging their personal relationships with Jesus.
(If you've missed my first five confessions, you can catch up: Confession #1, Confession #2, Confession #3, Confession #4, & Confession #5.)
Of everything I've seen in the churches and Christianity, I think one of the hardest balances for a parent to find is guiding their children in being "in the world, but not of it." In the wicked, evil time that we live, it's easy to want to hide our children away from everything, but there will come a day when our children will have to face it all, and they will need to decide and know without a doubt in Whom THEY have believed.
Today's Confession: Not Being Like "The World" Doesn't Mean You Have to Hide From It
In Georgia, we lived on a beautiful little acre in the country that had all kinds of flowers and trees. Every spring, I could sit on the porch swing and enjoy the azaleas, jasmine, gardenias, and honeysuckle perfuming the air. However, my favorite flowers were the wild yellow roses that grew along the fence line of our driveway.
Year later, I remember using those roses as an example of what I wanted to be. In a conversation with my friend, I compared store-bought, cultivated roses, or "hothouse roses," with wild roses. They are so different when you look at them. One is grown in a very protected environment, with temperature control, the right plant food, plenty of water, and very little adversity. Then you have a flower that just blooms out in the middle of everything – weather, pests, lawn mowers- and yet it blossoms despite it all.  While the cultivated rose may look beautiful and more perfect, it will NEVER match a wild rose for fragrance.
Our children can either be sheltered, bland hothouse roses that smell like basically every other flower in the shop, or they can be strong, thriving FRAGRANT wild roses who can truly impact the world around them.
Now don't misunderstand my analogy. I'm not saying that we don't watch out for our children or that we just throw them out into the world and hope they flourish.
What I see in a wild rose is a balance of being set apart while not being totally protected from the weeds, bugs, and storms.
I've seen two extremes in Christian parents' views of raising their children. Some go entirely for "in the world," allowing their children to be and look like "the world" and never guiding them in being "set apart." They don't make God and church a real priority for their family, they permit whatever music or movies or friends their kids want, and they don't set a standard of holiness for their family. Then they wonder why their children don't have a strong relationship with God and can't stand against temptation. (I would say that this flower never blossoms or bears fruit.)
The other extreme are those who avoid everything not "Christian" and focus only on being "not of the world," controlling everything their children are, or might be, or someday will be, exposed to that isn't Godly. They obsess over media, don't have any friends who are nonbelievers, and live by a lot of rules. They generally end up with children who either strongly rebel or kids who live in fear of or constant judgment of those "in the world." (This would be your greenhouse-raised roses. They usually don't flourish outside of their original environment.)
Growing up, I knew way more children who were in the second group, very sheltered, than I did those whose parents let them behave just like someone who wasn't a Christian. I knew Christian kids who couldn't watch more than a few hours a week of television or movies, kids who weren't allowed to participate in any parties at school, kids who couldn't watch Disney…ever, kids who couldn't listen to any non-Christian music (not even oldies), kids who couldn't go to the mall, even kids who couldn't pick their own hairstyles until they were teens.
Should we monitor what our children watch, listen to, read, whom they play with, what they are doing online, and what they are learning in school?
Yes, yes, yes, yes, yes, and yes! Absolutely.
We don't need to expose our little ones to things that aren't age-appropriate or discuss topics with them that they aren't mature enough to handle. We use wisdom.
We are accountable to God for what we allow into our children's lives and for the example we set for them. We are definitely called to be different from the world and stand out. (1 Peter 2:9)
But some of those kids stood out for reasons that had nothing to do with Jesus. They tended to be socially awkward, a little immature, and they couldn't even relate well to other kids in the church.
We can't hide everything from our children for the first 18 years of their lives, and then expect them to be prepared to face a sinful, perverse, fallen world in a Godly way when they are on their own.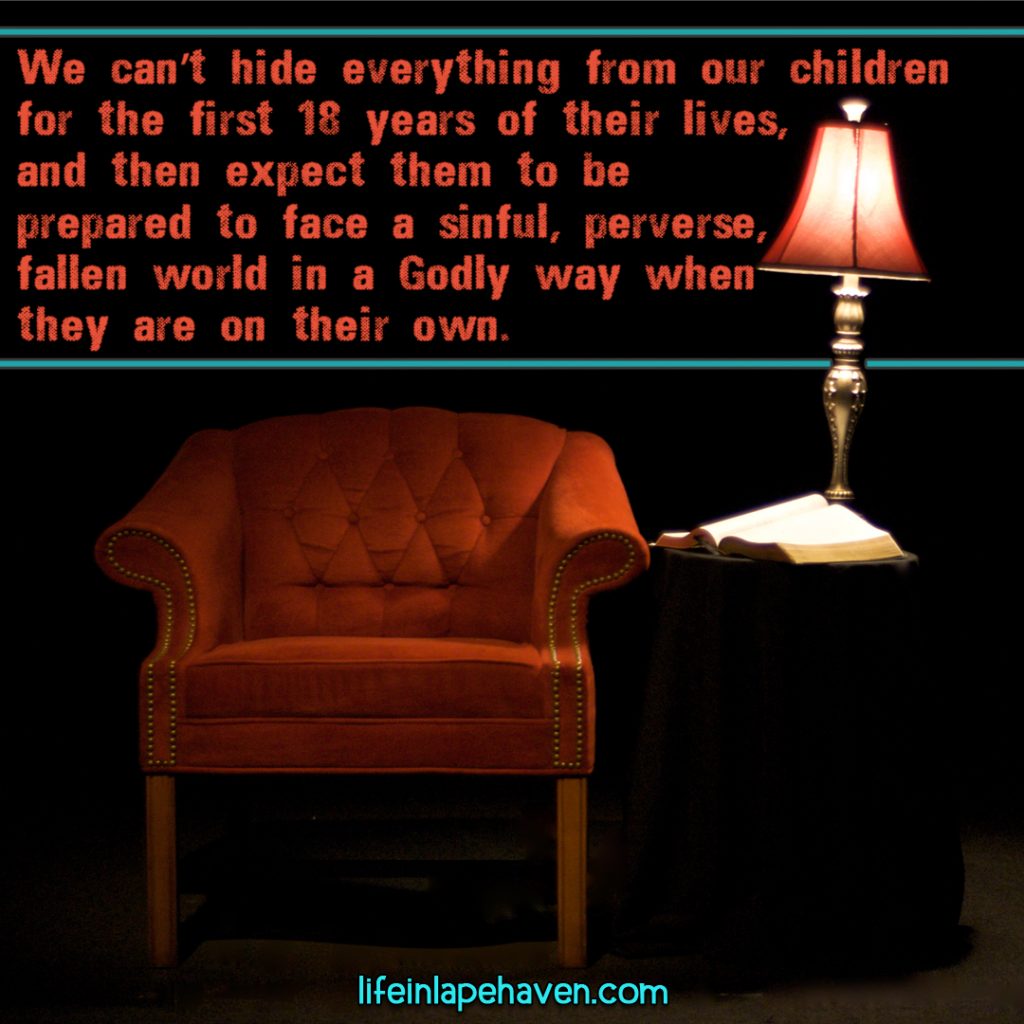 Because someday, every child who has been "raised in church" or brought up in a Christian home will face what I call "the jumping off point."
Someday your child will look at everything you've taught them, everything they've heard about God, every miracle they've witnessed, every prayer that they know has been answered, every rule they've been given, every verse they've ever read, and they will have to decide, on their own, for themselves, if it's real. If THEY believe it. If THEY trust Him. If THEY are going to build the foundation of their life on Jesus.
It can happen even after they've already given Him their heart. Even after they've already said a prayer. Even after they've already been used to minister to their friends.
They may face doubts or questions, but that's okay. God can handle it. He's a big God. And He knows that they HAVE to make the jump from "what I've always been taught" to "what I BELIEVE with all that I am" if they are truly going to serve Him with their life.
The ones that I've seen have the hardest time navigating that jump are those who have either been allowed to be "too in the world" or hidden away to be "too not of it."
Growing up, I watched TV and movies, and I played with neighbor kids who weren't from Christian homes. We had rules, though. I remember we weren't allowed to watch "The Simpsons," but I didn't really have a desire to. We watched "The Wizard of Oz" (I knew the difference between a fairy tale witch and real witchcraft) and Disney movies, even "The Little Mermaid" (When I was in 5th grade, I wasn't looking for the bad stuff that was supposedly "hidden" in the movie. Ariel just had awesome underwater hair.)
I attended public school for most of my K-12 education (very thankful for the Christian school education I received from 6th-9th grade, though). I heard about evolution, but I knew what I believed because I'd been reading my Bible. In high school, I went through Sex Ed (ugh), but I'd already had conversations with my mom and the example of my parents' Godly marriage to balance the "everybody is going to do it" assumption of the curriculum. I sat next to drug addicts and trouble makers in homeroom, but they came to me with prayer requests and genuine questions about God because I wasn't hiding who I was or Him Whom I believed.
I remember asking God how I could relate to the people around me, since I hadn't been through some of the rough things they had and I hadn't done any of the "bad things" they had. How could I reach them?
And He reminded me of Someone else who had been among them but not like them, and He changed the entire world.
I didn't have to become like them to relate to them.
And even though I was NOT like the world, I didn't have to hide from it. I could reach it.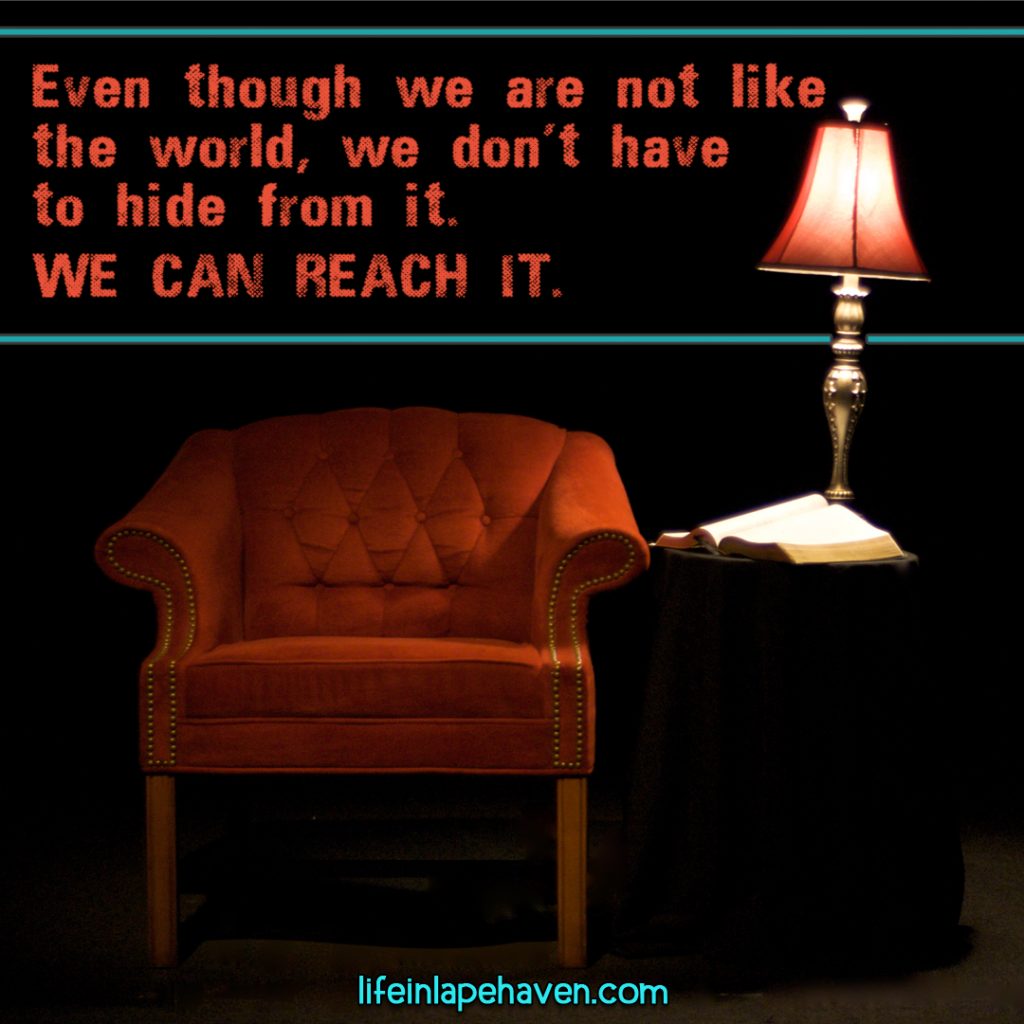 That's what I want for my children: To be fragrant wild roses that flourish, set apart, but attracting those around them with the essence of the God in Whom they believe.
John 17:14-18  "I have given them Your word; and the world has hated them because they are not of the world, just as I am not of the world. I do not pray that You should take them out of the world, but that You should keep them from the evil one. They are not of the world, just as I am not of the world. Sanctify them by Your truth. Your word is truth. As You sent Me into the world, I also have sent them into the world."