Since I grew up "in church" and as a pastor's kid, I've been to Sunday morning, Sunday night, and midweek services; heard countless testimonies of God's grace, provision, and healing power; attended prayer meetings, lock-ins, revival services, youth events, and Christian concerts;  been baptized, prayed for, and given prophetic words; heard now-famous preachers speak in our churches; attended Christian school for 4 years; listened to Christian music; and been on a mission trip.
I've pretty much had all the typical Christian experiences that should be life-changing and encouraging for me in my Christian walk, and yet those experiences are not what kept my faith in God strong and thriving. As I look back over 32 years of following Jesus, there are three things that stand out as the crucial, critical components in consistently growing my relationship with God, and they are all so closely connected that it's difficult to separate them.
TODAY'S CONFESSION: How I've Maintained a Strong Faith
While  I've been encouraged, challenged, and strengthened in many ways in my faith and during my walk with God, the most important things are rather simple – spending time with God and reading the Bible regularly, learning how to worship daily, and stepping out to serve and minister to others.
SPENDING TIME WITH GOD
We know that as Christians, we should be praying and reading the Bible daily. Sometimes we devour the scriptures and other times we struggle to understand (or even stay awake). There are days when it's easy to pour out our hearts to God, and days when words are difficult. Still, it's important!
Knowing God's Word is how you renew your mind, strengthen your spirit, understand how God calls us to live, and really get to know Who God is and His heart toward you. Praying is our conversation with Him. Without an ongoing dialogue, how can we really say we have a "relationship with God"?
When I was young, I began spending time with God at bedtime, and that's still my style – praying, reading, and even journaling. Of course, it's a lot easier to have time alone to spend with God when you're a child, teenager, or young adult. Once you're married, and especially when you have children, you can plan, but sometimes it's hard to guarantee quiet time at the same time every day. Try to get up early, and the kids will be right there with you, even if they usually sleep later. Dare to stay up a bit later, and good luck! ZZzzzz. Haha.
However, just like you work to make time for your spouse because you recognize its importance, spending time with God has to be a priority. When it is, you will find the time, even if it's different every single day – I've prayed while vacuuming or folding clothes or in the car, read my Bible while rocking Josiah at naptime, listened to sermons while making dinner, etc.
Do I ever miss a day reading my Bible? Yes. Sometimes. Do I have major intercession every day? No. Sometimes it's just a few sentences here and there throughout the day.
However, doing my best to be diligent in seeking God and making Him a continuous part of my day helps to keep my relationship with God strong.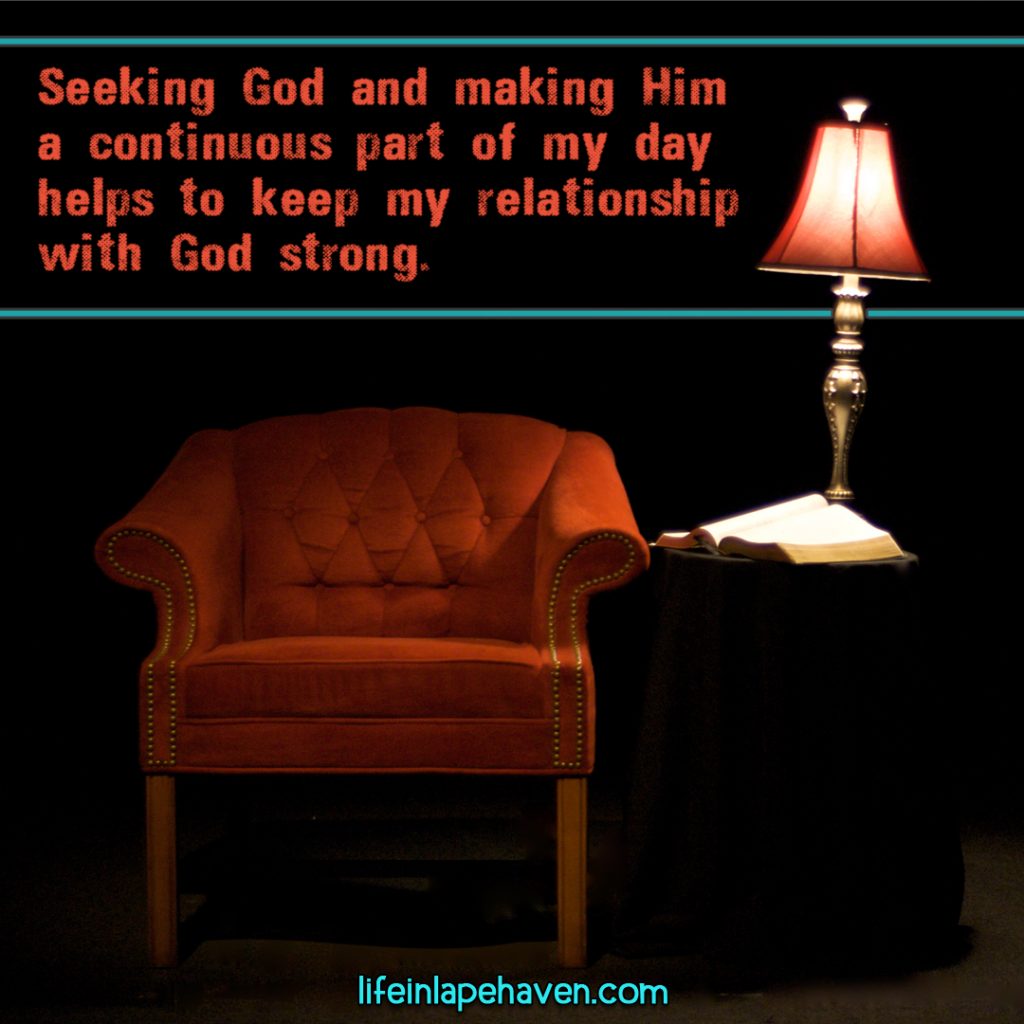 LEARNING TO WORSHIP
I can't read the Bible without increasing my awareness of God's greatness, and I can't pray without thanking God for His goodness.  Spending time in God's Word and in talking with Him inevitably leads me to worshipping Him, being in awe of all He is and all He's done.
And while a person standing in utter silence can be worshipping the Lord more genuinely than a person singing the most dramatic and moving lyrics, I was made with music inside me for a reason.
For me, I was born with a desire to sing and dance. According to my parents I was wiggling off the couch to the Peanuts theme, "Linus & Lucy," before I could even walk. I made up songs and dances for everything, probably every day. I wanted to take dance lessons, but we couldn't afford it when I was growing up. I loved old movie musicals, and at one point, I even wanted to be a choreographer when I grew up (which is hard when you've not actually taken dance).
However, I learned early on the difference between just enjoying singing and dancing or singing along with songs on Sunday morning or on the radio in the car and truly worshipping God.
Worshipping God is more than singing, clapping, lifting your hands, or dancing, although generally those are part of how you express it. Sometimes His awesomeness is so overwhelming you that you can't move or speak. Other times, you can't help but let your love for God come out of your mouth and go deeper into your heart as you try to express how wonderful He is with every part of you.
I remember the very first time I raised my hands in worship to God. It was something I'd grown up seeing and understanding, but it still took me by surprise. I was about 7 or 8, sitting in the front row of the church my dad was pastoring, and singing along with the praise and worship music during the regular service in the sanctuary. No one requested for us to lift our hands, but as I sang, I just felt God's nudge to be brave and worship Him more. I wasn't trying to be like the adults. I was being obedient, and I immediately sensed God's presence in a brand new way.
I later had the opportunity in about fifth or sixth grade to be a part of our church's interpretive dance team and for me that opened up an ever deeper level of worshipping. That natural dancing desire in me was given a chance to be used by Him in a beautiful way, and I could imagine myself in front of God's throne, worshipping Him with everything in me. I might not have been trained, but my heart was all His.
And I have that heart to this day, every day, not just on Sundays in a congregational setting with a band, a choir, and lights. I turn on praise and worship music when I'm doing dishes and cleaning house, singing and dancing around my home. I've sung worship to God as I sing my boys to sleep or in the shower. Just like praying and reading the Bible, and because it can flow from that, worshipping is peppered throughout my days.
ACTIVATED FAITH
Reading, praying, and worshipping point me over and over again to how wonderful Jesus is, and the natural outcome of this is that I share Him with those around me, sometimes without even trying to.
One of the biggest memories I have of third grade is when a girl in my class stopped me in the bathroom one day and asked me how she could follow Jesus. Suddenly, there I was, about 8-years-old, praying with one of my classmates to give her heart to God. I honestly don't remember "preaching" to the kids in my class. I don't think I did. Watching how Elijah is now with his growing faith, I'm pretty sure I was similar. It just comes out of the relationship you have with Him.
I've have found that nothing grows your faith like sharing it. Being physically active strengthens your body, and ministering to others stretches and strengthens you spiritually. Just like your body, you can only take in so much before you become unhealthy from inactivity.
As I grew up, I was blessed to be a part of churches that encouraged us as children to find and develop our gifts and talents. Not only did I have a chance to participate in ministering as part of the dance team, but I was active in drama, puppets, and singing during our children's church services nearly every week. Once I got to junior high, I worked in the nursery, continued in dance and drama, and had my first opportunity to be a part of outreach into the community, helping with a Saturday afternoon ministry for children.
In high school, that seed of ministry flourished under a youth pastor who challenged and guided us. When our church began a Saturday morning Sidewalk Sunday school ministry, everything I'd been trained in, every talent that God had given me, came into play in an amazing, life-altering way. My heart for children, my singing-dancing-dramatic self, even my teaching ability found a perfect fit in that kind of ministry.
In my experience, one of the worst things for "church kids" and "church adults" is when they fail to truly activate their faith, when they never share what they've been receiving all their lives.
One of my friends in youth group said something during one of our youth meetings once that I will always remember. In a challenge to us as she shared one night, she said, "You have the Bread of Life living inside of you. Are you going to let it get stale and moldy, or are you going to use it to feed the hungry?"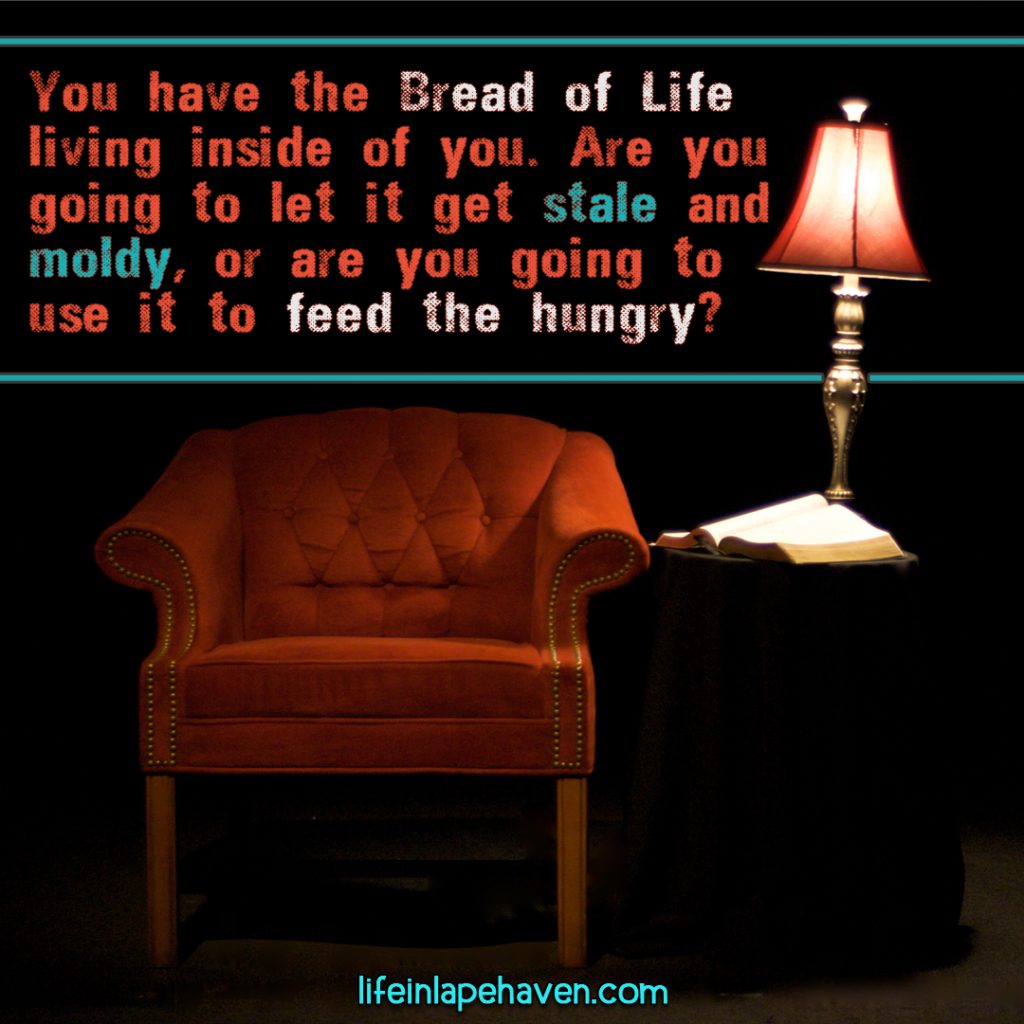 She knew that we, her fellow youth members, were experiencing God's presence regularly and studying His Word. She knew that we often had amazing worship services in that too-small youth room, times when God spoke to us and ministered mightily to our hearts.
But if we did nothing with that, we were wasting it, letting God's goodness go stale in our lives.
The cool thing about ministering to others, though, is that when you give out what God has given to you, it forces you to go back and get more from Him so that you have more to give out, again and again.
Spending time with God compels you to share Him, and sharing Him compels you to spend more time with Him.
It's a cycle that keeps your faith flourishing and growing in Him.
———-
For more of my confessions of a preacher's kid, you can read my earlier confessions:
#1 – Being Raised in Church Isn't Enough
#2 – My Parents Never Expected Us to "Perfect Preacher's Kids"
#3 – I Don't Talk About God All the Time