Some of you know that I grew up as a PK – a "pastor's kid" or "preacher's kid" –  although I guess the correct terminology would be a "minister's kid" because my dad wasn't always in a position as the pastor, but he and my mother have always been in ministry of some kind (music ministry, youth leaders, elder, etc.), even before they were married.
Having the upbringing I did has given me a unique perspective on Christian life and a behind-the-scenes view that generally only other kids from ministry families know. Having known plenty of other PK's, though, I know that my experience wasn't always typical even among them.
So this is the start of a sort of series to share what I've learned throughout my life about Christianity, church, and following God's calling, and how this affects how I approach laying the foundation of faith for my own children.
I'm calling it "Confessions of a Preacher's Kid."
Today's confession: Being Raised in Church ISN'T Enough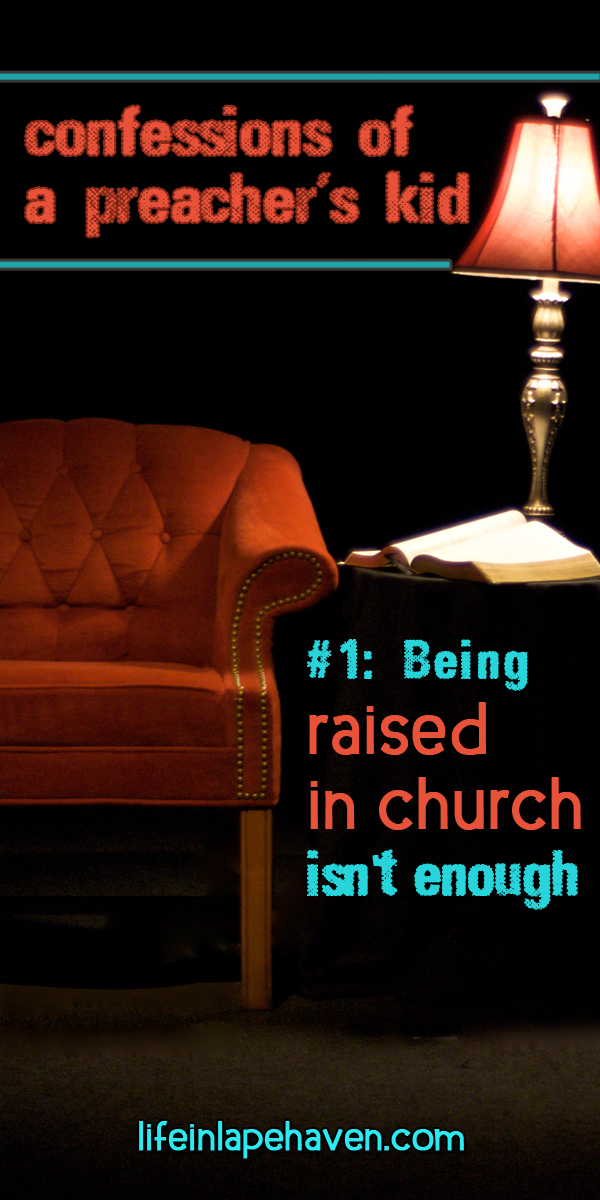 Since we were preacher's kids, most people would say that my brothers and I were "raised in church." In Christianese, "being raised in church" means that, generally, you come from a Christian home and you've grown up attending church regularly (a PK more than attends church – you practically live at church at some points). It means that all your life, you've learned about Creation, Noah's Ark, David and Goliath, Daniel and the Lions' Den, Esther, and all about Jesus's birth, His ministry on earth, His crucifixion, and His resurrection. You've probably learned several dozen memory verses, as well as the books of the Bible, the Ten Commandments, the Lord's Prayer, and the Fruit of the Spirit. You know songs from multiple generations of church-goers – hymns, Sunday school songs with motions, and contemporary praise songs. You know the order of a typical service and when to clap or when to stand.
What "being raised in church" or even being a preacher's kid doesn't always mean is that you actually know Jesus and have a solid, growing relationship with Him.
What it doesn't always mean is that you continue going to church once you are out of your parents' home and on your own.
What it doesn't always mean is that you step out and seek God for how to use the gifts and talents He's placed in you to reach the lost world around you.
It's sadly true.
Being raised in church is not a guarantee that your child will follow God. It's a good foundation and a great start, but it's not a sure thing.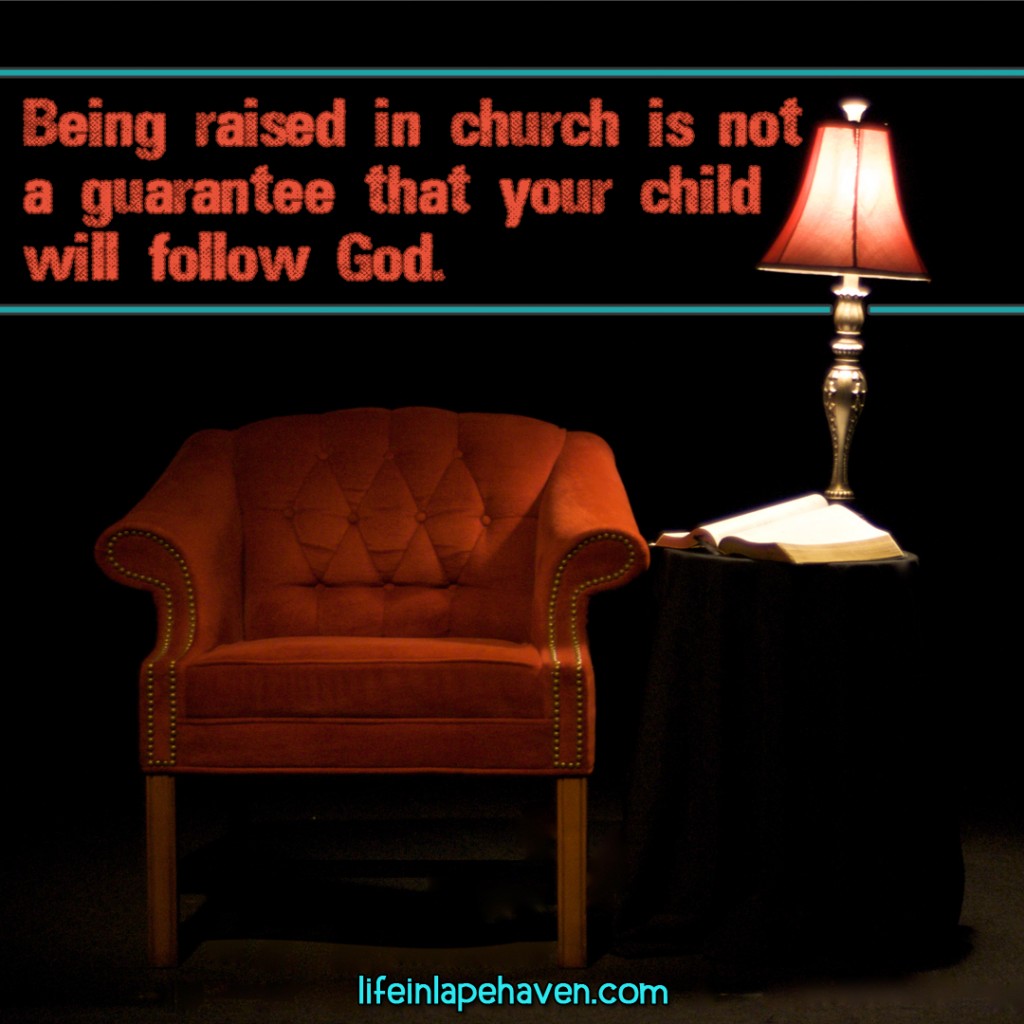 I've seen it over and over again from the time I was young.
As one of the church kids who gave my life to Jesus at an early age (4 years old) and who has continued to grow in Him, stayed in church, and is active in serving, I've had parents ask me what they need to do to help their children continue to walk with God throughout their lives. They want to know why I'm "still in church" when other former minister's kids and church kids are not.
My answer is this: I wasn't raised in church. I was discipled in church. There's a HUGE difference. The word "disciple" is more intentional. It means to "teach or train," while "raise" just means "to grow."
I didn't just grow up. I was discipled.
(Now I will say, no matter how well you do in teaching your children, you can't make them follow God. They still have freewill and a choice. However, if they've already made the decision to follow Jesus, then they need to be discipled and encouraged to continue growing in their relationship with God.)
I was taught and mentored by people (beginning with my parents) who had a high expectation of what God could do in and through children and young people. My time in Sunday school, children's church, and youth group were not about entertaining me, keeping me happy, and teaching me to just be a good person. It was about discipling me, training me, preparing me, and teaching me about Who God is, what His Word says, who I am in Him, how the Bible applies to my life, finding out what His plan for my life was, and uncovering my gifts and talents so I could use them to reach and bless others.
I had teachers and mentors who challenged me, held me accountable to living in a way that was pleasing to God, and spoke the truth in love into my life.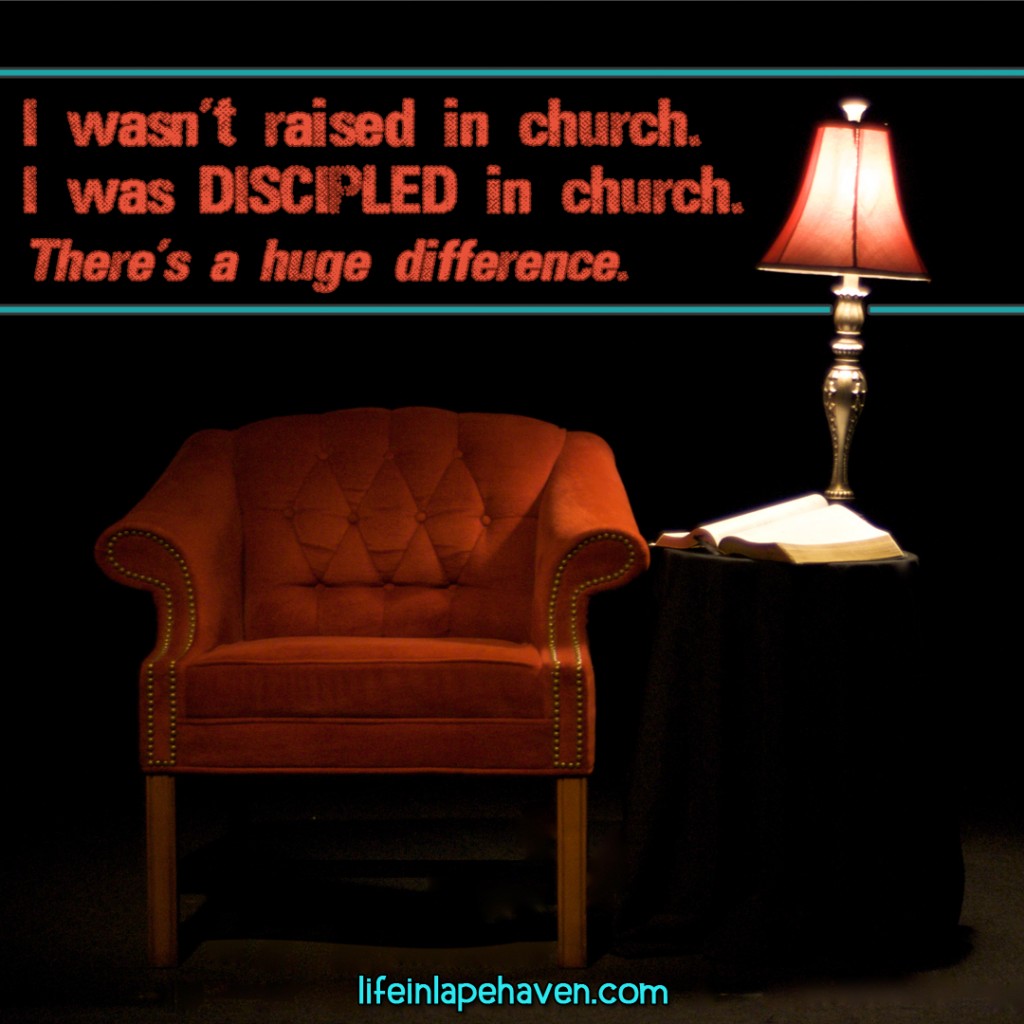 One of those teachers was Miss Betty, a mighty, powerful woman of God who adores children almost as much as she does Jesus. She was my Sunday school teacher when I was in second or third grade, I think, but she didn't water down the gospel for us because we were young. She fervently believed that God could speak to us and that we could understand and hear Him and follow His leading. She emphasized the importance of knowing scripture for ourselves. I remember her telling us that we needed to know what God's Word said and bring our Bibles so we could see it for ourselves when she or anyone else was teaching or preaching.  She also taught about our authority in Christ and how we could pray, quote scripture, and rebuke the Devil in Jesus's name.
You might not think that that last point was important for a child or that we shouldn't scare them with talk of the Devil or demons. But you know what? I needed it.
As a little girl of 7 or 8, I dealt with not only occasional fear at night, as most children do, but there was also a time period of what I now know were attacks from the Enemy to steal my peace and rest. Whether it was a few days or a week or so, I don't remember, but as I was falling asleep at night, I would hear voices in my head, not talking to me, but about me to each other. The voices would argue and be nasty to each other. It was just weird and unsettling, and it was NOT my imagination.
However, thanks to Miss Betty and my parents, I knew that my Mighty God was with me, and I knew what to do. I prayed, out loud, and I quoted 2 Timothy 1:7, over and over – "For God has not given us a spirit of fear, but of power and of love and of a sound mind" – until there was peace in my bedroom, my mind, and my heart.
Another person who discipled me was my high school youth pastor, Scott, who is probably the best youth pastor ever. He never let us stay comfortable in our walk with God. From his very first sermon as our youth pastor, he challenged us and pushed us to step out in faith, to go deeper with God, to know His voice and follow Him, and to expect God to do amazing things through our obedience.
When I approached Scott about how so many of our youth would do well in dramas and skits, he looked right back at me and said, "Then why don't you start a drama team. I'm putting you in charge. You lead it." That was not what I wanted or anticipated, but Scott was calling me to step up. If God put it in my heart and gave me the vision for it, there was a reason. (THAT was a growing experience for sure.)
Of course, my most important teachers were my parents. No matter how many great preachers or leaders I learned from, my parents were my first examples of what it meant to not just "stay in church," but to stay in a relationship with Jesus. They lived it out before my brothers and me every day, and not just because they were in ministry or because it was their "job." It was because they loved God. For my parents, ministry flows out of their relationship with Him. It's never been about obligation but rather obedience.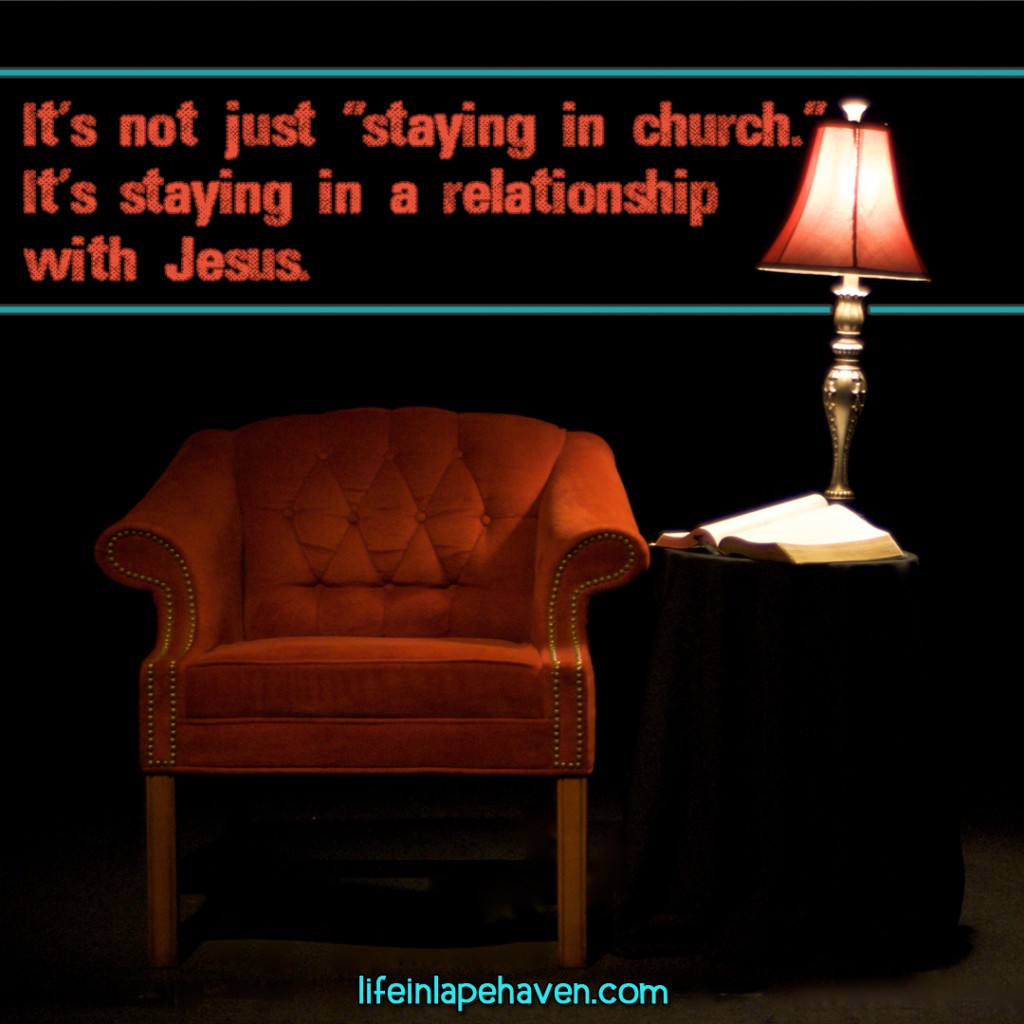 Parents, while there will be tremendous people that God will put in your children's lives to lead them and train them, you need to be their primary example.
You need to disciple your children.
Be intentional with your conversations.
Let them know how God has changed your life, and share what He has spoken to you lately and how He has used you.
Be honest and transparent about how God is stretching you or dealing with you in a certain area.
Teach them how to read the Bible and pray.
Challenge them to dig deeper in the Word and seek God.
Watch for their gifts and abilities and encourage them to find a way to use them for God's glory.
Pray, pray, pray for them.
And yes, take them to church.
But if you want to help them have a genuine, thriving relationship with God, don't just raise them in church. Disciple them.
Perhaps the "preacher calling" runs in the family – Elijah has already given his first sermon!
—
Want to know what my other "confessions of a preacher's kid" are?:
#2 – My Parents Never Expected Us to "Perfect Preacher's Kids"
#3 – I Don't Talk About God All the Time
#4 – True Ministry Isn't Easy or Glamorous
#5 – How I've Maintained a Strong Faith
#6 – Not Being Like "the World" Doesn't Mean You Have to Hide from It
Get more ideas & encouragement from this real-life mom as I experience God's faithfulness through the joy and chaos of motherhood.

Join my email list!  
Feature picture courtesy of CreationSwap/Bobby Ross.